Ascension
Ascension Day—the celebration of Jesus being taken up into heaven—is one of the Church's lesser-celebrated commemorations. But as Books & Culture editor John Wilson noted, "The Ascension marks the beginning of the church—and anticipates the Second Coming. It requires us to think in Trinitarian terms, as Christ ascends to sit at the right hand of the Father, where he is our high priest, and promises the Spirit to the church."
Featured Articles
The Grand Farewell
We tend to focus on the way Jesus came into the world. It will pay us not to overlook the way he left.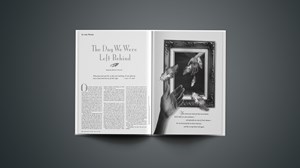 The Day We Were Left Behind
When Jesus had said this, as they were watching, he was lifted up, and a cloud took him out of their sight.—Acts 1:9.
Taken Up in Glory
"The Ascension has been forgotten in many Protestant churches, jettisoning an essential part of the Christian story."