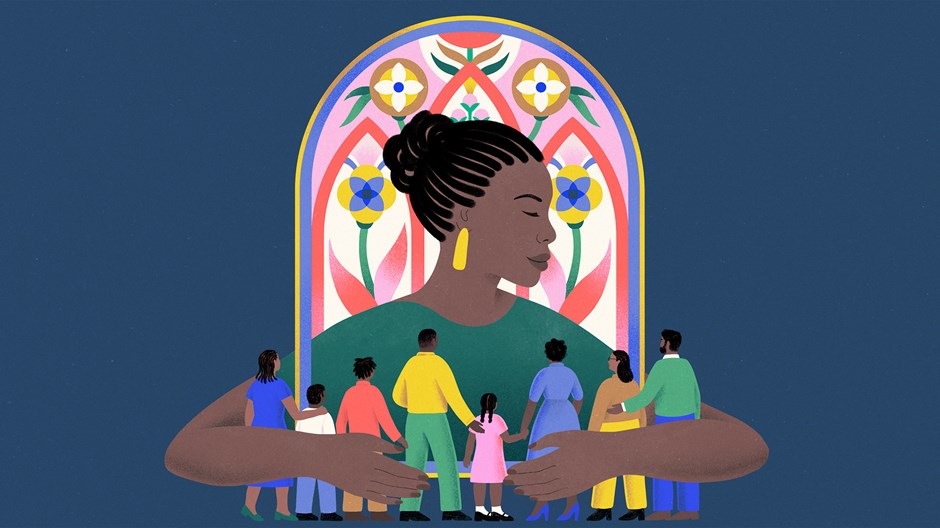 Image: Illustration by Monica Garwood
Debates about women's roles in the church are back in the headlines, but a lot of them leave out a large and important group of American Christians: the Black church.
Here, discussions about the place of women in Christianity don't happen on white evangelicals' terms. Black churches don't use the same language or framework as white evangelicals, particularly concerning gender roles; the terminology of "egalitarian versus complementarian" is rarely used. Focusing only on how this discussion happens in predominantly white denominations misses the insights that the Black church can bring to conversations about women in the church.
When I speak of the Black church, I mean the faith body of African American Protestant congregations across multiple denominations. We call ourselves the Black church not just because of the color of our skin but because of the institution's unique historical and cultural significance within the African American community. "In the centuries since its birth in the time of slavery, the Black Church has stood as the foundation of Black religious, political, economic, and social life," wrote Henry Louis Gates Jr.
Black women have always been vital to the Black church, making up 60 percent of the average congregation, according to the Pew Research Center. And though the Black church has historically sought equality for Black people in society at large, Black women have often been marginalized within the institution and kept out of leadership roles.
In recent decades, however, the roles of women in the Black church have started changing, even as denominational differences persist. I reached out to leaders in Baptist, African Methodist Episcopal (AME), and Church of God in Christ (COGIC) congregations to get a sense of where they land in the ongoing discussion around Black women's leadership in the church.
Black Baptist churches are a broad group, affiliated with the National Baptist Convention, American Baptist Churches, or the Progressive National Baptist Convention. These congregations are autonomous. They're typically led by a senior pastor, and traditionally those pastors (along with deacons, trustees, and other ministers) have been men. Meanwhile, the roles of missionary, deaconess, pastor's aide, and pastor's wife—often referred to as "first lady"—were considered "women's work."
In some denominations, that's changing—or has already changed. "We had women who were licensed to preach, a woman who was ordained; we had women deacons," said Donna Owusu-Ansah, pastor of First Baptist Church of Englewood, New Jersey, about the church she attended growing up. Because of that, "when I answered my call to ministry, [pastoring] didn't feel wrong for me," Owusu-Ansah said. "It wasn't until I went to seminary and connected with other Baptist women that I realized that my story wasn't everyone's story."
Some Black Baptist churches still decline to ordain women, Owusu-Ansah noted, and she believes others include women in their pastoral search processes to appear progressive but would never actually consider hiring a woman. Just recently, one historic Black Baptist church in Harlem allegedly removed all women applicants from its pool of candidates in its search for a successor after its pastor of 30 years passed away. "We're moving," Owusu-Ansah said, "but we've got a long way to go."
The AME Church, by contrast, has long been at the forefront of including ordained women in ministry, licensing them to various preaching and pastoral roles since the late 1800s. The AME was the denominational home of Jarena Lee, the first Black woman preacher in America, who spoke to racially mixed audiences in the early 1800s. The denomination elected its first female bishop, Vashti Murphy McKenzie, in 2000.
"I joined an AME church in the Boston area many years ago, and that was the first time I saw a fully ordained woman," said Elaine Flake, senior pastor of the Greater Allen AME Cathedral, a prominent New York church known for its commitment to social justice and community development initiatives.
"I grew up Baptist, and I didn't know ordained women was a thing," Flake recalled. "They might have let the first lady speak for Women's Day or something, but I had never seen it." For Flake, meeting ordained women was "a culture shock." Since Flake's time in seminary, however, the culture has shifted further. "When I went through the ordination process, there were probably equal if not more men," she said. "But now I'm seeing ordination classes that are largely women or all women."
Yet in practice, she added, women's roles vary by district and by bishop. Lauren Harris, an itinerant elder in the AME Church in Maryland, agreed. "We can be elected and consecrated as bishops, we can be officers on a denominational level, we can be ordained as elders and deacons, and we can be pastors," she told me. "It depends on the district you serve, where some churches do still prefer men."
In the Church of God in Christ, one of the largest and most influential Black Pentecostal denominations, every district is still led by men. The denomination's presiding bishop, its general board, and its board of bishops are also exclusively male.
From COGIC's inception, "women were not allowed to be ordained," said Keon Gerow, senior pastor of Catalyst Church in Philadelphia. But "women were given opportunities without titles," he continued, "that they were able to harness for their benefit and garner major power."
Every COGIC woman is part of the denomination's International Department of Women (IDW), the supportive arm of the church that caters to women's spiritual growth. The IDW has its own governance, and beyond formal appointed roles, COGIC churches honor the position of "church mother," which Anthea Butler describes in Women in the Church of God in Christ: Making a Sanctified World.
"The title of 'church mother' or 'mother,' given to older women within many black churches, is the seed of leadership and eldership" within the IDW, Butler explains. The designation, a reference to Titus 2, is usually bestowed upon longtime members of the church and provides "the link between the ordained men" and the women in their pastoral care.
With or without the role recognition, though, Black women are the backbone of the COGIC church. Two-thirds of the denomination's membership is female, Gerow reported, which means women disproportionately affect its "giving, finances, decision-making, influence outside the pulpit, systematic organizing, and coalition building." In the COGIC church, women's influence doesn't come from official positions, he said, but that "did not keep women from being self-determined and having agency" in their faith.
Black women have been pivotal in shaping the Black church's history and continue to play a vital role in its development and influence on broader church and societal issues. Despite facing many challenges, Black women have been at the forefront of advocating for themselves within these institutions.
From religious and spiritual leadership to social activism and community building, Black women have created a blueprint for how women in other denominations and churches can lead from within their own faith communities. In conversations about gender roles in the church, our history is worth remembering.
Khristi Lauren Adams is dean of spiritual life and equity and an instructor of religious studies at the Hill School. She is the author of several books including Parable of the Brown Girl and Unbossed: How Black Girls Are Leading the Way. Speaking Out is Christianity Today's guest opinion column.
Have something to add about this? See something we missed? Share your feedback here.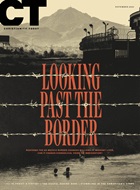 This article is from the November 2023 issue.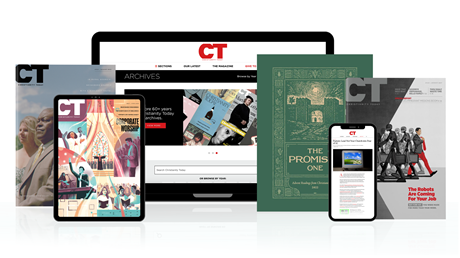 Annual & Monthly subscriptions available.
Print & Digital Issues of CT magazine
Complete access to every article on ChristianityToday.com
Unlimited access to 65+ years of CT's online archives
Member-only special issues
Subscribe
The Black Church Models a Different Conversation About 'Gender Roles'
The Black Church Models a Different Conversation ...