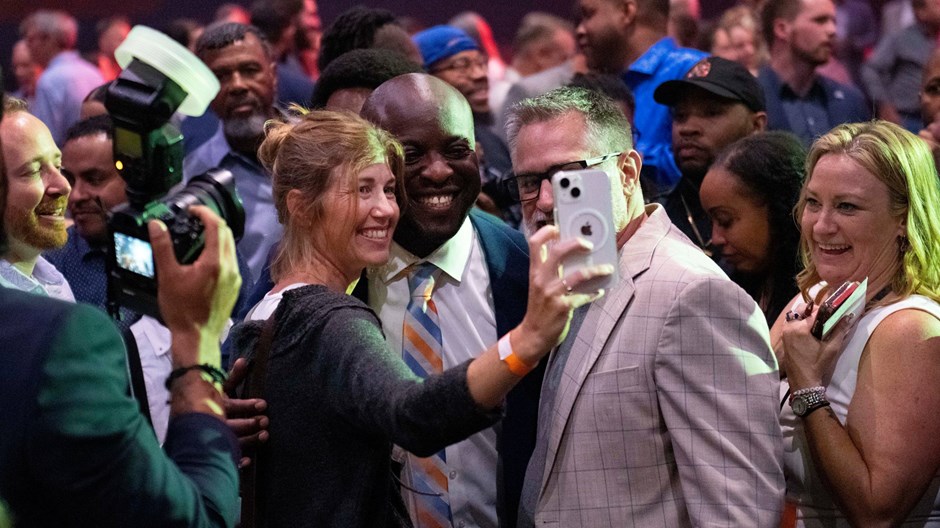 Image: Christian Murdock / The Gazette via AP
Yemi Mobolade moved to Colorado Springs to start a church. Thirteen years later, he became the city's mayor.
Even though his position isn't a pastoral one, his faith is central to his platform, as well as his experience in local ministries, nonprofits, businesses, and economic development. Mobolade ran a campaign on hope and optimism, taking his core values from Micah 6:8: "Do justice, love mercy and walk humbly with God."
"I want to disrupt and confuse this whole experience we call politics," Mobolade said. "I want to call God's people back to doing it well."
A Nigerian American, Mobolade was sworn in last month as Colorado Springs' first Black and first immigrant mayor, telling residents, "As your mayor, I pledge to live courageously, lead with empathy, and remain humble. As your mayor, I pledge to lead by example and create a city government that is transparent, accessible, and proactive. As your mayor, I will work tirelessly to ensure our city government represents the aspiration and needs of its residents."
His new position builds on years of community involvement and unity-building in Colorado's second-biggest city.
He also quoted Chris Tomlin's "God of this City," saying, "Greater things are yet to come, greater things are still to be done in this city."
Before he landed in the evangelical hub that's home to Focus on the Family, the Navigators, Young Life, and Biblica, Mobolade grew up in a family of faith in Nigeria. Both his parents were pastors, and he came to know the Lord at a young age.
"I am really proud of the work that they did with my siblings and I, ensuring our faith was an active part of the way we lived our life, not just from a religious church experience, but from how we modeled generosity," he said. "They modeled community and leveraged their influence in the right ways to help others."
Mobolade's parents also wanted their children to have more opportunities, so when he was 17, he came to the United States to study at Bethel University. Mobolade believes the ability to attend college in the US was a blessing not just from an educational standpoint, but also from a personal and leadership standpoint. It taught him to stay hopeful and optimistic, to see challenges as opportunities for growth.
"When you come from a world where you had less, you come here and you just feel so blessed. Then you want to leverage and maximize that and, for me, even pay that forward," he said.
After receiving his undergraduate degree in business, Mobolade went on to earn masters degrees in management and leadership from Indiana Wesleyan University and in intellectual leadership from A. W. Tozer Theological Seminary.
In 2010, he moved to Colorado Springs to start a church through the Christian & Missionary Alliance and has held a variety of positions in the city since. He's cofounded multiple meeting houses to serve as cultural gathering places downtown. He worked in outreach at First Presbyterian Church and cofounded a nonprofit that brings together 100 area churches. He worked in small business development for the city.
Stu Davis has witnessed Mobolade's leadership and values firsthand. He serves as the director of a nonprofit he and Mobolade cofounded called COSILoveYou, which gathers more than 100 local churches together for community service projects.
"I'm quick to brag on Yemi," Davis said. "I think he's one of the most gifted leaders that I've ever had the chance to be around. I'm a big admirer of him, his skill set and his ability to convene people."
"In this day and age, when Christians walk into the room, sometimes they're not well received, especially if people in the room know where they're coming from," he said. "I have yet to witness a room that Yemi walks into, regardless of where people stand politically or their values, where he is not well received. He just makes space for a lot of people to be at his table."
A part of this leadership is Mobolade's willingness to listen to others and recognize what they bring, even if he doesn't see eye to eye with them about everything.
In the mayoral race, Mobolade defeated Wayne Williams, an experienced politician who served as Colorado's secretary of state from 2015 to 2019. Williams's campaign didn't refrain from attacking Mobolade, and Mobolade admits that it was difficult to watch the negative ads.
Still, when Mobolade was assembling an informal advisory council, he chose Williams as one of the members.
Mobolade considered how his favorite US president, Abraham Lincoln, chose advisers. Three members of Lincoln's presidential cabinet were men who had run against him for the Republican nomination. This example, combined with his faith, convinced Mobolade to reach out to Williams, even though they had just recently been at odds.
"If I wasn't a person of faith, I don't think I would offer that [to Williams]," Mobolade said. "I need him not only to help unite the city, but he has a lot to offer that I can learn from. I feel like I have something to learn from everyone."
This story also relates to one of the key themes from Mobolade's life and career: unity. When working with COSILoveYou, Mobolade brought up the concept of communitas. He explained that this Latin word carries the meaning of "community birthed out of a shared mission." Davis said that this was a key concept for their work.
"A call to action of some kind, some big lever that we can collectively pull, that tends to foster a lot more unity than just saying, 'Hey, let's get together for the sake of being together,'" Davis said. "Unity for relationship's sake is a good thing. But it often doesn't start with just relationship. It has to start with some sort of collective action."
Another lesson from the church Mobolade says he'll take into his new role is the importance of humility in leadership.
While serving at a church in Indiana, Mobolade witnessed the destructive nature of poor leadership. He examined his own faith as a result and tried to reconcile the bad environment and the hurt he and others were experiencing versus the ideal that the Bible calls the church to.
When he left that church, Mobolade felt called to lead in a godly way and be the change he wanted to see.
"I remember coming across a quote that was attributed to St. Augustine that said, 'The church is a whore, but she's my mother.' This faith that I'd grown up in had made mistakes, but I think the essence of that quote is that the church has prostituted itself and made mistakes, but at the same time, she's family," Mobolade said. "That's a key part of my life and the reason why I know God and Jesus. In that moment, I made a decision to begin to redeem my family name."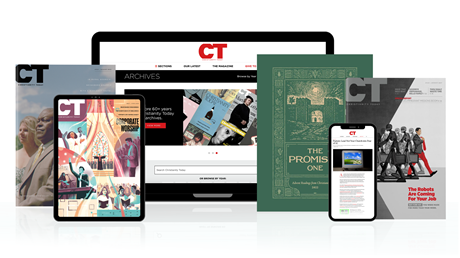 Annual & Monthly subscriptions available.
Print & Digital Issues of CT magazine
Complete access to every article on ChristianityToday.com
Unlimited access to 65+ years of CT's online archives
Member-only special issues
Subscribe
Colorado Springs's New Christian Mayor Wants to 'Disrupt' Politics with Unity
Colorado Springs's New Christian Mayor Wants to ...