A Buddhist Nun Walked into an Anglican Church
How God pursued me even when I was certain I'd already found truth.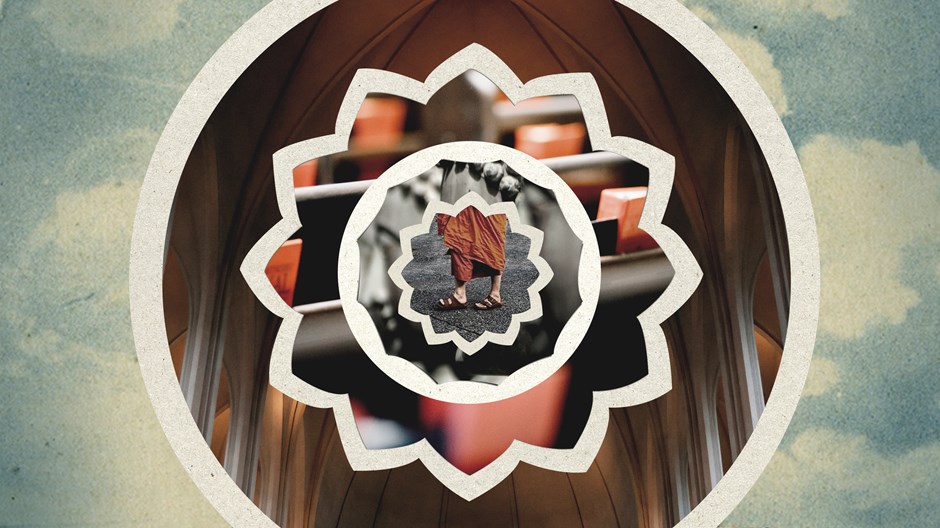 Image: Illustration by Mallory Rentsch / Source Images: WikiMedia Commons / Unsplash
On a warm summer's day in 1991, I sat in Amaravati Buddhist Monastery, a temple north of London, my heart full of confusion and inner turmoil. I had begun seriously to doubt my faith.
It didn't make sense. I thought I had found the truth in Buddhism and had given up everything necessary to become a Buddhist nun seven years earlier. In the temple led by American monk Ajahn Sumedho, life was strict and disciplined, involving many ascetic practices designed to simplify daily existence and help us detach from earthly things. Our lives were based around meditation practice; we were celibate, slept little, and ate only one meal a day. I was known for my strong faith in Buddhism, and had not ever really doubted the purpose of living by its teachings.
Until now.
Suddenly I found myself, with my shaven head and robe, spontaneously rushing down to the traditional Anglican church in the nearby village. "I've got to talk to somebody, I've got to understand what's happening to me," I thought.
Upon entering, I looked around anxiously for the priest. "Could you pray for me, please?" I asked when I spotted him. "I'm very confused." Unfazed, he graciously guided me to the Holy Communion rail and asked me to kneel. He laid his hands on my shoulders and prayed. As he did so, I broke down sobbing uncontrollably.
As the tears abated, the priest's compassionate eyes met mine, and he said, "We need to talk." We agreed to meet the following week.
After being prayed for, I felt a great release of the emotions and conflict deep inside of me. I was expectant that this man of God might be able to help me. How things had changed from my certainty about Buddhism to barely being able to contain my excitement about my appointment with an Anglican priest!
Finding solace in Buddhism
I was born in 1956 near Liverpool, England. Both my parents were unusually bitter and angry towards the church, my mom preferring to visit palm readers and fortune tellers instead.
My father, having grown up in an orphanage, said that the only thing he ever got from the church was the money he stole from the offering bag to alleviate his hunger. My brother and I naturally took on the opinions of our parents.
I left home at 18 to study in London. I led quite a self-indulgent lifestyle, including partying and promiscuity. However, upon finishing my studies, I was beset by questions: "Who am I?" "What's life about?" My spiritual side, which had been suppressed for years, now demanded answers.
At age 21, the search for truth became my life's quest. Living in London provided me with a plethora of spiritual options. I met a Sri Lankan Buddhist monk and began to frequent his temple. He was a patient, scholarly man who appeared to have answers to my questions.
I especially liked that God was nowhere to be found in Buddhism. Buddha taught that he was only a man and that his insights were due to his own endeavors and intelligence. His spiritual goal was to be completely free of suffering. After a period of various spiritual practices and intensive meditation, Buddha concluded that to exist in any form whatsoever—for instance, as a human, animal, or ghost—would give rise to suffering. He claimed to have found the way that led to the end of suffering.
Buddha's goal of nirvana is described as extinction, or not to be born in any form at all, where all becoming ceases. This felt to me like a breath of fresh air after experiencing the other extreme of self-indulgence and world-weariness.
Over the next six years, my commitment to Buddhism increased. This included going on a Buddhist pilgrimage in India and attending meditation retreats in Sri Lanka and Thailand.
Several years into this spiritual journey, while staying in a temple in northeastern Thailand, I decided I wanted to become a Buddhist nun with Ajahn Sumedho's community. So in 1984, I boarded a plane back to England and prepared to join Chithurst Forest Monastery.
A Christian awakening
As an ordained nun, I rarely if ever doubted the teachings of Buddha. However, with time, it became clear that God was reaching out to this rebellious one. One evening in the temple, we watched The Law of Love, a documentary about Jackie Pullinger, a British Christian missionary serving the poor in Hong Kong. (The mother of the film's producer was a Buddhist and shared it with us.) I saw Jackie and her helpers praying in the name of Jesus and by the power of the Holy Spirit. God moved through them to touch and heal people, including drug addicts who were miraculously freed from their addictions.
Beyond their physical healing, I could see they had a certainty in their spiritual life, a deep inner freedom and truth that I was searching for but now knew I had not found in Buddhism. It made me feel spiritually destitute and barren, as though I had nothing by comparison.
Something deep and foundational within me had been disturbed and awakened. A huge spiritual struggle ensued which lasted for months. I found myself seeking to learn more about Christianity, including reading Jackie's books, then rejecting it again for Buddhism by trying to "let go" of that desire. It was an unbearable tension: two forces pulling hard in opposite directions, vying for my commitment.
However, as the weeks passed, I experienced an overriding desire to attend church, to be baptized, and to pray—even though I didn't really know what those things meant.
In the height of my confusion, I rushed to the local church that Sunday morning. When I met with the priest a couple of days later, he read to me Jesus' words in John 14, telling me to not let my heart be troubled. He was preparing a place for me in his Father's house: "And if I go and prepare a place for you, I will come back and take you to be with me that you also may be where I am."
The priest told me he believed the Lord had touched me and that I had come to know God. I knew deep inside that what he said was right. One week later, I disrobed and before long left the Buddhist temple. One of the nuns wept, asking what had happened to my strong faith. Another was concerned, warning me that "if you change your mind and decide to come back, you'll have to start from the beginning again."
I did not argue with them, instead remaining silent. What had happened to me perplexed the nuns and monks that I had lived with for so long, but they treated me with respect.
Nothing wasted in God's economy
I returned home to Colchester, a town in Essex, where I joined an amazing church. There the pastor and his wife taught me the basics of the Christian faith and nurtured me as a believer. After three years, I joined Jackie Pullinger's ministry in Hong Kong, a truly fruitful period of learning and growth.
However, after a few years, I started to feel something else stir in me—a clear call to Thailand, where about 95 percent of the population are Theravada Buddhists. What a profound apprenticeship God had given me by allowing me to delve so deeply into Thai Buddhism!
I arrived in Bangkok in late 1999 with a suitcase and a vision to help disciple and strengthen Thai Christians in their faith, and have been based in Thailand ever since. I spent the first 10 years in Bangkok and I now live in Ubon Ratchathani, not far from the Buddhist temple that I used to visit. My main ministry focus involves leading a discipleship and inner healing ministry to help Thai Christians, whether church leaders or new believers, grow and mature in their faith.
Most of the people that we help come from a Buddhist background. My own experience with Thai Buddhism has been invaluable: Whether I'm with Thai Christians or Buddhists, they recognize that I have some understanding of where they are coming from and can often speak into their experience.
Once redeemed by Jesus, it seems that nothing is wasted in God's economy.
This article has been adapted from Esther Baker's two books: I Once was a Buddhist Nun (IVP UK, 2009) and Buddhism in the Light of Christ (Wipf and Stock USA, 2014). Esther's name is a pseudonym due to sensitivities in Thailand where she is based.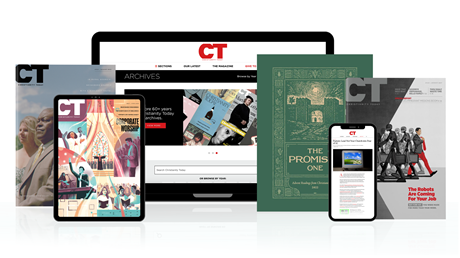 Annual & Monthly subscriptions available.
Print & Digital Issues of CT magazine
Complete access to every article on ChristianityToday.com
Unlimited access to 65+ years of CT's online archives
Member-only special issues
Subscribe
A Buddhist Nun Walked into an Anglican Church
A Buddhist Nun Walked into an Anglican Church