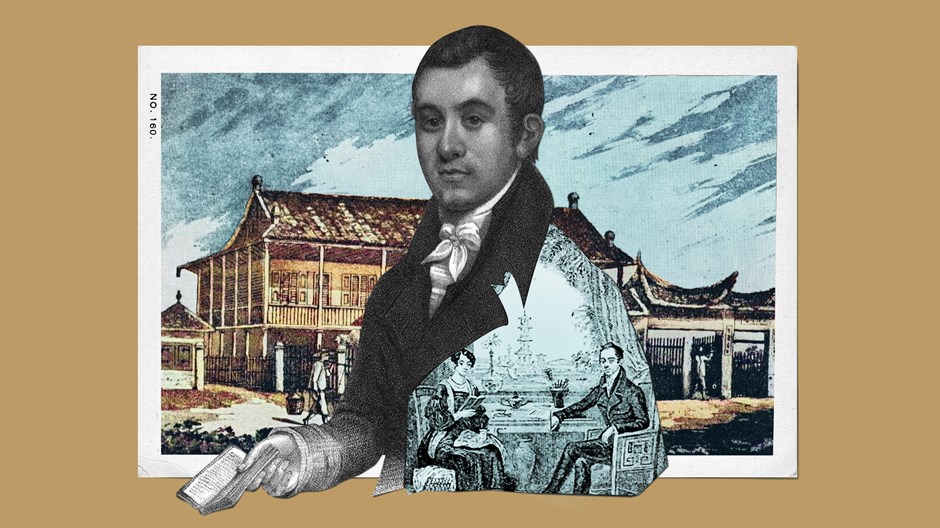 Image: Illustration by Mallory Rentsch / Source Images: WikiMedia Commons
During William Milne's nine years of ministry in Asia, the second Protestant missionary to China printed Chinese books, helped translate the Bible into Chinese, and cofounded the well-known Anglo-Chinese College. Perhaps his greatest legacy was creating the first modern Chinese periodical, Chinese Monthly Magazine.
Before Milne, only the imperial court or local government representatives disseminated information in China. Milne and fellow missionary Robert Morrison first published Chinese Monthly Magazine on woodblock in August 1815 in Malacca, a trade port in the Malay Peninsula. The periodical combined portions of the New Testament, explanations of Christian doctrines, as well as stories on science, technology, and current events.
The paper stopped publication six years later when Milne fell sick in 1821 then died the next year from lung disease. Despite his early death, Milne's contributions to China and the Chinese diaspora in Southeast Asia are immense. Chinese Monthly Magazine was followed by other missionary presses. These newspapers had a large influence on Chinese society and led to the creation of secular publications. By the time of the 1911 Xinhai Revolution, there were 500 newspapers and periodicals in the country.
All this by a farmer from Scotland.
Humble beginnings
Born in Aberdeenshire, Scotland, in 1785, Milne came from a poor family with little education. He worked as a farmer, carpenter, and shepherd, as his father died when he was six.
Despite his humble origins, Milne grew up in the church and was greatly influenced by the godly men there and by reading Christian books. In 1801, at the age of 16, Milne accepted Christ as his Savior and was baptized. After reading the stories of missionaries, consulting friends, and praying, Milne decided he wanted to be a missionary and applied to the London Missionary Society (LMS). He was rejected.
Milne begged the committee to reconsider, eager to serve even if just "a hewer of wood, or a drawer of water," according to Baiyu Andrew Song's Training Laborers for His Harvest. In 1809, LMS relented and accepted 24-year-old Milne, sending him to three years of training. Once he graduated, he married Rachel Cowie and a month later left for Macao with his new wife.
Milne worked with Morrison, who had arrived in Portugese-ruled Macao seven years earlier as the first Protestant missionary to China. Catholic clergy in Macao forced Milne to leave immediately, so he sailed to Canton (Guangzhou) where he hid in a warehouse to escape the notice of Chinese authorities. Unlike Morrison, who had ties with the East India Trading Company working as a translator, Milne was unable to stay in either place. He spent the time learning Chinese.
Like many foreigners before and after him, Milne struggled to master the language. Milne noted that to learn Chinese well, foreigners must have "bodies of brass, lungs of steel, heads of oak, hands of spring-steel, eyes of eagles, hearts of apostles, memories of angels, and lives of Methuselah!"
World's first Chinese periodical
As the anti-foreigner sentiment in China prevented Morrison and Milne from preaching to mainland Chinese, they focused their energies on Christian literature and Bible translation. In the spring of 1815, Milne and his family settled in Malacca where he established a mission headquarters. He built a printing press, and in 1815, the missionaries founded the Chinese Monthly Magazine.
Milne described the magazine's purpose: "To promote Christianity was to be its primary object; other things, though, were not to be overlooked. Knowledge and science are the hand-maids of religion, and may become the auxiliaries of virtue."
As the editor, Milne used the pseudonym Bo Ai Zhe (博爱者) or "Practitioner of Goodness." The name appeals to Confucius's teaching that one should "listen widely, select what is good and follow it." About 85 percent of the content consisted of Christian material—including the New Testament he and Morrison had been translating, according to Xiantao Zhang's The Origins of the Modern Chinese Press. The paper also discussed astronomy, world history, geography, and current events. At first, Milne printed and disseminated 500 copies to Chinese residents and the diaspora. The circulation jumped to 1,000 after the first three years.
The magazine also created new Chinese words for proper nouns. For example, prior to the publication, Chinese writers used ying ji li (英咭唎), the transliteration of "English" to refer to Great Britain. In an issue of Chinese Monthly Magazine in 1820, the name of the nation was translated as ying guo (英囯) for the first time. Since then, this translation has been used as the standard Chinese term for England.
Although the publication lasted only six years, it encouraged missionaries to start their own publications. The Protestant missionary press included Karl Gutzlaff's Eastern Western Monthly Magazine in 1833. The first periodical established on Chinese soil, Eastern Western focused less on providing Christian material and more on increasing Sino-Western understanding by translating articles from foreign magazines.
Perhaps the most influential missionary newspaper was Wanguo Gongbao (A Review of the Times) created by American Methodist missionary Young John Allen in 1868. While the newspaper was initially focused on the Christian community, it soon shifted to promoting reform in China. With commentary calling for China to modernize and news from the West, the newspaper had a great influence on reformers Kang Youwei and Liang Qichao. Many of the Chinese contributors to the newspaper also went on to start newspapers themselves.
Zhong Haiping, former vice president of Jishou University in Hunan, wrote that the significance of Chinese Monthly Magazine was not only its contribution to the technique of magazine printing but also its philosophy of journalism.
"Facing a crisis of moral decline and the loss of humanities [today], it undoubtedly gives prophetic enlightenment to people blinded by money," Zhong wrote in 2011.
"Newspapers and periodicals must guide people with correct public opinion and become 'good books' so that 'those with little knowledge can understand, fools can be wise, the evil can repent and become good, and the good can cultivate all virtues,'" he said, quoting Milne.
Milne's work in literature and education
Milne also influenced the people around him. In 1815, Liang Fa, the printer who had helped Morrison and Milne print the Chinese New Testament, came to Malacca to help Milne print Chinese Monthly Magazine. Under Milne's influence, Liang Fa embraced the Christian faith and was baptized in November 1816. Liang was the second Chinese Christian led to Christ by a Western missionary (the first was Choi Kou, led by Morrison) and later became the first Protestant Chinese pastor in the nation's church history.
In addition to Chinese Monthly Magazine, Milne published the English-language quarterly journal The Indo-Chinese Gleaner beginning in 1817 until his death. He also wrote 21 publications in Chinese and three in English, the most well-known being Dialogues between Chang and Yuen (1819). Originally printed as a series of articles in the magazine, the story used questions and answers between two fictional Chinese friends—one Christian and one believing in Chinese traditional religions—to express important issues of the Christian faith.
The series was so popular that missionaries reprinted it as tracts, making it the most reprinted and circulated tract in the 19th century. Subsequent missionaries used it as a model for their own literature evangelism.
Milne also worked with Morrison on completing the Chinese translation of the Bible. Beginning in August 1817, Milne helped revise portions of the New Testament and translated the Old Testament from Deuteronomy to Job. They finished the translation in November 1819, but Milne did not live to see its publication in 1823.
Their translation became the one most used by missionaries in the Chinese-speaking world. Even though the translation was at times awkward or even incorrect, Yung Wing, the first Chinese to graduate from a US university, noted, "The importance and bearing of [Morrison's] dictionary and the translation of the Bible into Chinese, on subsequent missionary work in China, were fundamental and paramount."
At the same time, Milne also wanted to equip a group of believers in Malacca to become preachers and return to China to preach the gospel. However, he faced a shortage of teachers, space, equipment, and students, as almost all local Christians were illiterate. So in 1815, he opened a small school in Malacca in a stable with less than 10 students. For the first half of each day, private tutors taught reading and writing Chinese characters. In the second half of the day, missionaries taught the Bible and catechisms.
In 1818, Morrison and Milne expanded the school into the Anglo-Chinese College. Milne served as the first principal and taught many of the classes, including geography, English, and ethics. Despite facing difficulties and several temporary closures, the school is now a well-known secondary school for boys in Hong Kong. With more than 200 years of history, it is the oldest school in Hong Kong, where it moved to in 1843.
"His whole soul was in his work"
Milne and his wife lost two newborns in 1816 and 1817, before Rachel fell ill and died after giving birth to their youngest son, William, in 1819. The pressures of his work along with caring for his four surviving children took a toll on Milne's health. He died three years after his wife and was buried next to her in a Dutch cemetery in Malacca.
During Milne's nine years in Asia, he had an immense impact on Chinese literature, Chinese journalism, and the Chinese church. His friend and colaborer, Morrison, expressed his sorrow over Milne's death.
"Great is the loss to this mission which the early removal of that faithful, devoted, and successful Chinese Missionary, has occasioned," said Morrison. "His attainments in the difficult language of this great empire were eminent. His whole soul was in his work."
Kuo-An Wu holds master's degrees from National Taiwan University and Chung Yuan Christian University and a PhD in theology from the University of Edinburgh. He previously taught at Alliance Seminary in Hong Kong, Baptist Seminary in Taiwan, and Singapore Bible College. Wuis currently an associate professor of church history and systematic theology at the China Evangelical Seminary in Taipei.
Translation by T. N. Ho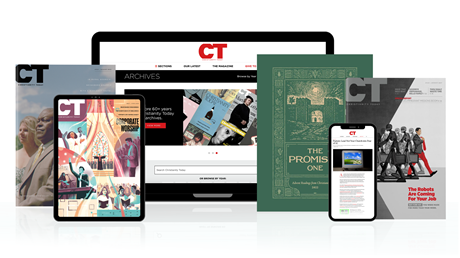 Annual & Monthly subscriptions available.
Print & Digital Issues of CT magazine
Complete access to every article on ChristianityToday.com
Unlimited access to 65+ years of CT's online archives
Member-only special issues
Subscribe
A Scottish Farmer Started the World's First Chinese-Language Magazine
A Scottish Farmer Started the World's First ...