Water, Water Everywhere: How Christians View Thailand's Water Festival
During Songkran, Christians find parallels in honoring their elders but point to the living water.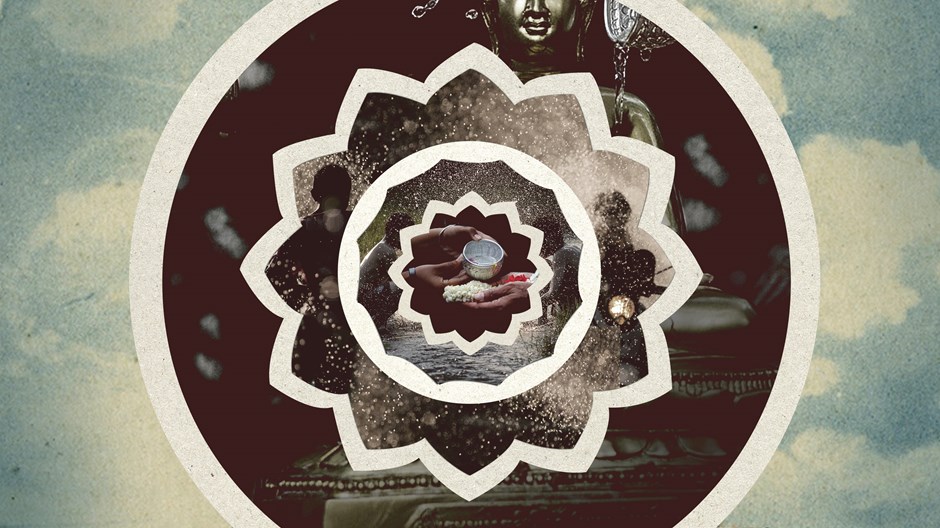 Image: Illustration by Mallory Rentsch / Source Images: Getty
This is the third article in the Engaging Buddhism series, which explores different facets of Buddhism and how Christians can engage with and minister to Buddhists.
For the first time since the pandemic began, the massive water fights of Songkran have returned to Thailand's streets. Taking place during the hottest week of the year, children and adults spray each other with colorful plastic water guns. People stand in the back of truck beds and use buckets to fling water and ice at neighboring trucks. Motorcycle drivers squint to see through the deluge—which often comes at them from multiple directions—while their passengers soak as many people as can as they pass.
Water—and lots of it—replaces fireworks in Songkran, Thailand's new year celebration, held April 13–15. The holiday is also celebrated in Cambodia, Laos, Myanmar, Sri Lanka, and several other regions that follow the Buddhist calendar. According to Buddhist tradition, water symbolizes ritual cleansing, righting last year's wrongs, and welcoming the clean slate of a new year.
Beyond the raucous water fights on the streets, Thai Buddhists visit temples during Songkran to pour water over statues of Buddha and the hands of monks. This symbolic act is believed to atone for sins, bring purification, and make merit (gain good karma by performing good deeds). Worshipers also bring food for monks to make merit.
Spending time with family is also integral to Songkran. During the holiday, Thais travel across the nation to visit their family and strengthen familial bonds as they move toward the new year. They also pay respect to their elders and seek their blessing by pouring water over their hands. People exchange floral garlands made of jasmine, roses, and white champaca (flowers similar to magnolias).
Thai Christians differ from their countrypeople in their participation of Songkran because of the holiday's Buddhist roots and because of the drinking and partying that have become associated with it. Yet Thai pastors see Songkran as an opportunity to show the wider Thai society that Christians also honor their elders, even if they don't participate in certain Buddhist rituals.
"We show respect to family—our father, mother, or elders—which is a beautiful picture, and it is something that honors God," said Chukiat Chaiboonsiri, the pastor of Creation Church Chiang Mai.
CT spoke to three Christians in Chiang Mai province in northern Thailand—Chaiboonsiri; Goi Manasakulpong, pastor of Creator Church in Hang Dong District; and Dream Waiwang, a former missionary—about how they view the holiday and the gospel opportunities they see during the celebration.
Thailand's giant water fight
Songkran originated from a Hindu festival in India welcoming a new harvest season. Derived from the Sanskrit word sankranti, which refers to the movement of the sun from one position to another in the zodiac, it marks the new year according to the solar calendar. From 1888 to 1940, Songkran was Thailand's official new year before it was moved to January 1.
The traditional custom of pouring water on Buddha, monks, and elders later extended to splashing friends and family with buckets of water to keep cool and as a sign of respect. While len nam, or playing and throwing water, has been a component of the holiday for generations, the rise of tourism and social media has brought Thailand's water festivities into the international spotlight in recent years. Tourists from around the world throng to the country to join in the celebrations.
Chaiboonsiri, 48, believes Christians should not venture into the busy areas during Songkran for both their physical and their spiritual safety. Motorcycle and car accidents spike during Songkran due to drunk driving, speeding, and reckless driving. The revelry can also lead to temptations for Christians, as many people get drunk and start fights.
He said Christians should not go where "we are spiritually enticed and our life is threatened."
On the other hand, 35-year-old Waiwang, who has ministered with missionaries in northern Thailand since she was in college, does not see an issue with celebrating and playing in water fights, as long as caution is exercised. "For me, I don't drink, so I think they will see how I'm different from them," she said, adding that it can lead to gospel conversations.
Manasakulpong, also 35, agreed, noting that Christians can take part in traditions that do not compromise their faith such as the water fights and honoring elders. He sees joining in as a way for Christians to remain present in the community and a witness to nonbelievers.
"Water fights are a separate action from a religious ceremony, so we can participate," he said. Yet he notes that Christians should behave in an "appropriate and polite" way and refrain from violence.
Manasakulpong draws the line at pouring water over statues of Buddha or seeking the blessing of monks, noting that Christians should only worship and revere the one true God. He's found that many Thai Christians attend festivals without knowing the significance or history of the holiday. So he urges church leaders to study the origins of Thai holidays to help congregants understand what they should and shouldn't take part in when celebrating.
Showing respect to elders
Some Thais lament that the water fights have taken center stage in the holiday, pushing other traditions into the background. In the past, water splashing was not nearly as intense as it is now; typically smaller buckets of water were used and water guns weren't as common.
"When we study the history, we will see that the Songkran festival is a beautiful tradition," Manasakulpong said. He points to the quality time spent with family and the chance for the older generation to bless and impart wisdom to the younger generation. Families ask for forgiveness from one another and right the wrongs of the previous year.
Christians also embrace these concepts. Both pastors noted that it's important for Christians to demonstrate to Thai society that honoring elders and Christianity are not mutually exclusive. That's because in Thailand, Christianity is seen as countercultural. Those who convert to Christianity are viewed as abandoning the faith of their parents and the community around them. By no longer partaking in the customs and rituals tied to Buddhist beliefs, older family members may feel that they are rejecting them and their own Thai identity.
For instance, after a loved one dies, family members traditionally pour holy water over the body, make merit on behalf of the dead by giving money to the temple, and buy refreshments and gifts for monks who chant over the body. A Thai Christian refraining from participating in parts of the funeral can be viewed as dishonoring their elders.
Songkran can be an ideal opportunity to show that Christians also hold elders in high esteem. At Manasakulpong's church, his staff and church members buy gift baskets containing items such as toiletries, soap, shampoo, fruit, and snacks to give to older church members during Songkran.
Over at Chaiboonsiri's church, the older men and women sit in a row at rectangular tables at the front of the church. Younger members walk down the line to ask for a blessing and pour water from bowls over the hands of the elders to symbolize respect and honor. This activity can help bridge the gap between Thai culture and Christianity, Chaiboonsiri said.
"The Bible gives us the command to respect elders and show God's love for them," he said. "Therefore, it is something that Thai Christians should do to the best of our abilities."
Manasakulpong noted that Christians and Buddhists differ in their motivation to honor their elders. When Buddhists participate in temple activities or pour water over an elder's hands, they are seeking to make merit and cancel out their bad karma so they can move up in their next life. For Thai Christians, the gifts, honor, and respect aren't given out of a works-based theology.
"Christians do not make merit in order to be saved, because salvation is a gift from God," Manasakulpong said. "But we should do good deeds and show love to others because doing so is an honor to God."
Sharing the living water
Since so much of the new year holiday is spent with family, Chaiboonsiri encourages Thai Christians to deepen their relationships with their family and be a Christlike witness. Waiwang also believes the family time is an important opportunity to love them as Christ loves the church. She said young people should take the time to visit older family members to ask for forgiveness.
"If we did something wrong or disrespectful to them, it is the time to show them that we are sorry for the things we did," Waiwang said.
As water sloshes over the streets of Chiang Mai, Chaiboonsiri speaks to his congregants and nonbelieving Thais about living water. This Sunday, he plans to preach from John 4, where Jesus tells the Samaritan woman at the well that if she drinks from the water he offers, she will never thirst again.
Thai Buddhists go to the temple every year to purify themselves—it's never-ending and never enough, he said. Just like poet Samuel Taylor Coleridge's famous line, "Water, water, everywhere, nor any drop to drink," water is indeed everywhere in Songkran yet there never seems to be enough drops to spare for the sins that so easily entangle.
Buddhists cannot know if they've made enough merit to cancel out their sin. And if they fall ill or are unable to go to the temple, how can they atone for their sin? Life is too short to account for all the wrongdoing a person commits, and repeated "trips to the well" won't quench the thirst for atonement, Chaiboonsiri said.
Here, Chaiboonsiri finds an opportunity to share the Good News: "If you receive Jesus, it's forever—eternal life. Jesus is the water of life; you're not thirsty again and again and again."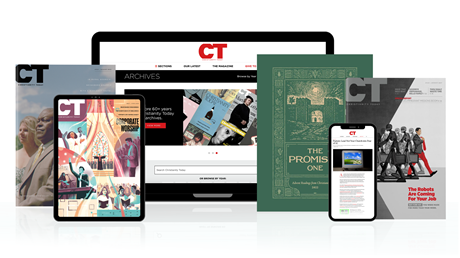 Annual & Monthly subscriptions available.
Print & Digital Issues of CT magazine
Complete access to every article on ChristianityToday.com
Unlimited access to 65+ years of CT's online archives
Member-only special issues
Subscribe
Water, Water Everywhere: How Christians View Thailand's Water Festival
Water, Water Everywhere: How Christians View ...