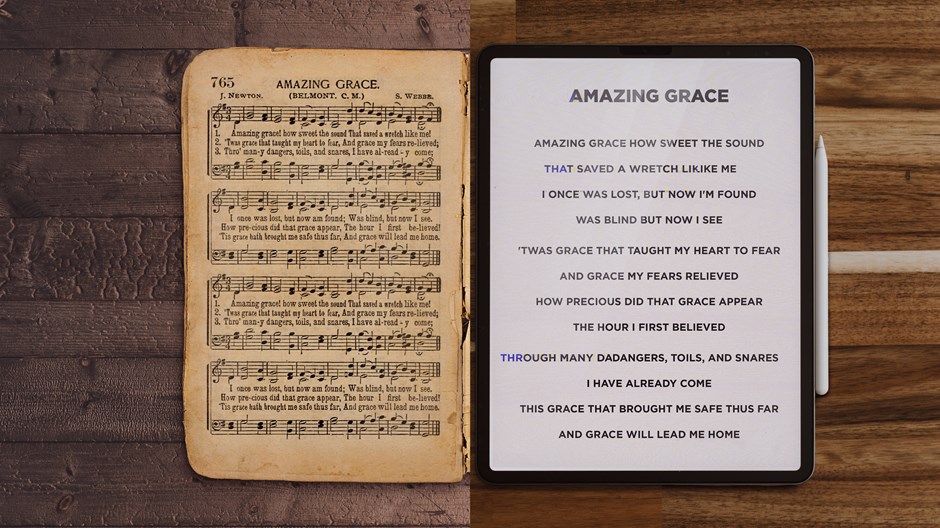 Image: Illustration by Rick Szuecs / Source Images: Envato Elements / Hymnary / Malik Skydsgaard / Kelly Sikkema / Unsplash
The hymn has known so many lives.
"Amazing Grace"—250 years old this year—has been sung in churches and at funerals. It is a civil rights anthem, a civil religion anthem, a folk song, and a pop culture icon. It has been featured on The Simpsons, Cheers, and Star Trek, and it gave expression to America's grief in the days and weeks after 9/11. It's been covered by devoutly Christian artists, such as Johnny Cash and Aretha Franklin, but also by Willie Nelson, Ani DiFranco, and the Dropkick Murphys.
In 2016, Coldplay began the encore of a headlining set at Glastonbury Festival with a sample of "Amazing Grace" sung by Barack Obama during his eulogy for Clementa Pinckney, one of nine Black Christians killed by a white supremacist in a church in Charleston. The British band pulled together many resonances of the song—cultural, political, and religious.
This is a hymn that has served as a first stuttering utterance of faith, as last words at death's door, and as a joyful benediction over festival revelers.
But why this hymn? There are others on the theme of grace, others that express deep theological truths, and even others that are as easy to sing. But "Amazing Grace" stands head and shoulders above any of them. It is, by far, the most popular and successful hymn of all time.
It would be impossible to say definitively why this hymn occupies this special space after 250 years, but I think it's because it speaks to so many situations. The hymn's many lives show us the power it has had to touch human experience and give people the words they needed. The legacy of the hymn is not in its brilliance—there are many "better" hymns, measured in technical terms—but because it does two things brilliantly.
First, the hymn unifies people. The truths of the words resonate across boundaries of time and culture. And second, the hymn allows the singer to tell their own story. "Amazing Grace" has stood the test of time because you and I can both find language that articulates our experience of life and faith.
Newton's genius lies not in his skill as a wordsmith, but in his pastoral ability to bring the truth of Scripture into people's hearts, lives, and mouths. And for 250 years, countless millions have joined this song, singing their own stories in unison.
The story of the hymn is as surprising as the story of its writer, Anglican evangelical clergyman and reformed slave trader John Newton.
Newton's life has been well documented: His mother died in his infancy, he later joined his father at sea, and he eventually became a slave trader. This profession was abhorrent even to many who had no ethical qualms about enslavement itself, and Newton was apparently so morally repugnant in this context that even his colleagues were appalled. He was eventually marooned in West Africa.
"I was in effect, though without the name, a Captive and a Slave myself," Newton later wrote, "and was depressed to the lowest degree of human wretchedness."
He was rescued from West Africa and headed home. On the voyage, his thoughts turned to his mother's faith during a violent storm. In the coming years, he embraced evangelical Christianity and was eventually appointed minister in Olney, Buckinghamshire. It was here that his friendship with William Cowper blossomed, and the pair began writing the hymns that would later become the Olney Hymnal.
Newton's evangelical Anglicanism embraced a good bit of Calvinist theology, but he also was grounded in practical and pastoral concerns. He described himself as being "more of a Calvinist than anything else," but qualified that by adding, "I use my Calvinism in my writing and preaching as I use sugar. I do not give it alone, and whole; but mixed and diluted."
His hymns were no exception. Newton was insistent that they be "designed … for the use of plain people." He wrote, "If the LORD whom I serve, has been pleased to favor me with that mediocrity of talent, which may qualify me for usefulness to the weak and poor of his flock, … I have reason to be satisfied."
Newton's practice was to write hymns to be sung following his sermons. When he preached on 1 Chronicles 17:16 –17 in January 1773, he introduced his congregation to the hymn "Faith's Review and Expectation" (which was only later retitled "Amazing Grace"). The hymn gave voice to King David's thankfulness at God's grace in the covenant promise of a kingdom that would endure through all generations. In six verses, the story of grace moves from conversion to providence to the hope of peace as he passes within the veil of death.
Newton had a lavish perception of God's grace, as he himself had experienced it. He wrote that Jesus has "unsearchable, inexhaustible riches of grace to bestow." It was grace enough for everyone in heaven, and more besides. "The innumerable assembly before the throne have been all supplied from his fulness," Newton wrote, "and yet there is enough and to spare for us also, and for all that shall come after us." Amazing grace indeed.
This grace would provide from first to last, Newton believed. There was grace enough in Christ to lead David, Newton, and all of us "safe thus far," and it would surely lead us home. Newton wrote that "we need sovereign irresistible grace to save us … we cannot watch, unless he watches with us; we cannot strive, unless he strives with us; we cannot stand one moment, unless he holds us up."
When Newton published the hymn, it enjoyed only modest reception. It was not published widely in its first few decades. Perhaps there weren't enough people looking for a hymn to fit a sermon on 1 Chronicles 17.
Another issue was that in the early years, it was sung to at least 20 different tunes. It was only in 1835 that William Walker paired the text to tune of "New Britain," which is now the tune inextricably linked to the words. Still, it struggled to catch on. The 1907 edition of the landmark Dictionary of Hymnology describes how "Amazing Grace" had almost ceased to be published in Britain. Then, editors seemed to think that fair, since it was "far from being a good example of Newton's work."
They noted, though, that it was used extensively in America. It received regular use at revivals and camp meetings of the early 19th century and then became a standard in the repertoire of D. L. Moody's song leader Ira Sankey.
In America, the hymn lost its association with 1 Chronicles and became instead a statement of personal testimony—a hymn about being born again. At the same time, it became attached, rather unexpectedly, to American abolitionism. Harriet Beecher Stowe included it in her novel Uncle Tom's Cabin.
Some of the words we sing today were actually first added to the hymn by Stowe. She took a verse from the hymn "Jerusalem, My Happy Home" and added it to "Amazing Grace." It wasn't uncommon at the time for verses to migrate from hymn to hymn; the words about "when we've been there ten thousand years" had previously jumped from "Jerusalem, My Happy Home" to "Go On, Dear Pilgrim, While Below," before Stowe, bringing Newton's hymn into her fiction, borrowed them for an additional verse. That version was republished by renowned composer and song leader Edwin Othello Excell in 1910, along with the tune for "New Britain."
Excell axed three of Newton's original verses and brought the now-common concluding verse into the hymn. He's also the one who permanently fixed the words to the "New Britain" tune. He made sure American churchgoers knew the hymn, too. Before his death in 1921, he published it in 14 significant American hymnals, which cemented his version in American church culture. (It didn't make it back to Britain, curiously enough, until 1964).
There is, at the same time, a parallel history of the hymn among Black Christians. As enslaved believers learned the hymns of white Christians, some tunes resonated and found a new home. "Amazing Grace" spoke about hope in the midst of suffering and oppression, the possibility that one who was lost could be found, one bound could be free.
Black Christians took the song and made their own. The first two gospel recordings were made in New York City in 1926 by Rev. H. R. Tomlin and Rev. J. M. Gates.
The definitive gospel version was recorded in 1947, by Mahalia Jackson with Apollo Records. She sings only the first verse in a legato performance delivered almost a capella with sparse organ accompaniment.
When she later joined the civil rights movement, Jackson regularly performed alongside Martin Luther King Jr. She sang in Selma, at the March on Washington, and at King's funeral. Her version of "Amazing Grace" brought a new life to the history of the hymn.
During this time, the song was also a staple of the folk scene, performed by the likes of Woody Guthrie and Joan Baez. In December 1970, Judy Collins released an a cappella version. Following the success of "Bridge Over Troubled Water" and "Let it Be"—both of which owe a debt to hymnody—Collins's single topped the charts in Britain and America. The songs of camp meetings and justice marches could be heard mingling with popular music on the radio.
Just two years later, Aretha Franklin released a double album titled "Amazing Grace," recorded at the New Temple Baptist Church in Los Angeles. One reviewer at the time said she was taking people back to church. Another, in a retrospective, wrote, "Her voice was chilling, making it seem as if God and the angels were conducting a service alongside Franklin, Rev. James Cleveland, the Southern California Community Choir, and everyone else in attendance." It is considered the best album of her career and is the best-selling live gospel recording to date.
By the time America was dealing with the terrorist attacks of 2001, "Amazing Grace" was a religious song that everyone reliably knew, even if they didn't go to church. It could be used in national mourning, alongside patriotic songs like "God Bless America," as a way to bring people together, or to help them grieve and channel their sorrow.
But the many lives of "Amazing Grace" didn't end when it was pressed into civil service by president George W. Bush or by president Barak Obama a few years later. The hymn received another rejuvenation when Chris Tomlin recorded a version for a biopic film of abolitionist William Wilberforce. Newton appears in the movie as an old man looking back in sorrow at his involvement in the slave trade. Tomlin sang four of Newton's original verses and added a new chorus, singing, "My chains are gone, I've been set free / My God, my Savior has ransomed me."
Licensing records show that Tomlin's version is regularly played in churches, the contemporary music style introducing the hymn to yet another generation of Christians, who may well adopt, adapt, and repurpose "Amazing Grace" in the future.
I think that's a good thing. There is a danger that appreciating hymns becomes a retrospective affair, where we sing them out of commitment to tradition or heritage. But the success of "Amazing Grace" does not lie in the way it draws the singer back to the past—the civil rights march, the frontier revival, or the small parish church in rural eighteenth-century England. Its success lies in the way it propels the singer forward. Newton's words, as he dramatically and pastorally articulated David's wide-eyed wonder at the grace of God's covenant, carry us forward. When we fill our lungs to sing this song, we are asked to remember how grace has brought us this far, but also how it will lead us home.
The covenant God made in 1 Chronicles 17 was a covenant that would outlive David. It is a covenant finally fulfilled in the eternal reign of Christ. When we've been there 10,000 years, as that added final verse says, we'll have only just begun. Each of us singing the hymn, whether we're aware of Newton's original intentions or not, can make those words their own.
Each person who sings of the precious grace that appeared "the hour I first believed" recounts their own conversion experience. Each person who sings of the dangers, toils, and snares that they have been brought through can recount different trials. The universality and individuality of suffering are sung with one heart and many voices. And as the hymn expands into different contexts—revivals, cotton fields, concert halls, civil rights marches, churches, and movie theaters—it pushes us all toward the reconciling love of Christ.
Newton could not have imagined the life that his hymn would have. But he did hope that others would be able to resonate with his hymns. He hoped that his hymns, "being the fruit and expression of my own experience, will coincide with the views of real Christians of all denominations." And today, "Amazing Grace" has achieved this.
For 250 years, the hymn has comforted, converted, challenged, and encouraged those who sing it. I suspect it will continue to do so for another 250, at least.
Daniel Johnson is a PhD researcher at the University of Leicester, writing the work of Isaac Watts. He is also head of academic development at the Nexus Institute for Creative Arts.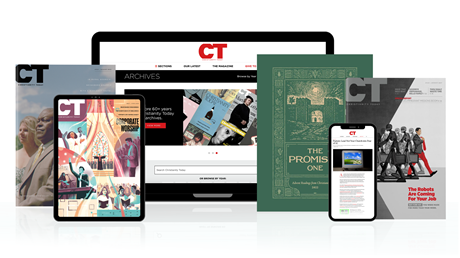 Annual & Monthly subscriptions available.
Print & Digital Issues of CT magazine
Complete access to every article on ChristianityToday.com
Unlimited access to 65+ years of CT's online archives
Member-only special issues
Subscribe
We've Sung 'Amazing Grace' for 250 Years. We've Only Just Begun.
We've Sung 'Amazing Grace' for 250 Years. We've Only Just Begun.