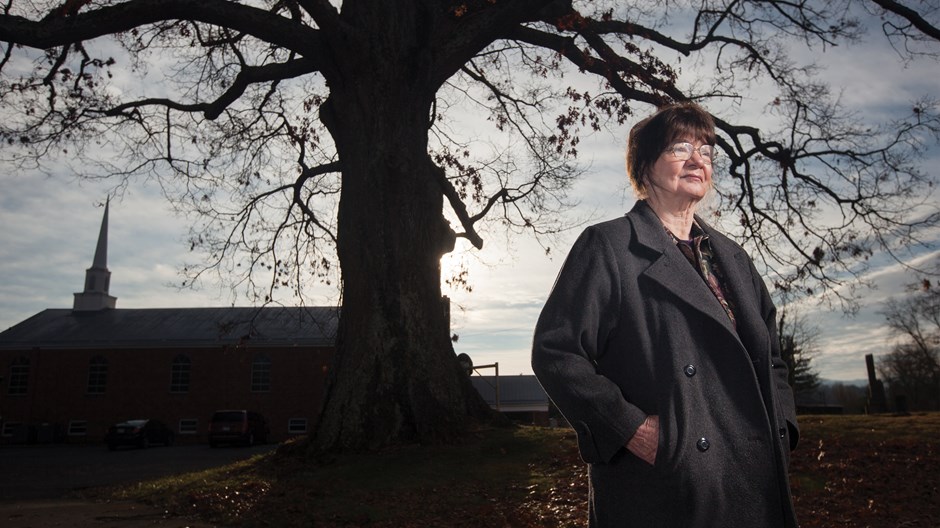 Image: Andy Olsen
It's hard to tell a church that you think it's going to die, but Bryan Smith was trying.
There were less than 10 people left in a Southern Baptist congregation in East Tennessee. They didn't have a pastor. They didn't have enough elders for an elder's board—just two men, both too sick to take on the responsibility. The money in the bank barely covered the utilities and the building was falling into disrepair.
The faithful few thought a new pastor and a few good sermons could save them. They wanted Smith, the church development specialist for the Holston Baptist Association, which serves Southern Baptist churches across four counties in the Appalachian Highlands, to find them someone who could really preach.
"That's not going to work," Smith said.
Smith didn't think anything would work. He thought the church would die. He thought it should die, so that it could rise again.
Southern Baptists believe in resurrection—Jesus' resurrection, of course, but also their own. They hold fast to the faith that the saved will rise up out of the ground on that last day. It is harder, though, to believe that institutions can pass away and rise again.
Smith described how the process would work: He wanted the church to turn over its property and bank account to the Baptist association, which would give them to a church planter to start a new congregation with a new name, a new style, and a fresh energy. The church shouldn't hoard resources until nothing remained. Take what's left, he said, and make an investment in something new.
But the 10 people in this church were having a hard time imagining it. They could see the end. It looked dark and cold and final.
By some estimates, 20 American churches close their doors for good every day. The decline of mainline Protestant denominations has been well documented, but evangelicals are also seeing the effects of a broad demographic shift as fewer Americans join churches and more people embrace individualized spirituality.
Southern Baptists are the largest Protestant denomination in the country, but for more than 10 years now, membership has been in decline. New baptisms continue to decline too, and according to the General Social Survey, only about half of children raised Southern Baptist continue to worship in the denomination as adults.
In East Tennessee, where roughly 30 percent of churches are Southern Baptist, that equals a lot of struggling congregations. Smith estimates that in his region, between 300 and 500 evangelical churches are in decline. No one's talking about Appalachia becoming "post-Christian," but you don't have to travel far in the region to find people without much hope in their lives. And many churches that preach the hope of Jesus are going to close their doors.
Smith can help some struggling churches with revitalization. If a church has a critical mass of members—around 30, including some younger families—along with a building that doesn't need a lot of work and a pastor in good health who is willing to push hard for three to five years, then a congregation with a plan has a chance of thriving again.
But if it doesn't have those things, the church won't make it. Smith has spent the past three years trying to convince some of these dying churches to accept this reality, so they can be like the kernel of wheat Jesus talks about in John 12:24. If they fall to the ground, he says, they can bring forth new life.
Mostly, his message has not been received as good news.
"It's sort of like looking in the mirror in the morning and seeing a bump on your nose," Smith said. "You know something's wrong, but you don't want someone to tell you that. People take offense at what I'm saying. They see anything I say as talking bad about the churches."
He kept talking, though, and kept praying that someone would have the ears to hear what he was trying to say and the faith to take that leap.
"If they can change from thinking they are the person who closed the door of the church to thinking they are the person who gave the opportunity for life to begin again, then it can work," he said. "I tell people, 'You want to be part of the team who makes the decision to restore a gospel presence in this community.' But not many leaders are willing to take that on."
After talking to about a dozen churches, Smith finally got one to seriously consider his proposal. It wasn't because of bold leaders, though. At Snow Memorial Baptist Church in Johnson City, a few women were frustrated with the pastors and elders who they felt hadn't faced facts or made tough decisions. The women believed in the possibility of institutional resurrection.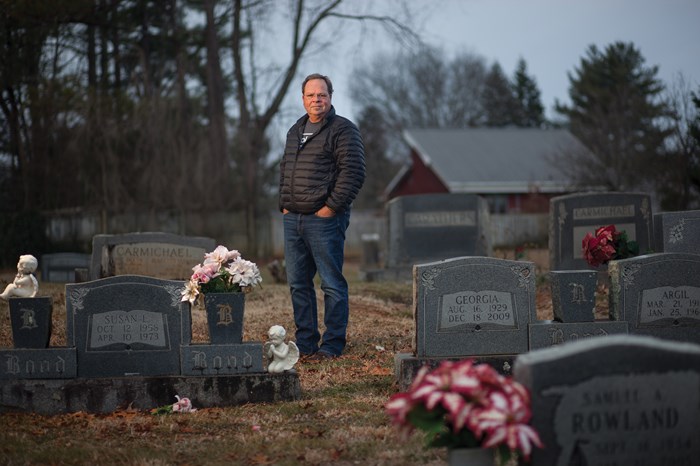 Image: Andy Olsen
Everyone was committed to Christ
Linda Tipton was buried with Christ in the water of baptism when she was nine and was raised again as part of the family of believers at Snow Memorial. She's 75 now and can still feel the cold baptismal water if she thinks about it.
She recalls from her childhood a church of activity and outreach. There was always another bake sale, a bazaar, something to make money for missions. She thought maybe she would grow up to be a missionary.
"I was just committed to serving Christ," she said. "My heart was in it. Everyone's was."
When she was 14, the congregation tore down the small building that had been there since 1893 and built a new brick church with a sharp white steeple. It had broad steps up from the street and tall windows where light could stream in. Behind the church was a graveyard where some from previous generations were buried. A big oak tree stretched its branches over them. Tipton felt like you could live your whole life in that church, from the baptismal to the pews to the burial grounds. And God would always be there.
Tipton stopped attending Snow when she got older. But even as she wandered a little in her spiritual life, she knew God's presence was still at Snow. The Spirit was always there.
In the 1990s, an elder's wife called her to help with children's Bible school. Tipton didn't see why they needed her when she hadn't been part of the church for so long, but the woman "kept calling and calling," so finally she went and taught the children.
Her first Sunday, the elder introduced her to everyone and said he and his wife had been praying to get her back for a long time, and they weren't going to let her go. Tipton knew this wasn't the elder speaking. This was God telling her that he was claiming her and this was where she belonged.
Snow was known for good preaching in those years, according to Debbie Brackins, who started attending a little while after Tipton returned. Good preaching, a lively youth group, and a sense of roots as deep as the oak tree in the back graveyard.
Then the minister retired and the church hired a new one. That, when Tipton and Brackins think back, seems like the tipping point. The church made a wrong choice, and everything changed.
"It has come to my attention in retrospect," Brackins said, "sometimes you really don't wait on the right person, the right pastor. It's hard to find the right one to begin with, and after you make one mistake, you tumble into another."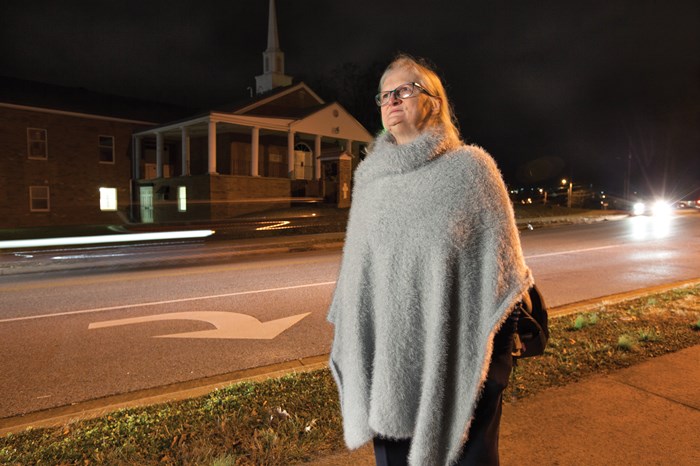 Image: Andy Olsen
People leaving by the handful
The new pastor was a Calvinist. Some of his ideas, like limited atonement, startled them. What he said seemed opposed to evangelism and missionary work. Did the new pastor think Baptists shouldn't witness to their lost neighbors if Jesus actually didn't die for them? That didn't sound right.
There were other problems too. The new pastor reacted harshly to questions, especially from women. When one member asked him whether all of Calvinism was really in the Bible, he declared her an enemy of the gospel. She didn't return to Snow after that.
"People were leaving, leaving by the handful, and I thought, Something is really wrong here," Tipton said. "People would walk out while he was preaching, saying, 'That's not right. That's not right.' "
The pastor also brought in a youth pastor, replacing the women who ran the Sunday school classes. That was fine with the women, who believed in strong male leadership—until the young people stopped coming. One day the youth group was full of life. The next, it was dead.
"There were a bunch of youth and he ran them off," Tipton said. "The Devil was in that, there's not much doubt about it."
Then there was "the night of the big blowup," as Brackins calls it now. There was a confrontation, and the pastor quit. One deacon resigned with him. The youth pastor left, and a chunk of the congregation too.
When the pastor drove out of the parking lot, he pronounced a curse on the church. He yelled out, "Ichabod," which is what a woman in 1 Samuel 4:21 named her child when the Philistines captured the ark of the covenant: "Ichabod . . . The Glory has departed from Israel."
Things weren't the same at Snow Memorial after that.
"I don't think we recovered," Brackins said. "We just kept dwindling."
The church found another minister, but he wasn't interested in outreach. He just wanted to preach. There was one after that, but he was too young and seemed scared to actually lead. Another was too old and had health issues. No one seemed to believe the church could ever do missions again, or even neighborhood outreach.
"We were drawn inward," Brackins said. "You can't grow if you don't evangelize. And we weren't doing that. We looked to the pastors to lead us, and they weren't doing that."
After a while, only 12 people were left in the church. Some Sundays it would be more like four or five. There weren't really elders anymore, with most of the men too sick or disinterested to lead. The women opened the doors, cleaned up afterward, closed the doors, and paid the bills.
Then Smith came and talked to them. They hoped he'd find a pastor for them—someone who could turn everything around—but he said that wasn't going to happen. Because of the finances, the low attendance, and the long, bad history, revitalization wasn't really an option. They should close and give their property and the remains of their bank account to a church planter who would start a new congregation. If they wanted to revive their gospel presence in their community, that's what they needed to do.
The women immediately agreed. They knew this was right, they said. Snow needed to die so it could rise again.
The next Sunday, to their surprise, their elderly pastor got up and disagreed. He said the church should continue on without any change.
"I was more upset than mad, but I was mad," Brackins said.
She showed the pastor the bank account and how fast they were running out of money. They would quickly come to the point where they couldn't pay a minister, she said. And then they'd go to irregular "supply" preachers, probably a different one every week, and then the church would die.
But the pastor resisted, and several others in the church objected too. They didn't want to be known as the people who shut the church down. So things continued on until the pastor had a heart attack and decided to retire. The church considered closing again but decided to search for a new pastor instead.
But Snow couldn't find one, at least not one who would agree to more than interim leadership.
Finally, on November 24, 2019, the church voted to turn everything over to the Holston association, shut down for good, and tell Smith to look for a church planter. They would give the church away.
A few of the remaining members didn't come to the vote. They said they knew it was the right thing to do, but they couldn't bear to see it. Those who came voted unanimously.
More than 120 years after Snow was founded, with six men and eight women offering up "prayer and remarks" according to the congregational history, it was disbanded with a few women, a few tears, and an empty building. It was the end, but it wasn't final.
God never left the church
A few months after the church was closed and services ended, Tipton saw a broken-down car in the parking lot. It was a young couple with six dogs, and they were waiting for someone to come fix their vehicle. Tipton invited them to wait inside the church. The couple reminded her of Joseph and Mary in the nativity story, but with more dogs. She fixed some coffee and popped popcorn, and they came in and warmed themselves.
She thought about the curse. That pastor was wrong, she thought. God's glory hadn't departed.
"God never left Snow," she said. "Some people did. But God never did."
She felt God telling her people were going to come to the church again. The love was still there. His presence was still there. When it opened back up, people would come.
They just had to wait and hope Smith could find a church planter.
The women trusted Smith was working on this, though they never saw it happening. He came by the church a lot. He assessed the property, audited the financial accounts, and made sure personal items were returned to their rightful owners. If someone's grandmother donated the piano, they could have it back if they wanted. Smith also wandered the place and prayed.
Several people saw him in the graveyard, under the big oak tree, walking around and talking aloud to the headstones. He told the graves that the church was going to die, but death was not the end. New life was going to come—and new victory.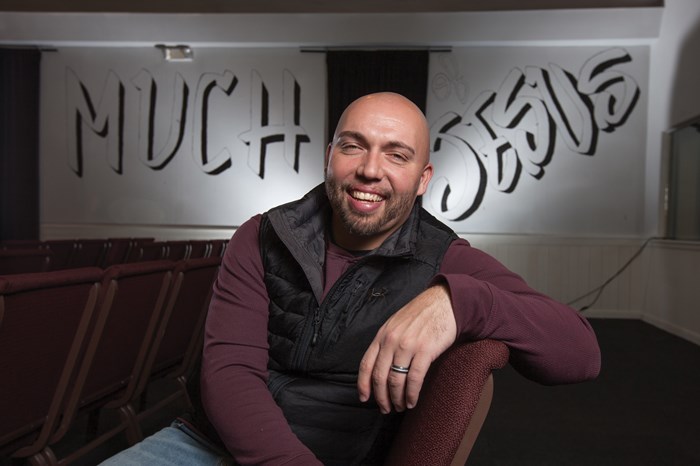 Image: Andy Olsen
The coming of New Victory
"I had always thought I was going to plant," said Tyler Dalton, the pastor of New Victory Church. "It's kind of funny how the Lord works."
When Dalton was asked to take over as a senior pastor in nearby Jonesborough, Tennessee, in 2013, he said yes to the call, but with a caveat: He and his wife, Rachel, really felt like they were supposed to plant a church.
"We didn't know when. We didn't know where. But we would be doing it when the Lord affirmed," Dalton said.
If the congregation could accept that he would leave at some point to start another Southern Baptist congregation, then Dalton was happy to be the senior pastor. The elders agreed. The church even supported the Daltons in praying about the prospective plant. As he felt led to look in Johnson City, the congregation loaded up the church vans, drove the 15 miles, and walked around downtown with their pastor, dreaming of that plant.
And that was that, for a while, until someone told the group they felt "there is already a church out there praying about replanting" and New Victory would be an answer to that prayer. Then Smith showed up to talk to Dalton in the summer of 2019 about whether his church would be interested in starting a new congregation at the site of Snow Memorial. Dalton said yes.
"We had 100 percent clarity from the Lord," he said. "I am divinely ignorant, and I don't know how to bring restoration, but I believed the Lord would show himself to be good."
They set the launch for early 2020, but that got pushed back as the legalities of the transfers were worked out. Then they set it for April, but the coronavirus happened and it was pushed back again.
When churches in East Tennessee started meeting again in the fall, New Victory decided it was time to begin. They put up signs and made sure the church's slogan was visible: "A place where broken people find redemption." The doors opened. And people came.
The numbers fluctuated—85 adults at one service, 20 at the next—but it was a start. Dalton was excited to talk to the newcomers and find people who didn't have a church. They had a Bible study on a Tuesday night and more than 30 people came. During the worship services on Sunday afternoons, there were kids running around again.
Dalton preached about the importance of trusting in Jesus and his work on the cross instead of in your own effort and work ethic.
"Satan will tell you, you got to pull yourself up by your own bootstraps," he said. "And if Satan can get you to believe you're strong enough, smart enough, capable enough to do it on your own, you'll stop depending on Jesus."
Someone shouted out, "That's right!" And from their seats on the left side of the sanctuary, Tipton and Brackins nodded.
It's odd to feel new at a church you've attended for decades, but that's what it's like for the two women. They are doing what they have done for decades, yet everything's been made new. It happened so fast—like a trumpet blast, as 1 Corinthians 15 says, and all that was old was swallowed up in New Victory.
There are aspects of the change that still feel uncomfortable. Tipton and Brackins don't see familiar faces, at least not yet. The sanctuary is dark, with the windows covered up and lights shining on the stage. The music is not what they would have chosen for themselves.
("I can get used to it," Tipton said.)
But they are excited to see what's happening. It's resurrection, before their eyes.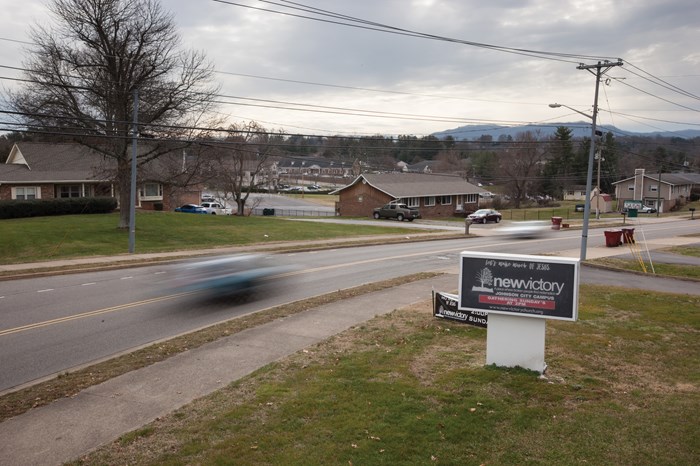 Image: Andy Olsen
Witness to the resurrection
When church after church after church couldn't believe that death would lead to new life, Smith kept thinking that he only needed one. If one struggling congregation would take that leap of faith, he could prove the replanting idea could work. And then Snow happened.
"I told our team," he said, "once we have Snow Memorial under our belt, there will be other churches that will step forward."
But it didn't happen like that.
Instead, Smith lost his job in a budget cut. Holston Baptist Association was struggling with declining giving from area churches, and during the coronavirus, giving went down even more. Smith's bosses told him there wasn't any question about the value of his work; they just didn't have funds.
Smith is selling insurance now. It's the first time since 1997 that he hasn't been in ministry.
"It's not the happiest place I've been in this world," he said. "I don't have a clue what happens next. I don't know. Wish I did."
But Smith still believes in resurrection. He's seen it, after all. A small Appalachian church died, and now, by faith, it lives again.
Daniel Silliman is news editor for Christianity Today.
Have something to add about this? See something we missed? Share your feedback here.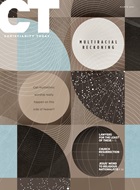 This article is from the March 2021 issue.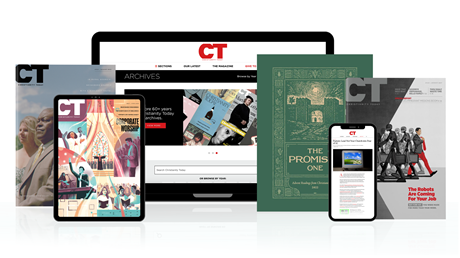 Subscribe to Christianity Today and get access to this article plus 65+ years of archives.
Home delivery of CT magazine
Complete access to articles on ChristianityToday.com
Over 120 years of magazine archives plus full access to all of CT's online archives
Subscribe Now
Replanting Can Work. A Church Just Has to Die and Rise Again.
Replanting Can Work. A Church Just Has to Die and Rise Again.