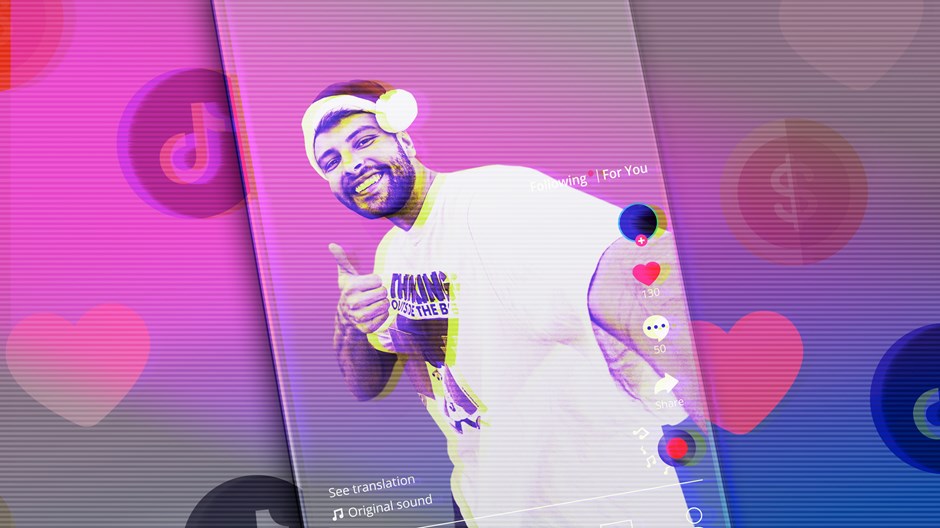 Image: Illustration by Rick Szuecs / Source Images: Instagram / Envato
TikTok star Jimmy Darts creates content that can best be described as "stunts of kindness."
The 25-year-old has given flowers to random women in parking lots, bought toys for children at toy stores, and partnered with a dealership in Southern California to give a homeless man a car. The ideas and the funding for his generosity come from his 4 million followers.

In many of his viral videos, Jimmy Darts approaches a stranger with a small ask—say, help him pick out a gift for his mom at Walmart or let him cut in the checkout line—and then, if they agree, he'll hand over $500 and thank them for their kindness. Or in the case of one lucky family at Christmas, $10,000 in cash.
Jimmy Darts, whose real name is Jimmy Kellogg, exhibits a kind of boldness in his videos that seems, at times, otherworldly. Would you go into a Rolex store and ask why everything is so cheap? Enter a nail salon and ask for the longest toenails possible? Correct a stranger's form at the gym?
His sense of generosity stems from his faith and his desire to use his platform as a force for good.
"What [God] did for you on the cross is so radical, so wild, that it would be silly to think that you could give, bless people, and God wouldn't provide," he told fellow alumni at the Bethel School for Supernatural Ministry. "I like to do generosity videos because if I'm going film something … I'd like it to be centered around good clean fun—but doing it in a kingdom way."
Earlier this year, Kellogg shared his testimony and the story behind his channel on the Fail Journal podcast.
He said as a teen he'd film his own antics (such as punching his own face until it was covered in blood) to get a rise out of the crowd. At a party in the woods one night, he burned holes in a pair of Jesus socks from Urban Outfitters. He feared his parents' punishment and prayed for his socks.
"I throw them in my underwear drawer, wake up the next morning before my mom comes upstairs," Kellogg says in the podcast, "and I kid you not, I grab the socks out of my drawer––no holes in them."
He went onto watch a Billy Graham video, he accepted Jesus, and the rest was history––or, perhaps, merely the start of a different story.
After becoming a Christian, he erased his entire internet presence and stopped making videos for several years. At the time, he said, he had a following of about 18,000 subscribers on YouTube.
In the interim, he attended the Bethel School of Supernatural Ministry, went to a capitalism conference, learned how to start his own Amazon business to generate enough income to live on, and eventually reemerged on YouTube and TikTok in 2020.
"I felt released from God, I knew I had no idols, I knew my identity was secure," he said.
Now, his mission is to preach generosity: "Just start being generous in any way you can, and you're going to see some wild, awesome things take place," he promises.
Kellogg's clips begin with him smiling and reading the challenge to the camera and usually end with him dancing with the recipient of the cash. These hit the emotional beats of the kind of feel-good news segments that get shared by earnest relatives who want to see some good news for once. (Indeed, outlets like Fox 10 News, indy100, and ET Online have all run stories on Jimmy Darts's giving.)
"The thing that drew me the most was the playfulness in his video, seeing people singing songs with him and seeing people dance with him," said Andrea Nwabuike, a mental health counselor and freelance writer based in Toronto. "I don't know what happens after the video. But I think that moment is refreshing for me to see."
Within the faith-focused genre on social media, Nwabuike noticed that the Jimmy Darts videos stood out. Christian content, she said, "is often about what's wrong with culture or what people are doing incorrectly," she said, but he is "just living out what he ultimately believes."
Plenty of other online creators operate around a similar formula of stunts and surprise giveaways. Kellogg described his social media as the intersection of MrBeast, Yes Theory, and Danny Duncan, all of whom are known for pulling extravagant stunts online.
MrBeast, whose channel has 74.9 million subscribers, creates videos like "Offering People $100,000 to Quit Their Job," while Yes Theory (7.08 million subscribers) recently uploaded a video based on "Asking Strangers in Elevators to Leave the Country with us!!"
As for Danny Duncan—I was once in Sacramento, California, hanging out with friends, and I noticed hordes of teenagers swarming Duncan in the street. According to his YouTube channel, he seems to be living every 15-year-old boy's dream, garnering millions of views by driving tanks and blowing up Teslas.
This genre also has a darker side. Vlogger and prankster David Dobrik became famous for giving Teslas to his friends; however, his good deeds hit a wall when past collaborators accused him of bullying and abuse. He also lost goodwill when people began to cynically assume any good deed was just done for the cameras.
"Every move now is like, 'I don't want people to think I'm doing this for this,'" Dobrik said in a June 2021 Rolling Stone profile. "You'll never, ever get people to believe that your intentions are 100 percent pure."
The ethical considerations of performative generosity become even more sensitive when it comes to filming the people Kellogg often interacts with: people on the streets, at gas stations, living in their cars, shopping at Walmart. In recent years, vloggers have been criticized for exploiting homeless people in their videos.
Kellogg also frequently crowdfunds money for the people he features in his videos, posting their Venmo handles and encouraging his followers to give. Last month, he shared the Venmo account of an Uber driver and crowdfunded over $1,600 for him; in July, he paid for a follower's rent and a partner company also gave away rent to one of his followers as well.
He told Fail Journal in May that he has a goal of giving away more money than anyone in history. He realized direct funding via Venmo and CashApp allows him to fundraise and give at high amounts—often tens of thousands of dollars per recipient—without having to be rich himself.
Nwabuike said that she hasn't given to the people that Kellogg publicly helps online, partially because he mostly crowdfunds through Venmo, which isn't available outside the United States, and partially because she's unsure where the money is going and how it's being used.
"The one thing that I have thought when watching his videos is, it would be nice if there were some follow-up with a community, for the people that he's helping, to continue to journey with," she said. "He does three-part videos where you see a little bit of the person's journey, but then there's nobody else there that's really being connected, or even the people who are donating and giving him a platform to set up. How deep are those relationships and how sustainable are they?"
The perk of digital giving, through which Kellogg has raised thousands of dollars, is that people can quickly click to donate and then move onto scrolling through more videos. But it also allows generosity to take place in a disconnected way, for the instant satisfaction of watching a video with a happy ending.
"One of the biggest ways social media has impacted our faith is that it feels like it has to be instant," Heather Thompson Day, a communications professor and host of the CT podcast Viral Jesus, told me. "We are so used to instant gratification, it can be difficult to understand a God who takes time and a God who often responds in silence."
By both consuming and creating online content, users can fall into the trap of believing that real life ought to happen instantaneously, much like it does online–– which, Thompson Day points out, is not necessarily reflective of how life actually happens. Years pass quickly but still move moment by moment, and most of the changes that appear in people's lives are incremental, barely detectable. Genuine relationships, which usually take time to build, often form the cornerstone of the most deeply felt impact and transformation, not flash-in-the-pan donations.
A flash in the pan that's a $50 Venmo payment with the added note of "God bless you!" probably doesn't hurt, though.
Kellogg is young, smiley, with a friendly voice that makes strangers more willing to hear out his requests and followers more likely to keep listening to his videos. He has no desk job but appears on camera as a kind of neighborly man about town. (You can see his acting profile online, and he even appeared on an extreme mini-golf game show.) His project fits with a kind of evangelical-tinged American dream: Do things your way, but also, do them for God.
As he said in the Fail Journal interview, Kellogg has a goal of hitting 10 million TikTok followers, he wants to reignite direct giving, he wants to change the world for the better, and he wants kids to stop falling asleep in church.
The Christian creator has a vision beyond social media, including a "house party church," a rented mansion funded by businesses and sponsors where he could host waterslide baptisms and party without drugs or alcohol. It's a vision fueled by "radical optimism."
"Become radically optimistic," he says, "regardless of your situation, and literally opportunities will flood to you."
Rachel Seo is a freelance writer in California covering faith, pop culture, and technology.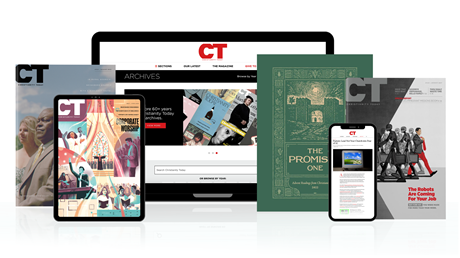 Annual & Monthly subscriptions available.
Print & Digital Issues of CT magazine
Complete access to every article on ChristianityToday.com
Unlimited access to 65+ years of CT's online archives
Member-only special issues
Subscribe
God Loves a Cheerful TikTok Crowdfunder?
God Loves a Cheerful TikTok Crowdfunder?