The verdict was not what I expected. I didn't think former Minneapolis police officer Derek Chauvin would be convicted on all three charges for the death of George Floyd. I wasn't sure his actions would be legally labeled "murder," both because of the details of Minnesota law and because we've seen the same scenario so many times before without this outcome. Any charges—let alone murder charges, let alone murder convictions—are incredibly rare when police officers kill.
But here we are, with Chauvin found guilty on all counts after just 10 hours of jury deliberation. The Twin Cities were largely quiet Tuesday night. No helicopters hovering overhead, no need for the plywood that reappeared on business windows in recent weeks. There were celebrations in Minneapolis, by the courthouse and at the intersection where Floyd died, and triumphant honks sounded on the main road near my house the moment the verdict was read. Everyone, it seems, heaved a sigh of relief.
The Derek Chauvin decision is a pale sort of justice, with all the shortcomings temporal justice tends to have.
Yet George Floyd is still dead. Some or all of Chauvin's convictions could be overturned on appeal, and even if they aren't, this verdict alone won't transform American policing and our criminal justice system. Tuesday's decision is a pale sort of justice, with all the shortcomings temporal justice tends to have. It should remind us that, in Christ, we look forward to the bright light of true justice. And it should spur us to action too—to partnering with God in moving toward that true justice to come, knowing our "labor in the Lord is not in vain" (1 Cor. 15:58), no matter how endless or futile it may feel or what the final fate of this case is.
That the Chauvin case reached this point is remarkable in the narrow legal context of Minnesota's murder statutes and the Minneapolis Police Department's use-of-force policy. I anticipated writing this column to explain, in part, why a second-degree murder conviction didn't happen, and I remain a bit stunned that it did.
The specific charge is that Chauvin "cause[d] the death of a human being, without intent to effect the death of any person, while committing or attempting to commit a felony offense." It's that final clause I thought could be a sticking point: The offense of which Chauvin was accused is felony assault, but the assault in question was a restraint technique prescribed by the police department handbook until it was revised last year. (Indeed, Chauvin himself had used similar restraints repeatedly in the past, and he was never formally reprimanded for it.) This verdict says what Chauvin did was a felony despite its apparent consistency with his police training. It says "just following orders" is not an excuse.
The cautious part of me is hesitant to think that bold statement will survive if appealed. If it does, however, it could point to a significant shift in how our society thinks about police use of force, especially deadly force, and the rule of law over law enforcement officers. That tantalizing possibility brings me to another remarkable thing about this verdict: that it happened in such an "already/not yet" moment of American criminal justice reform.
On the balance for "already": This case didn't end like the 2014 police killing of Eric Garner, to which it was so eerily similar. What Chauvin did was legally given its moral name: "murder." The past year has produced a long list of policing reforms associated with this case. Americans now overwhelmingly support policies including prohibition of police chokeholds, a national database of police with a record of misconduct (at present, fired officers are often simply rehired by another department), mandatory police body cameras, elimination of mandatory minimum sentencing, and an end to qualified immunity (a Supreme Court–created legal doctrine that makes it difficult to hold police and other government officials accountable for civil rights violations).
On the balance for "not yet": That this murder happened at all. That police in a suburb of Minneapolis killed Daunte Wright, another unarmed black man, before the Chauvin trial was even complete. That despite public support as high as 91 percent for the reforms I just listed, only a few have happened, patchwork, in some parts of the country, and some are not implemented at all. That there's no guarantee the next police murder will be handled as this one was. That there is still so much to be done, so much to make our justice system more trustworthy, humane, and fair, particularly for black Americans.
This is the inadequacy of human justice, in which we may achieve accountability and perhaps even recompense but not real restoration. "I know that the Lord secures justice for the poor and upholds the cause of the needy" (Ps. 140:12), but we so often do not. "If you see the poor oppressed in a district, and justice and rights denied, do not be surprised at such things," says the oft-cynical teacher of Ecclesiastes (5:8), and who—having spent a single day reading headlines—could argue? This is the way of our world while its redemption is not complete, while it is still "subjected to frustration" (Rom. 8:20), while the end has not yet come, while we have not yet seen the final "victory through our Lord Jesus Christ" (1 Cor. 15:24–28, 57). Until then, there is always so much more to be done.
The enormity of the task presents a dual temptation of pessimism or pietism, as Esau McCaulley, a Wheaton College professor of New Testament and author ofReading While Black,wrote inThe New York Times shortly after the Chauvin verdict was announced. The pessimism despairs of progress, he said, while the pietism "assumes our only hope is the sweet by and by, in which God swoops in at the end of all things to solve our problems." Rejecting both embittered striving and passivity, McCaulley counsels "a third way, rooted in the idea that a just God governs the universe" and invites us to join him in his good work.
In this sense, hope is reasonable. Not a naïve hope, imagining the American justice system is magically fixed because one police officer was convicted. Not a fragile hope, floundering whenever "justice is far from us, and righteousness does not reach us" (Isa. 59:9). Ours should be a resilient hope: joyful, prayerful, "always striv[ing] to do what is good for each other and for everyone else" (1 Thess. 5:15). It should be a hope learned following a God who will deliver us from every injustice, from our own wrongdoing, and finally from death itself. It is the hope of Easter—that Christ not only has died and is risen but will come again.
Bonnie Kristian is a columnist at Christianity Today.
The Lesser Kingdom
A prophetic, eclectic, and humble take on current issues, public policy, and political events with thoughts on faithful engagement.
Bonnie Kristian is the editorial director of ideas and books at Christianity Today. She is the author of Untrustworthy: The Knowledge Crisis Breaking Our Brains, Polluting Our Politics, and Corrupting Christian Community (2022) and A Flexible Faith: Rethinking What It Means to Follow Jesus Today (2018) and a fellow at Defense Priorities, a foreign policy think tank. Bonnie has been widely published at outlets including The New York Times, The Week, CNN, USA Today, Politico, The New Atlantis, Reason, The Daily Beast, and The American Conservative. She lives in Pittsburgh with her husband, daughter, and twin sons.
Previous The Lesser Kingdom Columns: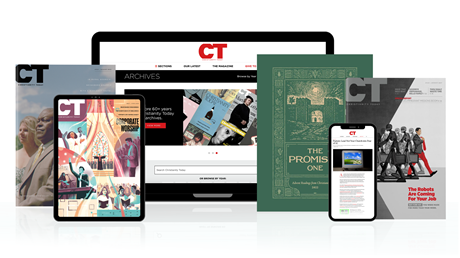 Annual & Monthly subscriptions available.
Print & Digital Issues of CT magazine
Complete access to every article on ChristianityToday.com
Unlimited access to 65+ years of CT's online archives
Member-only special issues
Subscribe
The Scales of Justice Teeter in Human Hands
The Scales of Justice Teeter in Human Hands