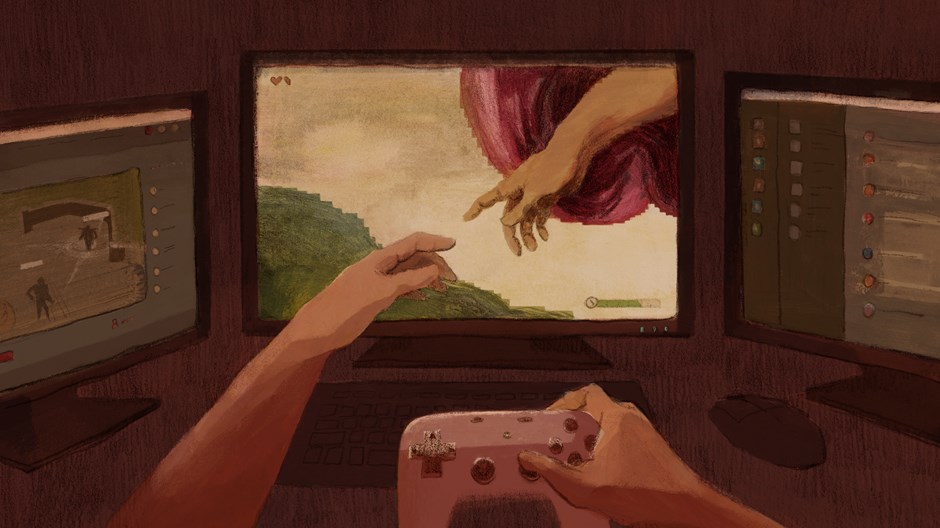 Image: Illustration by Dorothy Leung
Until the COVID-19 pandemic, Roman Khripunov didn't realize the missionary potential of video games.
Khripunov ran soccer academies for refugees and immigrants in Houston, using the sport as a platform to share Christ with children. When the coronavirus paused in-person outreach, the ministry came up with an alternative: Soccer coaches would begin playing video games on the livestreaming platform Twitch and invite players to watch and ask spiritual questions. On Twitch, participants talk with each other as they play or type back and forth in a chat box.
It was a hit. Teenage soccer players reluctant to spend 15 minutes discussing spiritual matters in person were willing to engage for three to four hours over video games online. Eventually, the ministry opened its Twitch channel to the public and began to establish a presence on other gaming platforms as well, with coaches talking with people online. Among the success stories, a man from the Netherlands professed faith in Christ while gaming, then brought five friends to hear the gospel too.
"The people that we're starting to observe on these [gaming] platforms are actually seeking a lot of spiritual things," Khripunov said. "They're very hungry for the gospel."
Khripunov isn't the only one who has realized esports can be used for ministry. From Houston and Brazil to South Africa and China, esports has emerged as an extension of Christian sports ministry.
Esports—video game competitions—has more than doubled its viewership in the past decade to an estimated 454 million people worldwide last year. The most popular esports championships rival the Super Bowl in viewership. When South Korea hosted the world championship finals for the battle game League of Legends two years ago, the event drew almost 100 million people online.
Professional esports players—many of them teenagers—sign with teams, compete in brick-and-mortar arenas packed with fans, and at times take home multimillion-dollar prizes. Teams have starters, substitutes, and leagues, just like traditional sports.
But gaming includes a wide span of casual players too. A third of the world's population plays video games, including more adult women than teenage boys, according to data compiled by the online ministry training resource Multiplication School.
When the coronavirus caused lockdowns around the world last spring, some traditional sports leagues like NASCAR and the NBA turned to esports to hold their fans' attention, putting their stars into video game tournaments.
Some Christian sports ministries saw an opportunity too. A group of about 35 of them got together on Zoom to strategize.
"It's a connection point," said André Dickson of Brazil, who trains soccer coaches to disciple youth players. "We think about esports as a place where people are."
Assemblies of God pastor Matt Souza shepherds GodSquad Church, an online-only congregation for gamers that attracts about 100 people for worship each Saturday night. Tate Springs Baptist Church in Arlington, Texas, hosted an online Easter egg hunt this year using the video game Minecraft.
Some Christians have moral qualms about video games and have shied away from esports. Many video games are of real-world sports, like FIFA and NBA 2K, but many others include sexualized and violent content, such as Overwatch and Valorant. There are also concerns about other negative effects. While playing video games has been linked to improvements in cognitive skills, 9 percent of gamers show signs of addiction, according to Multiplication School, and video game abuse has been linked to anxiety and depression.
Canadian Stefano DiSalvo, the most prominant professional esports player to share his Christian testimony openly, has experienced the dark side of esports. He played video games eight hours per day as a teenager to escape from the pain of a broken home. Then he found a relationship with Jesus at age 15 before launching his pro career. He sought to be salt and light in the industry and was known by his screen name, Verbo—Italian for "word," signifying the Word of God. DiSilvo left esports at 19.
Many teenage gamers are "escaping from their own reality and kind of taking out that anger, taking out that depression on other people online," DiSalvo said. "It creates this toxic environment at times."
That may be a reason to avoid esports. Or it may be a reason to find lost souls there. Christians must "wake up" to "the reality of gaming in church," said Bumble Ho, pastor of Redemption Point Church, a Vietnamese congregation in Fountain Valley, California. The church hosted a tournament this year with about 10 other area churches.
John Merritt, who coaches esports for Oklahoma Wesleyan University, knows the spiritual needs of players firsthand. He got into video games as a teenager struggling with depression, sometimes playing up to 18 hours a day. He attempted suicide before finally finding new life in Christ. Now he's part of the Unashamed Network, a community of Christians that seeks to reach fellow gamers for Christ.
At one point, he reached 20,000 viewers with his evangelistic gaming stream. Recently, a gaming friend messaged Merritt to say, "I met with a pastor today to be saved. I credit . . . you as part of my journey to this."
Another area of growth in Christian esports is at Christian colleges and universities. At least 11 evangelical schools have added esports programs, which is part of a larger trend. In all US colleges and universities, there are nearly 200 new esports programs, with a combined $15 million available in annual scholarships, according to Promise Road Institute, a ministry to teen gamers.
Greenville University coach B. J. Fink said his school's esports program draws students who wouldn't otherwise be interested in a Christian education. That creates unique ministry opportunities.
"We have a large group of students from China, for example, that, now knowing about esports programs here, are much more involved on campus, and we use our recruiting network to reach new students in China itself," Fink said. "They may be closed off as a country, but they play video games and have the ability to communicate that way."
DiSalvo, the Christian esports professional who now owns a gaming company, thought God would stop him from playing video games. But gradually he realized the Lord was calling him deeper into the gaming world as a missionary and a Christian witness. He hopes other believers will experience similar divine calls.
Some Christians "view gaming as from the Enemy," he said, while "people from the gaming community think Jesus is an outdated figure." There's a need for believers who can engage people where they are online.
David Roach is a contributing writer for CT and is based in Nashville.
Have something to add about this? See something we missed? Share your feedback here.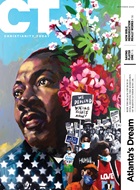 This article is from the October 2020 issue.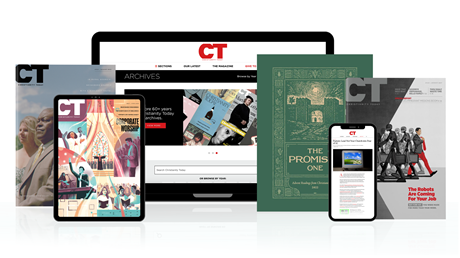 Annual & Monthly subscriptions available.
Print & Digital Issues of CT magazine
Complete access to every article on ChristianityToday.com
Unlimited access to 65+ years of CT's online archives
Member-only special issues
Subscribe
The Next Mission Field Is a Game
The Next Mission Field Is a Game