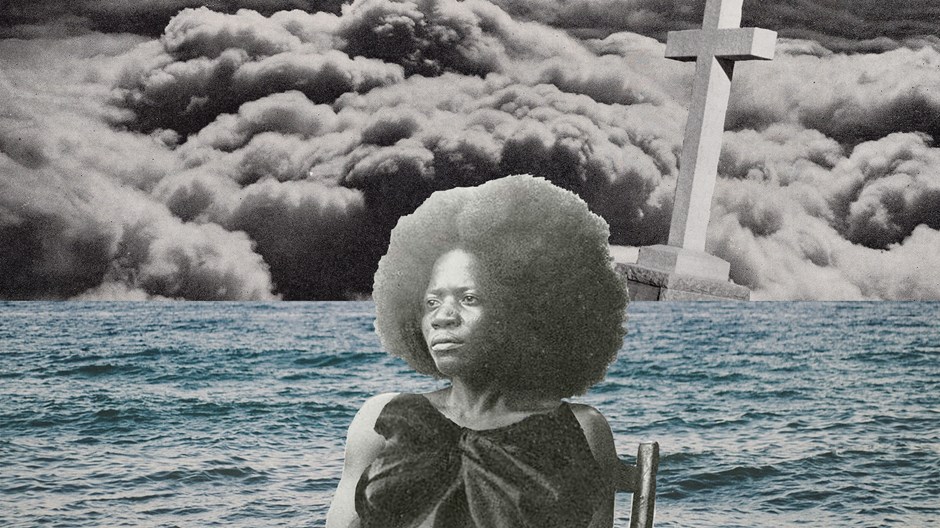 Image: Art by Christa David
Rosalynn Brookins accidentally tasted her first drink at 14, when she thought her father's gin was water. Once she felt the heat going down, she craved more. It numbed her and gave her unexplainable power. She went through high school and college as a functional alcoholic. She discovered cocaine at 18, which led to an $800-a-month drug habit.
In 1991, at 30, Brookins was working as a second-grade teacher at an elementary school in Virginia. In between classes and leading the Just Say No campaign, she would get high on cocaine in the bathroom.
After work one day, Brookins was confronted by a friend, who told her she needed help. Her friend also brought along the man Brookins was dating and would eventually marry, a well-known African Methodist Episcopal (AME) church bishop and civil rights leader named Hamel Hartford Brookins, commonly known as H. H.
H. H. knew about her struggles, but they chose not to go public at their church or elsewhere. "I was looking for Jesus to help me," Brookins recalls. "And the church wasn't the place for that. If I went to service in the Methodist church, they told me my dress was too short. When I went to church at Church of God in Christ, they said I had too much makeup on. So, church for me was not a place of healing or redemption."
Tired of the gin and tonic and cocaine ruling her life for over 16 years, Brookins was ready to feel again and get her life back. She had never experienced a close relationship sober. So she checked into a rehabilitation center for 120 days.
Partway into her time there, something broke loose in Brookins during a morning group session on molestation. As a woman in the group shared about waking up next to someone who died of an overdose, a flood of memories came to Brookins.
She remembered years of being sexually assaulted and molested, beginning in her home when she was only 10. She remembered being gang-raped at 13 on her way home from school. And she remembered being violated again at age 17.
Brookins knew all of this had led to her drinking and drug abuse. And she cried.
"It was like a screenshot: I saw my life passing before me," she recalls of that therapy session.
Now a pastor at The New Parks Chapel AME Church in Oakland, Brookins went on to earn two master's degrees and a doctor of ministry, and speaks openly about her past. She still goes to therapy and even tells her parishioners while preaching, "I have a therapist!"
Doing this, she says, normalizes seeking professional help and lets people know it's okay not to have all the answers. For people to say, "Hey, if my pastor has a therapist, it's okay for me to have one too."
Today, one in five American adults say they experience mental illness, according to the Department of Health and Human Services. Of those, 43 percent of adults say they receive treatment. But among African Americans, that number is only 30 percent.
Mental health experts are concerned about increased trauma among black Americans with the recent civil unrest and exposure to viral videos of police violence. And reports from the Centers for Disease Control and Prevention warn of rising suicidal thoughts among minorities during the coronovirus pandemic.
Stigma around mental illness remains widespread. But it is especially pervasive in the black community, where people are less likely to seek treatment—despite being more likely to experience serious mental health problems than the overall population and enduring generational effects of oppression.
"This taboo in the black church exists because the black church is comprised of black people," says Thema Bryant-Davis, an ordained minister and licensed psychologist. "And therapy is stigmatized within our larger community."
Blacks were historically typecast as immoral and crazy, according to Bryant-Davis, and there remains constant pressure to contradict those stereotypes and present strength, agency, and empowerment. For many, that becomes a mask necessary for survival—it is not safe to show vulnerability.
Moreover, generational trauma within the black community is a result of immeasurable maltreatment throughout history, says Barbara Peacock, a minister and spiritual direction coach. From Harriet Tubman to Martin Luther King Jr., the effects of racial oppression in America—and the need for strength to endure them—persist.
The church has always been a core source of that strength, as evidenced in black spirituals—the common name for slave songs also dubbed "Negro spirituals." Spirituals helped enslaved people express (while suppressing at the same time) their feelings of sorrow through songs of faith and hope. Those songs, and the force and intent behind them, were passed down from generation to generation. Their influence is evident in the mantras of today's black church, where it's often better to radiate strength and be "happy in the Lord" than to proclaim depression or speak out about suicidal thoughts. It's more accepted to say, "I'm relying on God" or, as the popular spiritual encourages:
There is a balm in Gilead
to make the wounded whole,
There is a balm in Gilead,
to save a sin-sick soul.
"People will say things like, 'Don't let them catch you slipping,' " says Bryant-Davis. "Or, 'If you love God, you'll be happy all the time.' " Those conventions have heightened a false dichotomy of choice between, are you going to seek help outside of the church, or are you going to Jesus?
"Just because you love God," adds Peacock, "does not make you exempt from mental illness."
In her book Soul Care In African American Practice, Peacock explores the history of mental health, prayer, and spiritual direction in the black culture, beginning with key historical faith figures such as Tertullian and Athanasius. Then she illustrates spiritual direction—the practice of discerning the activity of God in the life of others, usually by a spiritual director—and its disciplines (such as prayer and meditation) using ten black church spiritual leaders like Frederick Douglass and Rosa Parks. History, she says, explains a lot about the reluctance among many in the black community to seek help.
"If a slave was considered unhealthy, then that slave was less valued," Peacock says. "And often the other slaves would cover for that person so they wouldn't be killed off or seen as less than." Black people have long been conditioned not to face the truth of "any kind of illness or numerous kinds of disease," let alone speak out about it and ask for any help.
On the other hand, according to Peacock, the black church has served as an informal social service provider and an avenue to more formalized services. It's been a place of refuge where blacks tend to feel more comfortable. Not all churches are well equipped to provide good soul care, but neither are all churches judgmental or blind to mental health issues, as Brookins feared all those years ago.
"It depends on the location and education of the church," Peacock says. Some black churches have trained counselors on staff, like The Park Church in Charlotte, North Carolina, where the 66-year-old is one of many ministers. The church also offers spiritual direction, an alternative to therapy that emphasizes seeking God's guidance while carefully nurturing and caring for the soul. Peacock has been a spiritual director there for over ten years.
A "prayer warrior," Peacock struggled through her own season of mental illness—and admits it took a while to recognize the symptoms.
One morning in 2005, she felt glued to her bed. "I couldn't get up," she recalls. She had just finished another 60-hour workweek, traveling close to two hours a day to and from work, always burnt out, with her weekends dedicated to the church.
"I was going to 6 a.m. prayer, I was teaching Bible study, I was at revivals, I was organizing curriculums, I was treating and teaching," she recalls. "I was always tired, but I was in my 40s. I felt I could do it all."
And then, all of a sudden, it seemed the world grew eerily still, and with it, her body.
"What's wrong with you?" her husband asked.
"I don't know."
Her husband felt helpless. He didn't know how to deal with that version of his wife. He'd check in on her from time to time. She stayed in bed for days with no energy. She cried and at times felt uncontrollable rage. Once, she stared at two armoires in her bedroom and thought of flipping them over.
One day, like a revelation, it occurred to her that she needed to turn to her faith for answers.
"I cried out and said, 'Lord, help me. If you don't help me, I won't be helped.' "
Peacock slowly began to untangle. She turned to a close Christian friend and confidant she had known for over 20 years. They talked every day. She shared that she felt like worms were crawling over her skin and she had no appetite.
Eventually, Peacock decided that the weight of what she was going through may have been too much for her friend to carry and she went to a medical professional. But she felt dismissed by the doctor she saw, who told Peacock she was simply going through the motions and said, "I just had a baby, and I cry in the mornings too." Peacock didn't get the help she needed until another friend led her to a spiritual director.
As in many Christian communities, some in the black church believe God alone can heal the mind or are skeptical of mainstream therapy and psychology. They believe mental health professionals, in general, don't believe in God, says Lee June, the author of Yet with a Steady Beat: The Black Church Through a Psychological and Biblical Lens. "That mismatch creates a problem, and people then turn to biblical counseling" or spiritual directors and find a better fit.
Peacock discovered this to be true for her. When she described her symptoms and lifestyle to her spiritual director during their first visit, she was told: "You need help! You need medication, and you need counseling!" The spiritual director referred her to additional spiritual counseling.
It was humbling. The first time Peacock walked into the counselor's office, she surveyed the room and noticed a rocking chair facing a sofa. "I looked at the rocking chair, and I said, 'Hmm, that's normally where I would sit [as a minister] and face the person on the sofa, the person who needed my help. But today, Barbara, you are on the sofa.' "
And so she got on medication, went to spiritual counseling regularly, changed her diet, took better care of herself, and cut back on her work hours.
Her church took notice. What's wrong? they asked her. What's going on with you?
"It was like, this can't happen if you are a minister of the gospel, but it's happening to preachers all the time," Peacock says. "We still have not learned to effectively deal with mental illness in the body of Christ. We are better, but we still have a long way to go."
As the black community grapples with eulogy after eulogy of unarmed African Americans, and as it disproportionately feels the impact of the coronavirus, Bryant-Davis says the black church can take the lead in encouraging people to seek appropriate help. Be it a medical doctor or spiritual counselor, "someone just needs to regularly get on that pulpit and say it's okay not to be okay."
Even as they preach the commands to love God and love others, churches need to become mindful that some people have trouble loving themselves, June said. "Sometimes pastors will still put down the use of medication and tie it to Scriptures, when in fact, some people in the congregation are actually on medication," he added, "making them cringe and grow wary about speaking up."
Pastors may have to do more than simply make their congregations aware of available mental health services. Some will have to ask themselves if they have been preaching a distorted view of Jesus that encourages believers to keep their pain silent.
Scripture, June says, reveals a Jesus who was unafraid to show his struggles. In the Garden of Gethsemane, Jesus cried out for help, praying and sweating blood. He told the disciples accompanying him that he was in anguish. And later, alone with his Father, he asked for the suffering to be taken away.
This moment in the Bible is important, Peacock says, because through the journey of Jesus, Christians learn that "he experienced all that we will experience." The garden was an extreme case of stress and oppression. The disciples were there to be witnesses to the suffering, to tell Christians that they will not be free from the troubles of the world.
"We will not be exempt from suffering, but we need to know how and when to get help," Peacock says. "He called us to the Great Commandment to make disciples. So we are looking to the disciples of counseling, disciples of soul care, disciples of spiritual direction that can help us along the way."
To break down the institutional norms, June says the black church needs to partner with psychologists and psychiatrists. It's a relationship he says churches are open to, as evidenced by the ongoing development of counseling centers and pastoral care at some churches across the nation. The National Biblical Counselors Association, founded and spearheaded by pastor Willie Richardson, is an example. The network of predominantly black churches develops biblical counseling curricula to address parishioners' mental health needs.
"The stigma of hiding or being ashamed if you have a mental health issue has lessened," says Richardson, senior pastor of Christian Stronghold Church in Philadelphia. "Many of our churches now understand it is important and necessary to use all facets of the medical structure to provide adequate mental health treatment."
And while there may still be a level of suspicion in the African American community regarding the medical model of treatment, Richardson adds, there is also an acknowledgment of the need for "our people to get the help they need."
Ever cognizant of how her life changed when she finally got help, Brookins is doing her part. She opened a mental health clinic at her previous church and is now working with the Oakland Police Department to develop a racial trauma–focused community outreach initiative with her current church. She regularly preaches about mental health and available services, encouraging church members to never feel embarrassed.
"When I left that room all those years ago," she tells them, "I walked away knowing I was a recovering alcoholic and still proud to say so."
Rita Omokha is a New York–based journalist who writes about religion, news, and politics.
Have something to add about this? See something we missed? Share your feedback here.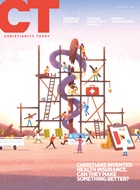 This article is from the November 2020 issue.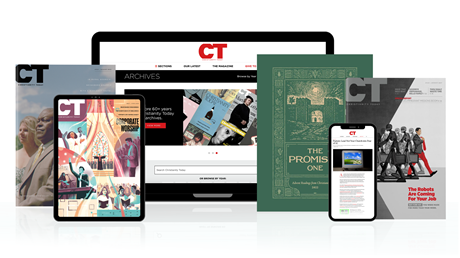 Annual & Monthly subscriptions available.
Print & Digital Issues of CT magazine
Complete access to every article on ChristianityToday.com
Unlimited access to 65+ years of CT's online archives
Member-only special issues
Subscribe
It's Okay Not to Be Okay
It's Okay Not to Be Okay