Human trafficking recently reemerged in the news cycle after a conspiracy circulated on social media in early July about the Boston-based furniture company Wayfair supposedly selling missing children. Wayfair responded that there was "no truth" to the claims, and the baseless suggestions have been debunked. Still, the anti-human-trafficking organization Polaris received hundreds of calls, which interrupted its support for real victims. Human rights advocates say that the Wayfair conspiracy diverts attention from the risks posed to vulnerable groups during the global pandemic.
"Human trafficking is often the darkest consequence of compounding vulnerabilities in people's lives," said Ashleigh Chapman, a longtime advocate for ending human trafficking and the founder of a new educational program called JusticeU. "And what the pandemic has done has greatly accelerated and compounded vulnerabilities … that traffickers are looking to exploit."
With many people stuck at home, stressed, or bored, pornography use has increased—Pornhub's traffic shot up nearly 20 percent in late March. Sites like OnlyFans, a subscription-based social media platform used heavily by sex workers, have increasingly drawn unemployed people desperate for cash. OnlyFans saw a 75 percent increase in signups in March and April. Glamour magazine reported that up to 10,000 creators were joining OnlyFans daily during the month of May.
"We know that pornography is an entryway for purchasing people for sex," said Amanda Eckhardt, the executive director of Restore NYC, a faith-based nonprofit that works with immigrant survivors of sex trafficking. "It's important for the church to know that beyond the shutdown and pandemic, there will likely be a whole new cohort of people who will increase beyond traditional pornography viewing to purchasing sex, which will intersect with the trafficking of women and girls."
Groups already marginalized because of race, immigration status, or income are at increased risk for trafficking, according to Polaris. Loss of safe housing, unemployment, or other kinds of economic instability during a pandemic all increase opportunities for people looking to exploit victims for labor or sex trafficking, said Chapman.
Even with their organizations working exclusively online, anti-human-trafficking advocates are concerned about facing an uptick in cases during a time when operations may suffer financially.
Restore NYC saw 80 percent of women who were receiving career coaching and support from the ministry lose their jobs in the first four weeks of the city's lockdown. And 5 percent of the 186 women they served exhibited symptoms of COVID-19. Additionally, their programs had received double the referrals in March than in the same month last year.
With an unstable economy, survivors face short-circuiting their recovery process and the possibility of being trafficked again. Eckhardt said that survivors they worked with told Restore they were considering returning to the streets or a trafficker after losing their jobs.
"We just thought, after a decade of work, this could not be so," she told CT. The organization quickly set up a cash fund to help women pay their bills—a short-term stopgap.
Even for those who are able or choose to stay in safe homes, dramatic shifts in support systems—moving counseling online, for example—and sudden instability can be emotionally triggering for those who suffer from mental health disorders.
"All of us are going through our own internal struggles like depression or anxiety," said Stephanie Clark, CEO of Amirah, a New England–based anti-trafficking organization and holistic recovery program. "If you have someone who has PTSD and they are being told, you have to stay home, you've lost your job, your safe home could shut down if donations dry up—all of those issues are tenfold for them."
Amirah's six-bed home, located outside of Boston, is at capacity and unable to take in more survivors during the pandemic. The preparation of a second safe home, which was about to open, halted during the pandemic. Even if Amirah had beds available, many of the women in their care are immunocompromised.
Women who experience domestic violence remain another group at high risk during the pandemic. As some lockdown restrictions eased in the summer, RAINN reported a record number of sexual violence victims helped—more than 60,000 people in May and June alone.
Isolation increases abusers' access to victims and restricts the ability of victims to ask for help, said Eliza Huie, author of Raising Teens in a Hyper-Sexualized World and director of counseling at David Platt's McLean Bible Church. In addition to paying attention to those at risk of addiction and mental illness, churches should also pay attention to the signs of those who may be at risk for domestic abuse.
Half of RAINN's visitors to its online hotline were minors. Early in March, as schools moved online and many children were stuck at home, the FBI warned parents and educators about the increased risk for online exploitation and abuse, recommending monitoring children's online interactions. Reports to the National Center for Missing and Exploited Children of predators enticing unsupervised children into creating sexually explicit content nearly doubled, as did reports to their tip line. Some churches reported their remote worship services being "Zoom-bombed" by videos of child sexual abuse, leading the FBI to encourage private Zoom meetings.
Now, as some churches open back up, ministry leaders should prepare for the brokenness people entering their services may be facing.
"What are we doing to make church a refuge?" Huie asked. "How are we making it a safe place for many, who for months have been in very dark places? We need to have people ready to meet and care for them, one way is to speak of these struggles in small groups or from our pulpits."
Raleigh Sadler, founder of anti-trafficking advocacy group Let My People Go, believes that while traffickers may be pursuing at-risk people, ideally the church should be one step ahead.
"[The pandemic] has exacerbated existing needs and created new ones," Sadler said. "As things get back to a new normal, we will realize our community has completely changed and shifted to include those who were vulnerable prior to the pandemic and those who are even more vulnerable now. We're trying to help the church identify and respond to that vulnerability."
One way churches can help is by reaching out to their local safe homes, said Clark. Churches conducted supply drives for Amirah and delivered meals for the survivors living there.
Members of East Coast International Church have been ministering to disenfranchised groups on the North Shore of Boston for years but have seen unique opportunities due to the pandemic.
"We created COVID care kits to deliver to sober houses and recovery programs and to active addicts," said lead pastor Kurt Lange. Their church has also been able to deliver groceries to women in low-income housing and provide a "video venue" at its four locations so those without internet can attend worship services.
"This season has shown us that there are many people that are 'homebound' even before COVID … and they are connecting with us online," Lange said. "The newest group of people we are reaching is those that were authentically isolated due to physical disabilities, illness, etc."
Restore NYC's church network also rallied to provide material needs and financial assistance, Eckhardt said. Churches can make a difference with basic needs like food, cash to pay rent, and job opportunities for those at highest risk in their communities, she added.
Despite the stress of the pandemic, Eckhardt said that she is meditating on the biblical idea of the Year of Jubilee, pointing to the story in Luke 4 where Jesus read and fulfilled Isaiah 61:1-2 in the Nazareth synagogue:
The Spirit of the Lord is on me, because he has anointed me to proclaim good news to the poor. He has sent me to proclaim freedom for the prisoners and recovery of sight for the blind, to set the oppressed free, to proclaim the year of the Lord's favor.
"If we were to see Jesus' ministry come alive fully through this pandemic and economic crisis," Eckhardt said, "Jesus would be enacting economic justice for the most vulnerable. … I feel that God's heart right now is so close to women who are in prostitution and being trafficked."
If you or someone you know is at risk, call the National Human Trafficking hotline at 888-373-7888 or the National Domestic Violence hotline at 1-800-799-7233.
Kara Bettis is an associate features editor with Christianity Today.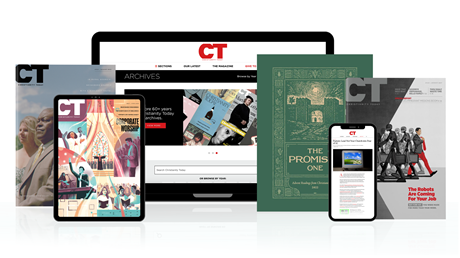 Annual & Monthly subscriptions available.
Print & Digital Issues of CT magazine
Complete access to every article on ChristianityToday.com
Unlimited access to 65+ years of CT's online archives
Member-only special issues
Subscribe
Ministries Face the Real Trafficking Crisis During COVID-19
Ministries Face the Real Trafficking Crisis During COVID-19