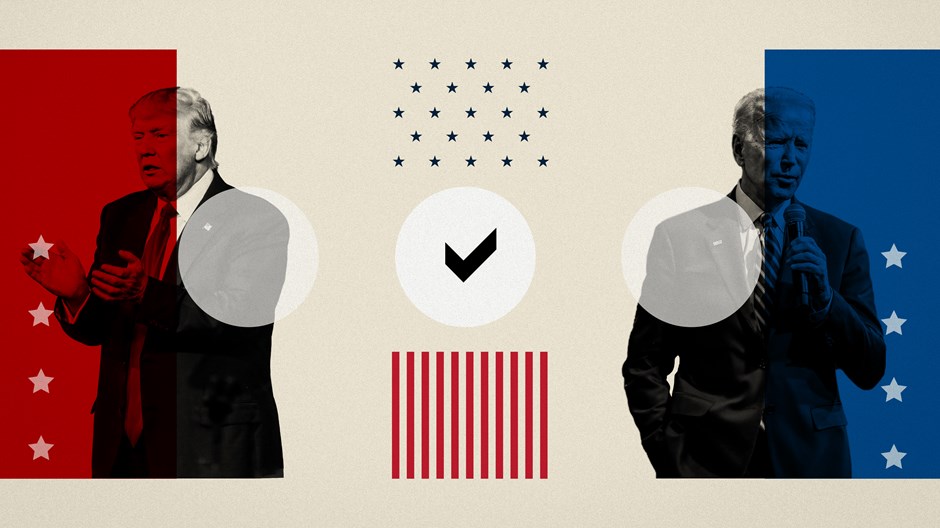 Image: Illustration by Rick Szuecs / Source Images: Gage Skidmore / Flickr
Brian Carroll doesn't seem like someone who's running for president. He has no staff, hasn't raised any money, and doesn't expect to make it to the White House. He doesn't even believe he's his party's best shot.
But that's all part of the plan. As the American Solidarity candidate for president, Carroll wants to grow the party, which was founded in 2011 on Catholic social teaching and neo-Calvinist political theology. Eventually, he hopes, the party can attract candidates who are better than him. Then those candidates can attract more votes, and then Democratic and Republican candidates might try to steal those votes by speaking to the issues that evangelicals like Carroll care about.
"We want somebody addressing our issues," said Carroll, whose pro-life convictions lead him to support universal health care and an immigration policy that wouldn't separate children from their parents. "At some point, someone in the two major parties is going to say, 'These are issues taking votes away from us. Why don't we try to appeal to these people?' "
Short of that, Carroll, a retired teacher and an elder in an Evangelical Covenant Church, hopes to give Christians another choice on the ballot and "a chance to vote without feeling polluted."
He is one of a handful of third-party and independent candidates appealing to evangelicals in 2020. These candidates reject Democrats and Republicans both and, more importantly, reject the idea of voting for the "lesser of two evils." With low budget, no budget, and ad hoc campaigns, they say they are challenging evangelicals to rethink their votes, recalculate the costs of compromise, and expand their moral imaginations between now and the first Tuesday in November.
These alternative candidates come from across the political spectrum. Carroll talks about a "consistent life ethic." Phil Collins, a Christian in the Orthodox Lutheran Confessional Conference, has been nominated by the nation's oldest existing third party, the Prohibition Party. He wants to end abortion, lower taxes, and launch a "sustained program of education and legislation to encourage community disapproval of drugs and alcohol." Don Blankenship won the nomination of the Constitution Party, which was founded in 1991 by Religious Right activists who felt betrayed by the GOP. Blankenship aims to dramatically reduce the size of government and "truly make America great again." Mark Charles, a Christian Reformed Church pastor and a Navajo citizen, is running an independent campaign on the issue of American racism and white supremacy.
It is unlikely that any of them will win a significant number of votes. The two major parties make life very difficult for outsider candidates. Democrats and Republicans have historically worked together to limit ballot access and establish election rules that disadvantage third parties.
Only three third-party presidential candidates have won more than 5 percent of the popular vote since World War II: George Wallace in 1968, John Anderson in 1980, and Ross Perot in 1992. Voter disenchantment with the two major parties remained steady from the 1960s to the 2000s but never translated into significant support for an alternative.
For third-party candidates trying to win evangelical votes in 2020, the greatest challenge may be that evangelical voters don't seem to have changed their political preferences much since the last election. A few public figures, such as Southern Baptist Theological Seminary president Al Mohler, have gone from opposing President Donald Trump to supporting him, but they are exceptions.
"I think the average believing Christian in the country has not evolved on the question of Trump," said evangelical political consultant Joel Searby. "The reason you would vote for him in 2016, those things haven't changed. The reason you would not vote for him in 2016—those things have probably gotten worse."
Searby ran Evan McMullin's independent presidential campaign in 2016 and hoped to rally evangelicals and Mormons into a "never Trump" electoral force. It didn't happen, and Searby isn't optimistic about efforts to break out of the two-party system in 2020.
"I believed there were a lot of people who genuinely wanted an alternative candidate, not just a protest vote, and not just a vote for the lesser of two evils, which became a catchphrase in 2016," he said. "But those of us who are trying to imagine something different are swimming upstream."
Third-party candidates always struggle for a chance, but J. David Gillespie, a political scientist who studies third parties, predicts this year will be even worse than normal. "One reason is COVID-19," he said. Campaigns "can't go to public places like malls to solicit the many, many signatures they need to get on the ballots in a lot of states."
Another reason is the high stakes of the election. Strong feelings for or against Trump, combined with a sense that the country faces an existential crisis, will push many voters to back a major-party candidate. Critics of third-party candidates say they can't win but can pull enough votes to change the outcome of an election. Voters who cast their ballots for an alternative are accused of valuing their own purity over the real effects of an election.
But third-party candidates don't have to win to make a difference, according to Gillespie. Historically, issues like the abolition of slavery, women's suffrage, universal health care, and mandatory balanced budgets were put on the national agenda by candidates who had no chance of electoral victory. Third parties can be incubators of reform, Gillespie argues, and demonstrate the political potential of new ideas.
Third-party candidates know the challenges they face. They're not naïve about winning. They just think other things are more important.
"What drives me is the violation of my personal rights," Blankenship said in his acceptance speech at the Constitution Party convention, which was held on Zoom this year. Blankenship, a former coal company executive who clashed with regulators over mine safety rules, says government restrictions in response to COVID-19 will stir more concern over individual liberties, a key part of the party's 2020 message.
Other candidates are making explicitly theological arguments. Charles, who has been a guest speaker for InterVarsity Christian Fellowship, Cru, and the Urbana Student Missions Conference, explains his independent campaign by talking about Constantine's conversion, Augustine's political theology, the doctrine of discovery, and the genocide of Native Americans.
"I'm trying to convince Christians that 'Christian empire' is a heresy," Charles said. "Our nation has some serious problems with racism, sexism, and white supremacy. I'm not telling people that you have to vote for me, but I'm absolutely exhorting the church: You have to break out of this partisan system and engage the nation in a more prophetic manner."
Charles is campaigning for a national dialogue on racism, which he says would be akin to South Africa's Truth and Reconciliation Commission after the end of apartheid.
It's not easy campaigning on issues that cut against American partisan divides. The candidates sometimes struggle to get their messages out, particularly now, with many public events canceled because of the coronavirus.
Nevertheless, with each Facebook post, email blast, and podcast interview, they make their case that voters should consider doing something different at the ballot box in November. And they hear back that some, at least, are persuaded.
"I've had strangers send me notes saying, 'This was the first time I could vote for someone without feeling awful,' " Carroll said. "I think if we do that, we've performed a valuable service."
Daniel Silliman is news editor for Christianity Today.
Have something to add? See something we missed? Share your feedback here.
Have something to add about this? See something we missed? Share your feedback here.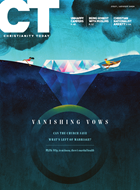 This article is from the Jul/Aug 2020 issue.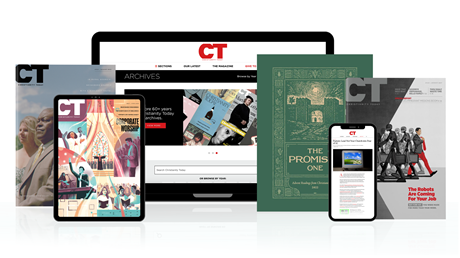 Annual & Monthly subscriptions available.
Print & Digital Issues of CT magazine
Complete access to every article on ChristianityToday.com
Unlimited access to 65+ years of CT's online archives
Member-only special issues
Subscribe
For Third-Party Christians, Some Things Are More Important Than Winning
For Third-Party Christians, Some Things Are More ...