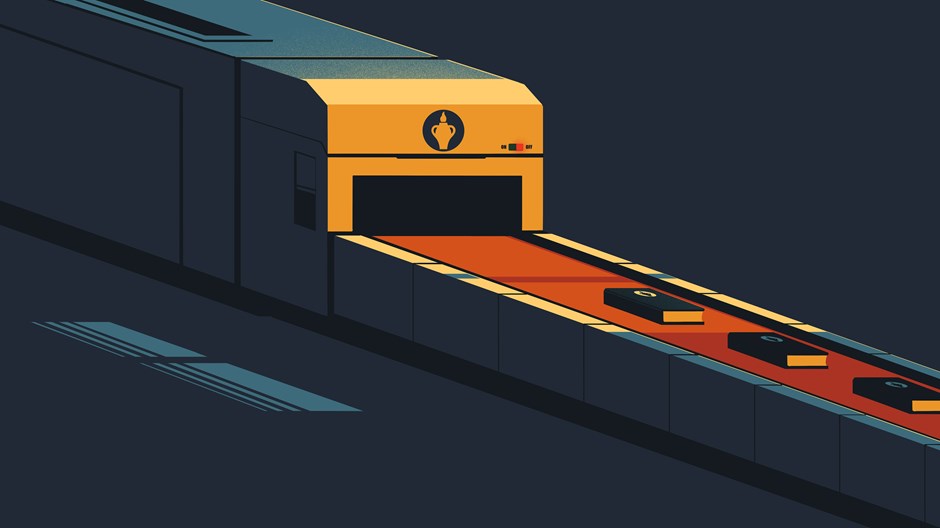 Image: Illustration by Eric Chow
Wayne Cox started printing Bibles when he was 17. The first day he walked into the Philadelphia printing plant, he saw a sign on top of the building that said, "Since 1863." That was during the Civil War, he thought. That was a long time to be printing Bibles.
Cox started as floor help, hoisting big rolls of paper into the industrial printers. It was a young man's work. He was promoted to roll man, checking the tension of the ultrathin paper as it ran through the presses. It was the delicate tradecraft of a Bible printer. Then Cox became a second pressman, and then first pressman, in charge of everything. It was work you could be proud of.
"The Bibles we printed were in all the hotels," he said. "If someone wanted to take the Bible, the Gideons said to take them, and we'd print more."
At the end of 2019, after 46 years printing Bibles, Cox was laid off, along with more than 170 other printers. The LSC Communications plant—one of the sites printing Gideons International Bibles in the US—was closed as the ministry cuts back on Scripture production.
Gideons is almost synonymous with Bibles. It has distributed more than two billion, giving them away in hotels and hospitals, as well as at high schools, colleges, fairs, festivals, train stations, prisons, military bases, and on public streets. The Gideons Bible is a pop culture icon, even earning a line in the Beatles' White Album, when Paul McCartney sang, "Rocky Raccoon checked into his room / only to find Gideon's Bible."
But now the 122-year-old ministry is changing. Over the past three years, Gideons has reduced its spending on Scripture production by about $10 million per year, financial records show.
Gideons International's executive director Dan Heighway attributes the drop to a backlog of inventory from overproduction in the past. Distributing Bibles in the US has also grown more difficult. The number of hotels accepting Bibles has dropped about 20 percentage points over the past decade, according to hospitality industry studies. Apart from that, according to Heighway, the Gideons are in a period of "refocusing and rebalancing" the ministry.
"I think in any human organization you have what I'm going to call 'mission drift,' " Heighway said. "In many ways we're mission true, but we felt God leading us to ask the question, 'Are we putting so much emphasis on Scripture distribution that we're drifting from our core?' "
Heighway, who retired from the pharmaceutical industry in 2018, said Scripture distribution was never meant to be the Gideons' main focus.
The organization wanted to win people to Christ. Bibles were just a means to that end.
Distributing Scripture was partly a service project for the Gideons and partly an activity to teach men how to be a witness for their faith.
"The first time I took a Gideons Testament to give to someone, my knees weren't literally shaking, but I was incredibly nervous," Heighway said, remembering passing out Bibles at an Indiana county fair. The Gideons taught him boldness. With that encouragement, he spent more time in prayer, read the Bible more, and grew more confident sharing his testimony.
Recently, Heighway gave a Gideons Testament to his ride-hail driver on the way to the airport. The man said he'd driven more than 4,000 people, and no one had ever told him about their faith. This is the kind of thing Heighway wants the Gideons to focus on right now: encouraging Christian men to say something about the gospel in a Lyft or an Uber.
"I think the uniqueness of this ministry is that we are an association of Christian businessmen and professional men," Heighway said. "There are not a lot of ministries that challenge men to take a stand for Christ, and not a lot that are challenging Christian businessmen and professional men."
The strong association of the Gideons with Bibles in hotel rooms is kind of a historical accident, according to Paul Gutjahr, an Indiana University professor who specializes in the history of Bibles in the United States. For the first 10 years, Gideons actually didn't distribute Scripture. When the group was founded, it was more like the fraternal organizations—like the Grange and the Rotary Club—that were so prominent in that era.
"In the early 20th century, traveling salesmen are everywhere . . . and the Gideons are all about harnessing that energy for evangelism. That's why they focus on hotels—it's really an extension of the traveling-salesman thing," Gutjahr said. "Their trademark moved from contact evangelism to Bible distribution."
As The Gideons International "rebalances," it's following in the path of its Canadian counterpart, which split from the US group in 2011 due to a change in Canadian tax law. The division forced the Canadian Gideons to do some soul-searching.
"Sometimes the methods get confused with the purpose," said Alan Anderson, president of The Gideons International in Canada. "We took a step a back and asked ourselves, 'What are we trying to accomplish?' "
The Canadian Gideons opened membership to women for the first time, breaking from the fraternal-order traditon. They also started a program to teach people in local churches to share their faith. After one recent workshop, Anderson said, 15 people became Christians in one afternoon in downtown Toronto. After another, a church of 40 grew to 80 in one week.
Sometimes, after these workshops, people from the churches ask to join the Gideons. That makes Anderson hopeful about the future. In both the US and Canada, the Gideons are worried about aging membership and the long trend away from joining social organizations.
"We don't know if it's going to work or not," Anderson said. "We're waiting with bated breath."
Heighway has similar thoughts. "Rebalancing," in the end, is also about revitalizing the Gideons and recruiting new members.
"God is calling us back to our roots," he said, "to focus on our walk with the Lord and how we serve the Lord with the way we live our lives and our personal witness. And we also, by the way, have this thing we do called Scripture distribution."
The Gideons will continue to give away Bibles in the US and abroad. Both Anderson and Heighway are excited about growing opportunities to distribute Scripture overseas. But it's not going to be the focus it had been. And for a while, they will print fewer Bibles.
The long-term effects of this change remain to be seen. But one immediate impact was felt in a printers' union office in Philadelphia, where Cox and the other printers received severance packages.
Cox reminisced about the old days and wondered how many Bibles he had printed over the years. You don't print a Bible all at once, he said, but in 32- or 64-page sections called signatures. On a good day, his presses could print 100,000 signatures. What would that add up to, from when he started in 1973 until the presses fell silent in 2019?
He shook his head, as if to let the question go with the job. "I don't know I can count that high," he said.
Daniel Silliman is news editor of Christianity Today .
Have something to add? See something we missed? Share your feedback here.
Have something to add about this? See something we missed? Share your feedback here.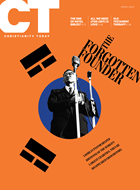 This article is from the April 2020 issue.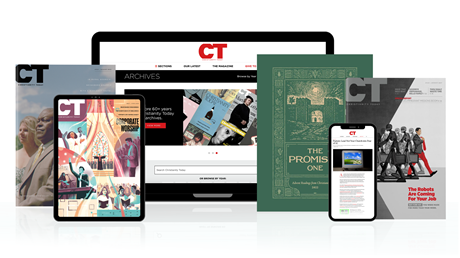 Annual & Monthly subscriptions available.
Print & Digital Issues of CT magazine
Complete access to every article on ChristianityToday.com
Unlimited access to 65+ years of CT's online archives
Member-only special issues
Subscribe
Why Gideons International Is Scaling Back Bible Printing
Why Gideons International Is Scaling Back Bible Printing