Storytellers know that the unfolding of dramatic events can be hard to follow. So to help their audiences make sense of what is happening, they often insert symbolic clues. In cartoons, the villains scowl and speak with gravelly voices, and the heroes smile and sound all-American. In movies, a menacing bassline announces the arrival of a dangerous person, while comic figures appear with bouncier melodies.
In the story of Samuel, Saul, Jonathan, and David, you can guess what will happen by looking at their clothes.
Some of this works at a simple level. When we first meet Goliath, he is covered from head to foot in scaly armor, which makes him look like a serpent or even a dragon. So when we find the snake-like accuser lying dead, his head crushed by the anointed king, we are not especially surprised. We first meet Samuel as "a boy wearing a linen ephod" (1 Sam. 2:18). Straightaway, we know he will function a bit like a priest.
Right after this, we hear that "each year his mother made him a little robe" (2:19). This garment will represent Samuel's prophetic authority throughout the book. When Saul rips Samuel's robe, he accidentally foreshadows that his kingdom will be "torn" away from him and given to David (15:27–28).
Saul, likewise, has a robe that symbolizes royal authority (or lack thereof). In one of the story's dramatic moments, David refuses to kill Saul while he is going to the bathroom, instead cutting off a corner of his robe (24:4–5). At face value this is an act of kindness, as David spares the man trying to kill him. But as readers, we know there is more going on. Saul's kingdom will indeed be "cut off" and given to David, and it won't stop there. Eventually the entire nation will be torn, like a garment, into 12 pieces (1 Kings 11:30–32).
Some of the symbolism is more ambiguous. When Jonathan removes his outerwear and armor and gives it to David (1 Sam. 18:4), we know he is relinquishing more than his clothes; he is giving away his very status as heir to the throne. But what about the famous scene where Saul makes David try on his armor? Children's Bibles make this a story about children trying on oversized clothes, but the story suggests other contrasts. Saul uses the same weapons as the Philistine champion, whereas David uses totally different ones. Saul looks like the kings of the nations; David looks like a shepherd. Saul has divested himself of royalty without realizing it. David, for his part, has refused Saul's way of doing things and chosen to fight in the name of the Lord of hosts instead.
Then there are those strange moments when kings take off their clothes. Saul strips naked while prophesying and remains unclothed all day and all night (19:24), as if to demonstrate that he has gone mad and been abandoned by God. Later he removes his royal garb and, like King Lear, disguises himself as someone else (28:8). With his prophetic anointing and kingly power gone, we know it is only a matter of time before he loses his life. When he does and the news reaches David, we can tell what is coming; the messenger arrives "with his clothes torn and dust on his head" (2 Sam. 1:2).
All the protagonists in these stories serve as a dress rehearsal for another king of Israel who will combine the robe of a prophet, the ephod of a priest, and the armor of a king. Jesus, like Samuel, will have clothes that represent divine authority, with the power to heal incurable diseases (Matt. 14:36). Like Jonathan, he will remove his outerwear in order to equip, serve, and even wash the feet of his friends (John 13:4). Like David, he will be mockingly attired like the kings of the nations before going out to fight alone, unclothed and unarmed, as a shepherd. Like Saul, he will be stripped naked, as if to demonstrate abandonment by God, and die in battle against the enemy.
But on the third day he will rise, leaving a neatly folded pile of clothes behind him. And when we next hear about his wardrobe, he is "dressed in a robe reaching down to his feet and with a golden sash around his chest" (Rev. 1:13).
Andrew Wilson is teaching pastor at King's Church London and author of Spirit and Sacrament (Zondervan). Follow him on Twitter @AJWTheology.
Have something to say about this topic? Let us know here.
Have something to add about this? See something we missed? Share your feedback here.
Spirited Life
Spirited Life is a collision between biblical reflection and charismatic practice, aiming to make people happier in God.
Andrew Wilson is teaching pastor at King's Church London and author most recently of
Spirit and Sacrament: An Invitation to Eucharismatic Worship
(Zondervan). Follow him on Twitter
@AJWTheology
.
Previous Spirited Life Columns: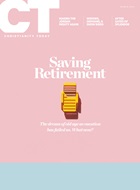 This article is from the March 2019 issue.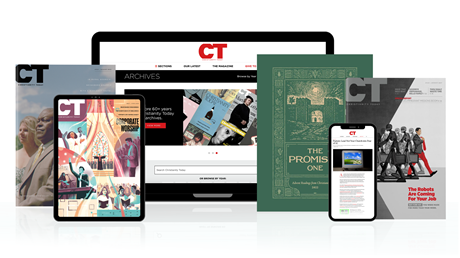 Annual & Monthly subscriptions available.
Print & Digital Issues of CT magazine
Complete access to every article on ChristianityToday.com
Unlimited access to 65+ years of CT's online archives
Member-only special issues
Subscribe
You Shall Know Them by Their Clothes
You Shall Know Them by Their Clothes