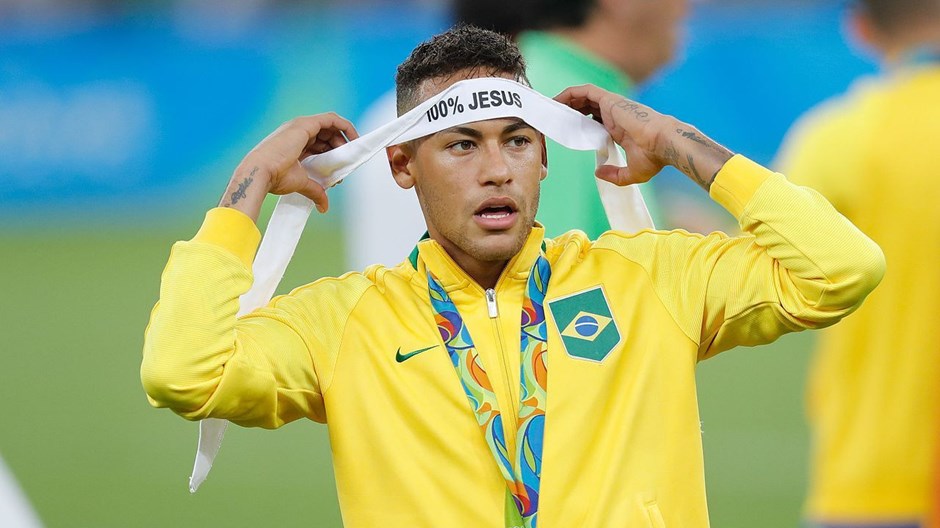 In Brazil, the country of international football, the relationship between religion and the soccer ball is an old one. Brazilian athletes have long played with crucifixes, medals of saints, or wrist tapes honoring the deities of the local Candomblé cult.
But in recent years, explicit evangelical expressions of faith in Christ have dominated the South American nation's sporting scene.
Perhaps not surprising in a country where nearly 25 percent of the population is Protestant, Brazil's national team prays before and after games and celebrates goals by displaying T-shirts with Christian messages. At least six athletes on the current national team playing in this summer's World Cup have declared themselves to be evangelical, including Fernandinho, Thiago Silva, Alisson, Douglas Costa, Willian, and the team's star, Neymar.
But unlike previous international tournaments, the team has been banned from celebrating any of its on-field successes through religious expression.
Just before the 2018 FIFA World Cup, the Brazilian Football Confederation (CBF) banned the team from religiously themed celebrations, claiming that the practice could divert focus on competition and constrain athletes who practice other beliefs or are agnostic. The measure, announced in June, is in line with guidelines from FIFA itself, which controls the world of football and which, since the 2006 World Cup, has been restricting religious demonstrations on the field.
Religious celebrations have long been part of Brazilian soccer. After winning the 1994 World Cup, Cláudio Taffarel and Jorginho attributed part of their victory to divine action. An image of Taffarel in ecstasy, kneeling on the field in front of Roberto Baggio, an Italian player who missed the final kick penalty that gave the championship to Brazil, was used as a demonstration of the superiority of the evangelical faith over Buddhism, the religion professed by the Italian striker. The photo also became the cover of the book Quem Venceu o Tetra? [Who Won the Fourth Championship?], which included the testimony of evangelical athletes praising and giving God credit for their win.
Not everyone appreciated the book's implications, however. Veteran footballer Mário Jorge Zagallo criticized it for suggesting that athletic success related to faith, claiming this argument reduced the value of the athlete's dedication and effort.
100% Jesus?
While evangelical players openly celebrate their faith on the field and on their social media accounts, many Brazilian neo-Pentecostal churches have begun to openly use the presence of famous athletes in their ranks to leverage their own image. When soccer legend Kaká was a member of the Renascer denomination, his image showed up in its advertisements. Sara Nossa Terra, which has churches in trendy neighborhoods in Brazil's big cities and preaches a prosperity gospel message, attracts famous athletes to its celebrations. Even the bohemian Romario, notorious for his love life, attended some services with his ex-wife.
As Protestantism has grown in Brazil, so has a certain cultural relaxation of the traditional values of Christianity. Nowhere is this clearer than with Neymar. When his nation won gold in its home Olympics in 2016, he took the podium to receive his gold medal with a headband reading "100% Jesus." Yet this ostensible display of devotion caused controversy, given the star player's out of wedlock son and public love life.
Consequently, Christian fans sometimes fear that the actions of some of the players undercut their God talk.
"Immoral or unethical behavior outside the four lines brings great harm, insofar as people condemn such attitudes on the part of someone who says they are God-fearing," said Luís Paulo Rocha de Mattos, who pastors an evangelical church in Rio de Janeiro. "Fame and fortune are always dangerous to the Christian. I would prefer to see fewer players presenting themselves as evangelicals, and more people really committed to biblical standards."
Some of Brazil's Christian stars are aware that the public sees this disconnect. "The Christian athlete has the great responsibility of always giving a good testimony," said Kaká, a midfielder who played on the team that won the World Cup in 2002. "Whenever I can, I try to demonstrate what God has done in my life and to act in accordance with biblical values." Aware that keeping faith front and center is challenging for players, organizations such as Athletes of Christ support teams through Bible studies and chaplains.
Off the Field
Whether or not this new CBF ruling will ultimately impact Brazilian soccer's outward religiosity remains to be seen. What's most evident is that Catholicism's grip on the country's culture has ended.
"Before, when Catholicism was practically absolute in Brazil, the visibility of evangelicals was barely perceptible," said social scientist Roberto Afranio Nunes. "Since the 1980s—and especially since the last decade—being linked to the evangelical church, something that has been discriminated against, has given certain social status."
As the evangelical soccer community grows, so will opportunities for those who have walked for years with the faith to share their stories. Taffarel's championship-winning save enshrined him into Brazilian soccer memory forever. Nearly 25 years later, his pedigree landed him a position as his country's current goalkeeping coach—and a platform to share about a relationship with God that's persisted beyond the highs of a World Cup victory.
"Since I invited Jesus Christ to live in my heart, I started to count on the strength, the love, and the power of God in the most important moments of my life," he said. "Not everything is a sea of roses in the life of a follower of Christ, and mine is no different.
"But in the tough time, in the time of betrayal between coaches and directors, in the time of missing the ball and the mockery of the fans, in the time that I lost my father or I saw my wife hanging between life and death, and in the time of catching the decisive penalty [against Italy], I noticed the importance of not being alone. God never left me alone."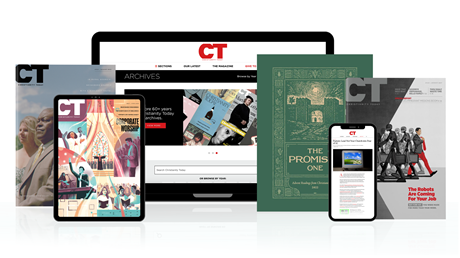 Annual & Monthly subscriptions available.
Print & Digital Issues of CT magazine
Complete access to every article on ChristianityToday.com
Unlimited access to 65+ years of CT's online archives
Member-only special issues
Subscribe
Brazil's Soccer Stars Love Jesus. But They Can't Thank Him for World Cup Wins.
Brazil's Soccer Stars Love Jesus. But They Can't ...