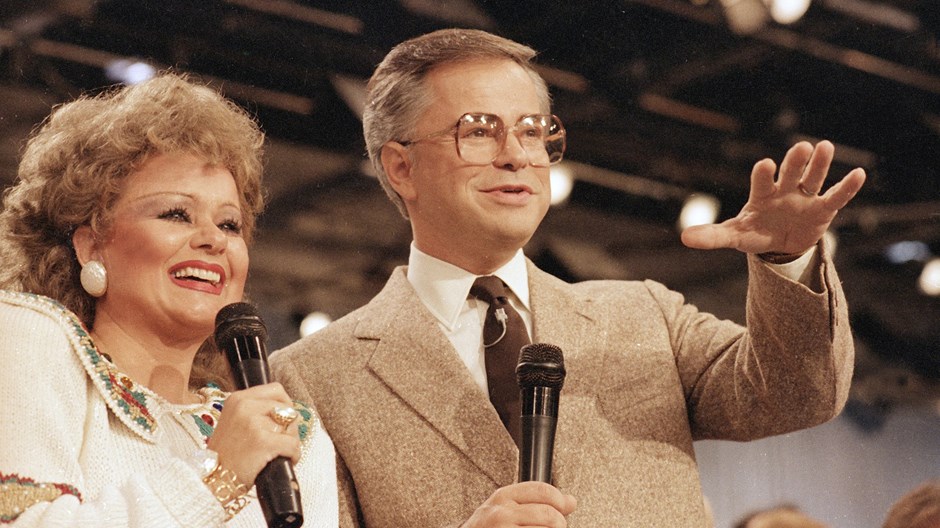 Image: APimages
The apostle Paul considered himself the "chief of sinners," but then again, he never met Jim Bakker.
The latter's ministry got off to an innocent enough start. Jim and his wife, Tammy Faye, were young, no-name, itinerant Pentecostal evangelists when a puppet show they had developed for children garnered the attention of pioneering televangelist Pat Robertson. Robertson took a chance on the entrepreneurial couple, and they made the most of it, breaking out on their own and developing a signature Christian television talk show program, originally known as The PTL Club (the letters stood for "Praise the Lord"), that endeared them to millions of viewers across the country and world.
The Bakkers hailed from hardscrabble backgrounds. But in the late 1970s and early 1980s they built a Christian entertainment empire that won accolades from the likes of Billy Graham, Jimmy Carter, and Ronald Reagan. Until—as historian John Wigger declares in his riveting new book, PTL: The Rise and Fall of Jim and Tammy Faye Bakker's Evangelical Empire—"it all fell apart."
Sex and Greed
Drawing on a wide range of interviews, newspaper reports, and court documents, Wigger expertly documents the larger-than-life transgressions that eventually brought the Bakkers and PTL tumbling down. Where to begin a summary accounting? Perhaps with the sex? Jim Bakker's December 1980 encounter with a young woman named Jessica Hahn in a Florida hotel room—one which she describes to this day as non-consensual, though she prefers not to call it rape—would prove central to his and PTL's undoing. But as Wigger shows, it was just the tip of the iceberg. Throughout Bakker's time at the helm of PTL he had sex with at least six of his male employees. These, too, were exploitative relationships, in which Bakker deployed the power of his position to secure others' silence. Tammy Faye was not abusive, but may well have had dalliances of her own, including with the musician Gary Paxton. While the two denied any sexual involvement, many in PTL's inner circles assumed they had an affair.
Or perhaps it is best to begin with the greed? As the Bakkers' ministry grew, so did their insatiable appetite for nice things. In 1982 they used PTL funds to purchase a $375,000 vacation condo in Florida, which they went on to furnish lavishly. As Wigger reports, "The drapes, bedspreads, and headboards cost $40,000 alone." After a few days, Tammy Faye grew tired of the place, which struck her as "nothing but a hotel suite." They wound up spending only a total of three weeks there.
Both the sex and the greed drove jaw-dropping levels of deceit. Jim went to extreme lengths to cover up the Jessica Hahn affair, a decision that fit into a much larger pattern of illicit lies. The Bakkers' meteoric rise to Christian celebrity status was made possible by the faith and generosity of countless ordinary believers, who tuned into PTL's television programs and donated to its telethons. Jim and Tammy Faye violated their trust early and often. In one August 1978 newsletter, Jim, seeking funds for his ambitious Heritage USA theme park, wrote, "Unless God performs a financial miracle, this could be the last letter you will receive from me. ... Tammy and I are giving every penny of our life's savings to PTL." But the truth was, as Wigger observes, "He wrote this at almost exactly the same time he bought [a $30,000] houseboat." The kicker: He paid the required $6,000 down payment with PTL funds.
The Bakkers' prevarications grew more grandiose and more illegal as they stretched to finance larger and larger projects. Their supporters were not the only victims. While during times of financial distress Jim, Tammy Faye, and other high-level PTL employees still took home extravagant bonuses, the vast majority who worked for the organization scrimped and saved—if they managed to keep their jobs. As Wigger writes, "From November 1985 through February 1986, PTL laid off 283 people, an annual savings of $3,613,780. [Jim] Bakker's total compensation for 1985 and 1986, as calculated by the IRS, was $3,946,229."
Those two matter-of-fact sentences illustrate one of the great strengths of Wigger's style. He does not over-editorialize. The facts about the Bakkers are often outlandish enough, and throughout the book he lets them speak for themselves. Wigger's commitment to laying off the cheap shot in no way diminishes the reader's sense of Jim and Tammy Faye's deep and abiding flaws. But it does mean that the Bakkers emerge from the book not as moral monsters but rather as flesh-and-blood human beings, complete with some real gifts and winsome traits. More than just a comedy of ethical errors, theirs is a story laced with tragedy.
Sanctifying Hedonism
It is, moreover, a cautionary tale. Alert readers will find in Wigger's book an invitation not to gawk at Jim and Tammy Faye's sensational sins, but rather to engage in serious introspection. American evangelicals have long conceived of themselves as embattled, and the Bakkers were no exception. They spun a powerful narrative about how the press, the Internal Revenue Service, and other respectable institutions were arrayed against them and their ministry. It was a narrative that resonated with their viewers and that almost without fail worked to replenish PTL's coffers. Yet it was divorced from reality. Far from righteous prophets crying into a secular wilderness, the Bakkers were in seemingly every imaginable way conformed to the materialistic, self-aggrandizing spirit of their day. If the mantra "greed is good" never rolled off their lips, it nevertheless emanated from their lives.
Few evangelicals, then or now, have sanctified hedonism with such reckless abandon, and yet it would be all too easy to dismiss the Bakkers as mere aberration. Their erstwhile teachings on the "abundant life" retain gospel status in many prosperity churches, even as evangelicals of all different stripes remain locked in hot pursuit of the ever-more-elusive American Dream. If Christ pronounces "Woe to you who are rich," then at least in their material aspirations, most American believers tend to favor culture. Yet the sense of embattlement persists, especially among white evangelicals, even in the wake of a half century in which they have enjoyed unprecedented access to the halls of power. This frame of mind can be a godsend during times of persecution. But as the Bakkers' story underscores, it can also be morally dangerous, functioning to distort the truth and justify all kinds of worldliness. Let the reader beware.
If the book is a spur to sober reflection, it is also an enjoyable read. Engaging storylines and a wild cast of characters keep the pages turning, even as Wigger deftly uses the story of PTL to explore much wider developments: of evangelical involvement with the television industry, the evolution of the prosperity gospel, and more. It is perhaps fitting that this definitive history of the Bakkers and PTL is at once edifying and entertaining—a tribute, in that sense, to what might have been.
Heath W. Carter teaches history at Valparaiso University. He is the author of Union Made: Working People and the Rise of Social Christianity in Chicago (Oxford University Press) and a co-editor of Turning Points in the History of American Evangelicalism (Eerdmans).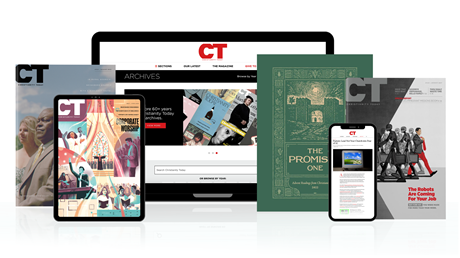 Annual & Monthly subscriptions available.
Print & Digital Issues of CT magazine
Complete access to every article on ChristianityToday.com
Unlimited access to 65+ years of CT's online archives
Member-only special issues
Subscribe
The Cautionary Tale of Jim and Tammy Faye Bakker
The Cautionary Tale of Jim and Tammy Faye Bakker