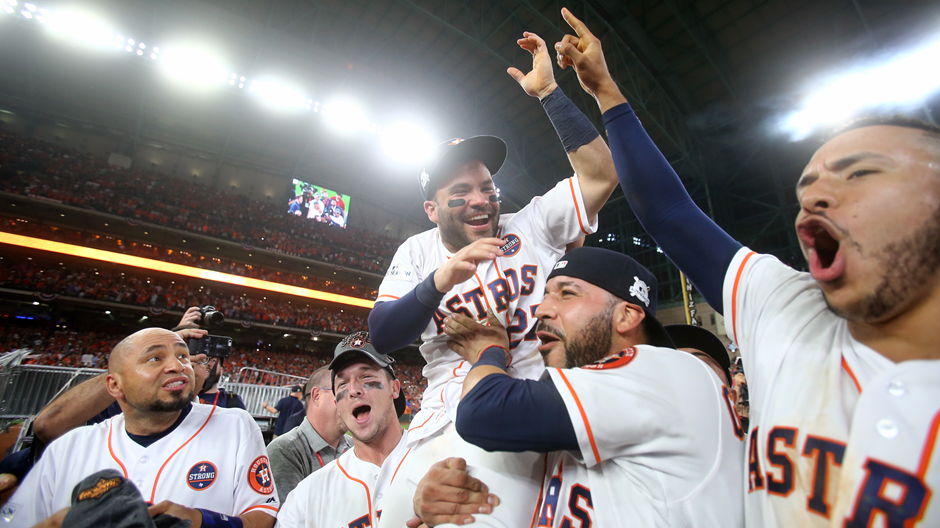 Image: Elsa / Getty Images
Christians across Houston, the megachurch capital of America, are saying their prayers for the Houston Astros as they play the Los Angeles Dodgers in the World Series.
As a baseball chaplain, Juan Jesus Alaniz happens to be praying right alongside the players who are hoping to bring a major win to the Bayou City just months after it was swamped by Hurricane Harvey.
Alaniz, pastor of Houston's First Baptist Church's Spanish campus, leads ministry among the Astros' Spanish-speaking players. The team includes Venezuelans José Altuve and Marwin González; Puerto Ricans Carlos Correa, Carlos Beltrán, and Juan Centeno; Cuban Yuli Gurriel; and Dominican Francisco Liriano. Kevin Edelbrock, a development director with Young Life, serves as the English-speaking chaplain, and Alaniz's wife, Josie Ban-Alaniz, conducts ministry among the players' wives and girlfriends.
True to their faithful fans, the Astros hold a Faith and Family Night each season, featuring worship music and players' testimonies. Houston's First, which draws over 7,000 weekly attendees, has a particular connection to its home team. As the Baptist Press reported, the church has a prominent ad in right field, pastor Gregg Matte has thrown out the first pitch, the congregation has held fellowship nights at the park, and Astros president Reid Ryan has come out to speak to church staff.
With the series tied 1–1, CT talked to chaplain Alaniz about his unique vantage point as an Astros fan and chaplain.
What do you do as a team chaplain?
We provide Bible study, prayer, and support. We're there whenever they call and want to have a cup of coffee, privately, but most of the time we're with them in the family room next to the clubhouse at Minute Maid Park on Sundays. That's the indicated day for what would be their church service. Their schedules are so busy, so hectic, so demanding, but once and while we'll have conversations by text or by phone if we're not able to get together with them.
How is the team different going into the post-season and then the World Series compared to the rest of the season?
Trust, especially with the Spanish-speaking players, is so critical. They do come from circumstances that sometimes are not healthy. They've seen a lot of things in these places in Latin America—Venezuela, Cuba, Puerto Rico, Dominican Republic. I've even talked with guys from Nicaragua, and Mexico, of course. They don't know what you're like and what you're going to talk about, so it's very important to be real clear with them off the bat. That trust grows throughout the season.
In my case, it's grown in the last two years. Just the other day as I was sitting and watching the batting practice, and I was communicating with one of the players to let him know that we were going to have a time of prayer and share a verse, get them in and out quickly because the demands are so high. It was right before the Yankee game—the seventh game at home. He texted me … and he gathered the guys so we could meet. I just thought that was neat, to see the level of trust there.
He just texted me today, and I let him know that we were praying for him for tonight. He texted back some praying hands and "Amen." It's a real privilege to be that close to what they're living out. And they're doing it in Christ, which makes it so special.
This series has taken on particular significance for the city after Hurricane Harvey. How was the team affected?
The beautiful thing about the Astros is the organization has been so open to us coming in there. Our church, Houston's First Baptist Church, has a big sign out in right field. It's a real spiritual experience, not just playing baseball, but when this whole thing happened with Harvey, the players became really involved in giving.
Carlos Beltran gave a lot of money to Puerto Rico [donating $1 million after Hurricane Irma], and the others were giving here for the Harvey situation. Unfortunately, they had to play some games, a Rangers series they were supposed to have here that ended up in Florida, so that kept them away for a while. But when they came back, they did what great hearts would do: They served and gave and helped out in that process of cleanup and everything else.
The Astros organization is totally behind what we do. I was walking down the hallway the other day, and Reid Ryan, who's the president of the Astros, said, "Hey man! I noticed you just came out from praying with the guys. Thank you so much for doing that."
What do you like most about this job and getting to work at the intersection of sports and ministry?
I was a varsity basketball coach for over 20 years, and I played in college, so that allows us to have that connection. I totally respect and understand the discipline that it takes to be successful. In prayer, fixing your eyes on Jesus is like fixing your eyes on all that's required of you as a baseball player, in this case.
Being that close to these guys, you really appreciate not only the gifts the Lord has given them but the fact that they're applying them. What we see out there in the game, those things don't happen by accident.
These guys have a real disciplined life when it comes to the sport, and we just want them to have a disciplined life with regards to Jesus. We go to him as opposed to going to the other things that are pulling them. We've had some intimate conversations. There's temptation and stress that's put on them, from the media, from the fans, and everything else.
How would you describe the mood in Houston during this series?
Everywhere you go, you see the paraphernalia. In our church here, because we're so involved with the Astros, we're encouraged to wear our shirts and hats. And we pray for them, for their safety, for their health, and of course, we pray for victory.
So you pray that they'll win?
Oh yeah. We're more than conquerors in Christ Jesus. The other day I shared Colossians 3: 23–24 and just said that everything we do, we do to honor him. We got to talking about that, and in the case of these Spanish-speaking players, they're not only playing for the city of Houston or blessing our country, but back home, where they're from, they're playing for them. I told them those are great things to play for, but in the end, you're really playing for the Lord. You're playing to honor him and thank him for the gifts that he's given you.
We try to get them to that higher-level perspective, instead of just "I'm playing for my country. I'm playing for my family. I'm playing for my Astros fans." No, you're playing for the Lord. The Word of the Lord never comes back empty, so we keep sharing those things with them. It's nice to see them respond.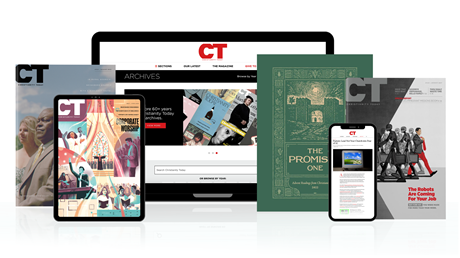 Annual & Monthly subscriptions available.
Print & Digital Issues of CT magazine
Complete access to every article on ChristianityToday.com
Unlimited access to 65+ years of CT's online archives
Member-only special issues
Subscribe
Astros Pastor: 'You're Playing for the Lord'
Astros Pastor: 'You're Playing for the Lord'