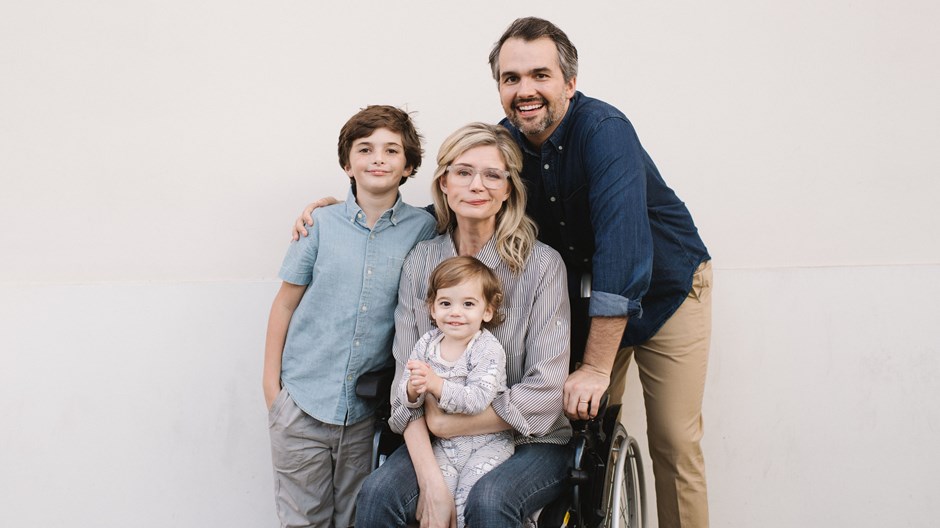 Image: Courtesy of Katherine Wolf
On April 21, 2008 at the age of 26, Katherine Wolf experienced a brain bleed from a massive brain stem stroke that nearly killed her. She survived but was left unable to walk, talk, or swallow and with severe double vision, right ear deafness, and right-side facial paralysis. The former beauty queen, model, and mother to a then-six-month-old baby boy had to redefine her life.
"I am grateful that the Lord has allowed me to experience suffering at an early age," says Wolf. "The Cross and the suffering of Christ doesn't appear beautiful at face value, but in the kingdom of God, we know it is the ultimate source of beauty because it means that the end of the story is no longer sadness, pain, and death, but new life—and that's a beautiful thing."
In 2013, Wolf and her husband, Jay, started Hope Heals, a ministry that serves those who face physical disabilities and other challenges with the end goal, says Wolf, "of imparting hope that Jesus brings healing to the deepest pains we all carry."
Wolf shared with CT about how her stroke and the ensuing suffering have transformed her outlook on life, faith, and the nature of enduring beauty.
How has God used the tragedy of your stroke to redefine your understanding of beauty?
When I had the stroke, so much was stripped away in terms of my physical abilities—I couldn't use my hands, couldn't eat, or walk—that my appearance was just one more thing I was dealing with. The beauty stuff wasn't as big of a deal; learning to walk again was a big deal. It put my appearance and beauty in its rightful place.
My baby was being raised by other people. While I was watching him grow up, I couldn't tell you when he learned to walk or do his "first things." It's all a horrific blur. Tragedy redefines and clarifies everything in your life, and when you are dealing with not mothering your own son, your appearance goes to the back burner.
You grew up with a foundation of Christian faith that shaped your youth. Were there particular experiences in your early life that taught you the idea that beauty can come from suffering?
To be perfectly honest, no. There was a deep sense in my community of wanting to protect children from the world and not discuss the bad and ugly stuff. Western culture often instills in young people the idea that they are invincible and nothing can happen to them, but the truth is that we are all going to experience suffering on earth, and if we never see it coming, we won't know how to cope with it. Our lives will fall apart. Suffering is the common denominator in our humanity and points us to Jesus, and so I want to instill in my kids the notion that hard and good are not mutually exclusive to each other—that things can be very good and very hard at the same time.
Did you feel liberated after your stroke and freed from all of the pressure that goes with "keeping up appearances"? Were there any unexpected freedoms that emerged out of your experience?
Yes, deeply. Being in a wheelchair has been so freeing. The beauty that comes from being paralyzed and disabled is being freed from perceptions that everything is okay with me or that I have it all together. My body has become a unique microcosm. I'm the one with the paralyzed face—but who feels beautiful all the time? I can't even write or walk anymore, but I feel fully free in my life. People know at first glance that I am broken, but my embodiment of brokenness is actually everyone's story.
Your friend Joni Eareckson Tada, like you, experienced an unexpected and life-changing disability. How has your friendship with Joni informed your outlook, and is there a specific word from Joni that has impacted or shaped you?
I love Joni! She's been a mentor to me over the last five years, as she also lives in Los Angeles. Her friendship has been one of the greatest gifts of my life. Jay and I met her in 2012 and have been close ever since. Since our ministry began in 2013, she and her husband, Ken, have guided us on issues of both ministry and marriage. Joni says, "God permits what he hates to accomplish what he loves." I love that so much.
As a former beauty pageant winner, you know what it is like to literally be judged based on your appearance alone. How would you encourage young women today who struggle with self-worth? And what advice would you give to mothers of daughters who are being shaped by secular conceptions of beauty?
God uses everything for his glory. Even our appearance can be used by God—think of Esther. Outer beauty is fading away as you age, but inner beauty has the potential to continually grow and increase. How can we grow more discerning when it comes to the voices we allow to influence us? It starts with re-narrating beauty and meditating on the truth that our worth is 100 percent connected to who we are in Christ. We are people made in God's image. We have the glory of God in us and we are his beloved. Nothing else is required from us to be worthy but accepting that he loves us, imperfections and all.
We must tell our daughters that we are pleased with them, that we are delighted they are in our lives and in the world, and that God sees them as his beloved daughters. It's important to use deeply inclusive language so that they know they have an important place in our family and God's family. The words after Christ's baptism, "You are my beloved son with whom I am well pleased" are so powerful. Our children need to hear the same, "I am so pleased with you— there's nothing you can do to change how I feel about you."
After the accident, how has God's Word helped you redefine your conception of beauty?
God tells Samuel in 1 Samuel 16:7, "For the LORD sees not as man sees: Man looks on the outward appearance, but the LORD looks on the heart" [ESV]. In an instant, your life and appearance can be permanently changed. It is so fleeting to place our focus on the outside of the body.
And in 2 Corinthians 4:16–18 Paul writes, "We do not lose heart. Though our outer self is wasting away, our inner self is being renewed day by day. For this light momentary affliction is preparing for us an eternal weight of glory beyond all comparison, as we look not to the things that are seen but to the things that are unseen. For the things that are seen are transient, but the things that are unseen are eternal" [ESV].
When we don't live for the eternal, we seek satisfaction in the temporal, which is ultimately unsatisfying. In this world, aging is often seen in a negative light. But in terms of kingdom living, it means we are growing in wisdom and recognizing that we are closer to meeting Jesus and getting a new body, which is a beautiful paradox.
The Cross puts it all in perspective. We have to meditate on the beauty in the hard places.
What in particular has helped you to become more comfortable in your post-stroke body?
I'm in a wheelchair, which is a huge adjustment. I cannot walk or drive, and one hand doesn't work. One thing that's been huge for me is getting perspective from others. At times when I feel really low, I look to others who are dealing with so much more than I am. Stefanie Nielson, blogger at NieNie Dialogues, was severely burned on over 80 percent of her body shortly before my stroke. Her kids didn't even recognize her after the burn. As I was awakening to my new appearance, hearing her story gave me a different perspective. Suddenly my paralyzed face didn't seem as bad anymore.
This side of heaven, we won't be fully free from issues about our appearance, but we can be more comfortable when we recognize that it isn't all that matters. My relationship with Jesus makes the difference.
How would you encourage others who are experiencing suffering?
The beauty of suffering at a young age is that it will inform the rest of my life as well as my husband and children's lives. Suffering is not the end of the story. The beauty of the gospel is that we see a better story being written and coming out of our sufferings, which changes the way we live the rest of our lives.
To learn more about Katherine and Jay Wolf's story and ministry, visit the Hope Heals website and follow them @hopeheals on Instagram and Twitter.
Laura Thomas is writer and editor of Missionary Mama, a blog designed to encourage mothers. She is a homeschooling mother of four who resides in the DC area.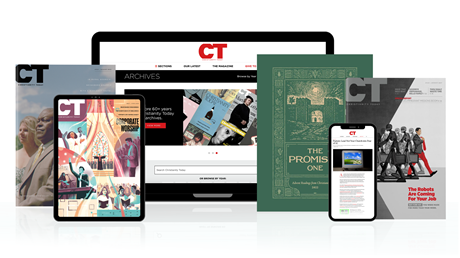 Annual & Monthly subscriptions available.
Print & Digital Issues of CT magazine
Complete access to every article on ChristianityToday.com
Unlimited access to 65+ years of CT's online archives
Member-only special issues
Subscribe
A Stroke Freed Me to Redefine Beauty
A Stroke Freed Me to Redefine Beauty