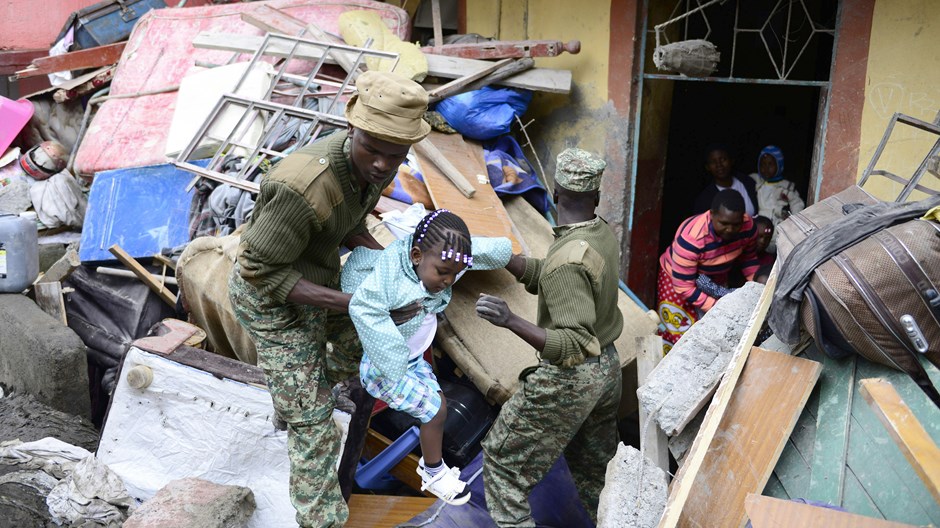 Image: AFP / Getty Images
A couple of weeks after our family moved to Nairobi in April 2016, a six-story apartment building in another part of the city collapsed after several days of heavy rain. Fifty-one people died as they slept.
Two months later, chilling headlines hit local newspapers. Willie Kimani, a Kenyan lawyer with Christian human rights organization International Justice Mission, along with his client and their driver, went missing and were later found dead. It was the first time an IJM staff member had been killed in the line of duty.
The beautiful, cosmopolitan city that was my new home suddenly looked a lot darker. Even the locals were shocked by the brazen and sinister nature of the crime. As I followed news reports of the murders and ongoing debates about building safety in Nairobi, I found that these two horrific events, so different in nature, had one chilling commonality: Their origins could be traced back to systemic, unabated corruption.
Corruption is by no means a modern challenge. The Bible has multiple references to the corruption of ancient Israel and its neighbors. Historians have documented how corruption infected the Roman Empire in its later days and eventually led to its downfall. Even so, I have come to believe that corruption is one of the most urgent justice issues of our day. If we as the church care about injustice and inequality and the suffering of the poor and oppressed, then we must be deeply concerned about corruption. As stated in the 2004 United Nations Convention Against Corruption, it is "an insidious plague that has a wide range of corrosive effects on societies. It undermines democracy and the rule of law, leads to violations of human rights, distorts markets, erodes the quality of life and allows organized crime, terrorism, and other threats to human security to flourish."
Growing up in the United States, I heard most often about overseas corruption in the form of international aid dollars ending up in the pockets of politicians and businesspeople. Depriving struggling populations of much-needed resources is a terrible wrong in and of itself. But, for most people around the world, misplaced international aid isn't their concern. For them, corruption is an everyday presence, one that both enables and amplifies many forms of evil: harassment, discrimination, oppression, theft, assault, criminal negligence, and even murder.
In the case of the 126 apartments that collapsed in Nairobi, the owner did not have an occupancy permit for the building. It had been built quickly and, according to neighbors, "shoddily." The public outcry that followed the collapse led Kenyan authorities to audit multi-level buildings around the city; a total of 258 were identified as structurally at risk, the vast majority of them in poor neighborhoods.
Even in the secure, high-income neighborhood where my family lived, the apartment building that was being built across the street had been condemned by local authorities for being unsafe. Each time a condemnation was painted onto the building site in red paint, it was covered up the next day while construction continued.
Corruption like this compromises public safety, erodes the law, and provides impunity for immoral, destructive acts. It keeps accountability at bay, providing cover for evil of all kinds. As written in Proverbs 4:19, "But the way of the wicked is like deep darkness; they do not know what makes them stumble."
Corruption also keeps the poor as poor and the powerless as powerless. According to multinational NGO Transparency International, corruption and inequality "feed off each other to create a vicious circle between corruption, unequal distribution of power in society, and unequal distribution of wealth."
At a panel on corruption at this year's World Economic Forum, Transparency International managing director Cobus de Swardt claimed that corruption, even by conservative estimates, can cost economies as much as 5–20 percent of their GDP. Today, the outflow of money from Africa through illicit channels is seven times the amount coming in through trade and aid, seriously stymying economic development efforts.
Those impacted by corruption are most often low in income and social status; they are also the ones most in need of protection from government leaders, public safety officials, the justice system, and policies and programs. As Claire Wilkinson, IJM's vice president of regional operations in Africa, explained to me, "The burden of corruption largely falls on the poor and it makes them extremely vulnerable to injustice. We see this in our clients falsely charged with crimes they did not commit—all because they were unable to pay a bribe to the police to get out of custody. We see it in police officers killing young men without fear of investigation or prosecution."
Deep-seeded corruption is not, of course, unique to Kenya or the African continent. According to the 2016 Corruption Perceptions Index, more than two-thirds of the world's countries and territories received less than 50 points out of the Index's 100 maximum points, with the global average score being only 43. (The US ranked 18th with a score of 74.)
When I lived in mainland China from 2008–2010, for example, a number of corruption-related scandals came to light. Unscrupulous businesspeople (aided by corrupt officials who looked the other way) tainted Chinese milk and infant formula with melamine, which led to the hospitalization of 54,000 babies. That same year, a 7.9-magnitude earthquake that hit Sichuan Province led to the collapse of 7,000 classrooms, even while government buildings stood undamaged nearby. As many as 10,000 children were killed because of the lack of oversight in the construction of their schools.
In the US, we are fortunate to live under a relatively strong set of regulations against corruption, which means that its presence is less palpable in our day-to-day lives. But we don't have to look far to find stories of money flowing illicitly between, say, politicians and police officials and government regulators and corporations in exchange for privileges, access, or influence over public policy. The more a business spends on lobbying, the less it pays in taxes.
I used to think that corruption was simply about money changing hands, unfair business contracts, or rigged elections. But for too many of our brothers and sisters around the world, corruption is a matter of life and death. The risks are especially great for those who speak out against corruption. From Latin America and Europe to Asia and the Middle East, whistleblowers face serious threats and violence when they demand justice.
Case in point: IJM lawyer Willie Kimani. At the time of his death, he was representing a boda boda (motorcycle taxi) driver who had been shot in the arm by a member of the Kenyan Administration Police after a personal dispute. Kimani, his client, and their driver were returning from a court hearing on this very case of police abuse when they were abducted, tortured, and killed, their bodies disposed of in a nearby river.
Four police officers have been arrested and are currently on trial for the murders. The public consensus is that many more officers (including the one at the center of the original case) were involved. In all likelihood, they will never be brought to justice, protected by a system that shields its own at all costs. According to Wilkinson, "To seek justice in a society with endemic corruption is costly. Reporting any crime to the police requires you to pay the officer to even record the case, much less investigate it. To seek justice against a corrupt police officer is to take on a very different, dangerous system."
No wonder, then, that God condemns the corruption of ancient Israel so strongly in the beginning of Isaiah. "Woe to the sinful nation, a people whose guilt is great, a brood of evildoers, children given to corruption! They have forsaken the Lord; they have spurned the Holy One of Israel and turned their backs on him" (1:4).
What, then, are the people of God to do in the midst of such a pervasive and powerful evil? We must first take a stand against corruption in ourselves, always choosing what is right and good over what is fast and easy. If we are in positions of influence in government, business, or the NGO sector—whether in the US or abroad—we can commit to no-tolerance policies against corruption within our own organization and insist that our partners and contractors do the same. We can advocate for regulations, transparency, and checks and balances that make it more difficult for money to flow between public officials, corporations, and others.
We can financially support and pray for organizations that bring corruption to light, including NGOs like International Justice Mission and Transparency International, multinational agencies like the United Nations Office on Drugs and Crime, and news media that conduct investigative journalism. We can also speak up on behalf of those who are oppressed through petitions, blog posts, and other outlets.
Most importantly, though, we must pray desperately for the God of light to make himself known in these dark corners. As Job assured his doubting friends in Job 12:22, "He reveals the deep things of darkness and brings utter darkness into the light."
Dorcas Cheng-Tozun is a Silicon Valley–based writer and editor who has also lived in Kenya, mainland China, and Hong Kong. Her book on how to balance entrepreneurship and marriage is forthcoming from Hachette Center Street in late 2017.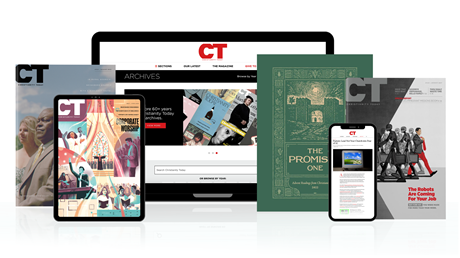 Annual & Monthly subscriptions available.
Print & Digital Issues of CT magazine
Complete access to every article on ChristianityToday.com
Unlimited access to 65+ years of CT's online archives
Member-only special issues
Subscribe
Why Corruption Is an Urgent Justice Issue
Why Corruption Is an Urgent Justice Issue