true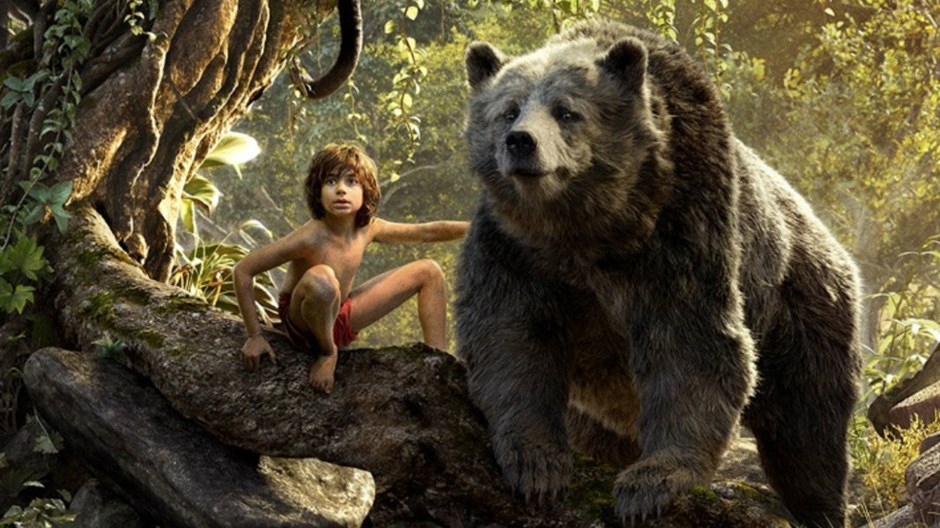 Image: Disney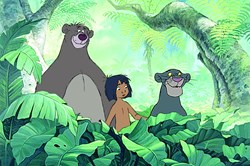 Image: Disney
The 1967 animated The Jungle Book was—for no specific reason I can discern—the only Disney movie allowed in our home when my little brother and I were growing up. So it was the only one we watched.
And boy did we watch it.
I haven't seen it in about twenty years, but last week, talking to my husband about the film, I discovered that every lyric of "The Bare Necessities" was still lodged in my brain, ready for tuneful extraction. I doubt that's what Rudyard Kipling had in mind when he wrote the stories back in the late nineteenth century, but The Jungle Book was the last film Walt Disney produced—he died during production—and it's the one most people know.
What made the film so appealing to me and my brother, a couple of kids in the mid-1990s? Part of it was the infectious music, for sure—in addition to "The Bare Necessities," songs like "Colonel Hathi's March" and "I Wanna Be Like You" were addictive earworms we could dance around humming. Lines like "What you want to do?" "Oh, I don't know, what you want to do?" "Now don't start that again" furnished ready answers when we were out playing in the backyard with the neighborhood kids, riffs we stole from talking vultures.
Talking animals are stock characters in Disney films, and in children's imaginary worlds; my brother and I would haul our stuffed animals out to the living room and stage entire Bible stories, with them in the starring roles. But there was something different about The Jungle Book's talking animals. They weren't Winnie the Pooh characters, who took life only inside Christopher Robin's imagination. They weren't imaginary at all. They were real, and it was Mowgli, the mancub, who was the intruder. He had learned to speak their language, instead of the other way around.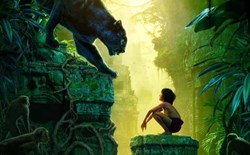 Image: Disney
When we were still young, my parents moved us out of the suburbs and onto a big plot of land surrounded by trees and woods. It wasn't a jungle by a long shot, but those woods were filled with animals—no panthers, but some foxes, and not wolves, but we could hear coyotes howling at night. Sometimes people talked about bears in the woods. Sometimes we'd come home to discover snakes sunning themselves on the rocks outside our house. In the suburbs, humans were the rule, and animals were the exception. But at our new home, we were the intruders—the animals were there first.
So we were just a tiny bit like Mowgli, my brother and me.
I brought all of this with me (minus my brother, who lives in a different state now with his wife) to see the new The Jungle Book, directed by Jon Favreau, director of the various Iron Mans. For someone who grew up with Disney's version of Rudyard Kipling's stories, it's impossible to enter the theater as a clean slate—just as it is with any story that's attained the status of myth, from Bible stories to fairy tales. They are stories that are larger than life.
This time Mowgli is played by a real boy (still in his red underpants) named Neel Sethi and not a hand-drawn animated one—though I hope for Sethi's sake that he's swapped out for CGI a good deal of the time. And in a manner befitting our time, the animals are mostly voiced by actors you'll recognize: Ben Kingsley is Bagheera the panther, Lupita Nyong'o is Raksha (Mowgli's adoptive wolf mother), Scarlett Johansson is Kaa the snake, Idris Elba is Shere Khan the murderous tiger.
Johansson as Kaa is a stroke of voicing genius, but this The Jungle Book has two real triumphs. The first is Bill Murray as Baloo the bear, whose voice is such an obvious choice for the part that for a moment I thought to myself, Oh good! They kept the original casting. Baloo, I assume, has been Murray's spirit animal his whole life, laconic and friendly and a little dopey, but in a good way.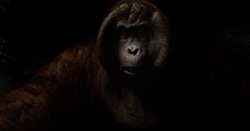 Image: Neel Sethi
The other is Christopher Walken as King Louie, the Gigantopithecus who considers himself the King of the Jungle and rules from inside the rock palace, where all primates bow down to him. Christopher Walken! Give that casting director an Oscar. His combination of weird and charming and a little menacing is a perfect match for Louie, who wants to get the "red flower" from Mowgli (that is, fire), which will give him the power that man has. That's Louie's burning desire, and he's bent on it.
Louie is also enormous in this adaptation, much bigger than in the 1967 film, and that's a key to understanding this film. At the end of the day, the old film was out to be warm and fuzzy; even when it got dark, we knew it was going to end well.
But in this film, which is shooting for realism, everything's a bit more present and scarier. A fight between a cartoon panther and a cartoon tiger can never be the same as two apparently real animals—or a whole bunch of them. The caricatures are gone, in favor of the real thing. The difference between mancub and wolf cub is more pronounced, and thus the stakes are higher, and the plot gets streamlined to match.
And for that reason, Mowgli's parentage, and subsequent status as an orphan, is darker, too. So the film focuses more on family—particularly the wolf pack, which raised Mowgli, and which takes more precedence in this adaptation. Every animal in the jungle has a different characteristic: a pack mentality, or a live-and-let-live perspective, or nobility, or sly seductiveness. Mowgli's job has always been to decide where he will land. That's different in various adaptations. The 1967 film was about finding the kind you belong with; this one is more about choosing the kind you belong with, and banding against an aggressive enemy—something that pops up at the film's beginning as well as its end.
In 1967, if you were Mowgli, you were looking for your people, ready to leave behind your old world when you found a new one where you fit better. But in 2016, Mowgli is figuring out how different sorts of creatures can live together in peace. And that's a telling change. (And, dare I say, a better one.)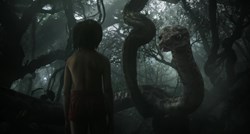 Image: Disney
But in the end this is a film about dancing monkeys, lazy bears, gentle panthers, and a boy in red underpants. So the real question, as for any remake, is simple: does it hold up? In the case of this Jungle Book is—yes, and yes against all odds, which seems even more miraculous. It's a little sad to lose some beloved set pieces—the song of the elephants as they traipse through the jungle, for instance—and some of the humor is gone as well (the dark hilarity of a mesmerized Mowgli in Kaa's scenes is lost), though plenty remains. But the film winks just enough at nostalgic fans without alienating any new ones.
There's also one delightful element that too often gets overlooked, and is the reason to see the film in 3-D: over the credits is a sequence that accomplishes three things. First, it's a hilarious rendition of "I Wanna Be Like You." Second, it's an homage to old Disney-style animations that acknowledged their source material in books. And third, it does something rarely seen on screen: it plays with 3-D in that old, novel way—by having things come out of the screen at you, instead of just providing depth into the screen.
That's an older trick, and it's good that the film doesn't overdo it during the story in a distracting manner. But it's wonderfully fun, and a nod to an older style of filmmaking—as the whole movie is. Favreau's Jungle Book draws on old material, no need to copy it or to break away. It's a nod to tradition, to a beloved property, that's still original and fun. Jungle Book has passed firmly into myth, but it's a pleasure to see it retain the magic I remember from my own childhood.
Caveat Spectator
Because it's not a cartoon, Jungle Book is almost certainly too intense for very small children, though it keeps all injuries off screen (it's just the large, frightening animals interacting with and chasing a small boy that might induce nightmares). But the flip side is great: it's a lot of fun for everyone else, including teenagers and adults. There's fire and giant monkeys and snakes, but it's less intense than what you might see in, say, Star Wars or Indiana Jones.
Alissa Wilkinson is Christianity Today's critic at large and an assistant professor of English and humanities at The King's College in New York City. She is co-author, with Robert Joustra, of How to Survive the Apocalypse: Zombies, Cylons, Faith, and Politics at the End of the World (out May 9 from Eerdmans). She tweets @alissamarie.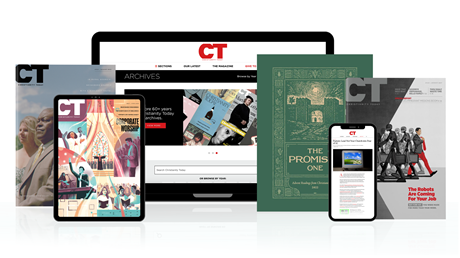 Annual & Monthly subscriptions available.
Print & Digital Issues of CT magazine
Complete access to every article on ChristianityToday.com
Unlimited access to 65+ years of CT's online archives
Member-only special issues
Subscribe
'The Jungle Book' Honors Tradition and Does Something New
'The Jungle Book' Honors Tradition and Does Something New