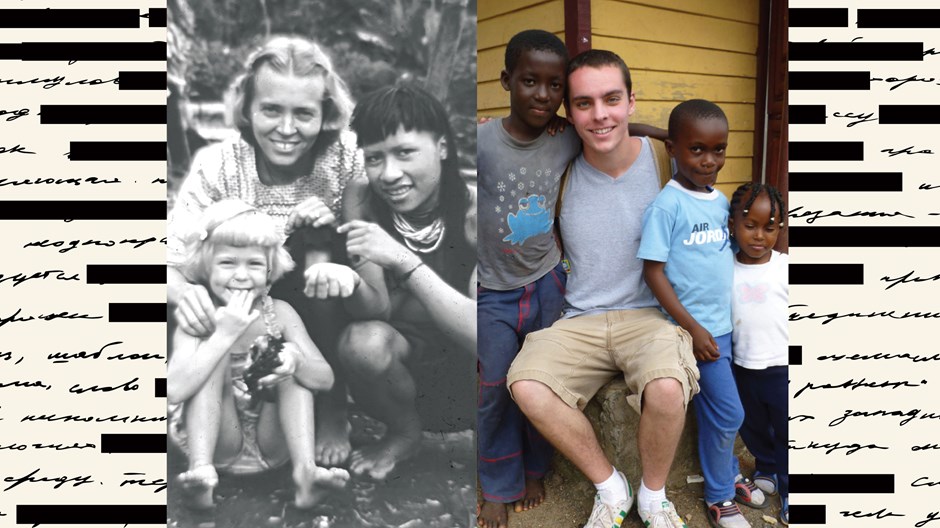 Image: The Archives of the Billy Graham Center, Wheaton, Illinois (Collection 278) / Courtesy of Jonathan and Amy Hollingsworth
The book cover shows a white woman wearing a straw hat holding a brown baby, a golden light glowing behind her. The slender children's biography still has the price tag; 25 years ago, I paid $3.95 at the Shepherd's Shoppe in San Antonio. From the stories inside, I learned about Amy Carmichael's mission to India during the first half of the 20th century. I was hooked on missionary stories from childhood onward. They conjured a life of Nancy Drew–style escapades done in the name of Jesus.
After graduating from college, in search of heroic adventures for Christ, I moved to Southeast Asia to "teach English." Needless to say, I quickly learned that a small-town English teacher's life is not all high adventure. And when my story did turn in that direction—with conversions, arrests, persecution, and rumors of CIA involvement—there was none of the romance the stories I read growing up had promised. Instead, the whole ordeal felt heart-wrenching.
In reflecting on my missionary experience over the past decade, I have returned to those little books that first wooed me overseas. But I've also started following the burgeoning online writings of current missionaries. It's increasingly clear that, because of cultural and technological developments, we are witnessing a retreat from longstanding conventions of the missionary genre. Many changes are afoot, and many of them are for the better.
A Frontier Saint
Western Christians have long been fascinated by the missionary biography, beginning with The Life of David Brainerd, published by Jonathan Edwards in 1749. Brainerd spent three years trying to evangelize Native American tribes in the 1740s. When a bout of consumption sidelined him from missions work, Brainerd lived with the Edwards family.
After his death, Edwards edited Brainerd's diaries into a tale of a sickly, orphaned missionary who persevered against physical, spiritual, and emotional hardships. This book became one of Edwards's most popular, remaining to this day his most frequently reprinted work. Brainerd became a folk hero: Stories circulated of a frontier saint subsisting on bear meat and Indian cornmeal, encountering poisonous snakes that refused to attack, and kneeling so long in prayer that he couldn't stand to walk.
The Life of David Brainerd inspired the first generation of US evangelical missionaries. It also defined the genre and furnished the rhetoric for writing about their experiences. In the 1800s, a growing body of memoirs—from missionaries such as Samuel J. Mills, Levi Parsons, Pliny Fisk, Gordon Hall, Harriet Wadsworth Winslow, and Adoniram and Ann Judson—followed its pattern. Many of these memoirs mentioned The Life directly.
Even in private writings, missionaries measured their experiences alongside Brainerd's. Fisk, for example, seriously ill in Egypt in 1823, consoled himself by writing in his journal, "What must not Brainerd have suffered, when sick among the Indians?" Some even wrote for eventual readers, as though expecting their diaries to land next to Brainerd's on readers' bookshelves.
These memoirs painted the missionary life in idealized hues. Part of the heroic language came from editors: Many narratives were compiled by a widowed spouse and published posthumously. Editors' introductions framed them as examples of holy lives and calls to take up the missionary cause.
For at least 150 years, the kind of inspirational prose popularized in The Life of David Brainerd remained standard both in biographical and autobiographical works. Elements of this style persist in some of their modern offspring: Katie Davis's Kisses from Katie, Elisabeth Elliot's biography of Amy Carmichael, A Chance to Die, and the many missionary biographies written for children.
Twentieth-Century Changes
In the 20th century, the way missionaries talked about their experiences began to change. Due to advances in medicine, technology, and culture, missionaries were living longer and editing their own works. Some memoirists, free from the oversight of mission boards, permitted themselves greater honesty about their missions.
Isobel Kuhn spent more than 20 years with China Inland Mission, and wrote 10 autobiographical works in the 1950s, near the end of her life. She speaks forthrightly about her agnosticism, pride, bitterness, and marital conflict. As Ruth A. Tucker points out in Guardians of the Great Commission, even if "such marital strife is routine for missionaries, it is rarely attested to." Kuhn's books include accounts of converts who struggled to maintain their newfound faith or even renounced it completely. While such experiences are common on the mission field, they aren't always mentioned in prayer letters sent back home.
Elisabeth Elliot, probably the best-known missionary writer of the 20th century, who passed away this June, sometimes wrote candidly about the complexities of cross-cultural work. Books focusing on her martyred husband, Jim, tend to follow long-established patterns of the genre—valorizing the missionary and emphasizing trust in God over doubt. But accounts of her own life are different. These Strange Ashes (1975) covers her first year in missions, spent in language study with an Ecuadorian tribe. She's frank about loneliness, doubts, and struggles with self-discipline. After the death of her friend Maruja, she writes that she "could not escape the thought that it was God who had failed." Later, when her language informant dies, she starts questioning her own calling.
Elliot's darker take comes through most clearly in No Graven Image (1966), a novel about a young woman spending her first year of missionary work doing translation among the Quechua Indians in the mountains of Ecuador. (This sounds familiar.) Humorous, engaging, and often brilliantly satirical, the book critiques much of the missions rhetoric of the mid-20th century, and it doesn't end on a clearly positive note. Many missionary leaders sought to keep it out of bookstores; some vendors flatly refused to sell it. Nor was the book well-received by missionaries in Ecuador. By and large, no-holds-barred accounts (like those written by Elliot and Kuhn) never enjoyed the popularity of more uplifting narratives.
There is a place for inspirational and even idealized missionary stories in stirring up passion for God's glory and justice among the nations. But there are dangers in glamorizing missionary heroes, particularly an overweening confidence in what missionary work can accomplish. Rachel Stone, who spent time with a Presbyterian mission agency in Malawi, has warned against promising, for example, to change a child's whole life for $2 a day. "When your feet hit the ground and you see that, in fact, your money has lined the pockets of middle-men and women… cynicism and even despair may follow," she wrote recently.
Instead, Stone asks, what if we told stories of well-meaning aid and development projects that nevertheless failed? That "might be the best way to build hopeful skepticism—and the best antidote to a well-intentioned, but quite possibly wrongheaded, triumphalism."
Blogging the Truth
We now have a generation of Christians hungry to tell authentic tales that face up squarely to frustration and failure. Witness books like Runaway Radical, the 2015 memoir of a "failed" missionary from mother-and-son duo Amy and Jonathan Hollingsworth. But the changing rhetoric is due in large part to the advent of social media and Internet communication. In unedited and unmediated forms, missionaries can tell their stories directly to a wider audience than ever before.
At the website A Life Overseas, more than 20 missionaries and expats regularly write about their cross-cultural lives in ways that poke holes in missionary folklore. In one post, Rachel Pieh Jones doubts the insistence of Hudson Taylor and David Livingstone that they never made sacrifices. All missionaries make sacrifices, she argues. For her, sometimes that feels like "not being sure you will get through the day."
In another post, Danielle Wheeler describes how living in a small home in a polluted city of 22 million left her and her husband feeling like their "souls were withering" and their relationships with God were suffering. At another collective, Velvet Ashes, many women write openly about their difficulties. "The cost is so very real," writes Patty Stallings. Jessica Hoover shares about missionaries' need for mental-health counseling. Commenters chime in with stories about postpartum depression overseas and the ways that institutions sometimes protect their systems more than their people.
Some missionaries openly regard the established in-field rhetoric as dangerous. Jonathan Trotter, a missionary with Team Expansion in Southeast Asia, challenges "The Idolatry of Missions" in a post viewed nearly 25,000 times. Idealizing missionaries as the church's "special forces" and "cream of the crop" is actually harmful, Trotter writes. If they come to believe they are super-Christians, they can grow arrogant. Or, if they fall short of high expectations, they might become discouraged or depressed. Meanwhile, Trotter says, we are prone to miss the glory of faith-filled older people and believers with "regular jobs" sitting in the pews. Unmediated blogs can bring the freedom of grace for missionaries and senders alike.
Marilyn Gardner, a nurse who spent ten years in Egypt and Pakistan, praises the level of accountability the Internet brings to missionary storytelling. Gone are the days when missionaries could spiritualize a relationship for a prayer letter. Now, she says, they have to be honest, or people will find out. In the same way, the public nature of missionary lives encourages treating people as people, not as items on a conversion checklist. If the people you're writing home about are also Facebook friends, there's no room for self-glorifying embellishment.
Sometimes the Internet helps to expose scams. In Miracle on Voodoo Mountain (2015), Megan Boudreaux writes about visiting the Son of God Orphanage in Port-au-Prince, Haiti, while working to establish her own nonprofit in the city's suburbs. After multiple visits, she realized the orphanage was trafficking children. "Pastor Joe" collected money from US churches that sent short-term teams, but didn't provide food, clothing, or basic medical care for the children. Boudreaux organized a sting operation that gathered evidence of his offering to sell children. Using the power of social media, Christians petitioned CNN to expose Pastor Joe. CNN's subsequent investigation helped pressure the Haitian government to shut down the orphanage.
Real Struggles and Joys
Despite these changes, missionaries still feel pressure to communicate in a certain way—one that leads churches and individuals to continue their financial support. Jamie Wright, who runs the popular blog Jamie the Very Worst Missionary, blames this dynamic on sending churches. She writes that missionaries can "feel roped in to this wordplay because the church insists on overly spiritualized reports from missionaries whose work they don't entirely understand." Afraid of financial instability, missionaries downplay their struggles or just how mundane a lot of their work is.
We need to hear stories about the real struggles and joys of missions work. These kinds of stories have the power to improve our missiology; unless we are honest about the challenges missionaries face, we won't find realistic solutions. But if we are forthright about what the job requires, we'll stand a better chance of attracting the right people and preparing them adequately for long-term service, rather than sending them home early, disillusioned and depressed.
As Amy Carmichael wrote in Things as They Are: Mission Work in Southern India (1903), a book criticized at the time for its negative portrayals of missions,
It is more important that you should know about the reverses than about the successes of the war. We shall have all eternity to celebrate the victories, but we have only the few hours before sunset in which to win them. We are not winning them as we should, because the fact of the reverses is so little realized, and the needed reinforcements are not forthcoming, as they would be if the position were thoroughly understood. . . . So we have tried to tell you the truth—the uninteresting, unromantic truth.
That passage wasn't in the biography I read as a child. But even at the turn of the century, Carmichael knew something had to change in the way we talked about missions. Now we have a chance to realize her vision.
Amy Peterson teaches ESL and works for the Honors Program at Taylor University in Upland, Indiana. She taught ESL for two years in Southeast Asia.
Have something to add about this? See something we missed? Share your feedback here.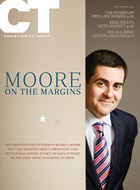 This article is from the September 2015 issue.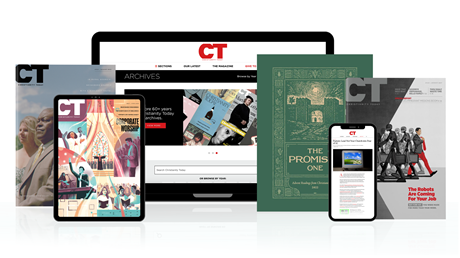 Annual & Monthly subscriptions available.
Print & Digital Issues of CT magazine
Complete access to every article on ChristianityToday.com
Unlimited access to 65+ years of CT's online archives
Member-only special issues
Subscribe
Farewell to the Missionary Hero
Farewell to the Missionary Hero