true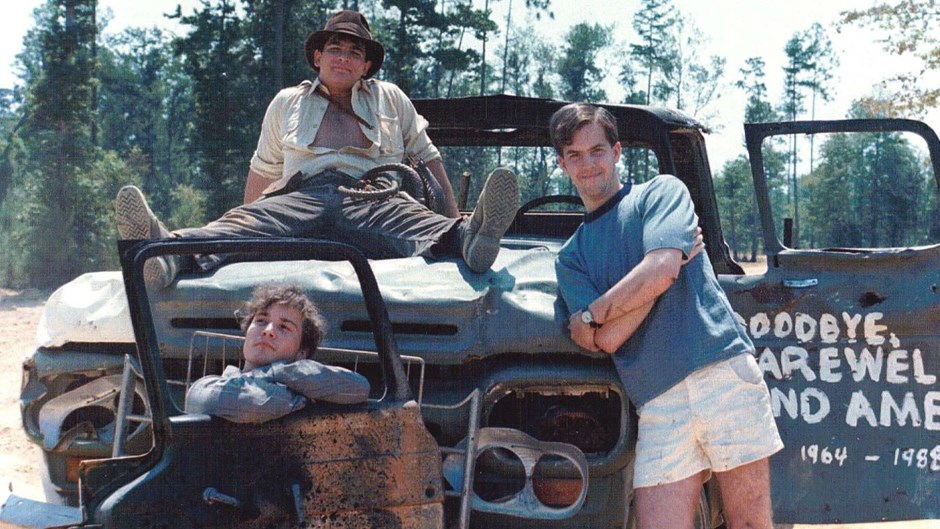 Alissa's note: The 2015 South by Southwest (SXSW) festival has kicked off in Austin, Texas, and we've got a critic on the ground. Check back each day this week for festival postcards with snapshots of films to be looking for in the months ahead.
Why do men make films?
To send a message to a dead father or escape an alcoholic step father? To escape reality or to reshape it? To give themselves an excuse to kiss a girl for the first time or to finally admit that they want to kiss another man? To learn a craft by practicing it or to practice a craft as a means of sharing what they have learned?
Men—and sometimes boys—make films because they are passionate about something. And it's the urge to share that turns an interest, or even an obsession, into a passion.
Out to Win and Raiders! are two very different films, but they're the same in at least one way: they keenly understand the transformative power of cinema.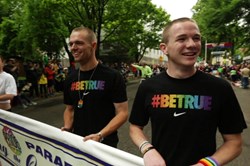 Out to Win director Malcolm Ingram denied that the film was constructed for a specific target audience, but, he said, if the film could have a softening effect on someone like his deceased father or an emboldening effect on someone like his younger self, such a result would please him. The documentary chronicles the history of gay athletes attempting to come out of the closet, tracing stories from the 1970s to the present day. It includes interviews with David Kopay, Billie Jean King, Jason Collins, Jon Amaechi, Brittney Griner, Billy Bean and others. Michael Sam is discussed at length in the film but did not sit for an interview because, as Ingram said, his story was the spark for the documentary but not the heart of it.
In an exclusive interview with Christianity Today, Ingram called his father the epitome of a "good man." He was a "hard core Catholic" and rabid sports fan who rejected everything about homosexuality until the day he died. Ingram speculated that his father wanted to play sports himself but was not large enough to play hockey or football. Ingram was better equipped physically to play sports than his father was, but his true love was the cinema.
Of his own faith, Ingram said, "I believe, I just don't know what I believe." Like many of his subjects, Ingram didn't come out of the closet until he was well into his thirties. Ingram said he wanted the film to make younger gay people aware of positive role models, since secrecy too often deprives the closeted from the values of community. He added that community and role models have the power to drive us "from darkness to light"—an observation that is borne out by the testimonies in the film.
There is a definite generational gap in the experiences of the athletes, one that makes Out to Win more of a time-lapse photo than a snapshot. Billy Bean played a baseball game on the day of his partner's funeral to avert any suspicion. The cost of not being able to attend such an important event is written on his face and seen in his body language to this day. Martina Navratilova reported being more worried about being disqualified for citizenship than at losing endorsements.
By contrast, the younger athletes are more relaxed in talking about their sexuality. Though they still fear rejection, that fear seems to find its anchor less in teammates than in management or the broader culture. Despite the film twice using Tim Hardaway's famous "I hate gay people" radio interview, Collins insists that he did not receive a single negative remark from other players on the Brooklyn Nets.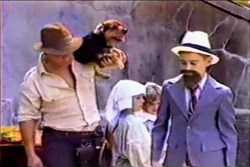 If Malcom Ingram made Out to Win at least in part to reconnect with his own childhood, Erik Zala and Chris Strompolos made Raiders of the Lost Ark: The Adaptation out of their own childhood. Growing up in Mississippi, the boys decided to make a shot-for-shot remake of their favorite movie. Over the course of seven years—using fiberglass boulders, thrift-store scout uniform tailored to look like Nazi garb, a camera one of the boys' mom borrowed from work, and a revolving circle of friends—they managed to recreate every scene in the movie except for Indiana's fight with a burly Nazi around a circling plane.
Raiders! chronicles the pair's attempts to reunite and finish the movie, returning to the project decades later in a perhaps misguided attempt to prove that you can go home again.
Two separate documentaries are at odds with one another at the heart of Raiders!. One is sublime: the part that chronicles how and why the boys started making the film is a well-earned and articulated valentine to childhood in a pre-Internet age. It is (bitter)sweet, nostalgic, funny, and full of the joys of creativity and experimentation. It covers the ebbs and flows of childhood in less than half the time of Boyhood and it deftly mapped out the ways in which children, if left to their own devices, can dream and do so much more than we would dare to expect of them. Chris's first kiss—recorded for posterity on camera—came while he and his not-so-secret crush recreated the steamer cabin liaison between Indy and Marion. Siblings grow up. Jealousies emerge. Parents divorce. Suddenly the summer projects become a source of stability and structure in a confusing and unhappy adolescent landscape.
There's something archetypal in Chris's and Erik's experience, and that's a lot of what makes their underground film so beloved. (When it was first shown publicly at an underground film festival, the audience reportedly booed when it was interrupted halfway through so that the festival could show an advance copy of Peter Jackson's as-yet unreleased The Two Towers.) If Raiders! had recognized that the story of the film was good enough on its own, it might have been a homerun.
Instead, the back story keeps getting interrupted by the current-day project to film the last scene. One could easily understand the compulsive, completionist need to tie up loose ends, but the reunion plays more like an excuse to make the new documentary than like one last chapter in an uncompleted story. The film is mum on the question of whether Erik and Chris initiated the reunion on their own or were prompted to do so by the new documentary's need for a story. At a Q&A after the film, Zala and Strompolous mentioned they have a production company and a Kickstarter page to help monetize their childhood project. That makes the scenes where Eric is on the phone pleading with the boss of his day job not to fire him seem a little disingenuous. Zala also confessed that Raiders! took dramatic liberties in its editing, implying that a climactic scene was done on the last day of shooting when it was actually the penultimate day.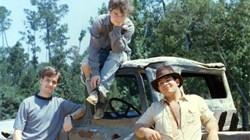 Those are legitimate nits to pick, but they sidestep the biggest complaint, which is that the nine-day airplane scene shoot is the antithesis of the childhood fan film the rest of the documentary rightfully praises. Steven Spielberg (who is pictured but not interviewed on camera) said he found the fan film "inspiring." Why? Not because it was just a close replica of his commercial film, but because it was achieved primarily through childhood hubris and an endless capacity to make do. One of the principle's kids opines that Spielberg needed thirty million dollars to film Raiders of the Lost Ark while her dad just needed his allowance.
As an example, one of the documentary's most endearing moments is when the pair discusses what they did when they needed to film a monkey giving a Hitler salute on cue. Since there were no monkeys to be found in rural Mississippi, they used a small dog, gently tying fishing line around one paw that could be pulled to give a facsimile of a salute on cue.
For what it's worth, the nine-day shoot covered in the documentary included not just a life-size airplane they paid thousands of dollars to have built, but at least one live camel. Last I looked, there weren't too many of those in Mississippi, either.
Here's my own ambivalent take on the live camel: Raiders! unquestionably shows us that the boys gained something impossible to measure in dollars and cents by spending their childhood on such a quixotic project, but it also shows us that they lost something when they grew up and left the project behind. And they tried to get that something back by throwing money at it. I'd be shocked if they didn't spend more money on this scene than on the whole rest of the fan film combined, and it shows. It shows in the exponential leap in technical achievement of that scene in comparison to others in the fan film.
But it also shows in what is missing: joy, creativity, ingenuity, abandon . . . and most of all, love. The saddest thing about Raiders! is that what starts out as a celebration of something unique and wonderful about child-like faith and enthusiasm slowly morphs into a rather bland "making of" featurette, chronicling the logistical headaches of a pair of middle-aged professionals. And the audience that cheered the original adaptation didn't do it because of how professional the film looked, but because of inspiring brilliance of the attempt.
Kenneth R. Morefield (@kenmorefield) is an Associate Professor of English at Campbell University. He is the editor of Faith and Spirituality in Masters of World Cinema, Volumes I, II, & III, and the founder of1More Film Blog.
Watch This Way
How we watch matters at least as much as what we watch. TV and movies are more than entertainment: they teach us how to live and how to love one another, for better or worse. And they both mirror and shape our culture.
Alissa Wilkinson is Christianity Today's chief film critic and assistant professor of English and humanities at The King's College in New York City. She lives in Brooklyn.
Previous Watch This Way Columns: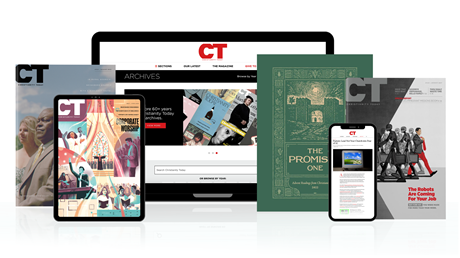 Annual & Monthly subscriptions available.
Print & Digital Issues of CT magazine
Complete access to every article on ChristianityToday.com
Unlimited access to 65+ years of CT's online archives
Member-only special issues
Subscribe
Postcard from SXSW #2: 'Out to Win' and 'Raiders!'
Postcard from SXSW #2: 'Out to Win' and 'Raiders!'