true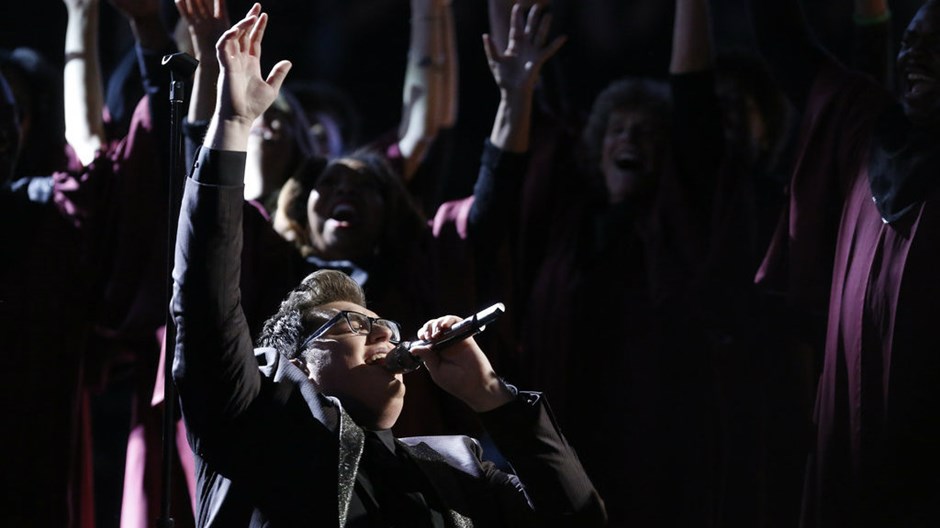 Image: Trae Patton/NBC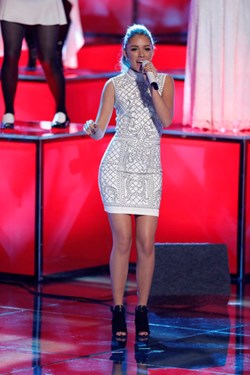 Image: Tyler Golden/NBC
Adam Levine, Blake Shelton, Gwen Stefani, and Pharrell Williams stare as you step on stage—and there's a sea of people behind them. The lights dim. This is it: your time to shine. What you do tonight may determine the rest of your career—whether or not your dreams will come true.
The music sweeps in, and you begin singing . . . a century-old hymn?
To Emily Ann Roberts, it seemed like the obvious thing to do.
Season 9 of the popular NBC vocal competition show The Voice (which concluded on December 15) brought several young artists into the spotlight with one thing in common: their faith in Christ. Roberts, pop hopeful Jordan Smith, and youthful crooner Braiden Sunshine each chose to use their moment on national television to exalt Christ in a bold way—singing hymns.
On a show like The Voice, song choice is extremely important. Choosing the wrong one could mean the difference between staying another week, one step closer to a dream career, and returning home empty-handed. But Roberts knew there was something more important to consider than her own success.
"This show gave me such an incredible platform to really share my heart and share who I live for," she told me when we spoke. "So regardless of how it would affect the outcome with voting or moving forward, I wanted to be able to sing about Jesus, especially since all of my success and the opportunity of being on this show is from him."
The 17-year-old country artist chose to sing "In the Garden," originally published in 1912, for her performance in the Live Playoffs round. "I've always loved this hymn. It was my grandfather's favorite hymn, and it is just a beautiful song about walking and talking with Jesus and having a relationship with him and how precious that is," she says of the tune.
Though others may have been nervous about choosing such an unconventional song, especially one so unmistakably Christian, Roberts says she wasn't worried.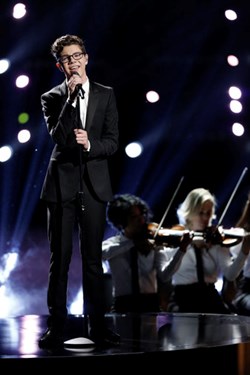 Image: Tyler Golden/NBC
"I knew that no matter what happened, I was doing what I came here to accomplish," she explains. "Since my journey on the show started, I was praying for an opportunity to share my faith, and this song and the timing of it was perfect. For me, it's not about winning, but just singing from my heart and enjoying this opportunity."
Smith had a similar approach to choosing "Great Is Thy Faithfulness" for his Top 12 performance. The powerful singer had already performed songs by pop artists like Sia, Adele, and Beyoncé, so choosing this hymn may have seemed like a bit of a left turn for him. But Smith puts his heart into each song he sings, and he says this song was a reflection of who he is.
"Some of my fondest memories are growing up singing in church with my family," Smith said on the show. "We're kind of going really vulnerable on this song, but I also have to take risks. This performance is a chance for me to show who I really am."
The song resonated with Smith on a spiritual level, which shone through in his heartfelt performance.
"None of this would ever be possible in your own strength. God's gonna provide because he's faithful," he commented, getting teary at the thought. "He's like, 'I'm gonna do everything for you, and all you have to do is wake up every morning and do what you love.'"
Even Smith's coach, Maroon 5's Levine, told him he didn't need to add anything to his performance, suggesting he simply sing from the heart at a piano.
"All you need is your conviction and your belief in what you do," Levine said.
The audience and coaches gave Smith a standing ovation, and Williams declared everyone should buy the track on iTunes immediately.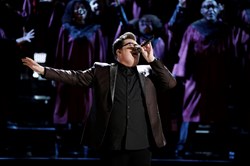 Image: Tyler Golden/NBC
And they did. Smith's studio version of the hymn reached the top spot on the iTunes chart by the following day, beating out even Adele's "Hello." The video of his performance now has more than 5.8 million views on YouTube. Roberts' version of "In the Garden" also performed exceptionally well on iTunes, which might surprise those who characterize our culture as being disenchanted with Christianity and faith.
"I got a lot of positive feedback from that performance with people saying that it touched their hearts and that meant so much," Roberts says. "It was an awesome feeling to know that I poured my heart out and other people felt it and bought the song. I was just being me, and it's cool to get support for just being yourself."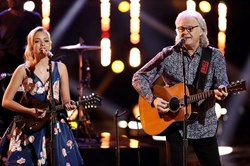 Image: Tyler Golden/NBC
Smith and Roberts aren't the only two artists this season to express their faith through hymns. Fifteen-year-old Sunshine performed "Amazing Grace" for his performance in the Semifinals Round, and R&B/gospel singer Celeste Betton sang an impromptu verse of "It Is Well" upon her elimination during the Battle Round. These unique, genuine performances brought a beautiful tone to The Voice this season and have been a testament to the power of honest expressions of faith in unexpected places.
Roberts says the show has not only been a unique position in which to share her faith, but a place to rely on God for strength and grace during an often stressful experience.
"I think he gave me my voice to encourage and lift people as best as I can, so I always want to give him the glory and credit, because I believe it's all from him," she says. "It's so awesome to know that whatever happens, he is taking care of me and has a plan for me. It takes the pressure off."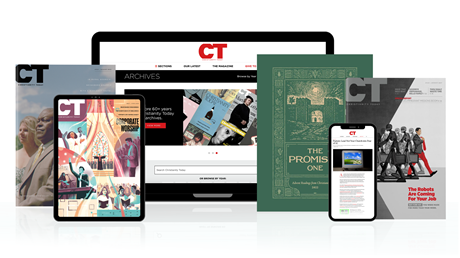 Annual & Monthly subscriptions available.
Print & Digital Issues of CT magazine
Complete access to every article on ChristianityToday.com
Unlimited access to 65+ years of CT's online archives
Member-only special issues
Subscribe
Hymns in the Spotlight
Hymns in the Spotlight