true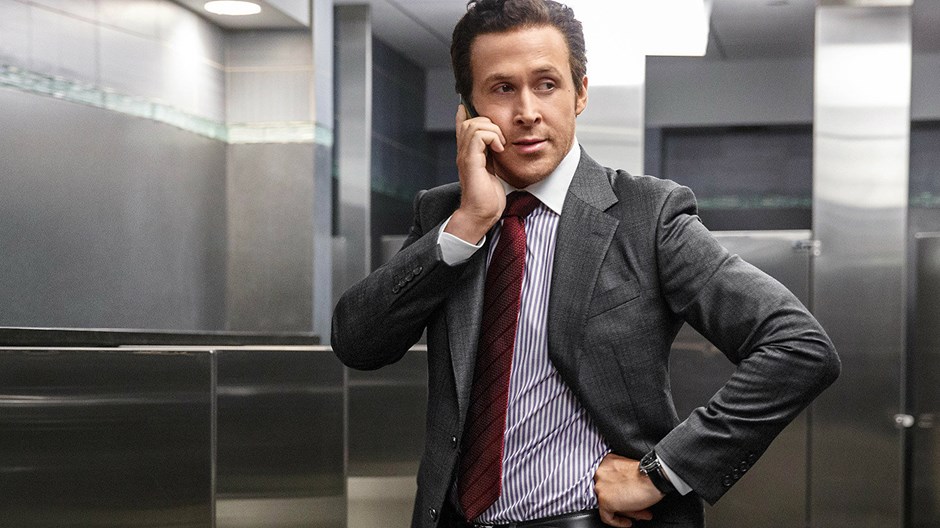 Image: Paramount Pictures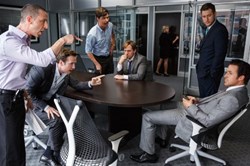 Image: Jaap Buitendijk / Paramount Pictures
Making movies about high finance is as fraught as making movies about war. Everything depends on how you tell the story. Do you make a straight-ahead drama? Or tap into tragedy? Do you paint it as high farce, or just go for a swaggering thrill ride? Your answer tells us a lot about why you made the movie in the first place.
From Wall Street (1987) to Margin Call (2011), from American Psycho (2000) to, of course, Wolf of Wall Street (2013), filmmakers' answers to that question have ranged all over the map. And that variation makes sense, because finance is tricky territory. Like a war zone, Wall Street culture is steeped in machismo, in hostility, in faking out your enemy, in huge personalities, in adrenaline and attacks and profanity and incomprehensible losses. The stakes are astronomical. People's lives aren't (usually) at risk, but people's livelihoods certainly are. The thrills of the trading floor are correspondingly addictive, and the resulting dopamine high can be ethically dubious in the same way dramatized in The Hurt Locker; it's an open secret that plenty of bankers spend their free time skydiving or base jumping or (more probably) drinking and chasing a substance high.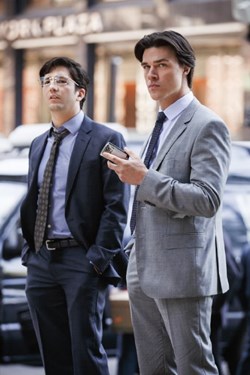 Image: Jaap Buitendijk / Paramount Pictures
The added wrench in modern banking is that it combines the culture and bombastic rhetoric of war with financial instruments that can only be described as vehicles for insanely high stakes gambling. At 21, as a new business analyst hire at one of the biggest Wall Street firms in 2005, I encountered concepts like CDOs and credit default swaps for the first time, and even with my dim grasp of finance, I felt like all this betting against the market had to be something like poker. I asked someone who'd been in the business for decades, and he sort of cocked his head and said, well, yes, it is gambling, more or less. Except it's not pocket change (for the casual gambler) or even just your family's savings and home (for the habitual one) that's at risk. When you lose a bet on Wall Street, the crash can take down the world economy.
That brings us to Adam McKay's The Big Short, based on the bestseller by Michael Lewis (who wrote Moneyball). It's the story of three separate groups of guys—and yes, just guys, because that's high finance circa 2006—who saw the crisis of 2008 coming, in which massive numbers of American mortgage holders would default. They bet against the market by buying up billions of dollars in credit default swaps and then just waited for the impossible to happen.
Eight and a half years after I left my own Wall Street job (just in time, by the way), a small corner of my brain is still taken up by a haze of definitions of and structures involved in creating and pricing mortgage-backed securities, CDOs (and CDO-squareds), credit default swaps, bond and mortgage ratings, and other things that make most everyone, including me, want to sink under the desk for nap. The Big Short knows this, and solves the problem in a way that also shows its hand.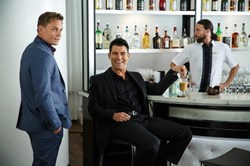 Image: Jaap Buitendijk / Paramount Pictures
The big risk The Big Short takes is this: it starts out billing itself with the breezy, sexy glamour familiar to anyone who's seen a movie about Wall Street. Ryan Gosling talks straight to us, the audience; the film starts constructing a story in which a few beaten-down nerds bet against the swaggering fat cats and take abuse from them, but we know what's coming, because (in the words of Mike Birbiglia) we're in the future too.
The most obvious place this happens is near the beginning, when Gosling tells us that of course we have no idea what these terms mean, but "here's Margot Robbie in a bubble bath to explain." And there she is, the glamorous actress sipping champagne and giving us a quick rundown on what's going on.
There are a couple of ways to read this; some have taken it as a pot shot at the audience, for instance. But it seems at least interesting that it's Robbie who's hauled in to comically recapture our attention, since her breakthrough performance came two years ago, when she played Jordan Belfort's girlfriend opposite Leonardo DiCaprio in The Wolf of Wall Street.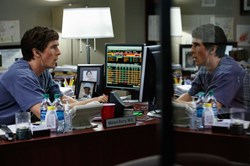 Image: Paramount Pictures
In fact, Wolf and Big Short have a lot in common: both harness satire in service of their takedown of morally-bankrupt bankers who profit from the vulnerable. But Wolf of Wall Street sustained that high satire the entire way through the film so successfully that plenty of people who saw it didn't get that it was making fun of them. (The fact that Wolf of Wall Street "fan art" exists should tell you something.
By contrast, as The Big Short goes on, it becomes progressively less funny and more depressing, mirroring the attitudes of the characters. The situation is getting more desperate. Nobody seems to realize the world is on the verge of implosion. The realization slowly dawns that it's not just stupidity at work here, but something more sinister: the big banks' outright fraud and others' willful ignorance. (The film helpfully trots in a few other explainer scenes to keep us informed about what's going on.)
The biggest tonal shift hinges on a moment of clarity as well: two young hedge-fund guys, realizing the market is about to turn in their favor—which is to say, the market is about to crash—are starting to whoop and holler and give one another bro-high-fives. Their mentor (played by Brad Pitt) turns on them with a withering reminder that when their luck starts to turn, it means that thousands or even millions of people are about to be plunged into homeless and poverty.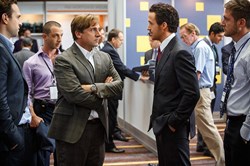 Image: Paramount Pictures
Which, of course, is exactly what happened. So first it hooks us with the glamour and the bubble bath, then prompts us to root for these underdogs—and then, in a turn not wholly unlike that climactic Inglourious Basterds scene, it reminds us what exactly their winning (and our vicarious celebration) meant.
That is one risky move for a film, and certainly for some audience members it won't pay off. But it might manage to do the work that Wolf couldn't, which is to convey a more overtly political and moral lesson. Some people will see The Big Short as merely an indictment of the big banks, and it sure is that; the final few moments of the movie are devoted to an all-out attack on those who caused the problem.
But what it's really exploring is the damage wreaked on the soul by both fraud and our responses to it. That damage has a lot in common with what violence does to us, and it deserves to be explored in a morally nuanced way. The Big Short lets us both see and experience that, out here in the audience. How we respond says a lot about us.
Caveat Spectator
The Big Short is nowhere as racy or off-the-hook as Wolf of Wall Street, but it's rated R for pervasive language and some sexuality/nudity. It does contain one scene with some female nudity in a strip club. It also contains a lot of off-color jokes, profanities, and obscenities of the sort that you'd expect in this setting.
Alissa Wilkinson is Christianity Today's chief film critic and an assistant professor of English and humanities at The King's College in New York City. She is co-author with Robert Joustra of How to Survive the Apocalypse: Zombies, Cylons, Faith, and Politics at the End of the World (Eerdmans, May 2016). She tweets @alissamarie.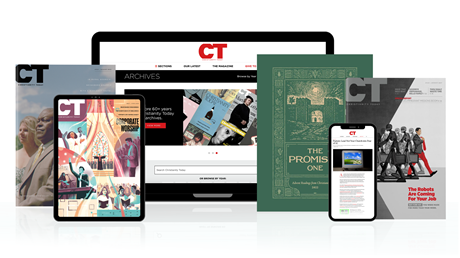 Annual & Monthly subscriptions available.
Print & Digital Issues of CT magazine
Complete access to every article on ChristianityToday.com
Unlimited access to 65+ years of CT's online archives
Member-only special issues
Subscribe
The Risky Moral Gambit of 'The Big Short'
The Risky Moral Gambit of 'The Big Short'