true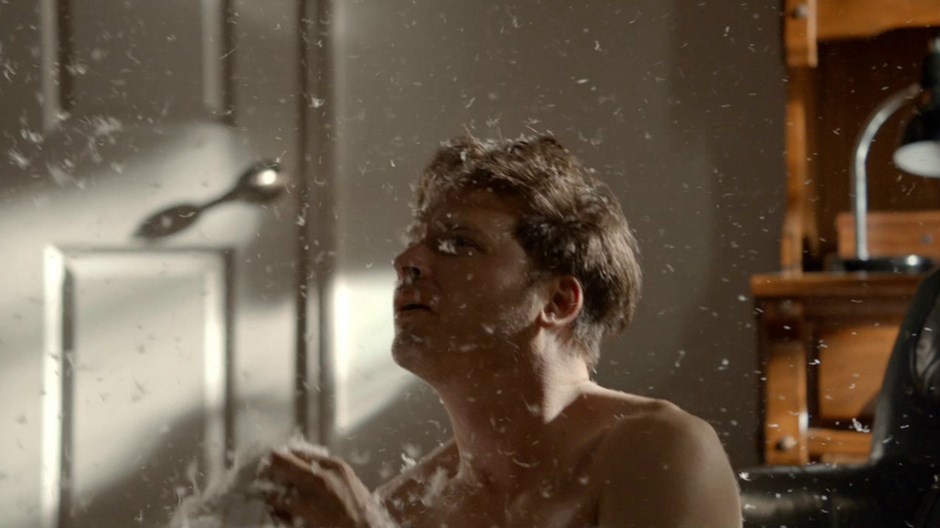 Image: Sundance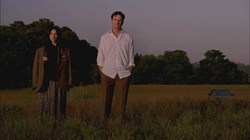 Image: Sundance
At the end of the TV anti-hero age, on-screen kindness and integrity aren't in great supply. But that's not so on the Sundance series Rectify, which recently concluded its third season. (The first two seasons are available on Netflix.)
Set in Paulie, Georgia, Rectify is the story of the Holden family, whose son Daniel (tenderly played by Aiden Young) is released from death row after nineteen years when new DNA evidence vacates the original trial. One of the show's central mysteries is whether Daniel did indeed commit the alleged rape and murder that landed him in prison as a teenager.
But the show's creators are far more concerned with how the Holdens deal with the aftermath, when Daniel returns home for a second chance at life.
Showrunner Ray McKinnon grew up in a small town in Georgia similar to Paulie and is clearly familiar with honest depictions of faith, especially Southern Baptist faith. His characters are good, honest, and complex people trying their best to do right by each other and live out their faith.
Scott Teems, a devout Christian who previously spoke with CT after his directorial debut That Evening Sun, is also heavily involved with the project, serving as the story editor for much of the first three seasons, and writing and directing a few episodes as well, including season 3's penultimate chapter "Girl Jesus."
Rectify explores the fabric of faith knit into life so thoroughly that Vulture TV critic Matt Zoller Seitz called it "true Christian art."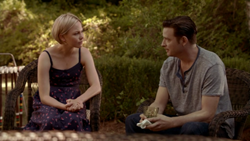 Image: Sundance
Now a free man, of a kind, Daniel Holden often feels conflicted by his past, as well as his present unpredictable behavior, echoing Paul in his letter to the Romans: "I do not understand what I do. For what I want to do I do not do, but what I hate I do." Daniel feels an incredible amount of guilt for the stress his situation has put on his family, guilty or not. In the season 3 finale, "The Source," Daniel takes a detour on a road trip with his mother Janet to visit the prison he inhabited for all those years. Back in the car after stepping out to look at the distant penitentiary, Daniel confesses, "Sometimes I want to walk to the front gate and ask them to let me back in. Back into my box. My cocoon. That's not right thinking, mother." Following his admission, Daniel says, "But today I want to go to the beach, and feel the sand between the toes and look up at that infinite sky."
To Daniel, water represents a shot at redemption. At the end of season 1, Daniel's sister-in-law Tawney, to whom he feels a special connection, convinces him to get baptized at her church's annual jubilee, something Daniel agrees to even though he doesn't actually believe. "When I am cleansed, I will be happy," he tells his family insistently. He's so uneasy and desperate for a fresh start, he's willing to get baptized even though he doesn't fully buy into it. Upon being baptized, Daniel feels a deep sense of exhilaration, as the water pours in to the depths of his soul, getting a glimmer of redemption.
Tawney (played by Adelaide Clemens) is the most publicly faithful of the characters: volunteering in the church kitchen, having ongoing spiritual discussions with Daniel, and turning to God for her strained marriage with her husband Teddy Jr. (Clayne Crawford). Tawney is even in a women's Life Group where the women drink wine, sit around a bonfire, and support each other. It's a depiction close to what you'll find in many evangelical churches today.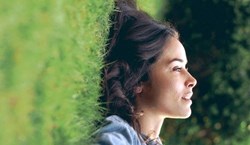 Image: Sundance
One of Tawney's Life Group members apologizes to her for judging her brother-in-law Daniel over the years he was in prison, and lauds Tawney for loving Daniel "like Jesus would." When Tawney's marriage is in peril, one of her other Life Group friends takes her in for a few days.
Raised in a foster home, Tawney is grounded by her faith. When Daniel questions Tawney before the baptism about why she cares about his soul in the afterlife, Tawney says, "It's the here and now, that my faith in God sustains me. I see and feel things more sharply now than before I found God. More brightly. More fully. But it doesn't overwhelm me, it fills me up with indescribable joy."
In the same conversation, Tawney and Daniel talk about natural versus supernatural revelation, and quote Thomas Aquinas and Flannery O'Connor. It's not often you hear both referenced in the same show, but Christian spirituality is truly the backdrop for the entire series.
Like any Christian, Tawney does wrestle with her faith, especially as it relates to Daniel's false conviction of 19 years. "I just don't understand why God would let something like this happen to him," she says, "and I don't see how I ever will."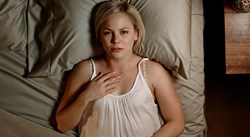 Image: Sundance
When Daniel visits the beach at the end of season 3, Daniel again takes to the water, cleansing himself, and in that illuminating moment, experiences a dream-like meet up with Tawney. This time around, the roles are reversed Tawney is experiencing a dark night of the soul due to her troubled marriage. "God doesn't exist," Tawney says in defeat, to which Daniel responds, "Of course He exists." Further comforting Tawney, Daniel affirms what she told him back at the jubilee baptism. "God is in the flowers, and in the rain, and in your tears."
While the meeting takes place as if Daniel is back behind the prison glass, the scene is shot with an illuminating soft light and scored gracefully. The scene's score and cinematography is representative of how Rectify's most moving moments are shot: glimpses of heaven here on earth.
Yet Rectify doesn't reserve its grace-filled portrayals for its Christian characters. The show sees worth in every person. Teddy Jr. (Clayne Crawford) is one of those—Tawney's husband and Daniel's step-brother. In pretty much every other movie or TV show, Teddy Jr. would be the two-dimensional, frat boy villain that you instantly know to root against.
Instead, Teddy Jr. is shown as a complicated character, far from perfect but trying his best to love his wife and be a good employee and son. This surprising dignity with which the show treats each character gives Rectify incredible strength and beauty.
And that includes inmates on death row. Daniel's memory frequently flashes back to his time in prison, where he befriended Kerwin Whitman (Johnny Ray Gill) on death row and formed a profound bond. Daniel's time in prison is lonely, dark, and maddening, but Kerwin's loving spirit and unflappable faith is like a lifeline for Daniel.
Kerwin's final day on Earth comes before Daniel leaves prison. As retold by Kerwin's family in season 2, prison brought out the best in Kerwin, causing him to finally be the man God wanted him to be. In his last week, Kerwin tells Daniel, "I thank God that he gave me this time here. I'm no longer of this world."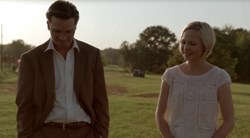 Image: Sundance
There's a lot of brokenness in the age of anti-heroes. There's probably some value to watching characters circle the drain because of their bad choices, but all brokenness and no goodness can turn us hopeless. Rectify instead chooses to focus on characters entrenched in a broken situation, who choose to extend grace to one another. It shows a family that is honest, goofy, and affectionate towards one another.
Rectify's beauty comes from watching its characters live grace in a setting where the spiritual realities of sin and salvation are ever present. We're all broken, but we're still good creations.
Caveat Spectator
If Rectify were a movie, it would likely be considered PG-13. It contains the occasional use of profanity but there is plenty of discussion of graphic events including a rape, murder, masturbation, and suicide. In the last episode of season one, "Jacob's Ladder," a character commits suicide though only the gunshot is heard and just the body is shown. In "Sexual Peeling," there are two depictions of masturbation though no pornographic images are shown. Rectify also shows some drug use in season two's "Act As If" episode, and a few depictions of sex throughout the series, though there is no nudity or graphic imagery.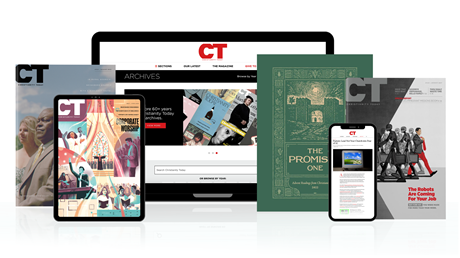 Annual & Monthly subscriptions available.
Print & Digital Issues of CT magazine
Complete access to every article on ChristianityToday.com
Unlimited access to 65+ years of CT's online archives
Member-only special issues
Subscribe
'Rectify' Shows Integrity in the Age of the Anti-Hero
'Rectify' Shows Integrity in the Age of the Anti-Hero