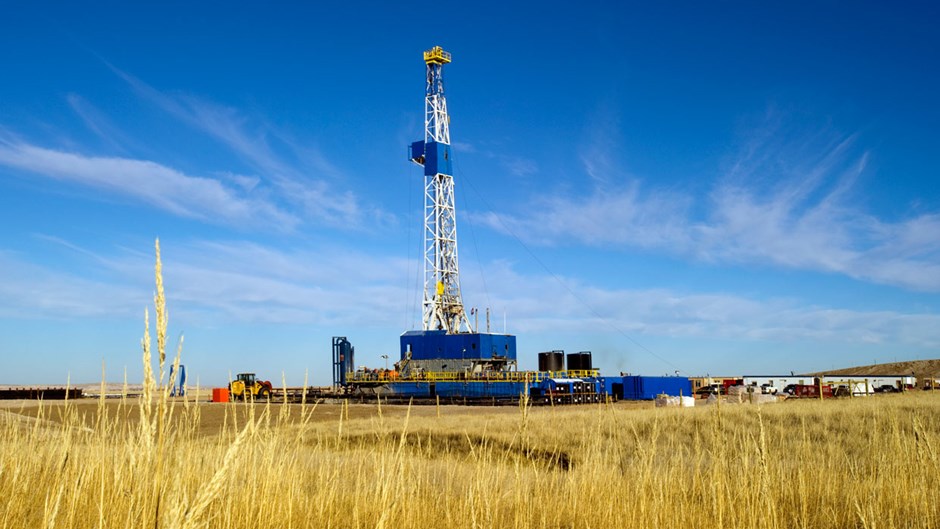 Image: Rich LaSalle / Getty Images
"There are many times when I don't share about my husband's work," said Christine Bess.
Christine did not marry a secret agent or a drug dealer. She married an oilman.
"It's not because I'm ashamed of it," she continued, "but because of the reactions I receive, including from many Christians."
Her husband, Brian, has worked in the oil and gas industry for over three decades. He is a partner at Enduring Resources, a company headquartered in Denver that develops oil and gas resources in Texas and Utah through horizontal drilling and hydraulic fracturing—commonly called fracking.
Fracking is the process of drilling holes thousands of feet vertically and then drilling horizontally at that depth. Drillers then send a fluid mixture of water, sand, and chemicals through a steel-cased pipe into the underground rock formations, unlocking and releasing oil and natural gas trapped in the rock. Imagine a high-powered pressure washer and sandblaster stuck into a steel pipe in the ground.
Fracking has been around since the 1940s, but only in recent years has it gained cultural notoriety, and, in particular, become the subject of heated debate.
In 2010, the documentary Gasland quickly earned activist acclaim for introducing Americans to the drilling practice. And in 2012, Promised Land, starring Matt Damon, premiered in theaters with a similar refrain: frackers are earth-plundering villains.
Critics rebutted both films. Gasland prompted a counter-documentary, and many from the communities portrayed in Promised Land disapproved of the film, claiming they were deceived by the filmmakers' intentions.
Furthermore, it was discovered that oil barons from the Persian Gulf had funded the anti-fracking film. The funders are competitors of the American petroleum industry, and their investment discredits the objectivity of the film.
But the damage was done. The verdict was in. These films have only reinforced the negative stereotypes about fracking, casting families like the Besses into disrepute. And tragedies like the 2010 BP oil spill don't help. According to a 2013 University of Texas poll, 41 percent of Americans oppose fracking. Part of this is a problem of language: fracking sounds like a four-letter expletive.
To be sure, anti-fracking filmmakers have asked good questions. They've forced viewers to think, when plugging in their laptops and cranking up their heat, "Just how are we powering our homes, schools, and hospitals?"
Christians believe God created a good world and entrusted it to our care. In The Radical Disciple, John Stott said, "God intends our work to be an expression of our worship, and our care of the creation to reflect our love for the Creator." We care for our world because we love its Creator. There are environmental implications whenever we drill deep holes in the ground, and we should continue to research the effects of fracking.
Experts debate whether fracking can lead to earthquakes, though scientists at the United States Geological Survey said there is no connection. Some suggest fracking contaminates drinking water, though critics acknowledge their fears are due to suspicions, not hard evidence. The Department of Energy study released recently found no evidence that fracking contaminates groundwater. We need to weigh these potential risks against fracking's alternatives. Despite the risks, I believe the case for fracking is stronger than the case against it. As Jeffrey Greenberg, geology professor at Wheaton College, said, "Do it and do it carefully if all reasonable and pertinent variables are considered honestly. Fracking isn't perfectly safe, like living itself. It is still a good option under the right circumstances."
I have found many Christian essays criticizing the oil and gas industry, but few highlight the positive ways in which the American oil and gas industry contributes to our society. While we should not support fracking blindly, here are several reasons Christians should consider supporting it.
1. It's Cleaner and Cheaper than Current Alternatives
Natural gas, the predominant fuel unlocked by fracking, is a cleaner fuel source than oil and coal, the two primary fuels it has displaced. Natural gas produces 50 percent less carbon dioxide than coal when burned. Shifting from coal to natural gas has produced the lowest carbon dioxide emissions levels since 1992. Our emissions are decreasing even as our energy use has increased. And, according to recent research from the University of Texas, shifting power plants from coal to natural gas results in the use of 25 to 50 times less water.
In defending his support of using natural gas, President Obama said, "Sometimes there are disputes about natural gas, but let me say this: We should strengthen our position as the top natural gas producer because, in the medium term at least, it not only can provide safe, cheap power, but it can also help reduce our carbon emissions."
Sure, alternative energy sources like wind, solar, and geothermal exist—and we should continue to invest in developing them—but those produce only one percent of the world's total energy. Conversely, 81 percent of the world's energy is derived from petroleum products. And, because of weather variables, wind and solar are not capable right now of being primary fuel sources. Today, there are no economically or functionally viable energy sources capable of replacing oil, coal, or natural gas. Fracking produces abundant quantities of natural gas, the cleanest viable energy source God has given us.
2. It Alleviates Poverty—Here and Abroad
We are amidst an American petroleum revolution, one described as the "energy equivalent of the Berlin Wall coming down." Technological innovations have opened new opportunities for American entrepreneurs like Brian Bess, and the United States could surpass Saudi Arabia and Russia as the world's top oil producer by 2017. Frackers have turned the global energy markets upside down.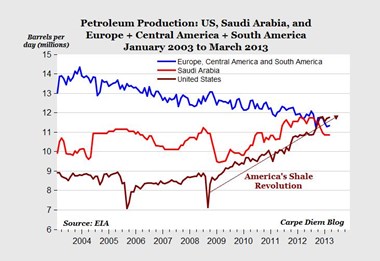 Image: AEIdeas
Today, Brian is an executive, but his position in the industry wasn't always glamorous. He lost his job when the industry wallowed in the early 1980s, shortly after his and Christine's daughter was born. With no engineering jobs available, and a wife and baby to support, Brian took a job working on the oilfields, servicing and cleaning drilling rigs.
The fracking industry has provided employment for Brian and millions of others—both white collar and blue collar—in this country. The natural gas surge has created hundreds of thousands of jobs within the last decade. And economists project that the natural gas industry will create over a million more jobs by 2025. For example, fracking has created abundant job opportunities in North Dakota, where unemployment is under four percent (compared to 7.6 percent nationwide). In Williston, North Dakota, McDonald's is offering starting wages of $15 an hour because competition for workers is so high.
Economic booms are not without consequences, of course, but North Dakota's state government is currently running a $1.6 billion surplus, which allows it to provide many of the services that revenue-strapped states are cutting.
The benefits of fracking extend to Americans across the country. A recent study estimated that fracking improved household incomes last year by more than $1,200. Nationally, three of the top seven taxpayers are oil and gas companies.
The American energy revolution is very good news for vulnerable people, many of whom are living perilously close to financial collapse. Christians should lament economic conditions that perpetuate poverty, and we should celebrate the inverse.
Fracking—and the work of oil and gas workers more broadly—has had positive global impacts as well. Electricity and other first-world normalcies—computers, cell phones, X-ray machines, bulldozers—have become more affordable. As a result, medical manufacturing facilities have been built in Vietnam, and money transfer kiosks have popped up in every corner of the world. Doctors can conduct surgeries after dark. Children can read into the night. Pastors in remote areas can access top-shelf theological training. Billions of people in Africa and Asia are now connected to the global economic grid, lifting hundreds of millions out of extreme poverty.
Fracking creates jobs, decreases our energy bills, increases government tax revenue, and allows for people around the world to more consistently and affordably access power. As the United States moves toward becoming a net energy exporter, we can envision a day when we can fuel the world, providing energy more reliably and affordably than our global competitors.
3. It Weakens Regimes that Persecute Christians
Fracking has more opponents than Hollywood filmmakers. It has also frustrated America's global competitors, like the Persian Gulf oil barons who funded Promised Land.
The shifting geopolitical landscape is quickly stripping power from those accustomed to having it. And on the whole, this is good. Take Russia, for example. Due to fracking, Russian energy conglomerates are no longer able to bully their customers, and they are losing some customers entirely, including the United States.
This shift in power takes influence out of the hands of the Kremlin-controlled oil powerbrokers. It shifts authority away from the Putin regime, known for its harsh stance against civil society and suppression of religious freedom. The weakening of the Kremlin's strong arm opens doors for a more democratic Russia.
Fracking has also threatened the future of the Saudi Arabian oil industry. Saudi Aramco, the state's energy company, has dominated the global oil and gas industries for decades. But now the $10 trillion energy behemoth is second behind the United States. Saudi Arabia is one of the worst places for Christians to live, where gender-based violence and sexual abuse against Christians is common.
Five of the world's top ten fuel exporters are countries with either "extreme" or "severe" persecution of Christians. American oil and gas companies are discomforting Russian, Iranian, and Saudi petroleum moguls. Perhaps the geopolitical instability in these countries will lead to lower rates of persecution against Christians. If so, fracking will have played a major role.
A Call to Be Good Neighbors
As Christians, we are called to love our neighbors as ourselves, even if they work in an industry of which many are skeptical. Gasland and PromisedLand caricature oil industry workers as poachers of natural resources. Have we naively accepted these portrayals as true? I am friends with many of these people and believe such portrayals are misleading.
Christians have a rich history in the oil and gas industry, and Howard Pew is perhaps the most prominent Christian to work in it. The Pew family founded Sun Oil—today known as Sunoco, a Fortune 100 company. Compelled by their Christian faith, the Pew Family became a major force in supporting the abolition of slavery and advancement of Christianity.
Howard carried his family convictions and commitment to justice into his career. After graduating from Grove City College, he started working for his father at Sunoco and worked his way to becoming CEO. Under Pew's leadership, Sunoco grew nearly 40 times over, and he gave millions of dollars to Christian ministries. And it's because of a meeting between Howard Pew and a young evangelical preacher, Billy Graham, that Christianity Today exists.
In Denver, we have a surging oil and gas community. I am privileged to call many of these folks, like the Besses, friends. They are outdoorsmen and hunters. They are hikers and skiers who love to explore Colorado with their families. They cherish the beauty of God's creation and take extraordinary precautions to protect it. They take their work seriously and they responsibly harvest the abundant resources God has given us.
Every industry is morally complicated. But not all oil and gas executives are societal villains. As Christians, we should carefully appraise the stereotypes perpetuated by Hollywood, and consider the vast value oil and gas workers create for us all. They risk their own resources to provide energy for our world.
I meet daily with people in all sorts of industries—bankers, lawyers, doctors, educators, and realtors. Without doubt, oil and gas workers feel least appreciated. They shouldn't have to hide their employment for fear of criticism. We should celebrate them for the work they do to fuel our world, create jobs, and outcompete those persecuting our fellow Christians.
Chris Horst is vice president of development at HOPE International. He has written for Christianity Today about manufacturers, mattress sellers, and solar product designers, all working for the common good in Denver, where he lives with his family. Chris blogs at Smorgasblurb, and you can connect with him on Twitter @chrishorst. His first book, Mission Drift, hit shelves this month. The views expressed in this essay are his own.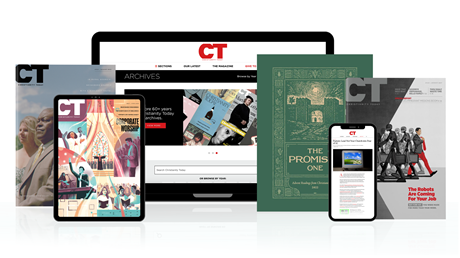 Annual & Monthly subscriptions available.
Print & Digital Issues of CT magazine
Complete access to every article on ChristianityToday.com
Unlimited access to 65+ years of CT's online archives
Member-only special issues
Subscribe
Fracking Isn't a Four-Letter Word
Fracking Isn't a Four-Letter Word