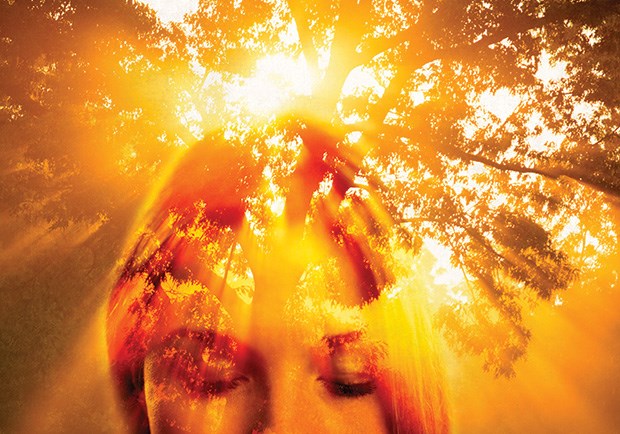 My wife, Barbara, and I have been married for more than 30 years, and yet some corners of our inner lives remain dark to one another. We know a lot about each other—a lot. But we're still learning how to reveal secrets. It's still scary after all these years.
When we take a step back from marriage and think of other relationships, it becomes clear how much we hide from each other. Most of the time, we try to make a good impression: on the boss, the coworker, the neighbor, the stranger we hold the door for at the bank. We share various and sundry intimacies with friends, lovers, parents, children, and priests or pastors—but we do not tell everything to anyone. We hold back.
We hold back in wisdom. It's probably not a good idea to tell coworkers of the opposite sex about your temptations to lust. It's not wise for parents to tell their young children how they sometimes wish they hadn't had children.
But we also hold back in fear. What would he think if I told him how hateful I feel? Would she still speak to me if I admitted my addiction to pornography? Could I still work in the church if they knew how many doubts I have?
Would I be accepted if I told all? That's the question. We long to be accepted, to be in the company of someone who will not blink regardless of what we say. But long ago we came to believe that this isn't possible. At some point we have all chosen to share a vulnerable secret, only to later endure humiliation or shame. So now we live with a low-grade fear that somebody is going to find out something about us we do not wish to reveal. It's a fear that nags us for life.
Bringing God into the picture does not seem to help at first. But bring him in we must, because a key attribute of God is his omniscience (lit. "all knowledge")—that he knows everything, in particular everything about us. Jesus makes this clear time and again when he says things like, "Your Father knows what you need" (Matt. 6:8). He admitted that while his own knowledge was temporarily limited—for example, he does not know the "day or hour" of his own return—the Father does know (Mark 13:32). Jesus always frames God's complete knowledge as a point of comfort, but if we're honest with ourselves, we see that we aren't always comforted.
For example, we're rightly told over and over that God accepts us just as we are. But truth be told, we're skeptical. If there is anyone whom we're really anxious to make a good impression on, it's God.
Sure, we confess things to God that we confess to no one else. But many of our confessions are attempts to manage the relationship so that we are acceptable to God: I admit my greed or selfishness in a moment of contrition. I'm sincere, but I'm also looking for absolution, forgiveness, and acceptance. If I do my part, God will do his part, and all will be well.
I know I'm managing the relationship with God because while I'm willing to bring some areas of my life before him, I find it difficult to speak with him about other areas. Like an alcoholic in denial, I struggle to admit my various addictions. I'm hiding the truth from myself, and in that sense, I'm hiding it from God. Many times when circumstances or the loving rebuke of a friend force me to acknowledge some dark area of my life, I have to admit that I was aware of it for some time, like being aware of the low speaker hum while you're listening to a speech. You do not hear that hum if someone is chattering into the microphone, but when the person stops talking and you just listen, the hum is there.
We say it's wonderful that God knows everything about us and yet still accepts us, but we have to admit we don't believe it. If we believed God accepted us, we wouldn't be hiding secrets from ourselves, and from him.
The psalmist does not fall for a cheap piety. Neither does he pretend he can hide something from God. He's an honest theologian. He knows that God knows him completely, and that while this knowledge is comforting in some ways, it is also frightening.
O Lord, you have searched me and known me!
You know when I sit down and when I rise up;
you discern my thoughts from afar.
You search out my path and my lying down
and are acquainted with all my ways.
Even before a word is on my tongue,
behold, O Lord, you know it altogether.
You hem me in, behind and before… (Ps. 139:1–5, ESV)
God's knowledge does not always feel freeing, as we might suppose, but sometimes makes the psalmist feel trapped. He realizes that he has no choice but to live with this reality. He will have to allow God to shed light on the dark corners of the soul where secrets of shame, guilt, and doubt huddle in fear. He will have to admit how much he tries to manage his image even before God, how proud he is of his faith, and how selfish even his most contrite moments are. If he really lets God reveal the truth about himself to himself, he will have to stand before God naked, ashamed, with every dark secret laid out—with nothing to cling to in order to justify his existence.
It is no wonder that the attribute of God's omniscience has fallen on hard times.
The Dilemma
When we ponder God's complete knowledge, we tend to wax eloquent about things philosophical. And we ask large questions: If God knows everything that is going to happen, does that negate humans' free will? If we are truly free to make decisions, doesn't that imply that God doesn't know what we are going to do? And so on.
Indeed, there are deep theological issues involved in omniscience that are worth exploring. But in the spiritual life, often our intellectual doubts only mask an unwillingness to humbly submit to an ultimately mysterious yet clear truth.
Current theological discussions of omniscience have made one thing clear: We can no longer hold to an omniscience that arises from Greek philosophical thought—a rigid, impersonal, and deterministic knowledge that sabotages free will. Any talk of omniscience has to be grounded in biblical revelation. And biblical revelation is concerned first and foremost with God's relationship with us.
There is no one verse or passage that spells out this doctrine in an orderly way. That's because the writers of the Bible simply assume the omniscience of God. It is one way of affirming to the people of Israel that their God is utterly superior to the gods of the adjacent nations. As Isaiah put it:
Thus says the Lord, the King of Israel and his Redeemer, the Lord of hosts:
"I am the first and I am the last; besides me there is no god.
Who is like me? Let him proclaim it.
Let him declare and set it before me, since I appointed an ancient people.
Let them declare what is to come, and what will happen.
Fear not, nor be afraid; have I not told you from of old and
 declared it? (Isa. 44:6–8, ESV)
Even more to the point, the biblical writers relate God's omniscience to the depths of the human soul. God knows the secrets of our hearts (Ps. 44:21), that "the heart is deceitful above all things, and desperately sick" (Jer. 17:9, ESV). They teach that God's knowledge is a form of judgment. As Job's friend Elihu put it:
For his eyes are on the ways of a man, and he sees all his steps.
There is no gloom or deep darkness where evildoers may hide themselves.
For God has no need to consider a
 man further,
that he should go before God in judgment. (Job 34:21–23, ESV)
No wonder the psalmist felt hemmed in by God's knowledge. The holy God knows the worst about us, and it is difficult to imagine that we will survive his scrutiny unscathed by mortal judgment.
Theologian Paul Tillich put it like this in his sermon "The Escape from God":
Our entire inner life, our thoughts and desires, our feelings and imaginations, are known to God. . . . The human resistance against such relentless observation can scarcely be broken. Every psychiatrist and confessor is familiar with the tremendous force of resistance in each personality against even trifling self-revelations. Nobody wants to be known, even when he realizes that his health and salvation depend upon such a knowledge. We do not even wish to be known by ourselves. We try to hide the depths of our souls from our own eyes. We refuse to be our own witness. How then can we stand the mirror in which nothing can be hidden?
That's the psalmist's dilemma, and ours.
A cavern of mercy
The very thing that makes us feel trapped—God's omniscience—is the very thing that reveals the depth of God's grace. If we can muster the courage to allow God's omniscience to judge us, we will see that before and after the righteous judgment, there has been the omniscience of grace. Let me give an example of an early experience of this.
The autumn after my 13th birthday, my mother and brother and I began attending a fundamentalist church where the pastor gave a weekly altar call, if not for conversion, then for recommitment. He was a master at his craft, and every week when he began warming up to the altar call, I felt guilty. Week after week, this part of the service became increasingly oppressive. As December rolled around, I decided that I didn't want to celebrate Christmas with this guilt hanging over me. So the Sunday before Christmas, when the pastor asked for a show of hands of those wished to give their lives to Jesus, my hand shot up.
That was usually the end of it, but this week he asked those of us who had raised our hands to come forward to pray with an elder. This was more than I had bargained for, but I was determined to flush this guilt out of my system, so I went forward, and the elder and I went off into another room. He led me in some version of the sinner's prayer, and I wept uncontrollably, which we both took as a sign of my true repentance.
I went to church the following week with great expectations. But my joy was crushed when the pastor gave the altar call and, once again, those feelings of guilt rose up. I felt as bad as ever.
The very thing that makes us feel trapped—God's omniscience—is the very thing that reveals the depth of God's grace.
As the months and years unfolded, I slowly understood what had happened. First, the pastor was adept at making people feel guilty, regardless of their moral state. Call it manipulation or prophetic insight into the human condition—it was probably a combination. So the guilt I continued to experience was genuine in some respects and externally manufactured in other respects.
Second, I slowly recognized how self-centered my conversion had been. I formally "accepted Jesus as my Lord and Savior," and I confessed my sins as a prelude to that. But in fact, what I really wanted was mostly to get rid of guilt. I wanted to stop feeling uncomfortable. And I was trying to use God to make that happen.
Third, I came to realize that God knew this about me when I walked forward on that December morning. He knew that I had little intention of making Jesus my Lord at that moment; he knew that the lord of my life was very much still me, trying to shape it according to my understanding of happiness.
God in his foreknowledge knew that when he drew me into his family, I would lust and lie and gossip and slander and practice all manner of immorality through the years ahead. He knew the particular sins and the particular people I would sin against. He has known for some time the particular evil inclination that I recognized for the first time yesterday in worship. He knows this morning how I'm going to fail him before the morning is out.
Yet despite his complete knowledge of the darkness of my heart and the wickedness of my future, he accepted my initial sinner's prayer and has held me to that commitment. He has remained committed to me despite his full knowledge of my deeds, words, and motives, past, present, and future. 
As Paul put it, "If we are faithless, he remains faithful—for he cannot deny himself" 
(2 Tim. 2:13, esv).
Like exploring a dark cave with a small flashlight, we discover the contours of this grace slowly. Once in a while, we come upon a huge cavern of mercy, where the stalactites and stalagmites of grace overwhelm us with their beauty. We realize that this grace has been dripping into our lives for years, creating something beautiful when we only knew darkness.
We have the courage to explore this cave of our souls now, because we know that only in the darkness do we discover the beauty of God's grace. It is still unnerving, and requires faith-courage, but the more we discover the hidden grace, the more we have the courage to explore even more.
Omniscience, then, is not so much a theological attribute or a philosophical problem as much as a revelation of God's grace. It will indeed inspire fear when we first start reflecting on it. Just ask the psalmist. But the fear of the Lord is also the beginning of wisdom and grace.
Mark Galli is editor of Christianity Today. This article was adapted from a chapter in his book A Great and Terrible Love: A Spiritual Journey into the Attributes of God (Baker Books).
Have something to add about this? See something we missed? Share your feedback here.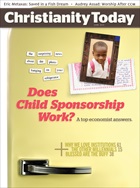 This article is from the June 2013 issue.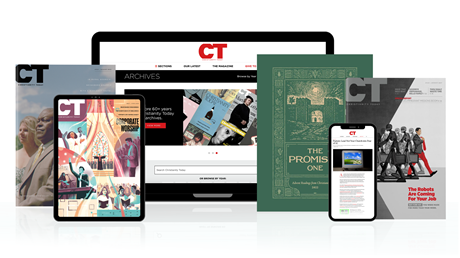 Annual & Monthly subscriptions available.
Print & Digital Issues of CT magazine
Complete access to every article on ChristianityToday.com
Unlimited access to 65+ years of CT's online archives
Member-only special issues
Subscribe
Read These Next
Trending

American Christians Should Stand with Israel under Attack

While we pray for peace, we need moral clarity about this war.

From the Magazine

The Unusual Epistle that Helps Me Counsel on Sexuality

Jude has strong words for immorality in the church. Yet he advocates for mercy for those who doubt.

Editor's Pick

Don't Miss These African Christmas Hits

Jam out this season to highlife, Afrobeats, jazz, a cappella, R & B, rap, dance, and hip-hop artists from Nigeria, South Africa, and more.
A Terrifying Grace
A Terrifying Grace