Warren suicide sparks advocacy
Few knew that Rick Warren's youngest son, Matthew, had a lifelong struggle with mental illness until the 27-year-old committed suicide in April. The tragedy prompted a national discussion, and evangelical leaders—including Rebekah Lyons, Ann Voskamp, Sheila Walsh, and Frank Page—talked personally about their or their loved ones' battles with depression and suicide. Meanwhile, the Warrens launched a public fund in Matthew's honor to combat mental illness.
WEA weighs in on 'Son of God' debate
Bible translations that avoid the phrase "Son of God" have proven successful among Muslims. They also prompted the three-million-member Assemblies of God to threaten a boycott of Wycliffe Bible translators unless it ended the practice. (The Presbyterian Church in America did the same.) Wycliffe asked the World Evangelical Alliance (WEA) to referee the debate. In April, a panel of experts released 10 recommendations on how to translate familial terms for the Trinity. It said translators should choose "the most suitable words in light of the semantics of the target language." For example, use "qualifying words" such as "heavenly father" for God and "eternal Son" for Jesus.
Sudan says no more new churches
SUDAN Citing stagnant attendance and abandoned buildings, the Sudanese government will no longer issue licenses to Christian churches. "The existing ones can accommodate worshipers," said an official. Churches in Khartoum and other northern cities have seen attendance drop as many worshipers have migrated south (not all by choice) since 2011. But Christian Solidarity Worldwide says freedom to worship in Sudan is under attack, reporting 55 anti-Christian incidents in February alone.
School vouchers win big
The Indiana Supreme Court unanimously ruled that the state's school voucher program—the most expansive in the nation—is constitutional. The program provides public assistance for low-income children to attend private institutions; however, opponents label it "a backhanded method of funding religious activity," because nearly all of its taxpayer dollars have been directed toward religious schools. The court approved the vouchers because state funds "directly benefit lower-income families" rather than the schools themselves.
Funeral attacked at top Coptic church
EGYPT A riot during an April funeral at Cairo's most prominent church, St. Mark's Cathedral, reignited sectarian tensions in Egypt. The deadly weekend—which killed 6 and injured more than 90—marked the worst violence against Christians since the election of President Mohamed Morsi in 2012. Meanwhile, the Associated Press reported a "wave of kidnappings" by Islamists in Minya, the Egyptian province with the densest population of Christians.
Fighting human trafficking with fashion
The next fashion trend could be marked by a very different kind of label. The President's Advisory Council on Faith-Based and Neighborhood Partnerships released its first "call to action," a 36-page report on how to combat human trafficking. Recommendations include a global fund (similar to the successful PEPFAR) to fight trafficking, as well as a proposed labeling system that would identify consumer goods not produced using slave labor.
Terrorists pledge to defend Christians
NIGERIA Christians targeted by Boko Haram Islamists have gained an unexpected defender: another Nigerian militant group. the Movement for the Emancipation of the Niger Delta (MEND), known for its violence in the oil-rich Niger Delta, pledged that attacks against mosques and Muslims "in defense of Christianity" would begin May 31 unless Boko Haram leaders promised a "cessation of hostilities." Meanwhile, Jubilee Campaign released a report claiming that 70 percent of Christians killed for their faith worldwide in 2012 were in Nigeria.
Oklahoma bans religious laws—again
In April, the Oklahoma State Senate approved a bill that bans courts from applying any foreign or religious laws—and supporters hope the bill is constitutional. Oklahoma's first and groundbreaking attempt to bar such laws failed in 2010 because it unfairly targeted Islam's Shari'ah law. Since then, however, five other states have approved bans on religious laws, and 32 states have introduced similar bills. The most successful bills use language that applies to all religions.
Should Christian teachers get unemployment?
Many Christian teachers in Arizona could become ineligible for unemployment benefits if a new bill becomes law. The state's Department of Economic Security decided last year that religious schools and childcare centers that claim education tax breaks could not exempt themselves from paying taxes for their teachers and daycare workers. The reason? Despite the schools' religious nature, religion is not their primary mission. However, Arizona House Bill 2645 would allow religious organizations to claim both the educational tax break and a religious exemption. This in turn would bar dismissed teachers from receiving unemployment. The bill's supporters say it returns things to the status quo.
Equal rights for vegans and Christians
UNITED KINGDOM Vegans and environmentalists should receive the same special treatment in British workplaces as Christians. So say new guidelines from Great Britain's Equality and Human Rights Commission. It states that a protected belief "should be serious, genuinely and sincerely held" and recommends that employers allow workers to discuss and demonstrate those beliefs. The recommendation followed several rulings by the European Court of Human Rights where 3 of 4 Christians lost their appeals for free religious expression at work.
Christians fear cult ban
SRI LANKA An attempt to prevent the spread of cults in Sri Lanka could impact the ministries of evangelical churches in the island nation. A proposed law that would "take action against anyone distorting the original teachings" of Christianity (as well as Buddhism, Hinduism, and Islam) might sound helpful, given evangelical concern for orthodoxy. But Barnabas Aid said authorities would likely label evangelical churches, which are unrecognized by Sri Lanka, as cults.
Sweden sends Christians back to Iran
SWEDEN Sweden may be one of the most secular countries in Europe, but it offers a safer haven for immigrant converts to Christianity than their home countries in the Middle East. However, the Scandinavian nation has begun denying religious refugee status to Iranian Christians, threatening to extradite them. Applicants complain that immigration judges don't understand the risks converts face back home in Iran, but officials say the applicants are not always able to show evidence of conversion, which disqualifies them.
Church sues police over rock music
A Michigan church has been granted the right to sue police over investigations into its loud music. The Sixth Circuit Court of Appeals ruled that Faith Baptist Church in Waterford Township had a "reasonable fear" that one police officer's threats of prosecution would have a chilling effect on the church's "speech, free exercise of religion, and freedom of association." The unlikely first Amendment–related case arose back in 2008, when police investigated complaints of loud, contemporary music at the church during its Wednesday night youth service.
Special-needs orphans gain celebrity allies
Two Christian music and football giants are partnering off their respective fields. Steven Curtis Chapman's orphan-care ministry, Show Hope, announced in April that it will partner with the Tim Tebow Foundation (TTF) to assist families who desire to adopt special-needs children but require additional financial assistance. The initial grants provided by TTF will sponsor 10 to 14 families this year, awarding $7,000 to $10,000 per family.
Have something to add about this? See something we missed? Share your feedback here.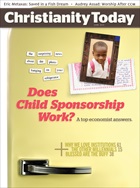 This article is from the June 2013 issue.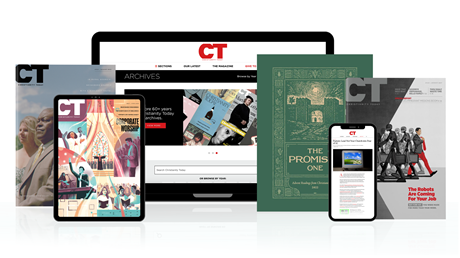 Annual & Monthly subscriptions available.
Print & Digital Issues of CT magazine
Complete access to every article on ChristianityToday.com
Unlimited access to 65+ years of CT's online archives
Member-only special issues
Subscribe
Gleanings: June 2013
Gleanings: June 2013