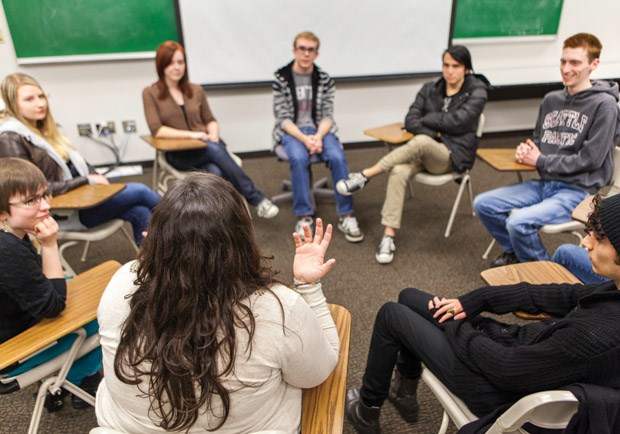 Image: Photo by Luke Rutan
When Jordan enrolled in Wheaton College in Illinois, he wouldn't admit to himself that he was attracted to other men. Raised in a conservative Baptist church and a student at a conservative Christian college, Jordan (who asked that his real name not be used) hesitated to identify with the gay community, which he perceived as flamboyant and sex-obsessed. He attempted to ignore what was in opposition to his Christian beliefs.
"I would sit in Wheaton's prayer chapel, staring at the cross, and beg God to please just let me be attracted to girls," Jordan said. "I used to pray for it every day: 'Heal me!'?"
Jordan waited for a chapel series at college, a sermon at the Anglican church he attended, or a fateful meeting with that one person who would change his orientation. "I just thought I'd naturally be attracted to a girl and get married—everyone says that's what happens," he said.
When that didn't happen, Jordan was faced with the dilemma of addressing his same-sex attraction as a student at a school that prohibits any sexual activity outside of heterosexual marriage. Jordan and others like him point to the recent experience of Wesley Hill, a Wheaton alum, professor at Trinity School for Ministry in Ambridge, Pennsylvania, and author of Washed and Waiting, as one example of a gay Christian's choice to live in celibacy to address same-sex attraction.
'Celibacy is a hard choice, and if churches are not willing to hold it up as an honorable pursuit and support it with practices of friendship and hospitality, I'm not sure it will seem viable to many sexual minorities.'—Wesley Hill, author
Leaders at Christian colleges and universities around the country told Christianity Today their schools are rethinking the way they address the needs of these students on campus. Recently, Wheaton's administration provided forums for dialogue about human sexuality and encouraged students to be more open about their experience. "I'm very hopeful for the current climate at Wheaton," said dean of student care Melanie Humphreys. "There is always someone wrestling with this. But they need to feel a sense of community—this issue won't be resolved at arm's length."
Students from several Christian colleges who spoke with CT said behavioral codes, which often forbid homosexual behavior in addition to alcohol and tobacco consumption, sex outside of marriage, and erotic dancing, inhibit their ability to be open about their sexual struggles or experiences. They fear disciplinary probation and being ostracized by peers.
"When I enrolled as a freshman, I would never have said I was gay," Jordan said. "I wanted to keep it quiet for fear of my guy friends being freaked out by me. You hear gay jokes around campus and you're afraid if you come out people will look at you differently."
Jordan often felt lonely during his four years at Wheaton, but insisted his experience was positive overall, especially after he made the decision to reveal his struggles with gay porn and same-sex attraction to his discipleship group and some professors, administrators, and close friends.
"When I first came out to my small group, they laid hands on me, prayed for me, thanked me for confessing deep, dark things, and said they'd be there to support me as I struggled through it," Jordan said.
Two months after graduation, he was faced with the challenge of coming out to his parents. "When those words came out of his mouth, I truly felt like I'd been gut punched," said Jordan's mom. But Jordan's family reassured him of their love, and turned to prayer to deal with their conflicted feelings.
Not all such stories end this way. Some students with same-sex attractions align with pro-gay student and alumni organizations. Others have left the faith altogether. In a few extreme cases, students have taken their own lives. All in all, dealing with same-sex attractions is a lonely road for many Christian students, and Christian colleges are trying to become places where these students don't have to struggle alone.
Identity Reconsidered
The debate over homosexuality on campus is being recast by new research on sexual identity, which goes beyond a person's hetero- or homosexual behavior and orientation.
Understanding sexual identity is a continual process with many stops and starts regardless of a person's religious convictions, according to William Struthers, author of Wired for Intimacy and a research psychologist and professor at Wheaton. He said that the traditional labels (such as gay or straight) concerning sexual orientation are outdated and inaccurate. "Human sexuality is a lot more complex than four or five letters."
For celibate singles, affirmation from a church community is crucial to their well-being.
He continued, "We're being forced to think more deeply about what role sexuality plays in life. All of these categories we thought were hard and fast really aren't. There's a nature to it. There's a nurture to it. It's how the brain develops." His research has focused on sexual arousal, addiction, and pornography. "Sexuality is about a lot more than just who you want to have your orgasms with," Struthers said.
He said churches would benefit from the experience of people like Jordan. They choose to forego their own sexual desires through celibacy because they see something beyond themselves. To Struthers, this is a sacrificial display of loyalty to Christ.
But as a student, Jordan found himself in the minority of his peers with same-sex attraction. According to Jordan, many individuals who took part in a same-sex attracted small group during his senior year expressed desire to pursue same-sex relationships upon graduation. Many join liberal congregations that affirm gay orientation. Others may leave church altogether.
"If I could redo my life and like women that would be great, but I'm happy I'm gay," Jordan said. "God might change me, and I'm fine with that, but the experiences and conversations I've had have drawn me close to God and revealed him to me in awesome ways."
The prospects for change of sexual orientation remain extremely controversial. At the pastoral level, Mario Bergner, founder and director of Redeemed Lives Ministries, is a deep believer in the ability of gay individuals to change.
Bergner encourages students to identify themselves as individuals before God, apart from their sexual desires. Bergner said, "I see them as a person first, and as a Christian, if that's how they self-identify." As a young adult, Bergner actively pursued a gay lifestyle before participating in pastoral care and therapy groups that enabled him in time to enter into heterosexual marriage. "The embracing of celibacy is a legitimate Christian option, but then again, so is embracing a dynamic process of sanctification," Bergner said.
Still, this is not the choice of some students, and when it isn't, colleges still try to reach out. Brent Persun, a 2011 Cedarville University graduate, is one example. Shortly after enrolling at Cedarville, Persun found himself in the dean's office during his freshman year to discuss his same-sex attractions.
Persun said, "Sex in general was not often talked about in my church or family, let alone homosexuality, so I hid it for as long as possible." After his parents discovered him accessing gay porn on his computer as a teen, he began attending sessions designed to change his orientation. He continued this treatment while at Cedarville.
"The dean knew that I struggled with same-sex attraction, but this was mostly contingent on the fact that I was struggling and trying to change," Persun said. "I still appreciate my time at Cedarville for the education I received and the friends I made."
When CedarvilleOut, a pro-gay alumni organization, hosted an off-campus meeting during his junior year, Persun met with founder and 1984 Cedarville grad David Olsen to discuss the integration of faith and homosexuality.
After the meeting, Persun decided to embrace a homosexual identity. Persun now lives an openly gay lifestyle and also is a member of Old South Church in Boston.
Olsen said, "Initially, I said if I could make one life better it would be worth it. Now, it's done more than I ever thought it would." CedarvilleOut has not collaborated directly with Cedarville University, but hosts off-campus events, such as the one Persun attended.
Cedarville's vice president of student life Carl Ruby said the institution maintains a healthy dialogue with CedarvilleOut. "I was assigned to be Dave Olsen's mentor back when we were students together at Cedarville in the early 1980s," Ruby said. "We have major differences of opinion about what we believe the Bible says about this topic, but I consider him a friend. We have tried to model what civil conversation looks like."
Expanding Dialogue
Christian college administrators have found that small group meetings and campus-wide forums about same-sex attraction are overcoming the reluctance of students to openly discuss sexuality and sexual behavior.
In 2006, Calvin College began hosting a sexuality series that includes events, speakers, and book clubs to help students better understand topics affecting homosexual and heterosexual students. According to Calvin's 2008 Statement on Homosexuality and Community Life, homo-sexual orientation is not inherently sinful, but sexual behavior belongs within the bounds of heterosexual marriage.
Calvin communications director Tim Ellens said gay students are able to be honest about their sexuality while being accountable to the code of conduct. "Calvin teaches incoming freshmen to be loving, open, and kind about gay people," junior Joel Betts said. "I'm friends with people who are gay, and it's not a big deal at all."
Same-sex attracted students at several Christian institutions have attempted to start on-campus organizations with varying degrees of success. Seattle Pacific University's Haven is an "unofficial club" organized by students. It hosts weekly meetings on campus to encourage honest conversations about sexuality while holding to the school's "Lifestyle Expectations" regarding sex outside of heterosexual marriage.
"Haven is recognized by the university administration, but not as a recognized student club through the student government system," vice president of student life Jeff Jordan said.
"Haven has applied a couple of times for official club status through student government, but they have not attained that status. So administration has said, if indeed what's important is having a safe place on campus for conversation, and you're willing to work with university administration, whether that be through me, which is how it was for many years, or through an umbrella organization, then we'll work with you on this."
According to faculty advisor Kevin Neuhouser, the meetings function as support for same-sex attracted students on campus as well as a forum that hosts speakers who address human sexuality. "There are gay students on every Christian campus," Neuhouser said. "What's fundamental to respecting and caring for them is providing them a place they can feel safe. The main concern is the student, not the orientation."
In California, some student organizations, like the Biola Queer Underground, advocate for acceptance of same-sex practice and provide anonymity for their members.
"As an lgbtq student, you have to be constantly aware of how others perceive you, even off-campus," an anonymous Biola Queer Underground representative said. "It's a sad reality that students could very well turn in students to administration for discipline or expulsion."
Biola's dean of students, Danny Paschall, said there is a difference between students identifying as homosexual and those acting on their attraction. The community seeks to come alongside same-sex attracted students, not ostracize them.
Paschall said in a statement, "When a student approaches us and communicates that he or she is struggling with same-sex behavior or sexual identity, we aim to offer a safe environment that promotes openness, dialogue, and care. If students are engaging in same-sex behavior and are not taking into account their commitment to Biola's community standards, then we will have a conversation about their status as a student."
Freedom from Fear
In the same vein, Wheaton's Humphreys insists her institution is striving to become a safe space for students.
"Our policies are truly restorative," Humphreys said. "If we have a student wrestling with sexuality, we're not going to kick them out—we're going to bring them closer to help them think through how they understand it." This year, Wheaton's student government has endorsed a student-led, confidential community group for those who experience same-sex attraction.
For celibate singles, affirmation from a church community is crucial to their well-being.
Author Wesley Hill told CT, "Celibacy is a hard choice, and if churches are not willing to hold it up as an honorable pursuit and support it with practices of friendship and hospitality, I'm not sure it will seem viable to many sexual minorities."
He added, "The congregations that give me hope are ones where I see married people and single people, older people and younger people, all sharing meals and ministries and small groups together."
Allison J. Althoff is associate online editor at Today's Christian Woman. Follow her on Twitter (@ajalthoff).Additional research by CT news intern Bryn Sandberg.
Have something to add about this? See something we missed? Share your feedback here.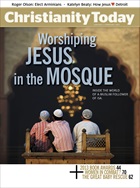 This article is from the Jan/Feb 2013 issue.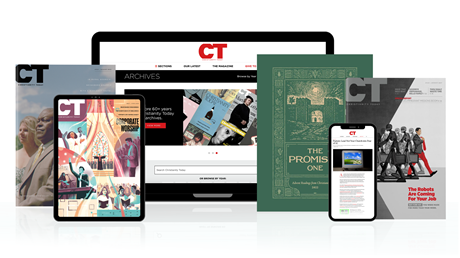 Annual & Monthly subscriptions available.
Print & Digital Issues of CT magazine
Complete access to every article on ChristianityToday.com
Unlimited access to 65+ years of CT's online archives
Member-only special issues
Subscribe
Hope for the Gay Undergrad
Hope for the Gay Undergrad