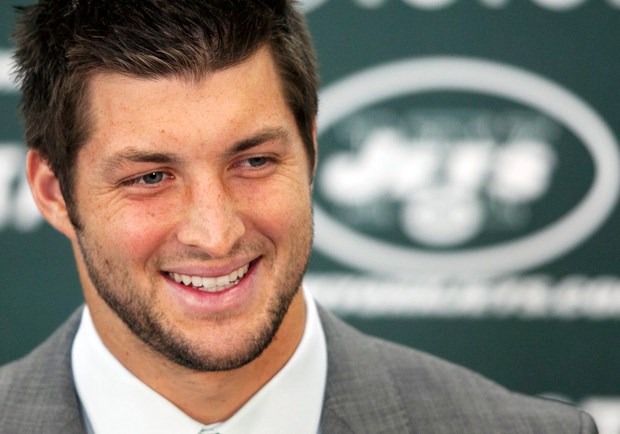 Image: Mark Lennihan / AP
For Tim Tebow, speaking at the First Baptist Church of Dallas, Texas, had to look like a great opportunity. He grew up attending a large Southern Baptist church, and an invitation to speak at one of the most venerable and historic Baptist churches in the world had to look like an easy call. He was going.
All that changed yesterday when Tebow, the National Football League's most prominent evangelical symbol, sent word through Twitter that he was withdrawing from the event. His sudden announcement came after a whirlwind of controversy over his scheduled appearance at the Dallas church. Its senior minister, Robert Jeffress, is no stranger to public controversy. His sound bites are often incendiary, but his convictions—including the exclusivity of the gospel and the belief that homosexual behaviors are sinful—are clearly within the mainstream of American evangelicalism.
While many complained about Jeffress's tone and stridency, the controversy quickly shifted to secular outrage that Tebow would agree to speak to a church known for such beliefs.
Gregg Doyel of CBS Sports warned, "Tim Tebow is about to make the biggest mistake of his life" by speaking at "a hateful Baptist preacher's church." Doyel described Jeffress as "an evangelical cretin" guilty of serial hate speech. Of course, Doyel engaged in hateful and slanderous speech of his own by associating Jeffress with the truly hateful Westboro Baptist Church in Kansas. Jeffress "isn't as bad as Westboro," Doyel admitted, "But he comes close. Too close."
Other sportswriters piled on. Benjamin Hochman of The Denver Post offered his own warning to Tebow: "After a season on the sidelines, the ball's in your hands, Timmy. Better not fumble this one."
The controversy threatened to dominate Tebow's life, so the 25-year-old athlete withdrew, attempting to escape his predicament. Stating that he has wished to "share a message of hope and Christ's unconditional love" with the historic congregation, Tebow said that "due to new information that was brought to my attention" he has decided to cancel the event. He then pledged to use "the platform God has blessed me with to bring Faith, Hope, and Love to all those needing a brighter day."
If Tebow meant to mollify his critics, it is not likely to work for long. Tebow has identified himself as a vocal evangelical believer. His church roots go deep, and it is safe to say that he has never had a pastor who, though speaking in a different tone, would have disagreed with Jeffress on the exclusivity of Christ and the sinfulness of homosexuality. He has given no indication that he has moved from those convictions, and his closest friends assure that he has not.
Writing at The Huffington Post, Paul Brandeis Raushenbush made it clear the controversy wasn't just a matter of Jeffress's tone, conceding, "while Dr. Jeffress has a tendency not to sugarcoat his feelings," he is nonetheless voicing what evangelical Christians "have been saying for a long time." The central scandal here is the belief that Jesus is the only Savior and that homosexual behavior is sin. In terms of the larger public debate, it is the issue of homosexuality that has predominated the larger public debate... at least for now.
The Tebow controversy comes just weeks after evangelical pastor Louie Giglio withdrew from delivering a prayer at President Barack Obama's second inaugural ceremony. Giglio had been "outed" as having preached a message almost 20 years ago that affirmed the sinfulness of homosexuality and stressed that the "only way out of a homosexual lifestyle… is through the healing power of Jesus."
No one could accuse Giglio of stridency or reckless language. Famously non-confrontational on such issues, he even explained that homosexuality "has not been in the range of my priorities in the past 15 years" – a fact that puzzled many evangelicals, who wondered what guidance the young people in Giglio's church had been receiving from him on this issue for a decade and a half.
Under a glare of intense and even overwhelming controversy, Giglio withdrew from the inaugural ceremony, and Tebow has withdrawn from speaking at FBC. Both did so in an effort to escape a controversy that threatened to hinder their efforts to represent Christ in a winsome way. Both decisions are understandable in light of the pressure, but neither Giglio nor Tebow can escape the question that the larger world is now pressing upon them: What exactly do you believe about homosexuality?
No statement short of celebrating and affirming the normalization of homosexuality will be found acceptable to those now demanding an answer. Writing for Yahoo! Sports, Jay Busbee stated what is now obvious: "Whatever the reason for his cancellation, Tebow is fast approaching the point where he'll need to make more definitive stands on his own. There are plenty of people needing him to speak up for one reason or another; he'll need to decide how public to go with his perspective on Christianity. He has the power and potential to be an influential voice for his religion, but he'll need to decide how much of that religion he wishes to demonstrate."
Now, take out Tebow's name and insert your own. The massive moral shift taking shape around us is fast eliminating any neutral ground on this issue. Those celebrating the moral normalization of homosexuality will demand an answer from us all. Giglio and Tebow withdrew from controversial appearances, but they will not evade the demand to answer the fundamental question, and any Christian who will not join the moral revolution will be marginalized as a moral outlier in the larger society.
Evangelical Christians are now called upon to think strategically about what it means to speak truthfully and lovingly to a society that increasingly sees us as the moral outlaws. Clearly, we must watch our speech carefully, measuring every word for truth and tone and avoiding incendiary sound bites. We must also guard our hearts toward the persistent temptation towards self-righteousness. But, at the same time, even the most humble statement of biblical truth can now be turned into a sound bite described as hate speech and a refusal to affirm the normalization of homosexuality is turned into repulsive intolerance. We now face no shortage of arguments for capitulation, but abandoning the truth of God's Word is not an option. We deny the gospel if we deny the sinfulness of sin. That sin. Every sin. Our sin.
Further, evangelicals should not miss this opportunity to rethink our focus on evangelical celebrities in popular culture, including sports heroes. For now, the controversy is over Tebow's withdrawal from an invitation extended by an historic church. The pastor's statements have been the center of the controversy. Inevitably, the controversy will shift to Tebow's own statement, which he will eventually have to make. There will be no escape.
Before long, the ball will be thrown back to Tebow. I hope and pray he does not fumble it. I pray the same for myself and for every Christian in the midst of this tumultuous cultural landscape. Sooner than later, the ball will be thrown to each of us.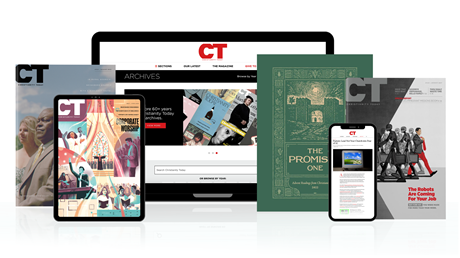 Annual & Monthly subscriptions available.
Print & Digital Issues of CT magazine
Complete access to every article on ChristianityToday.com
Unlimited access to 65+ years of CT's online archives
Member-only special issues
Subscribe
Tebow's Big Fumble
Tebow's Big Fumble