true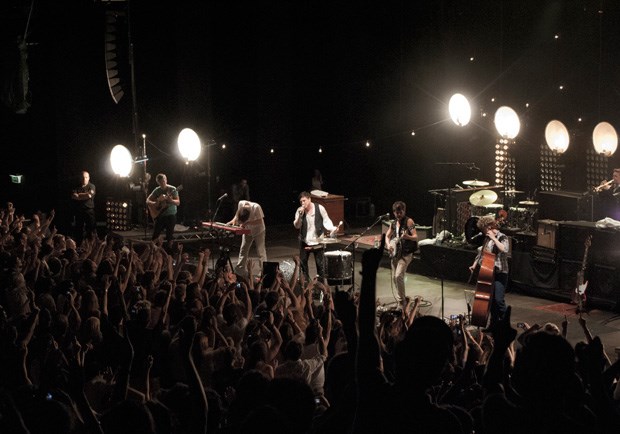 Image: Anny Turolla / Flickr
For a long time now, massive rock and roll acts have been about either the future or the past.
In the future camp there's U2, with its scientist lead guitarist and spaceship live sets, and Coldplay, with its crowd-wide light-up LED wristbands and synth-rock hybrids; going further back there was the Police, with Sting starring as a colorful Mad Max and also in actual science fiction movies; there was Peter Gabriel and Genesis with the makeup and the drum machines; further back still was Pink Floyd, with its lasers and studio laboratory of echoey future-shock—and of course David Bowie, who has been from the distant future ever since his first single, "Space Oddity," was released in 1969.
In the past camp there is, and seemingly always has been, Tom Petty, and Bruce Springsteen, and the Eagles, and the Rolling Stones. There was Led Zeppelin, the Grateful Dead, and Creedence Clearwater Revival. There was the Band. The Beatles were about the future and the past both, depending on the period: but they invented the form of massive rock and roll and could always do anything they wished with it. Over and above the past camp there was, and is, Bob Dylan, who both applied for and received a certain slippery mantle from Woody Guthrie, and has hung onto it ever since, even though he went electric right afterwards.
And now there's Mumford & Sons. If Mumford hasn't joined this pantheon of the past, they're certainly on their way. On Sunday night, they won Album of the Year at the Grammy Awards for their second album, Babel. And on Tuesday night, they returned to Brooklyn's Barclays Center for a triumphant resumption of their "Gentlemen of the Road" tour. Tuesday's show—their first post-Grammys—was infused with that singular vibe of conquering heroism, but they barely mentioned having won popular music's most coveted award, in their typical understated fashion. Marcus Mumford (lead vocals, guitar, drums) explicitly acknowledged the award only once, saying that they'd had "a bit of a mental weekend."
Mumford & Sons is about the past. They are, gloriously and unabashedly, about the past, like many of the Old Time bands they have now outrun by album and live ticket sales and critical acclaim: Old Crow Medicine Show, Alison Krauss & Union Station, Nickel Creek. There are the vests, the workshirts, the retro lights. The video screen that only runs in black and white, even for the opening acts. There's the tour logo, which looks like it was drawn up by one of the Dalton Gang. There's the omnipresent banjo. The time changes. The lead singer who plays acoustic guitar but also bass drum, as though the band couldn't afford to bring a drummer on tour (though they do bring a magnificent three piece horn section and a magnificent three piece string section as well). There's Marcus Mumford's Depression-era haircut. There's his plain-spokenness: he addresses the crowd, almost exclusively, as ladies and gentlemen, and seems to mean it as earnestly as he means everything he sings. There's the exclusive focus on music, and music only. At a Coldplay or U2 show, the music is a means to an end; at a Mumford & Sons show the screens linger on banjo player Winston Marshall's fingerpicking, or the vibrating strings of Ted Dwane's upright bass.
Most of all there are the songs themselves, which are so drenched in Scripture, Steinbeck, and Shakespeare that they seem to have been dug out of a lost corner of the Library of Congress, thoughtfully re-written by T-Bone Burnett and Doc Watson, and taught to the band at midnight out in a shotgun shack on the Mississippi Delta. The band is about the past.
Because Marcus Mumford and Ben Lovett (piano, accordion) met at Kings College School in Wimbledon, instead of out on the Delta, they are often dinged in the UK for being "inauthentic." Marcus Mumford has taken issue with this here, among other places. He says authenticity doesn't matter to him; but perhaps he is confusing disingenuousness with the essential artistic act of self-invention. Mumford's hero and sometimes muse, Bob Dylan, once said: "I was born very far from where I'm supposed to be, and so I'm on my way home."
In a crucial sense, understanding this notion, and organizing one's life around it, is the main theme of rock and roll. It's never been a question of authenticity, but of pilgrimage.
And like rock and roll itself, pilgrimage has southern gospel, and the Gospel, as its source and its wellspring. Live, especially, Mumford's songs sound old, like they've always been there; and bands in the past camp have always had a more direct line to gospel. This can be a double-edged sword, if you happen to be fleeing the Gospel while singing music with gospel at its roots. If you're in the past camp you either obfuscate that gospel heritage, like Led Zeppelin, or let its life infuse your work, like Dylan, and like Mumford & Sons. Mumford's songs are full of imagery that wells up from gospel's spiritual heritage: "songs of salvation to salve the soul," as Ulysses Everett McGill put it in O Brother Where Art Thou, the Coen brothers' post-Christian take on Homer's pre-Christian pilgrimage, The Odyssey.
The Faith is about pilgrimage, about getting home through grace. And so was Tuesday's show at Barclays.
Judging from the crowd's abandon, many of these souls were a long, long way from home. There were the hipsters and aging Deadheads you'd expect at any past-camp rock show, and there were rock and roll purists in prescription Ray Bans; but there were also moms in Burberry with their daughters. The youngest person I saw there was maybe 12; the oldest was definitely north of 60.
It's not an easy demographic to manage; but we didn't need to be managed, because we were all there to sing. Marcus Mumford brings Bono's old earnestness live, a plainly spiritual obsession with connecting to the audience, and—like Bono's old crowds—Mumford & Sons' audience shares the inverse obsession.
This band is completely owned by its audience, in a way I have not seen live since Bob Dylan or the Grateful Dead or pre-Joshua Tree U2. Every once in a while, it seems, a performer emerges to speak not only to their people, but for them—and not in a pejorative way, but in the most humble way imaginable, with the intent and compassion of the ancient poets, seeking to incarnate the definitions of art penned by Plato and Aristotle and Shakespeare. Artists like this don't perform so much as they gather. The feeling in the room at Barclays, as Mumford's chronicles of fall and longing and redemption were sung in full-throated unison by thousands of breathing souls, gave meaning to the reality of an otherwise lonely and disenfranchised life: it was the feeling of a possible return home.
It was this feeling of return, and prodigal return at that, which lifted the roof of Barclays on Tuesday. Most of the time, Mumford and Sons made their venue feel like a giant church.
"I Will Wait," the lead single off Babel, was their second song. The roof was already long gone as we all sang together as loud as we could:
And I came home
Like a stone
And I fell heavy into your arms
These days of darkness
Which we've known
Will blow away with this new sun

And I'll kneel down
Wait for now
And I'll kneel down
Know my ground

And I will wait, I will wait for you
Of course, other times it didn't feel like church, exactly. Especially during the muddle-filled minutes between songs. There was the bluish smoke, there were the F-bombs lobbed off the stage with flagrant regularity (not least in the chorus of "Little Lion Man," from the band's first album Sigh No More). There was the pogoing, and obviously there was quite a lot of beer.
These facts disturb some potential fans; like every other band on their way up who sing about the Lord by name, Mumford & Sons is constantly dogged by the rock-and-roll version of the Messianic secret: "Are you a Christian band?" Time and again, they're asked to come out. Now that they've won so big, they'll be asked more often. Among the faithful, there has long been a certain drive to claim big acts as their own; and among the rest of the world, and particularly in the press, there is an instinct to make the point clear one way or another.
So far Mumford & Sons have answered carefully, identifying with mystery and faith instead of religion or doctrine. And as a meticulous student of the past, Marcus Mumford has surely studied his rock and roll history. He's read what happened to Dylan after Slow Train Coming. He's read how freeing Achtung Baby was for U2, and for Bono in particular; he knows All That You Can't Leave Behind and "Magnificent" couldn't have been written without it. He knows there is a right time and a right place, and that it's not after the second album.
Judging from his own abandon on Tuesday, he also knows the question is completely beside the point. Mumford & Sons closed their Barclay show with "The Weight," by the Band, the same song they'd played at the Grammy Awards ceremony. It sounded old. Of course, according to my dad, it already sounded old on the day it was released, in 1968. "The Weight" is about an ill-fated pilgrimage to the Holy Land, or to the Martin Guitar factory, depending on whom you ask—but in the end it's about beating the devil and getting home.
Maybe the highest compliment one could pay to Mumford & Sons is that after a two-hour set of originals, and after only two albums—two albums!—this cover of a cornerstone of the rock-and-roll canon fit in sonically, lyrically, spiritually, communally, perfectly.
It sounded like they'd written it themselves.
Todd Dorman last wrote for Christianity Today about Downton Abbey.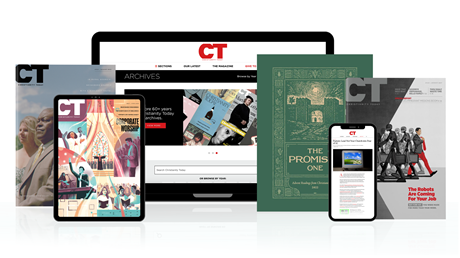 Annual & Monthly subscriptions available.
Print & Digital Issues of CT magazine
Complete access to every article on ChristianityToday.com
Unlimited access to 65+ years of CT's online archives
Member-only special issues
Subscribe
On the Road Home with Mumford & Sons
On the Road Home with Mumford & Sons