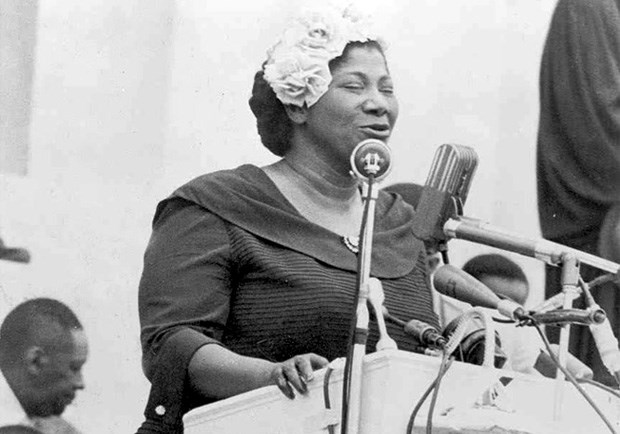 Image: Library of Congress / Prints & Photographs Division
When Martin Luther King Jr. had those rough patches, those days and nights when he felt worn down by struggles and soul-beatings, he used to call Mahalia Jackson, a gospel singer and close friend. King wanted her to sing some soul-lifting melodies to see him through the weariness. And she did. She sang King through moments of despair and threats of hopelessness.
Today marks the 50th anniversary of the March on Washington for Jobs and Freedom, a historic event largely commemorated for King's iconic "I Have a Dream" speech. On Aug. 28, 1963, King requested that before he spoke Jackson would sing him into another moment of strength and perseverance. He wanted to hear her sing the gospel tune, "I've Been 'Buked and I've Been Scorned." And she did. Jackson sang the civil rights leader into the moments of giving his speech of a lifetime.
For many years, the accomplishments of the civil rights movement have primarily been credited to the work of the male activists, leaders, and celebrities. Thankfully scholars, journalists, and historians have begun to recognize and name some of the countless women who played irreplaceable roles in the movement.
Over the past week, as I read articles, listened to songs, and watched footage of the march and the movement, I have been struck by the beautiful way women literally gave their voices to fight for justice. They spoke and sang and stood to proclaim the Kingdom reality of social and economic equality for all people.
We often forget that the struggle for civil rights and women's rights occurred simultaneously, not one after another. These women were in the midst of pushing for gender equality during the civil rights movement. Many women were discouraged from publicly speaking to mixed-gender groups or from taking the media light during key moments.
The women who did have a public face in the civil rights movement—women like Coretta Scott King, Betty Shabazz, and Myrlie Evers Williams—were the wives of noted leaders. We may recognize a few other names—Fannie Lou Hamer, Septima Clark, Rosa Parks, and Ella Baker—but countless women worked behind the scenes and remain largely unnamed. They cooked, cleaned, prepared, and set the stage for protests, meetings and rallies.
But there was another pivotal way in which women of the civil rights era made their voices and their opinions heard: they sang. When they were not offered a microphone from which to preach, to speak, or to rally, they found a microphone from which to sing, to bellow, and to proclaim what they believed in and what they were fighting and hoping for. Mahalia Jackson didn't just sing to Martin Luther King. She sang to throes of people, encouraging and sustaining them for the journey.
Women like Nina Simone put their burgeoning careers on the line to belt out about injustice. The same summer of the March on Washington was the summer Medgar Wiley Evers was murdered in his driveway in Mississippi and four little black girls were killed in the Sunday morning bombing of the 16th Street Baptist Church in Birmingham.
Nina Simone sang her anger, frustration, and fatigue into the lyrics of the 1964 release "Mississippi Goddam," a song that altered the course of her musical career. She sang the song during a 1964 concert in Carnegie Hall and later before 40,000 people during one of the 1965 Selma to Montgomery marches.
Simone starts out by saying, "The name of this song is Mississippi Goddam and I mean every word of it." She then goes on to sing the now famous refrain: "Alabama's gotten me so upset / Tennessee made me lose my rest / And everybody knows about Mississippi Goddam."
In our day and age, when young women make the news for singing and performing in vulgar, suggestive, and less than life-giving ways, the anniversary of the march is—among many things—a much needed reminder of the transforming power and legacy that women can have with their voices and with song.
The women of the civil rights movement remind me of the prophet Miriam. While Moses and Aaron may have been more recognized leaders (Micah 6:4), we still remember Miriam and her songs of praise when God proved God's self faithful to the Israelites yet again (Ex. 15:20-21). Miriam was also instrumental in raising Moses, the future leader of the Israelites. She took him down to the river in the basket and suggested to Pharaoh's daughter a nurse for the baby, Moses' own mother. Her cleverness ensured that Moses was raised well-aware of his Hebrew roots.
Women continue to fight for the right to use their voices in countless spheres of society in full, God-glorifying ways. On this 50th anniversary of the March on Washington, I give thanks for the women of the civil rights movement who still found ways to use their gifts to empower, encourage, motivate, sustain, and strive for justice, even knowing so much of it would go unrecognized and underappreciated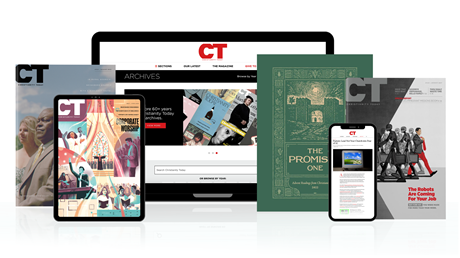 Annual & Monthly subscriptions available.
Print & Digital Issues of CT magazine
Complete access to every article on ChristianityToday.com
Unlimited access to 65+ years of CT's online archives
Member-only special issues
Subscribe
The Women Who Sang Out for Civil Rights
The Women Who Sang Out for Civil Rights