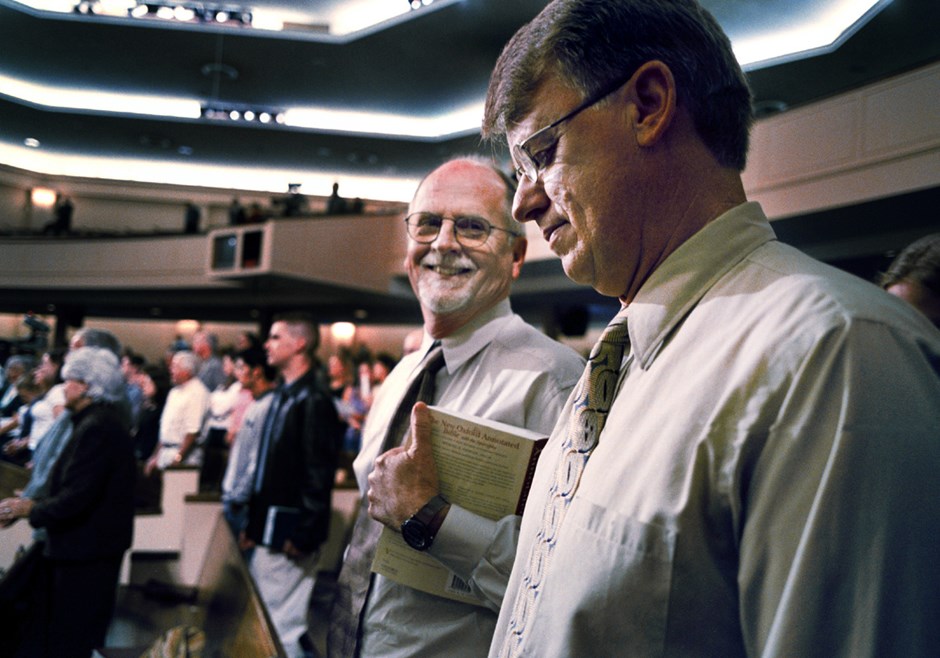 Image: Jahi Chikwendiu / The Washington Post / Getty
Imagine this no-longer-hypothetical situation: Matt and Alex Jones-Smith, newlyweds, arrive on a Monday morning in summertime to register their adopted daughter, Rachel, for Vacation Bible School at Maranatha Bible Church on Main Street.
What should be the response of the Sunday school superintendent?
Provide directions to the nearest liberal congregation.
Register Rachel for Vacation Bible School and then hand the couple Marantha Bible's statement of faith, including the part on human sexuality where homosexual behavior is condemned.
Proceed with registration, and then ask the Jones-Smiths, legally married in the eyes of the state, to meet with the pastor to talk about baptism and membership.
None of the above.
The Unbiblical Marriage
This week, Minnesota and Rhode Island became the 12th and 13th states to allow same-sex marriage. With the favorable U.S. Supreme Court rulings in June, there will be more same-sex marriages nationwide for years to come. The 2010 federal census estimated there are already more than 150,000 same-sex couples legally married or in legal civil unions. It reports some states experienced a 50 percent or more increase in households with same-sex couples from 2000 to 2010.
For generations, Christianity has encountered unions outside the one man-one woman Christian ideal. During the colonial missionary era in Africa, many Christian churches had zero tolerance for a new convert with multiple wives. If these men wished to be baptized, join the church, and follow Christ, they had to dismiss all but one wife.
But missionaries soon realized that this policy of zero tolerance created enormous hardship on abandoned mothers and their children. It also absolved the polygamous husband of providing for dependent children of his former wives, according to Sunday Agang, academic dean at ECWA (Evangelical Church of West Africa) Seminary, Jos, Nigeria.
Over time, indigenous churches developed more than one response. Some churches accepted the entire household of a husband who desired to become a Christian yet had more than one wife. Many churches, however, did not permit these new converts to preach or teach or lead in the church.
Yet, the goal of churches remained the same. Once a person accepted Christ, Christians invited the individual into joyful, church-based fellowship and a lifelong journey of discipleship and sanctification.
Welcoming, Not Affirming
Choice #4—none of the above—is the answer that best reflects the sense of confusion that many church leaders have regarding the most appropriate response to state-recognized same-sex couples.
But for churches committed to the biblical teaching about heterosexual marriage and compassion for all, is there a solidly biblical approach or model for churches to follow? As early as the 1990s, conservative Christian leaders began to welcome, but not affirm, the open involvement of people with same-sex attraction into church life. Along with a sincere welcome, tragically, too many times fear of disease (HIV/AIDS), public condemnation, homophobia, and pressure for behavior change through unproven and often harmful therapies overwhelmed any sense of welcome.
There is some evidence of progress. A new Pew Research Center survey found that less than 1 in 3 LGBT respondents reported feeling unwelcome in a place of worship. Even fewer reported that this unwelcome feeling occurred within the past 12 months.
Christians and the church can do much more beyond welcome. About half of LGBT adults surveyed report no religious affiliation. While the ones who did attend worship felt welcome, the Pew survey found that most LGBT respondents view major religious groups (Christians, Jews, and Muslims) as "unfriendly."
A new attitude within churches of openness and hospitality, anchored in biblical grace and truth, would be a startling response for individuals or couples with same-sex attraction. We need to repent of the notion that sexual identity is as easy to change as a light bulb.
The Ninety and Nine
What would this new attitude look like? Biblical belief and practice are tested by extreme situations. In this instance, the test occurs inside and outside the four walls of a church.
It begs key questions about how far fully engaged followers of Christ are willing to go to establish credible relationships with same-sex couples as a prelude to change, brought about through the Holy Spirit.
Would Jesus go to a gay pride parade? Would Jesus attend a gay marriage ceremony inside a church? Would Jesus enter a gay bar? Gospels accounts show the behavior of Jesus was scandalous partly due to his public presence in the lives of sinners. The Good Shepherd parable illustrates how far outside one's own comfort zone we as Christians should go on behalf of a person who needs Jesus. We need to be where sinners are.
Inclusion and hospitality require a context. Yes—Jesus would go a gay bar, or for that matter, the local Sunday champagne brunch, if the Matt and Alex invited him. It is a sincere act of Christian hospitality to welcome gays and lesbians when they come to our churches as well as engage them in the places they meet.
This is not just a convenient editorial point. Here are several real-world examples of how Christians are responding differently: As CT reported last December, more Christian colleges (with extensive behavioral covenants) now allow students with same-sex attraction to meet on campus for confidential discussion, while these students remain fully involved in campus life and ministry.
Redeemed Lives, an international ministry based in Massachusetts, trains pastoral leaders in addressing sexual identity issues in local churches. The ministry emphasizes the gospel (not therapeutic technique) in its mission statement: "Bringing all people into the healing and saving embrace of Jesus Christ." Founder Mario Bergner believes that sexual redemption is for all people and is not optional for Christians with same-sex attraction.
Another example: Peter Ould, an Anglican pastor and blogger in Canterbury, England, describes himself as "postgay." This means he acknowledges same-sex attraction, but he does not form his identity around it or use it to validate or participate in same-sex behavior. Now a husband and father, Ould, writing in God, Gays, and the Church, says his ministry is to help churches discover how "to respond with compassion and care to those whose sexuality is broken...."
Creating empathy is a crucial first step. Humility, not shame, is our mutual aspiration.
Finally, Catholic blogger Eve Tushnet calls on all Christians to have a richer understanding of brokenness, healing, and being wounded. In 2011, she wrote, "Even imagery of woundedness is more complex [than referring to someone's sexuality as 'broken'], insofar as wounds, in Christian thought, are not solely healed but sometimes glorified."
Redeemed Orientation
Pastoral leaders will ask: Where should we draw lines around including same-sex couples in church life?
That depends, of course, on a congregation's convictions, values, purpose, and statement of faith. In any case, churches should be transparent, clear, and fair about how it applies behavioral and leadership standards, derived from Scripture—to everyone. In Austin (dubbed the "Capital of Copulation" by the Austin American Statesman), Gateway Church lead pastor John Burke has created Christian community around the message, "Come as you are, no perfect people allowed." Gateway does "not condemn or condone" as it teaches biblical sexuality (Gateway's five-part series on sexuality is now online). But it is gracious and generous when it comes to the level of welcome the church extends.
In a 2012 interview with CT, Max Lucado, renowned author and former pastor at Oak Hills Church in Texas, cautioned church leaders against impatience. "We have several people in our church who practice a homosexual lifestyle. If I get up and say, 'God loves you just where you are, and he's going to help you change,' will they really get it as quickly as I want them to? I think there's a desire in us to control the time and way in which people grow in God." He said it's essential for leaders to trust God "to work out his will as he wants."
The congregations that reach out to people with same-sex attraction and remain committed to biblical human sexuality are too few. But many of those who do share the following characteristics:
• They have a strong dedication to prayer and healing ministry—this is connected to public worship, and not isolated from the rest of the congregation.
• They commit themselves for the long term to reach out to survivors of sexual abuse, people with same-sex attraction, or gender identity issues, thereby avoiding avoid quick fixes or one-size-fits-all solutions.
• They give significant role for people who have personally addressed their sexual brokenness and are willing to give testimony about how God worked in their lives, understanding that many may not realize the level of change they desire.
• They build a resource network of Christian professionals who tailor counseling to a person's needs and profile.
• They watch their language and won't put up with people demonizing or homophobic slurs.
The era when the church could prop open its doors and sin-sick souls would flood in are over. When our Christian vision for human sexuality, embodied in our message of fidelity, chastity, and celibacy, comes out of the pulpit and move into the lives of people, sexual brokenness will lose its ability to harm us.
The true identity of each person is found in Christ. The gospel invites us to a redeemed orientation, one that is anchored in lifelong relationship with God and neighbor.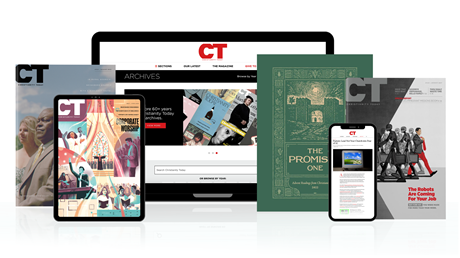 Annual & Monthly subscriptions available.
Print & Digital Issues of CT magazine
Complete access to every article on ChristianityToday.com
Unlimited access to 65+ years of CT's online archives
Member-only special issues
Subscribe
Why Welcome a Same-Sex Couple to Church?
Why Welcome a Same-Sex Couple to Church?