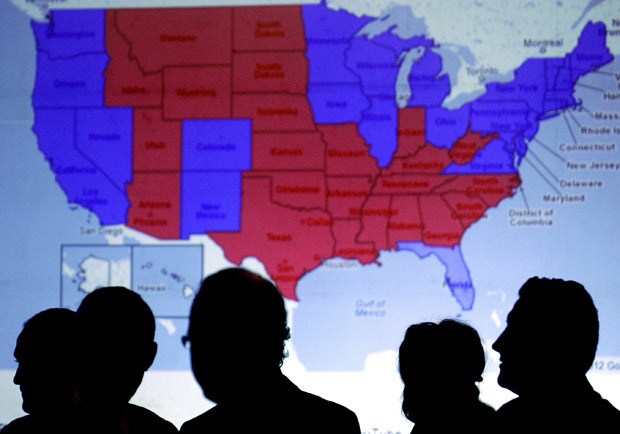 Image: Boris Grdanoski / AP
While evangelical leaders have long protested that evangelicalism is politically diverse and is a theological identifier rather than a political one, it appears that evangelicals are more politically unified than ever before. But in most results from last night's elections: where evangelicals were largely unified, they also lost.
We know less about evangelical voters this year than we did four years ago because exit polls did not ask as many voters about being a "born again or evangelical" Christian. According to pre-election polls, white evangelicals backed Romney by nearly a four-to-one margin. Romney received a larger slice of the evangelical vote than any previous Republican presidential candidate. At nearly 80 percent, evangelical support for Romney was as strong—and perhaps even stronger—than the support Romney received from Mormons.
If further analysis bears such a figure out, it will be a dramatic benchmark in conservative Protestant voting trends. In 1982, exit polls showed an even 50-50 split of self-identified "born again" voters between Republican and Democratic candidates. That shifted to a 2-to-1 split favoring Republicans in the later '80s and throughout the 1990s. Even when some exit polls shifted the question to ask whether voters were "members of the religious right," two-thirds of such respondents supported Republican candidates. In 2004, "born again or evangelical" voters voted 3-to-1 for Bob Dole. In 2008, Democrats rebounded somewhat, with Obama receiving 29 percent of "born again/evangelical" support to John McCain's 71 percent. To put a four-to-one margin in perspective: It's the same percentage of self-identified Republicans who voted for George H. W. Bush in 1988.
Exit polls in Indiana highlight how evangelical voting in the Hoosier State has shifted since 2008. Four years ago, the economic conditions helped Obama win Republican states like Indiana. Only two-thirds of evangelicals (69%) voted for McCain. This year, evangelicals made up less of Indiana's electorate (35%, down from 41%). But they were significantly more Republican, with 79 percent backing Romney.
In the Indiana Senate race, evangelicals were comparatively less supportive of Republican Richard Mourdock (70 percent) and more supportive of pro-life Democrat Joe Donnelly (32 percent).
In Ohio, Romney had a more difficult time convincing evangelicals to support him. In 2008, McCain received 71 percent of evangelical votes in Ohio. Exit polls this year don't show much change, with 68 percent of evangelicals voting for the Republican ticket.
The high water mark for evangelical support for Romney was in Mississippi. Half of the voters in Mississippi were white evangelicals (up from 43 percent in 2008). Of these, 96 percent said they voted for Romney. In comparison, 94 percent of African-Americans in the state voted for Obama.
Maryland and Maine each voted to approve same-sex marriage. The state of Washington is also likely to approve gay marriage. (Its referendum is leading as we post this.) This is the first election in which voters—not legislatures or the courts—have approved same-sex marriage. In Minnesota, a constitutional ban on same-sex marriage was defeated, but state law still limits marriage to one man, one woman.
Congresswoman Michele Bachmann (R-MN) was instrumental in passing the state law eight years ago. On Tuesday, the former Republican presidential hopeful held on to her congressional seat—barely. She won by 3,000 votes, less than one percent of the vote.
In Florida, voters defeated a constitutional amendment that would have overturned the state's ban on public funding for religious organizations. Amendment 8 would have allowed faith-based organizations to receive state funds (so long as the funding did not violate the First Amendment of the U.S. Constitution). The amendment also would have allowed people to receive certain public services from religious organizations without government interference. Supporters saw Amendment 8 as an expansion of religious freedom; opponents saw it as an establishment of religion and a backdoor to providing vouchers to religious schools. Also defeated in Florida: an amendment that would have banned state funding of abortion or the use of the state constitution to expand abortion rights.
One bright spot for evangelicals was the overwhelming victory for California's Proposition 35, which lengthens prison terms for human trafficking. The measure was spearheaded by Daphne Phung, a Christian activist who immigrated from Vietnam at age eight. Motivated by her faith, Phung founded Californians Against Slavery. The organization was able to put Proposition 35 on the ballot with the financial backing of Chris Kelly, former chief of privacy for Facebook. Early returns show the proposition passing with about 80 percent support.
It also appears Massachusetts voters did not approve a measure to legalize physician-assisted and relative-assisted suicide for terminally ill patients. Fifty-one percent of Massachusetts voters voted against this measure. Had it been approved, Massachusetts would have joined Oregon and Washington as the only states to allow physician-assisted suicide.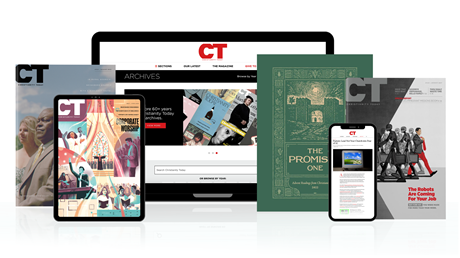 Annual & Monthly subscriptions available.
Print & Digital Issues of CT magazine
Complete access to every article on ChristianityToday.com
Unlimited access to 65+ years of CT's online archives
Member-only special issues
Subscribe
In Defeats, Evangelicals' Political Unity at All-Time High
In Defeats, Evangelicals' Political Unity at All-Time High