true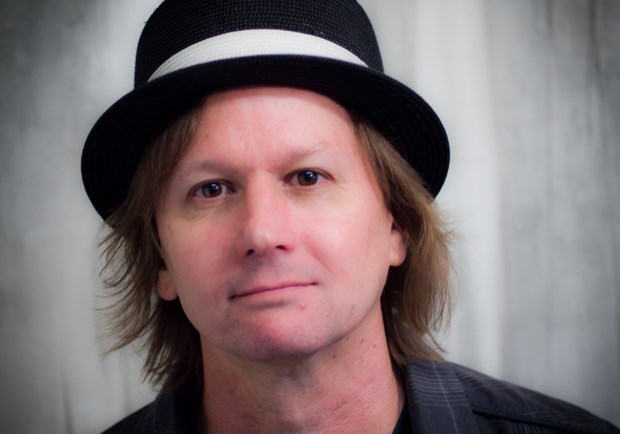 Steve Hindalong, one of the founding members of The Choir and, at 52, one of Christian music's real veterans, says that in the last year, he has grown closer to God than ever and that he's seeing things more clearly than before.
That's what sobriety can do for you.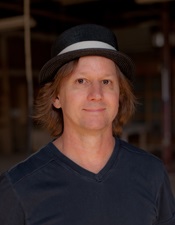 In a revealing interview with Christianity Today, Hindalong spoke for the first time about his 20-plus years of struggles with alcohol. But he was also elated to report more than a year of sobriety since attending his first Alcoholics Anonymous meeting in early 2011.
Hindalong's comments came as we talked to him about The Choir's new album, The Loudest Sound Ever Heard, which releases today. Hindalong, the drummer and lyricist, and co-founder Derri Daugherty (lead singer/guitarist) recorded the album in fits and starts as time allowed. Daugherty would work on his guitar parts while holed up in his condo; Hindalong tracked drum parts in two studios with Daugherty engineering.
It's a new season for The Choir, and a bit freer one at that. Their previous effort, Burning Like the Midnight Sun, was well received by critics, but accolades and a loyal fan base never paid the bills for this band. Now they play for the love of it, and the freedom they're finding is opening up new creative vistas.
The new songs include themes of vulnerability and the idea that life doesn't always make sense. What led to this lyrical approach?
The more I unlearn and "un-know" divinity, the more real God becomes to me. But my perception of him remains faint. I used to think I had a lot figured out about theology; that was arrogant, since our capacity to comprehend invisible realities is limited. Biblical scholars, both devout and cynical, have argued divisively for centuries and will never agree. In the end, proud religion is delusion, continuously motivated by a desire for power and control. So it seems to me that divine mystery should be embraced instead.
How have your views changed since making Burning Like the Midnight Sun, and how do they play out in your writing?
I've been alcohol dependent most of my adult life—more than 20 years—and I went to my first AA meeting in late February of last year. So I'm still a relative newcomer. The guys I meet with are mostly well-worn biker types, and I've heard a lot of miraculous redemption stories. Recovery groups refer to "the God of my understanding." My understanding? Who "understands" God, anyway? Even in the afterlife—which I hesitate to imagine—I don't suppose all will be revealed, even in the glow of our Savior's face. I anticipate instead an eternity of astonishing discovery. So I've been learning to keep things simpler when it comes to my faith.
What led you to begin attending meetings?
Although I was highly functional, at a certain point I felt that the consequences would be too great, and I knew I had to make a change—and it's been one of the best years of my life. I've had clarity of mind and thought, I'm much better physically, and it's been great for my family, too.
How did things go at first, and where are you now with sobriety?
It's true that the hardest thing is admitting you have a problem—and there's a big difference between being sober and being a dry drunk. So my first 30 days were pretty shaky, but it got exponentially better over time. The key ingredient is humility. It's so important—being humble and honest, with myself and with other people. Now it's a day-by-day thing—you have to ask God for help, and I truly need his help every day. Conscious contact with God, an ongoing relationship—this is the way I intend to live.
Elaborate on how this has affected your relationship with God.
I can honestly say that God has become more real to me over this last year—and I've been seeking God all my life. AA is very spiritual—we talk about God constantly. At first I immediately tried to make things very complicated with God, but I was amazed at how simple the program is—and I learned to keep things simple with God, too. Now I have a lot more hope.
When I pray, "Lord, take away my desire to drink tonight," he does. And when I ask him to help me to be less judgmental and more merciful to a particular individual in my life—well, he's been doing that, too. I'm learning to love. I'm so grateful! The lyrics on The Loudest Sound Ever Heard are reflective of this hopeful, spiritual journey.
I'm always reading books and trying to sort things out; I want to believe only what is true. And I've often wished to be disassociated with Christianity as a collective group, especially during political seasons like we're in currently. At times, as a result of my disillusionment, I've avoided eye contact with God. That's sad and does me no good. I need to remain in conscious contact with him. Right here, right now, I am trusting that he is intimately close and caring.
In the new song, "Learning to Fly," you say, "I'm not gonna cry for the fallen world." That could be viewed as a harsh perspective.
No, that's not what I mean. It's about accepting the things we can't control and focusing on what's most important in life—the reason we are here, which is to love. That is the pervasive message Jesus taught and exemplified, and he said, "Follow me."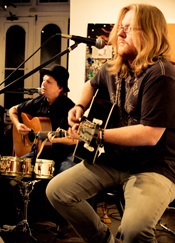 When the tsunami hit Japan last year, I recalled learning of a volcano eruption that killed 40,000 Indonesians in 1883. According to scientists, that explosion of Krakatoa is considered "the loudest sound ever heard" in history. These sorts of catastrophic disasters are reminders of our mortality and vulnerability. When I lived in California, earthquakes were the eminent threat. Here in Tennessee, it's a tornado that could hurl me into the stratosphere tomorrow. So we ought to be ever mindful that every breath we breathe is a gift. Let's turn on the lights and live honestly. Let's make amends to the ones we've hurt. Let's love to the fullest each day.
In "Melodious," the line "how come we never win" seems pregnant with meaning. Can you unpack that?
Life has a way of humbling us all, doesn't it? We've all experienced plenty of disappointment and failure. Things just rarely go how we feel they ought to. When my wife read that line, she laughed out loud, which pleased me. If you can laugh, you may as well. And to quote myself from another old song, "There's something funny about a lot of sad things."
When Chase the Kangaroo was released in 1988, you mentioned a feeling of "this might be the last album." Does that feeling persist, all these years later?
Yeah, well, way back then we did think that was our last album! And in a sense, we have approached every album with the mindset that it might be our last. But after 14 albums, I'm not gonna say that any more. It's just too much fun making music together, and I think we're starting to get the hang of it! And most sincerely, we will be forever thankful for a few faithful friends out there who have carried our songs in their hearts for decades and are eager to listen closely to ten more offerings. I have no idea when we'll make another one, but—aside from a tornado or some such disaster—why in the world wouldn't we?
Copyright © 2012 Christianity Today. Click for reprint information.
Have something to add about this? See something we missed? Share your feedback here.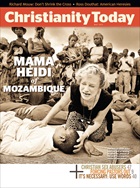 This article is from the May 2012 issue.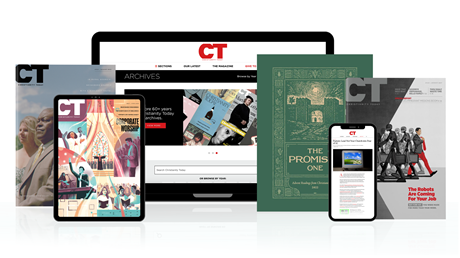 Annual & Monthly subscriptions available.
Print & Digital Issues of CT magazine
Complete access to every article on ChristianityToday.com
Unlimited access to 65+ years of CT's online archives
Member-only special issues
Subscribe
The Choir's Steve Hindalong: Celebrating Sobriety
The Choir's Steve Hindalong: Celebrating Sobriety