true
A decade ago, Sarah Macintosh essentially ran away from the Christian music industry, putting as much distance between herself and Nashville as possible—fleeing all the way to California. Her band, Chasing Furies, had been with Sparrow Records, and despite critical acclaim, they never took off. Discouraged and confused, she asked Sparrow to release her from their contract, and the label graciously agreed.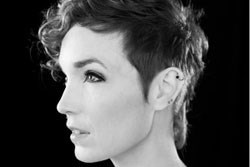 Fast forward to the present—or, more precisely, the Current, the title of the new album that Macintosh releases today. And now, catch the irony: She's back in Nashville, and even back on a CCM label—this time, Integrity Music, known for their worship catalogue. Macintosh is the first to grasp the irony: "It's crazy, isn't it?"
We recently chatted with Macintosh, 35, about her journey—what got her from here to there and back again, as Bilbo Baggins might have said—her new album, and some of the inspiration behind it.
When Chasing Furies didn't pan out, that must have been frustrating.
Yeah. When we signed with Sparrow, we didn't know anything about the Christian music industry, so it never even entered our minds that we might not be accepted. I thought as long as you were a Christian, it would totally just be accepted. But after a few months in, we could tell that it wasn't going well. It was hard work, on the road over 250 days out of the year, working and touring and trying to get some kind of traction.
So what happened next?
I was confused, a bit sad and maybe a bit disillusioned. I sat down with [Sparrow chief] Peter York and said, "I feel like I don't belong in Christian music. Would you allow me to leave Sparrow?" And he totally understood. Sparrow was kind of reeling at the time, because they had artists like Luna Halo and Earthsuit, really good bands, that just did not take off like everybody expected them to. He very kindly released me from our contract.
My husband and I put our house on the market in Nashville; we were going to move to California. But a few days later, I got a voicemail from Michael W. Smith asking me to join him on his Worship Again tour, singing and playing acoustic guitar. I jumped on board, and I don't think that there was a better thing I could have done before leaving Nashville, being on tour with him and worshiping. Then we did a Come Together and Worship tour with Third Day and Max Lucado. It was an awesome year that I got to bask in Christian music at its best and get refreshed. It gave me a better perspective on the whole Christian music scene. We ended up moving to San Diego, but it definitely wasn't with a bad taste in my mouth like it had been.
You did a few solo albums while in San Diego. And even your new one, Current, was done solo before Integrity signed you, right?
Yes. I even released it independently last year. But the whole time, Integrity has been speaking with me, wanting to jump on board with this CD, because they love where I'm going with it musically and what I'm trying to say. They didn't come back to me and say, "We want to sign you, but we'd like to drop these three songs, add three more songs that will be radio friendly, and then, oh by the way, we want to have it all remixed and re-mastered." They took it as it is and basically just put their name on the back. That's really encouraging because it shows me that they believe in my vision for this album and they support me as an artist. So I was more than thrilled to be able to lock arms with them and do this together.
You wrote in a recent blog post that while you were in California, you wrote a lot of depressing songs. What was that all about?
I had been wrestling with a lot of things—hard, life things. As a songwriter, I want to be able to express to the Lord everything, and a lot of times there's songs that are dark and questioning, like "Why?" And, "Oh, this hurts."
Fortunately there's none of that in the Bible!
Exactly! (laughing) I'm a Christian, so everything that comes out of me is from that lens. And although I don't think that there's anything bad in those songs, I don't think there's anything that other people would need out of those songs, so most of them, I've kept to myself. But there are songs of lament on this new record about pain. One, called "The Damaged," people are definitely identifying with it. It was sparked by seeing a woman from a third world country with a broken arm that's barely useable anymore, only because she couldn't get the treatment she needed. It made me think that often people have these huge trials, and they never realize that they have the ability to get that broken thing reset. As a Christian, I can cry out to a Savior and say, "Don't let me be broken. Don't let me be damaged by these things that are pulling so heavily on me." So I put all of those thoughts into a song, and people are grabbing hold of it.
Is that song in any way autobiographical?
Yes. I have had some things in my life these past 5-6 years where I thought, I don't know how you recover from something like this. I don't even know how you get up out of bed from something like this. You know?
What can you share about that?
My husband and I waited a long time to try to get pregnant and start a family, and by then, there was something wrong with my body making it nearly impossible for me to get pregnant. We dealt with that for more than three years of nothing working, and starting to deal with the heartbreak of it possibly not ever working. There was some really expensive testing that we could have done, but we finally decided, "Okay, let's try not to worry about this anymore." I had booked a whole year of touring, and we just decided to hit the road—and maybe save up our money for that expensive procedure.
Well, a month later I got pregnant, and we had our daughter Scarlett. She is just the most amazing child. When she turned one year old, the doctor said we should start trying again right away, that we had to be really aggressive because we didn't know if I could have any more children. And we haven't been able to since.
So I remember one day, it was raining outside and dreary, and I was so heartbroken at the thought of not being able to have any more children, and at the thought of my daughter not being able to have any siblings. I started thinking about my daughter and the light she is to us, and I ended up writing a song called "Laughter Comes Upon Us." I just imagined my Savior, when we are bursting with anguish or grief or heartache, I imagined him tucking me right up in and drawing near to me in that moment. And I thought of my daughter, and I imagined her being like lightning; a lyric in the song says, "Laughter comes upon us like it's lightning / Striking without wind or cloud or change / I knew that if I'm with Him it'd be this way / Because promises are promises to Him." So, the Savior gave us this daughter out of nowhere; she burst on the scene, this joy.
Well, maybe it will happen again.
Exactly. And we just might want to adopt some day. That's definitely an option. But no matter what, this album reflects that there are the moments in life where it is okay to weep, but then to not get stuck in those weeping moments and be glad that he does make all things right. We can have joy and weeping, and be held by a Savior in both moments.
Have something to add about this? See something we missed? Share your feedback here.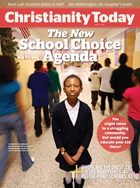 This article is from the April 2012 issue.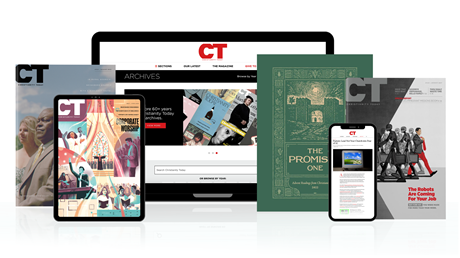 Annual & Monthly subscriptions available.
Print & Digital Issues of CT magazine
Complete access to every article on ChristianityToday.com
Unlimited access to 65+ years of CT's online archives
Member-only special issues
Subscribe
Interview: Why Sarah Macintosh Ran Away from CCM and Went Back
Interview: Why Sarah Macintosh Ran Away from CCM and Went Back