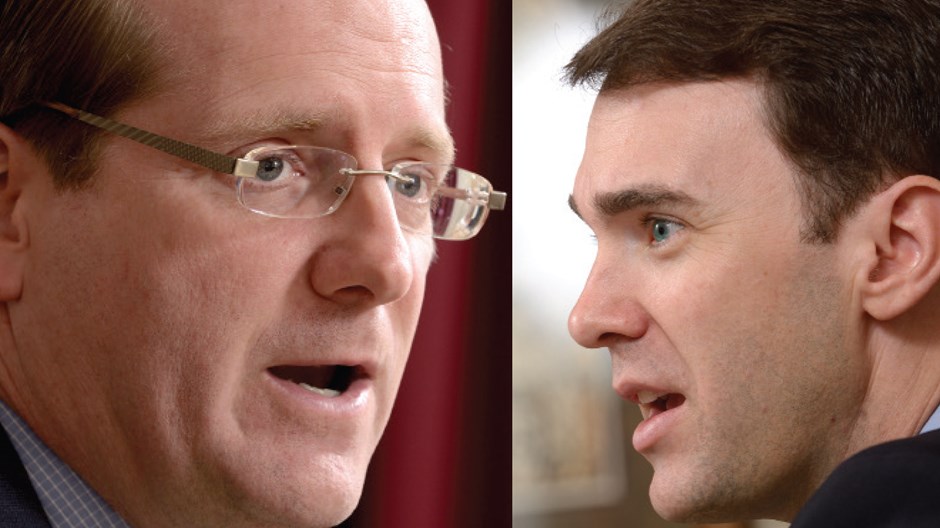 Image: William Koechling
Traditional higher education is passing through troubled waters.
Overall, college costs continue to rise. Though more financial aid is available, more students than ever are seeking aid. And the interest rate on subsidized college loans will increase unless Congress acts by July. Less expensive, web-based instruction poses stiff competition to the classic four-year residential model. Many schools are ill-prepared for the so-called "browning of America," in which Hispanic and Asian student populations continue to outpace the Anglo population's much slower growth.
Evangelical colleges face additional challenges for their staunch commitment to biblical teaching on human sexuality, human origins, and the authority of Scripture. Christianity Today invited two new college presidents, Philip Ryken (Wheaton College in Wheaton, Illinois, 2010) and D. Michael Lindsay (Gordon College in Wenham, Massachusetts, 2011) to discuss these and other issues. CT's deputy managing editor Timothy C. Morgan recently interviewed them together on Wheaton's campus.
There is much doom and gloom about the future of higher education. Some argue it's simply too expensive. Others argue that Christian higher education can't compete with its secular counterparts. How do you respond?
Lindsay: I find it astonishing that people are questioning the value of Christian higher education. If I have to put my finger on the defining difference between what we offer and what our peers at [secular] institutions offer, there is something about the level of commitment that emerges from shared faith between faculty and staff and students. It's qualitatively different.
Ryken: A lot of the learning takes place beyond the curriculum. What excites me is the opportunity for young men and women to be on an entire campus full of peers who are very interested in growing intellectually, are serious about their Christian discipleship, and are deeply desirous of strong community relationships. It's a transformational experience that you may or may not get at other kinds of colleges.
Imagine a scenario with me: A student's parent says, "I'm sending my child to your college to stay out of trouble, find a spouse, graduate, get a great job somewhere, settle down, and start a family." Isn't that the American dream?
Lindsay: Those are important components of a whole life, surely. If that's all you're looking for in a college experience, then I don't think it's worth the investment. What we want is to enliven the minds of young people who have a chance to change the world. I did research on senior leaders. Over half of them had a liberal arts degree. Over half the leaders I interviewed cited the vital importance of a mentor during college.
Ryken: Our parents' deepest desire is for their sons and daughters to become the men and women God is calling them to become. If you look at what enables young people to sustain a consistent faith in Christ into adulthood, two of the factors are living in a like-minded community that really encourages them to follow this Savior, and having mentors who show them how to live the kind of life they're called to live.
Should the main goal of Christian higher education be spiritual formation or academic achievement?
Ryken: I don't want to dichotomize those. At Wheaton, we're trying to produce whole and effective Christians. What we mean by "whole" is not somebody who hasn't experienced brokenness and doesn't sense a need for God's grace, but whole in the sense of a complete person.
Lindsay: I didn't separate it out when I was teaching at Rice. I saw the moral formation of my students as fundamental to what I was trying to do in the academic classroom. The benefit [in a Christian college] is that you have institutional support to be able to do it. That's why students at Christian colleges and universities are more loyal to their alma mater. They've been more deeply shaped than those at secular schools.
Is a Christian college for everyone?
Ryken: No, if you look in the Scriptures, you see some notable leaders of the people of God who had part of their formative experiences in very secular environments. Yet it would be my view that probably every Christian high-school student who's thinking about going to college ought to be seriously considering a Christian college or university.
Lindsay: I can't imagine making an informed college choice if I'm a committed Christian without at least seriously considering the quality of what we have in Christian institutions of higher learning. Realize that the majority of what happens on college campuses today is so bad, at least in terms of student life, you can't print it in Christianity Today. The work hard, play hard mindset in American higher education has had corrosive effects on students.
In the early 1990s, Mark Noll's The Scandal of the Evangelical Mind challenged traditional paradigms. Is there still a scandal?
Ryken: That book actually presents a double scandal. The part that people mainly remember is that there isn't much of an evangelical mind. But the other scandal is the scandal that Christ himself causes in society when he is exalted and lifted up. I hope that scandal is still with us. In terms of the academic quality of our institutions, we can still aspire to grow. An issue for us is wrestling with the temptation to pursue the approval of secular guilds in academia—the temptation to pursue that success in ways that maybe won't be conducive to Christian discipleship.
Lindsay: I talked with Noll while I was writing my book. He said that if he were to write that book today, it would be more irenic, more hopeful. There's a new horizon. Churches today talk about engaging the culture. There is no institution that does that more faithfully or more successfully than Christian colleges. It's what we do day in and day out. We can actually serve an important function in the church—showing how Christ relates to culture. Christian colleges are at the tip of the spear.
What do you see as the most significant theological issue that you, as president, are facing at the moment?
Ryken: You could go down the list in Wheaton College's Statement of Faith and say, "There are challenges in all of these areas." Three of the biggest challenges that I perceive are:
• Human sexuality and a Christian understanding of marriage and sexual behavior.
• Human origins as it relates particularly to the historicity of Adam and Eve, but more generally questions related to Christianity and evolution, creation and evolution.
• Not losing our zeal for evangelism, particularly for proclaming the gospel in words as well as witnessing to the gospel in deeds.
Lindsay: The theological issue that we're grappling with is cultural pluralism—what's the appropriate response for us as a Christian community to those outside the Christian community. We're going to have more pressure to accommodate on some issues and uphold positions in others. There's not clear agreement within our own community on how to best do that.
There's always been a desire on behalf of some for institutional leaders to draw the borders and defend the borders. Do you feel that pressure?
Lindsay: I don't feel the need to police the boundaries. I do feel pressure for us to articulate our distinctives in a way that is compelling yet winsome. The things that most people associate with Christian higher education is what we are known to be against, not what we are for. Having an identity based upon negation as opposed to affirmation is something that I want to change. Both Wheaton and Gordon care about the arts. That represents an area where we can be affirming.
'The college presidency is perhaps the prototype for the way leader-ship gets exercised ?in our society today.'—D. Michael Lindsay
Ryken: We strengthen the center of our evangelical commitment more by what we are for than simply by what we are against. I do feel more definitional pressure, and that may be the role that Wheaton has had in the evangelical community. Most of my time is spent not policing boundaries but articulating vision and strengthening convictions. Evangelical Christianity is not so much a bounded set as an overlapping set or a shared set.
Do you as presidents believe that helping to establish Christian unity is part of your calling?
Lindsay: Sometimes the Christian community is the worst about working together. Nothing has the ability to draw a movement together like a common enemy. Some of the cultural challenges that Christian institutions are going to face are going to demand that we work together. Outside challenges have a tremendous way of unifying the community.
Ryken: This is a question people had for me coming to Wheaton because my Reformed and Presbyterian convictions are well known. I was living those out in a confessional context as a pastor of a local church. But I was also raised on the campus of Wheaton College. I celebrate the evangelical diversity we have on this campus. Wheaton self-identifies as an evangelical Protestant institution. We're not trying to be the entire body of Christ, but we come out of this evangelical Protestant tradition that has roots in the Reformation. Within that context, the connections that we have with Roman Catholics are significant. We have common cause in those issues that affect even our ability to function as Christian institutions. On a campus like Wheaton, we read Catholic authors in the same way we would want to read evangelical authors—sympathetically but also critically, testing things according to Scripture.
There is new dialogue between Mormons and evangelicals and between Muslims and evangelicals. Is your institution joining in or opting out?
Lindsay: We have to be in conversation with people who don't agree with us. There is no other way for us to be part of the wider intellectual milieu. What we hope to do is help our students embody the ideal of how John describes Jesus as being full of both grace and truth. John was a careful enough writer that I think the order of those words matters. People came to know the grace of Jesus before they necessarily knew the full truth. The temptation, however, is for that conversation to begin to modify your identity.
Ryken: There's a certain kind of conversation that is really about covering up important distinctions in order to make a connection. But there's another kind of conversation that I think really respects people more. That is to say, "Here are the things where I think we disagree, and here's why this is important to me. Now, what do you think?" People really desire conversation where you're honest about differences.
Is there too much distance between the Christian college and the local church?
Lindsay: There's more distance than I like. I want us to be working on a shared commitment to being a leavening influence on our society, and working to develop fully committed Christ-followers.
Ryken: To me, it's just obvious that Christian colleges and universities have a very significant role to play for the future of Christianity in America. We really need to make that case persuasively so that people understand. If I could borrow one of Michael's phrases, "convening power," we have found that Wheaton College probably has more convening power for local church leaders than any single congregation or denomination. There's a real hunger for evangelical leaders to be together, but not always a context in which they can.
Is your school doing enough to address the needs of Asian and Hispanic Christians?
Lindsay: We're not doing enough. The browning of America is going to be significantly felt in American evangelicalism because both of those populations are more religiously committed than their white counterparts. We've created campuses that are more open and more welcoming of students of underrepresented groups than we ever have in the history of Christian higher education. But you have to be very intentional.
'We strengthen the center of our evangelical commitment more by what we are for than simply by what we are against.'— Philip Ryken
Ryken: I agree. Wheaton College would be an interesting example. When I look at it half-full, I compare barely a handful of students of color on campus when I was here in the mid-1980s, to nearly 400 students of color on campus now. That's required a lot of intentionality. We've done better with our student body and our staff than we have with our faculty. We want to have relationships that live out what it means to work, play, worship, and study together with a full expression of what it means to belong to the kingdom of God.
Notions of leadership have changed over the years. How do you talk about leadership?
Lindsay: The college presidency is perhaps the prototype for the way leadership gets exercised in our society today. The notion that somebody can issue a directive that everyone follows, if that ever was true, is certainly not true today. It is especially not true on college campuses. Persuasion is the coin of the realm in leadership. This is the ability to persuade other folks to catch a vision that you articulate and to mobilize energy and resources behind that. The college presidency has to do that day in and day out.
Ryken: The president is the living embodiment of the ideals of the institution. When I came to Wheaton, the first thing the letter of covenant with the college from the board of trustees says is: "We have not provided you with a job description because we believe that you already understand what the job entails." I laughed out loud when I saw that. Who has any idea of what the job entails? You have to get in and figure out how to do it.
For me, the paradigm for spiritual leadership is the three-fold office of Christ, which has a priestly dimension of prayer and of living with the people carrying their burdens. It has a prophetic dimension of not just speaking to the future (although that's part of it), but also discerning the present moment and speaking God's truth into that moment. It has a kingly dimension because there's an appropriate exercise of authority. The leadership calling is multidimensional. It, in some way, is patterned after the life of Christ and his leadership.
Timothy C. Morgan is CT's deputy managing editor. He is an alumnus of Gordon College and is the coordinator for the new Journalism Certificate program at Wheaton College.
Related Elsewhere:
Christianity Today's March issue looks at the challenges facing Christian higher education:
The Missing Factor in Higher Education | How Christian universities are unique, and how they can stay that way.
Article continues below
Little Colleges That Could | How five small Christian schools are adapting to the new environment.
Previous CT coverage of education includes:
A Private Matter: Vanderbilt Vets Student Ministries | Campus ministries need different defenses. (December 15, 2011)
Education Is in Our DNA | We should support every effort to upgrade our failing schools. (December 13, 2011)
School Choice Programs Snowball | Forty-one states introduce or pass new programs. (November 14, 2011)
The Lasting Effects of Your School | A new survey found that Christian schooling makes a difference—and that different kinds of Christian education produce different results among their graduates. (August 29, 2011)
Have something to add about this? See something we missed? Share your feedback here.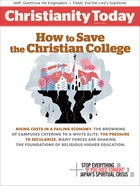 This article is from the March 2012 issue.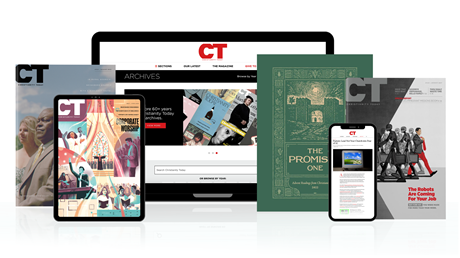 Annual & Monthly subscriptions available.
Print & Digital Issues of CT magazine
Complete access to every article on ChristianityToday.com
Unlimited access to 65+ years of CT's online archives
Member-only special issues
Subscribe
Sailing into the Storm: Philip Ryken and D. Michael Lindsay on the Challenges in Christian Higher Education
Sailing into the Storm: Philip Ryken and D. ...