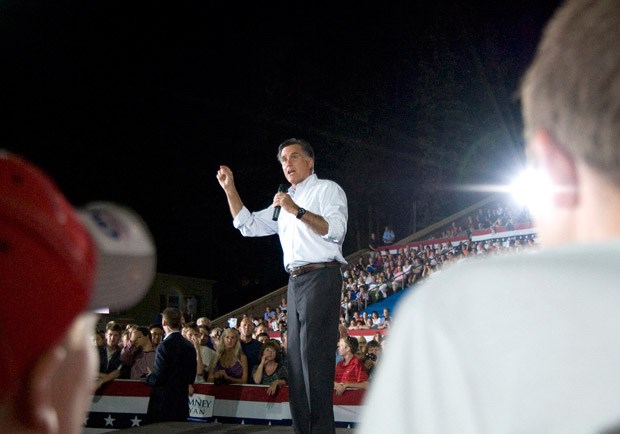 According to exit polls, evangelicals voted 4-to-1 for Mitt Romney over Barack Obama. That was one of the few religion stories coming out of election night. It was significant in that it was the strongest electoral unity among evangelicals on record.
But questions have remained: Did evangelicals really want to vote for Romney? Were they enthusiastic about the Republican candidate? Or did they vote reluctantly, concerned over Romney's Mormon faith and other issues? Were their votes for him mostly motivated by dislike for Obama?
A new analysis of exit poll data, released today by the Pew Research Center, suggests that not only were evangelicals enthusiastic about Romney, but they were as enthusiastic about his candidacy as they were about John McCain's run in 2008 and George W. Bush's reelection in 2004.
Meanwhile, another poll, released this week by The Barna Group, found slightly less evangelical support for Romney than for McCain or Bush—but found that Romney's Mormonism was not a significant issue for their vote.
They liked him. They really liked him.
According to the Pew Forum's exit poll analysis, 62 percent of evangelicals who voted for Romney said they did so because they strongly favored him. That's a slightly higher percentage than Romney voters overall (60%). And it's more than twice the number of evangelicals who said they voted for Romney "with reservations" (28%, same as Romney supporters overall). Only 9 percent of evangelicals said they voted for Romney as a vote against Obama—slightly lower than the 10 percent of Romney voters overall who said so, but well within the poll's margin of error.
Catholic Romney voters were slightly more enthusiastic (67% strongly favored), and Mormon Romney voters were predictably wild about voting for a fellow believer (84%—which was still lower than the 87% of Black Protestant Obama voters who said they strongly favored their candidate). But overall, the data suggests that evangelical Romney voters were just as supportive as other Romney voters.
Strong support was similar among evangelicals who supported Obama. The 63 percent of evangelical Obama voters who said they cast their vote because they "strongly favor[ed] my candidate" is nearly identical to the 62 percent of evangelical Romney voters who gave that answer. But a significantly higher percentage of evangelical Obama voters—15 percent—said their vote was driven by "dislike of the other candidates." And a slightly smaller percentage (24%) said they voted for Obama because they "liked [him], with reservations."
The Pew Forum report says that another indicator of solid evangelical support for Romney is that evangelicals turned out as much as they did in 2008 and 2004. "There are signs that both the white Protestant and white Catholic share of the electorate have been gradually declining over the past decade, but white evangelical Protestants' share of the national electorate is roughly the same over the past three elections," the research center said in its report today. "There is no clear pattern of either a decline in the white evangelical Protestant share of the electorate across states or a smaller vote margin for the GOP candidate relative to 2008 or 2004."
'Lowest level of support since Dole'
A Barna Group survey released Wednesday found that 81 percent of evangelicals voted for Romney over Obama. In one sense, that's hardly news—it's nearly identical to the exit poll data (which said 79% of evangelicals did so).
What makes the Barna number remarkable however, is that figure's consistency given how different its count of evangelicals is from exit poll. The exit polls simply asked respondents if they identify as Protestants, and if they identify as evangelical or born-again. About one in four voters say yes. (It was 23% in 2012 and 2008; 21% in 2004.)
But Barna polls don't ask respondents if they consider themselves born-again or evangelical. Rather, the group asks a series of questions about spiritual experience and belief. "Born again" respondents said they "personal commitment to Jesus Christ that is still important in their life today" and think they'll go to heaven because they confessed their sins and accepted Jesus Christ as their savior. "Evangelicals" are "born again" Christians who hold orthodox views on the, evangelism, Satan, salvation, Jesus' sinlessness, the Bible, and the sovereignty of God. That's only about 7 percent of Americans. (To geek out on the different ways studies measure evangelicals, read this.)
So the usual problem when you say that a certain percent of evangelicals did something or believe something is that the first question is always, "What do you mean by evangelical?" For the 2012 election, at least, that problem is moot. However you slice them or count them, about 80 percent of evangelicals voted for Romney.
The interesting differences emerge when you start comparing previous years. While the exit poll data shows evangelical support for Republican presidential candidates generally climbing, Barna says Romney actually got a smaller percentage of the evangelical vote than earlier candidates.
"As expansive as [Romney's] support was, the 81% represented the lowest level of evangelical backing for a Republican candidate since Bob Dole garnered just 74% of the evangelical vote in his 1996 loss to Bill Clinton," the Barna report said. "It also represents a seven-point decline from the proportion awarded to John McCain in 2008."
According to Barna, the big jump in Republican support came from born again Christians who are not evangelical—from 51 percent in 2008 to 56 percent in 2012. In 1996, the Barna Group notes, this segment of voters favored Clinton over Dole by four percentage points.
So if you add together all born again Christians in the Barna survey, regardless of whether they hold traditionally evangelical beliefs, you do see a modest rise in Republican support—from 57 percent in 2008 to 60 percent in 2012. But that's still lower than the 62% of born-again Christian support George Bush received in 2004.
Barna's Wednesday report gave several insights into why evangelicals voted as they did:
Evangelicals were the religious group least likely to say the voted as they did because they "always vote for the presidential candidate that represents my party." (Only 17% of evangelicals said this, compared to 24% of voters overall.) And they were the least likely to say that the voted based on "the character and personality of the candidates [rather] than on their positions on the issues." (26% of evangelicals said this, compared to 30% overall.)
Significantly, evangelicals were also less likely than other Christians to say that Romney's Mormonism negatively affected their desire to vote for him. Only 10 percent of evangelicals said this, compared to 14 percent of non-evangelicals and voters overall.
Friday evening, the Barna Group provided additional data to Christianity Today. As in the Pew analysis of exit poll data, Barna found that evangelicals who voted for Romney were less likely than other voters to have done so because they disliked the other candidate. (10% vs. 11% of voters overall). They were considerably more likely than other voters to have based their decision on the candidates' positions on the economy (25% vs. 22% overall). They were also twice as likely as voters overall to have made their decision based on moral issues like gay marriage and abortion. But even here the numbers were less than one might expect: Only 14 percent of evangelicals who voted for Romney gave this as the reason they chose their candidate.
Not the last word
While most Americans are probably eager to leave the long 2012 campaign behind, this week's reports probably aren't the last analysis we'll hear of how and why evangelicals voted on November 6. For example, John Green, one of the leading scholars of religion and voting behavior, is conducting post-election interviews with voters he interviewed before the election. That data will be released in a few weeks.
This article has been updated since its initial posting to include additional data provided to CT by The Barna Group.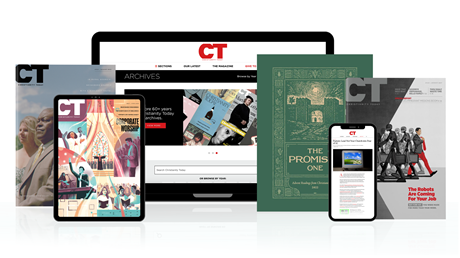 Annual & Monthly subscriptions available.
Print & Digital Issues of CT magazine
Complete access to every article on ChristianityToday.com
Unlimited access to 65+ years of CT's online archives
Member-only special issues
Subscribe
Actually, Evangelicals Were Quite Enthusiastic About Romney
Actually, Evangelicals Were Quite Enthusiastic About Romney