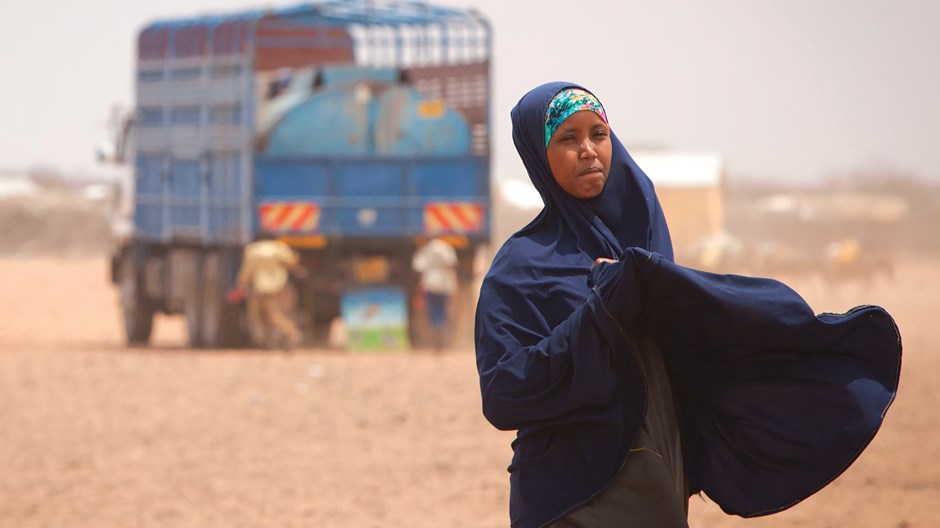 Image: Courtesy of Samaritan's Purse
"You can blame droughts on God, but famines are manmade. This shouldn't be happening."
So said humanitarian rock star Bono in a recent interview with CNN's Anderson Cooper on the current crisis in the Horn of Africa. More than 30,000 children under age 5 have died in the famine in the past four months, and another 12 million people are at risk of starvation. The number of dead was expected to increase significantly as this edition of Christianity Today went to press.
As Bono and other activists have pointed out, solutions are possible. "Since famine is manmade, it can be undone by human activity and human intervention," said former senator William Frist, who recently visited the area as part of a U.S. delegation. Scientists, politicians, and aid organizations knew up to 18 months ago that the drought—Africa's worst in 60 years—was coming, but lacked the resources and access to avert the famine that would almost certainly accompany it. Preemptive aid, including food, water, medical supplies, and agricultural assistance, prepared millions of Kenyans and Ethiopians to survive. But millions more in war-torn Somalia never received such help, and many are still unreachable due to fighting and factions, particularly where the Islamist militant group Al-Shabaab is active. As a result, hundreds of thousands have poured out of the country into refugee camps in neighboring Kenya and Ethiopia.
The U.S. federal government has sent more than $580 million, but with a debt crisis and a Congress looking to cut spending, it is calling on the private sector, particularly the faith-based community, to step up. (By comparison, the government sent about $1 billion to the Horn of Africa during a 2008 drought that was significantly less severe than this one. It sent $908 million in aid after the 2004 tsunami in East Asia, and $2.9 billion after the 2010 Haiti earthquake. The United Nations estimates that another $1.4 billion is needed for emergency care in Africa right now.)
Jill Biden, wife of Vice President Biden, recently visited refugee camps in Dadaab, Kenya, calling the famine "a moral crisis and humanitarian crisis of the first order." She met one Somali mother of two young children who "had to make the wrenching choice" to leave one child behind to die on the road when she could no longer carry both.
'We Can Do Something'
"The good news is we can do something," Biden said. "We saw firsthand the difference that aid is making."
Many faith-based NGOS are freely doing their work in Kenya and Ethiopia, but most of Somalia presents a security risk—especially in south-central regions where Al-Shabaab is most active. In a recent 58-page report, Human Rights Watch (HRW) said the militant group "has violated international humanitarian law by prohibiting food aid to many areas under its control. It has banned about 20 humanitarian organizations, whom it accuses of pursuing religious or ideological motives." The UN World Food Programme also reported that food is often stolen, then sold at markets near the starving people it was intended for.
Christian aid organizations, which Al-Shabaab calls "infidels," are particularly at risk, according to HRW. Al-Shabaab spokesman Ali Mohamud Rage recently told Al Jazeera that it will continue to ban most foreign aid, and went so far as to deny any problem. Rage said there is merely a "shortage of rain" and that "the declaration of famine is political and is a lie with hidden agendas."
World Vision has teams in Kenya, Ethiopia, and regions of Somalia where it has "earned the trust of the communities" through years of working there, said Nathaniel Hurd, policy adviser for conflicts and disasters. "Because we're impartial and independent and make it clear that we're there to serve, we are often able to work in places where there is conflict."
Raj Shah, the administrator of USAID, said the government relies on faith-based organizations in the area to help them get aid to those who need it most. "They've always been the first responders and the type of institutions that build the deep, longstanding, trust-based commitments with communities at risk."
Food for the Hungry, working in drought-affected communities in Ethiopia, is providing food packages for 91,810 individuals with the help of USAID and Canadian Food Grains Bank, but said it needs an additional $122,000 to sustain the program through the end of 2011. Ato Abuta, 35, one of the recipients of the food, told the nonprofit, "My little children cry out at night because they go hungry to bed. I am only able to feed them by borrowing money from neighbors to purchase food. I will have to pay them back 10 percent interest after my harvest." But with the drought, there may be no harvest.
Samaritan's Purse has a team in Garissa, Kenya, near the Somali border, where volunteers are distributing maize, beans, corn-soy blend, cooking oil, and other necessities. One staff member reports dead animals all along the road, a sign of loss of livestock, which is devastating for villages. A Christian Aid worker met a man who had 3,000 cattle before the drought began; he now has 30, and most are too weak to walk.
Somali Americans Help Out
Shah said U.S. officials have been "active" in Minnesota (home to 60,000 Somali refugees) and other Somali communities in the United States, "seeking relationships and access and ideas." "We have found these to be incredibly valuable relationships in helping things to get done," added Assistant Secretary of State Eric Schwartz.
The loss of livestock is devastating for villages. A Christian Aid worker met a man who had 3,000 cattle before the drought began; he now has 30, and most are too weak to walk.
One of those engagements has resulted in a pledge of at least 5 million meals from Feed My Starving Children (FMSC), a Christian hunger relief charity that distributes nutritionally complete meals in almost 70 countries. A Somali leader in Minneapolis approached the nonprofit about packing meals for relatives who operate 15 feeding centers in southern Somalia and were running out of resources. Sultan Warsame Aliyoow, the local leader, is asking area Somalis to donate and pack meals at the FMSC center in Minneapolis. The first shipment of 272,000 meals arrived in Hargeisa, Somalia, in late July, and another 1.4 million were shipped by the end of August, en route to the goal of 5 million.
"We feel a particular connection to this crisis because our Twin Cities headquarters are located near the largest Somali community outside of Somalia itself," said Mark Crea, executive director of FMSC.
Tony Hall, executive director of the Alliance to End Hunger and former U.S. ambassador to the World Food Programme, told CT that he's encouraged by efforts by the Christian community but that more needs to be done.
"There are a lot of [Christian] organizations there and they're really helping these people," said Hall, who visited Kenyan refugee camps in mid-August. "They're feeding them. Kids are being treated. People are getting clean water. There's hope on the ground. But it's hard to keep up. More than 1,500 people a day are fleeing Somalia, so the need keeps growing. But once they reach the refugee camps, they are getting help."
Mark Moring is senior associate editor for Christianity Today. To find out how to help, go to ChristianityToday.com/go/HornofAfrica.
Related Elsewhere:
For the latest information about the crisis in the Horn of Africa, visit BBC News and The New York Times.
Previous CT coverage of world hunger and drought in the Horn of Africa includes:
Famine in East Africa: Who Cares? | Several Christian NGOs are on the move, provided they can get the appropriate funds. (August 19, 2011)
Polling Evangelicals: Cut Aid to World's Poor, Unemployed | A Pew Research Center survey suggests evangelicals prefer the government spend on schools, the military, and police. (February 18, 2011)
Hunger Isn't History | The world produces more food than ever. So why do nearly a billion people still not have enough to eat? (November 7, 2008)
Have something to add about this? See something we missed? Share your feedback here.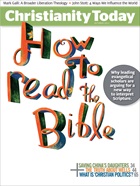 This article is from the October 2011 issue.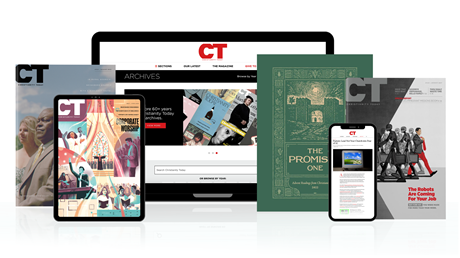 Annual & Monthly subscriptions available.
Print & Digital Issues of CT magazine
Complete access to every article on ChristianityToday.com
Unlimited access to 65+ years of CT's online archives
Member-only special issues
Subscribe
Undoing the Famine Damage
Undoing the Famine Damage