And when the sixth hour had come, there was darkness over the whole land until the ninth hour. And at the ninth hour Jesus cried with a loud voice, "Eloi, Eloi, lema sabachthani?" which means, "My God, my God, why have you forsaken me?" —Mark 15:33-34, ESV
Here Jesus speaks a word we could have spoken. Not always, not everywhere. But there are times when this word has become our word, words he may have taken right out of our mouths: "My God, my God, why have you forsaken me?"
Sometimes this word remains unspoken, but the sentiment is a steady reality. There is no great anguish. There are no tears. There is just the daily, ongoing experience of God's absence. We don't feel God's presence in prayer or worship, but we still go through the motions. We read the Bible faithfully, but gain no flashes of inspiration. This reality has become such a part of our lives we don't panic. We recognize that extraordinary spiritual experiences are few and far between and that we live in vast stretches of between. We wouldn't quite say we're forsaken, but neither would we say God is a living reality. But at the end of another dreary day of divine absence, when we turn out the bed lamp and lie still in the dark, waiting for sleep to overtake us, we wonder, Why don't I experience God more?
Sometimes the experience of God-forsakenness is much more keen. You are at a place of deep and profound need. You are staring into the face of death. Or your spouse is. Or your child is. Or you've lost a job or are about to lose a marriage. Or you are losing your faith. But whatever the crisis, it is a crisis. My God, you hang on a cross, and it's excruciating, and this would be an awfully good time for God to show up, to prove that your faith is not in vain, that all your efforts have been worth it, that everything you've depended on for meaning and purpose and direction has been true and right and good.
But God is not showing up. There is nothing but silence, and the sounds that make the silence worse, like the wind blowing through the trees, air going nowhere in particular.
What is it with God, the God who promises abundant life, the God who invites all the weary and heavy laden to seek him out for rest? Why does this God sometimes seem to fail us just when the chips are down, just when we need him most? 
Let's not paint an overly dreary picture here. We Christians don't believe tragedy is the last word. Indeed, God does marvelous things in our eyes. He's healed some of cancer. He's restored marriages. He's brought back a prodigal son. His power has helped many stop drinking. Miracles have restored dead faith. Let's not get too gloomy here—God is good! And we have lots of evidence of that not only in the Bible but in our lives. But it's precisely the manifest goodness of God that makes those moments of forsakenness so much harder to bear.
Yet if we would have eyes to see, we'd see that the goodness of God is actually most manifest in these moments of forsakenness.
* * *
Early on in our journey with Jesus, we weak and fickle people need signs and wonders, reminders that God is real, that he is with us and will never forsake us. It's not unusual in these early years to have prayers miraculously answered, and divine guidance given—for life to be an exciting adventure of walking with God.
But at some point, in the middle of the euphoria, we build an idol. God has given us extraordinary experiences of forgiveness, has miraculously answered our prayers, has given us a palpable sense of his presence day by day. But we weak and fickle people inevitably start depending on those experiences to shore up our faith. When a famine of experience ensues, we try to manufacture a sense of divine presence by attending a conference that promises to fill our spiritual tanks, or by flitting from one prayer technique to the next to find that spiritual buzz.
The experience of God's love is a wonderful thing, a divine gift, but like all divine gifts it can be so wonderful that we make it an end in itself. Instead of believing in God, we start believing in prayer. Instead of trusting in God, we believe in the authority of the Bible. Instead of simply basking in the love of family, friends, and church, and returning that love, the very meaning of our lives becomes determined by these relationships. As one of my good Christian friends once put it, he loved his two little girls so much that if anything were to ever happen to them, he didn't know if he'd be able to still believe in God.
Good and holy things can become idols. And when they do, our God will manifest his severe mercy at just those points. Prayer is empty and dry. The Bible seems irrelevant. Family and friends become a burden and trial. The good and holy things that have propped up our faith are pulled away. And we will ask plaintively, My God, my God, why have you forsaken me?
But of course God has not forsaken us. Our idols have forsaken us. Our props, those things that have held up our faith, these have been shown to be what they are: false gods. But, no, God has not forsaken us.
In fact, it is in the very experience of forsakenness that he is revealing himself to us afresh.
* * *
The first part of this revelation does not feel very good (but who told us that when God makes himself known that it would always feel good?). The first part of revelation is God's no to our idols. When our idols are smashed, it feels like our world is smashed. But we must note that the smashing is a mercy, a severe mercy to be sure, but a mercy. Only when our idols are smashed, only when all hope seems lost, will we be given eyes to see and ears to hear our true hope.
Martin Luther put it this way, "Although he is the God of life and salvation and this is his proper work, yet in order to accomplish this, he kills and destroys . … For he kills our will that his may be established in us. He subdues the flesh and its lusts that the spirit and its desires may come to life."
Simeon Zahl, a scholar studying at Cambridge University, says, in a paper entitled "The Spirit and the Cross": "One of the most reliable ways in which the Spirit acts in our lives is through 'negative', cruciform experiences: through suffering, the thwarting of our egos, and the uncomfortable disruption of usual patterns of relating to the world, to each other, and to God."
He notes that we see this sort of activity of the Spirit in John 16:8, where we are told that one of the Spirit's roles is to "convict the world of sin and righteousness and judgment." Zahl adds, "It is the Spirit, too, who led Jesus out into the desert to be starved and tempted (Matthew 4:1; Mark 1:12; Luke 4:1-2). When people have so-called 'desert experiences', where God feels painfully silent or distant or absent, they may well be experiencing the Spirit in that very fact . … Or to put the principle in the most proper theological perspective: Jesus' anointed, Spirit-led path, following his baptism by the Spirit, led him on a direct line to crucifixion and death."
In this severe mercy, there is a part B as well. And it also doesn't feel very good. We often glibly say that we want to be like Jesus. We want our lives to be like his life. We want our values to be shaped by his values. We want our relationship with God to be like his relationship with God. So we pray to be like Jesus. But we're generally blind to the full reality of who Jesus is. We want be shaped by the glorious Jesus. We want to heal the sick and raise the dead; we don't want to feel his grief at the unbelief of Jerusalem. We want to speak eloquent words of wisdom, but we don't want to say to anyone, "Get thee behind me, Satan," or "You brood of hypocrites!" We want to be raised to new life, but go to great lengths to avoid the cross. We want an intimate life with God, but never want to know the experience of being forsaken.
But to share in the life of Jesus means to share in all of his life, and that means to share in his suffering.
Now, I'm about to venture into a deep mystery here. Who can say what Jesus experienced on the cross? What exactly was the nature of this forsakenness that he exclaimed? We know in one sense that Jesus' death, and his forsakenness, was utterly unique, never to be repeated. In his death and his death alone—and in nothing we experience—do we stand secure in our redemption. In him alone was God reconciling the world to himself, not counting our sins. Period.
But if Christ's incarnation—which includes his forsaken crucifixion—is a participation in humanity and thus our participation in him, then all humanity shares in Christ's forsakenness, and to freely share in this forsakenness by faith becomes a way we grow fully into Christ-likeness. Whatever it meant for Jesus, it surely means this much for us: It means to know the abandonment that is the dead fruit of human sin and evil. It means to recognize the incomprehensible distance between us and an infinite and righteous God, to recognize again the terrors of life outside of life in him. It means also to grieve, not unlike Jesus, over our own and our world's hardness of heart ("O Jerusalem, Jerusalem!"). It is indeed a fearsome thing to fall into the hands of the living God, for it means to suffer in ways not unlike the suffering of Jesus.
Again, let's not wax tragic here. This is not the end of the story. Forsakenness would be tragic had Jesus not risen from the grave. We would not have the courage to talk about this sobering reality if it were not Easter. Nor is this the constant refrain of our Christian lives. God is good and will not tempt us with forsakenness beyond our ability to endure.
Still, they come, these times of forsakenness. We are wise to remind ourselves that the cross is indeed part of the story of Jesus, and to the degree we would be like him, it becomes part of our story. You want to be like Jesus? "Okay," says God. "Good for you! Be prepared to know forsakenness!" Because we can know Jesus, can be one with Jesus and the Father, only when we know this.
Gerhard Forde, in his On Being a Theologian of the Cross, says it simply: "It is only through suffering and the cross that sinners can see and come to know God."
That's why Paul says what can seem so absurd:
For Christ's sake I have suffered the loss of all things and count them as rubbish, in order that I may gain Christ and be found in him, not having a righteousness of my own that comes from the law, but that which comes through faith in Christ, the righteousness from God that depends on faith—that I may know him and the power of his resurrection, and may share his sufferings, becoming like him in his death, that by any means possible I may attain the resurrection from the dead. (Phil. 3:8-11 version?)
For us to suffer the loss of all things means, among other things, to suffer the loss of the props that have become idols. It means to crucify a faith that avoids the cross. It means to recognize that not even the experience of forsakenness saves us, but only Jesus himself.
To suffer the loss of all things means to say with Paul, "I—I and all of my idols and experiences and self-justifications—have been crucified with Christ. It is no longer I who live, but Christ who lives in me. And the life I now live in the flesh I live—not by experience, by religion, by anything I bring to the table—but by faith in the Son of God, who loved me and gave himself for me" (Gal. 2:20).
Mark Galli is senior managing editor of Christianity Today. He is author of many books, including Jesus Mean and Wild: The Unexpected Love of an Untamable God (Baker). This meditation was originally given at Cathedral Church of the Advent in Birmingham, Alabama, at the Noonday Lenten Preaching Service Series.
Related Elsewhere:
Previous SoulWork columns include:
The Problem with Christus Victor | An increasingly popular view of the atonement forces the question: What are we saved from? (April 7, 2011)
Learning to Count to One | New math for those addicted to getting higher and higher in their churches. (February 17, 2011)
Super Bowl Evangelism | Why Jesus did not say, "Market your neighbor as yourself." (February 3, 2011)
SoulWork
In "SoulWork," Mark Galli brings news, Christian theology, and spiritual direction together to explore what it means to be formed spiritually in the image of Jesus Christ.
Mark Galli is former editor in chief of Christianity Today and author, most recently, of Karl Barth: An Introductory Biography for Evangelicals.
Previous SoulWork Columns: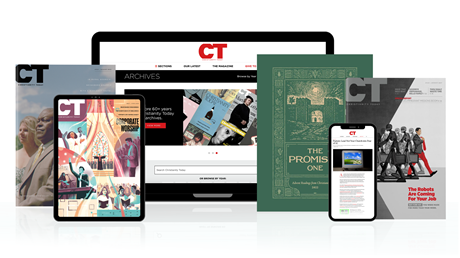 Annual & Monthly subscriptions available.
Print & Digital Issues of CT magazine
Complete access to every article on ChristianityToday.com
Unlimited access to 65+ years of CT's online archives
Member-only special issues
Subscribe
Mercifully Forsaken
Mercifully Forsaken