Political Advocacy Tracker is a roundup of what Christian activist organizations have been talking about over the last week.
Exodus International is dedicated to ministering to gays and lesbians by preaching that they can have "freedom from homosexuality through the power of Jesus Christ." In April, Exodus spearheaded the annual "Day of Truth," in which high school students advocate for "an honest conversation about the biblical truth for sexuality." Last week, Exodus stepped away from the event.
"We believe that due to the timing of the event, Day of Truth was always perceived in an adversarial manner, and became more about policy than people. That is in conflict with the mission we have chosen to embrace as an organization," said Exodus president Allan Chambers. "We want to continue to promote dialogue and to equip Christian kids to reach out with compassion, grace and truth. We don't need to practice this once a year, but rather every day."
Exodus is returning the reigns to the Alliance Defense Fund (ADF), which began the event in 2005. The event is a nationwide response to the Gay, Lesbian, Straight Education Network's (GLSEN) "Day of Silence." GLSEN's event is meant to raise awareness of anti-gay bullying and harassment in schools. Exodus stated that ADF will likely find a new organization to lead the event or stop it altogether.
Focus on the Family's Candi Cushman told CNN, "In contrast to the whole idea of 'silence,' Day of Truth has encouraged students to exercise their free speech rights and have an open dialogue while respectfully listening to others."
An ADF statement said Exodus is "free to make decisions they deem best regarding the event." However, ADF objected to GLSEN's calling the Day of Truth "inappropriate and divisive." "The event was always about the right of students to peacefully express their point of view on the subject of homosexual behavior," the group said.
The Exodus decision to step back from policy fights comes as culture war battles over sexuality have escalated.
On Tuesday, U.S. District Court Judge Virginia Phillips ruled that the U.S. military must cease its "Don't Ask, Don't Tell" (DADT) policy outlawing homosexuality. Phillips concluded that DADT "infringes the fundamental rights of United States servicemembers and prospective servicemembers."
Family Research Council president Tony Perkins accused Phillips of "playing politics with our national defense" and of "using the military to advance a liberal social agenda."
Perkins said changing the military policy on homosexuality "will only further the desire of voters to change Congress. Americans are upset and want to change Congress and the face of government because of activist judges and arrogant politicians who will not listen to the convictions of most Americans and, as importantly, the Constitution's limits on what the courts and Congress can and cannot do." Perkins called on the Justice Department to fight the ruling on appeal.
Faith in Public Life's Dan Nejfelt said, "Perkins is as out of touch with the convictions of most Americans as he accuses Congress, 'arrogant politicians' and 'activist judges' of being." Nejfelt cited a recent poll by the Pew Forum on Religion & Public Life last month that showed a majority of Americans favor repealing DADT. "Perkins ought to check the polls before presuming to speak intelligently about the opinions of the American people," said Nejfelt.
Evangelicals for Social Acton president Ron Sider said that Christians must do a better job of loving those in the gay community. "As most of us know, a huge gulf separates evangelical Christians and the gay/lesbian community. To a large extent because of our failures, they mistrust, despise, and are enormously hostile to evangelicals, viewing us as homophobic bigots."
Sider said he hopes ESA will "become leaders in a new kind of sensitive, listening dialogue with gays and lesbians. That doesn't mean we're changing our position on homosexual practice or gay marriage. Nor does it mean that we're a neutral forum for dialogue. Instead, I want ESA to be a loving place where gays and lesbians can freely express their views even as ESA remains firmly committed to the biblical teaching that God's will for sexual activity is in a lifelong marriage between a man and a woman."
Odds & Ends
• Sojourners policy advisor Duane Shank was one of millions who stayed up late into the night to watch the Chilean miners rescued. In addition to experiencing the joy of watching the rescues, Shank also reflected on the role of the media in society. "The ongoing drama made me reflect on the true contribution worldwide cable news could make," said Shank. "It is a powerful example of how a commitment to truth and civility could use the power of television to bring us the truth, and to bring us together as people for the common good."
• The Southern Baptist Ethics & Religious Liberty Commission responded to rumors about Richard Land's support for some causes. One question asked about Land was, "Does Richard Land endorse 'radical' Jim Wallis?" The answer was "no." The ERLC stated: "As Dr. Land has indicated on multiple, public occasions (including debates opposite Wallis), he has significant theological and policy differences with Jim Wallis. Yet they agree that religiously informed values are both permissible and beneficial in the public square. This is in contrast to a 'rabid' secularism, which seeks to keep all religious thought out of any policy debate."
• CitizenLink's Tom Minnery spoke about the implications of the upcoming election during the group's weekly webcast. Minnery said the election could be "more than a tsunami" if turnout is low and conservatives turn out to vote. But that doesn't mean that much will be accomplished during the next two years. "If that tsunami-plus election happens, Republicans will be in control of both the House and the Senate. But it will be a standoff," said Minnery. "All eyes will be on 2012 and the presidential election and the congressional elections."
Related Elsewhere:
Earlier Political Advocacy Trackers are available on our site.
Christianity Today also follows political developments on the politics blog.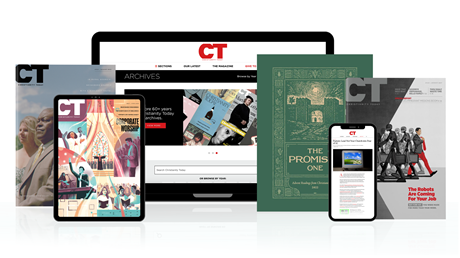 Annual & Monthly subscriptions available.
Print & Digital Issues of CT magazine
Complete access to every article on ChristianityToday.com
Unlimited access to 65+ years of CT's online archives
Member-only special issues
Subscribe
Exodus from 'Day of Truth'
Exodus from 'Day of Truth'