The Desiring God National Conference was supposed to be the next battle for the evangelical mind after John Piper invited Rick Warren to speak. But Warren did not appear live on Friday, saying that he made three separate hospital visits to three separate family members. Piper said that he still has 13 pages of questions to ask him about The Purpose Driven Life, and they will set up something on video "so you can see me go after Rick Warren."
"There are people who love to think … There are others who don't like to think. This conference is a pain in the rear end to them. They're just here to see Warren and Piper fight," Piper said to the crowd during a panel. "[They think,] oh good night, can I just read my Bible, just relax, put my feet up, get a cup of coffee, enjoy Jesus?"
Warren was supposed to appear at the NewSpring Leadership Conference September 16 with Andy Stanley, but canceled his appearance. He tweeted, "My family is my 1ST ministry. I'll never regret I put them before work. Canceled East Coast mtgs this wk due to family needs."
Separate from the Desiring God conference, Warren acknowledged critiques from pastor John MacArthur. "Bob, regardless of what he's said about me, I respect & love John MacArthur. His words don't control my response or attitude."
The reformed blogosphere experienced a miniature eruption after Piper's invitation. Tim Challies wrote, "To invite him to this conference is to downplay all of the harm brought about by his unbiblical and pragmatic style of ministry," and Michael Horton wrote, "I believe that [Warren's] message distorts the gospel and that he is contributing to the human-centered pragmatism that is eroding the proper ministry and mission of the church."
Warren addressed nearly 4,000 people about the conference's topic, "think," videotaping his address at 10 p.m. after returning from the hospital.
"To put it briefly, the last three weeks of my life, I've been in a very strong spiritual battle unlike anyone I've been in probably my entire life," Warren said. "In the last week, I've had to go to the emergency room, three different members on three different occasions, in one week."
With a coffee mug at his side, his black sleeves rolled up, he flipped through the pages of his Bible with a five-point message for the Desiring God audience in Minneapolis.
Warren encouraged Christians to get rid of anti-intellectualism, telling them to build a library. "You should read 25 percent of your books from the first 1,500 years of church history, 25 percent from the last 500 years, 25 percent from the last 100 years, and 25 percent from recent years," he said. "Some of you are naturally great thinkers. Some of you are naturally great doers. Those of you who are thinkers, you need to do more. Those of you who are doers, you need to think more. It's not one or the other. It's both-and."
Piper emerged from his 8-month leave for the conference, expressing his surprise that Warren could rattle off so many Scripture references at once. "If you come away from that feeling 'huh?'" Piper said. "I'm quitting. I'm just quitting. Just take heart, because that's the way I felt."
Piper also attended the inauguration of Bethlehem College and Seminary on Sunday. During the panel, Piper suggested that not everyone should try to build a seminary or a college.
"I just think you should faithfully do what you love to do," Piper said. "I suppose Rick Warren would roll over—not in his grave but in his study—because that sounds so unpurposeful."
Burk Parsons, editor of Tabletalk magazine, cautiously praised Warren's address during a panel.
"I'm almost afraid to say what I think I should say, because I'm afraid of what people I love and think highly of would think of me when I say I was actually just amazed by how much biblical content and just helpful, simple, straight-forward admonition and challenge we received from Rick this evening," Parsons said. "I had never actually heard him speak. I was blown away by a man and his simple childlike dependence [on] and faith in Christ."
Shortly after Warren's address, president of Lifeway Research Ed Stetzer tweeted, "Disappointed to see the trolls out during the @RickWarren#DGNC message. Get a new 'ministry.'#TiredOfAngryCalvinists."
Related Elsewhere:
Christianity Today also posted an interview with John Piper. Desiring God has posted audio and video of many of the messages, including John Piper's address.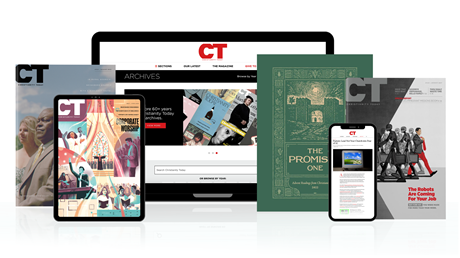 Annual & Monthly subscriptions available.
Print & Digital Issues of CT magazine
Complete access to every article on ChristianityToday.com
Unlimited access to 65+ years of CT's online archives
Member-only special issues
Subscribe
John Piper v. Rick Warren Postponed
John Piper v. Rick Warren Postponed