Jesus in Skinny Jeans
Thank you for Brett McCracken's article describing "Hipster Faith" [September]. My husband and I are 30-somethings who have attended hipster churches in three states. Now that we have children, we long for the simpler days of Adventures in Odyssey and flannel graphs. Instead, we find our children glued to TV screens in their Sunday school classes, with gluten-free snacks but nobody who knows their names. And while the worship music is rocking, the preaching is surface level, primarily aimed at meeting emotional needs.
Hipster churches have their place and were great for us for a time. But eventually the hipster grows up. Then what?
Stephanie Hotine
Hayden, Idaho
McCracken needed to acknowledge the difference between "cool" Christianity and contextualized Christianity. Cool Christianity will sacrifice the gospel in order to gain the world's acceptance. The desire to please man rather than God began long before the 1960s.
In contrast, contextualized Christianity will adopt cultural expressions of its surrounding community. Few critiqued Hudson Taylor for adopting Chinese customs or Adoniram Judson for assuming Burmese dress. In this sense, some hipster believers are not forsaking the gospel—though they are forsaking a few sacred cows of former generations.
The issue is not beards and beers. Of course the pastor living in a wealthy urban community will not wear camouflage and drive a two-ton flatbed any more than a pastor living in Appalachia will sacrifice these necessities. The issue is whether Christ is preached.
J. Ryan West
Louisville, Kentucky
The article on hipster Christians was a wake-up call for people like me. I don't want to make people wonder what I am. Christ wasn't nearly as mysterious as we like to try to be. Confounding, yes, but he said who he was, what he came to do, and what he plans to do.
I will keep singing the old hymns. I'll continue the organic thing. I'll keep my heart open to all who need help. But I will also remember that I am called to be a light: not a dim, vintage lamp or a string of paper lanterns—a light.
Gileah Taylor
Destin, Florida
The Gospel of Randism
In "Ayn Rand, Goddess of the Great Recession" [September], Gary Moore rightly rejects Rand's moral teachings as deeply anti-Christian. But he unfairlyelides the distinction between economic libertarianism and Randism. Libertarianism is a doctrine about the proper limits of government. It holds that governments should not coercively redistribute wealth. Randismadds to libertarianism a doctrine about personal morality to the effect that there is no obligation to voluntarily share resources with others.
It is Rand's selfish morality, not her economic libertarianism, that should offend Christians.
Jason Baldwin
Birmingham, Alabama
Regent U.'s Future
We are grateful to have the opportunity to contextualize a recent Chronicle of Higher Education article on Moody's Investors Service credit rating update for Regent University, which Christianity Today recently republished [Gleanings, September]. We want to make clear that the article did not fairly represent the university's financial state. Moody's report clearly reflects that the university has taken appropriate, positive steps to create a sustainable budget model for Regent's future, but neither article emphasized that truth.
Moody's Investors Service credit rating was unchanged from its last report; Regent's credit rating was not downgraded in any way. When our report appeared last year, it was not nearly as positive, but no articles were written. From our perspective, this is a non-story. Also, after a comprehensive financial and academic review, Regent was awarded reaffirmation of accreditation by the Southern Association of Colleges and Schools in 2009.
We would like to affirm that we have not received any kind of recent "bailout" or "gift" from the Christian Broadcasting Network. Like other Christian colleges, Regent believes we are truly partnering with God—and many devoted friends, advocates, alums, donors, and others—to advance his kingdom. We take financial stewardship seriously and assure CT readers (some of our dearest friends and supporters) that, with God's grace and favor, we will continue to deliver an outstanding, Christ-centered educational experience for students who are called to excellence and Christian leadership.
Carlos Campo
President, Regent University
Virginia Beach, Virginia
A Voluntary Sacrifice
Thank you for covering how churches can minister to sex offenders ["Sex Offenders in the Pew," September]. Tim Keller has said that "repentance is a form of voluntary sacrifice." In this way, ministering to sex offenders may mean helping them see that their voluntary sacrifices—not demanding full access to the church, accepting a small group as their church—are helping themselves and the larger church, including congregants with histories of victimization.
We encourage churches who want to reach sex offenders to first develop ministries to victims. Fairly or not, the church is known more for her cover-up of abuse than for her protection of the vulnerable.
Diane M. Langberg, Philip G. Monroe
Jenkintown, Pennsylvania
The Lamb in Wartime
Thank you, Will Willimon, for answering September's Village Green question—"Should the U.S. stay militarily involved in Afghanistan?"—as a Christian. The other voices were almost identical to those in mainstream media. One uses a Bible passage in a manner many evangelicals would consider ridiculous if used by a non-Christian. The other repeats the most-used rationale for American military involvement since World War II.
The fall of the Berlin Wall was preceded by years of prayer and candlelit processions. While the lion didn't lie down with the lamb, the Russian bear refrained from killing the sheep. That's close enough for me to believe we should keep trying Jesus' way.
Mark Phillips
Kansas City, Missouri
What got the most comments in September's CT
36% Hipster Faith Brett McCracken
27% Ayn Rand: Goddess of the Great Recession Gary Moore
9% Sex Offenders in the Pew Marian V. Liautaud
Readers' take on "Hipster Faith"
46% Yay
54% Nay
Related Elsewhere:
The September issue is available on our website.
Letters to the editor must include the writer's name and address if intended for publication. They may be edited for space or clarity.
E-mail: cteditor@christianitytoday.com
Fax: 630.260.8428
Have something to add about this? See something we missed? Share your feedback here.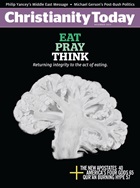 This article is from the November 2010 issue.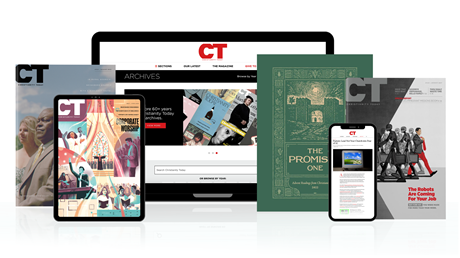 Annual & Monthly subscriptions available.
Print & Digital Issues of CT magazine
Complete access to every article on ChristianityToday.com
Unlimited access to 65+ years of CT's online archives
Member-only special issues
Subscribe
Readers Write
Readers Write