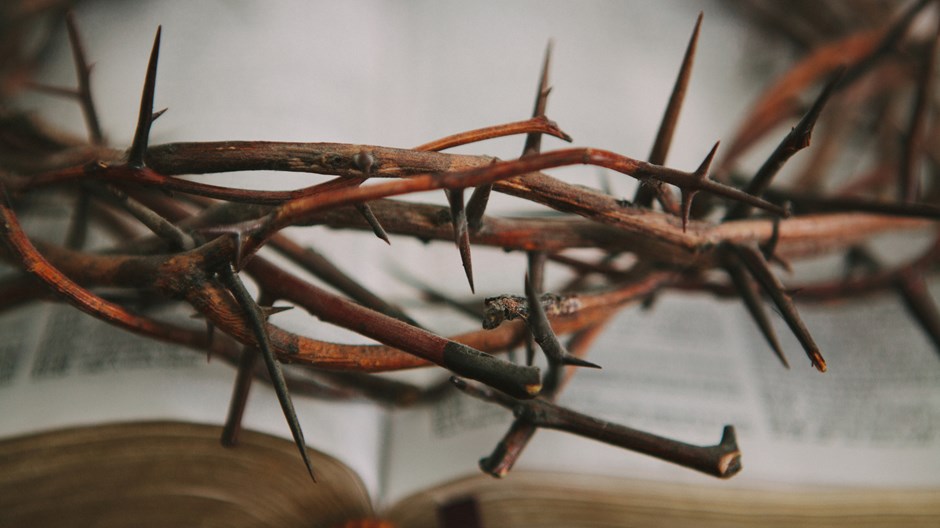 The events of Good Friday are utterly breath-taking. We celebrate nothing less than this: "that God was pleased to reconcile to himself all things, whether on earth or in heaven, by making peace through the blood of his cross" (Col. 1:20).
We are talking here about something that happens at the very foundations of the universe. Call it cosmic redemption, ontological healing, metaphysical reconciliation, the Bible's version of Star Wars, or whatever helps you think about the largest, most ultimate reality, the "Really Real," capital R, capital R.
And it is all accomplished through what seems like a paradox. "Making peace through the blood of his cross" is like saying that a nuclear missile has become an olive-branch, that Guantanamo has become a garden of healing, that a sword has been turned into a plowshare, that a tank has been turned into a tractor. The very thought of it leaves us weak in the knees with astonishment.
That is only the beginning of the paradox. This is the day when the Living Water says "I thirst." It is the day when the Bread of Life hungers, the Resurrection and the Life dies, the Priest becomes the Sacrifice, the King of the Jews is killed like a criminal. No wonder we stammer in the face of this mystery.
Our minds wander off trying to imagine what kind of cosmos we live in—where the shameful death of an innocent man can serve as a payment for sin, a ransom for the captive, a conquest of evil, a source of healing, a sacrifice to end all sacrifice (what a gift—all these mutually correcting scriptural images). Imagining that kind of world is enough to make our minds ache, given that we swim in the waters of a culture where debt generates more debt, and violence generates more violence. It takes a remarkable conversion of the imagination to see the world in the Bible's way: a world where justice and mercy do not exist in tension, where "righteousness and peace kiss each other," where the death and resurrection of the Son of God can re-order the moral foundations of the universe.
The mystery only grows when we turn our eyes to seek the beauty of the Lord in his temple, when we contemplate the mystery of the triune God. When we hear Jesus pray, "Not as I will, but as you will," and "Father, forgive them," and "Into your hands I commit my spirit," we see again that this day is not about a contrast between a good Jesus and an angry Father. It is, instead, a drama of magnificent Trinitarian choreography.
But we also hear Jesus praying, "My God, my God, why have you forsaken me?" And we wonder. And we hear theologians stammer out sentences like "God-forsakenness is now swallowed up right into the life of God." It stretches logic to its limits, but also offers us a glimmer of hope when we come face-to-face with holocausts and suicides and child abuse and other unspeakable horrors that can also be swallowed up into the life of God.
Put this all together, and the events of Good Friday spin our worldview upside down. We might as well toss out Webster's definitions of "glory" and "power" and—for that matter—"god." For when we define "glory" or "power" or when we imagine what God is like, there is no more reliable place to look than the "perfect image of the invisible God."
And if all this isn't enough to rock our world, then consider this: the apostle Paul tells us that these events are not just about Jesus, but are also about us. "Did you not know that all of us who were baptized into Christ Jesus were baptized into his death?" (Rom. 6:3) or again, "May I never boast of anything except the cross of our Lord Jesus Christ, by which the world has been crucified to me, and I to the world" (Gal 6:14). Just imagine a new advertising campaign for your church: "Our congregation helps crucify the world to you and you to the world." It causes us to tremble.
So much paradox, so many metaphors, so much goodness, so much hope, so much deep inside of us that starts to feel like we are at the front end of a dangerously large roller coaster, or a pregnancy's increasing labor pains—or maybe a Holy-Spirit led conversion right here in this place in this day.
Contrary to rumor, the church's observance of Good Friday, which is often accompanied by a decrescendo of light, is not primarily designed to induce a crescendo of guilt. You and I may have a lot of that to deal with—and dealing with it may be a very redemptive thing. But make no mistake: We gather on Good Friday not to wallow in guilt, but to announce that sin and guilt have been atoned for, conquered, healed, addressed, dealt with once and for all, in heaven and on earth through the blood of the cross.
Nor is this decrescendo of light designed to generate a crescendo of sadness. True enough, the story is filled with sorrow and shame and agony. Indispensably so. But this is no funeral for Jesus. We know how the story turns out. We live in Easter hope 365 days a year, and the story we tell today is worth telling because it is an act in the Easter drama.
But why then the darkness and the shadows and the solemnity?
In world that is starved for joyful solemnity, in a church that is definitely starved for joyful solemnity, in a frantically busy academic community that is parched for serene wonder, the darkness and shadows help us do some serious beholding—as in "Behold, the lamb of God who takes away the sin of the world." This decrescendo of light is an invitation to a crescendo of wonder.
Perhaps the subtitle for Good Friday worship should be "the liturgy of the Centurion," after that pagan military man for whom the shadows (by the Spirit's power) caused light and truth to break into his life. "Truly this was the Son of God," he said, astonished.
It is usually December when we most strongly focus our attention on that concept, when we most resonate with the astonishing words of the 17th century poet Richard Crashaw: "Welcome all wonders in one sight. Eternity shut in a span. Summer in winter. Day in night. Heaven in earth. And God in man." But that is not a song only for Christmas.
On this day, when the sky became dark at noon, when the temple curtain was torn in two, when time on this tired earth nearly stood still—on this day when "God was pleased to reconcile to himself all things, whether on earth or in heaven, by making peace through the blood of his cross"—we whisper with great joy: "Welcome all wonders in one sight. Eternity shut in a span. Summer in winter. Day in night. Heaven in earth. And God in man."
Behold, the lamb of God, who takes away the sin of the world.
John Witvliet is director of the Calvin Institute of Christian Worship at Calvin College. This article is adapted from a sermon he gave at the college's 2009 Tenebrae service.
Related Elsewhere:
Christianity Today has more articles on Holy Week.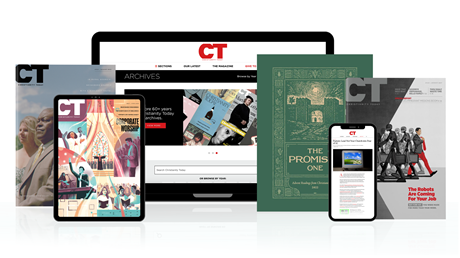 Annual & Monthly subscriptions available.
Print & Digital Issues of CT magazine
Complete access to every article on ChristianityToday.com
Unlimited access to 65+ years of CT's online archives
Member-only special issues
Subscribe
A Crescendo of Wonder
A Crescendo of Wonder