true
"Revenge gets ugly." That's the tagline for director Jimmy Hayward's new blockbuster disaster, Jonah Hex, which is based on a 1970s comic book series. The titular antihero, whose face is horribly scarred, is the only the first of many ugly things about the movie. There's also the disgusting snake man, and then the really hideous stuff, like Megan Fox's acting, the absence of narrative, the exploitation of violence, an overabundance of loud and fast action sequences, and, ultimately, the glorification of vengeance.
Jonah Hex doesn't have much of a story. Through a mildly creative opener and distracting flashbacks, we get a vague understanding of the backstory. The rest of the film is made up of a mindless, frenetic, and banal revenge plot—mainly of the title character trying to hunt down the man who killed his family.
The protagonist, Jonah Hex (Josh Brolin), is a disgruntled Civil War veteran who fought for the South not because he agreed with the army's ideologies, such as slavery, but because he opposed the American government. A skilled and fearless gunslinger, he quickly became a war hero, notorious for taking down hundreds of enemies all by his lonesome. But when his commanding officer, Quentin Turnbull (John Malkovich), grew heartless and started murdering innocent people—women and children—Hex had had enough.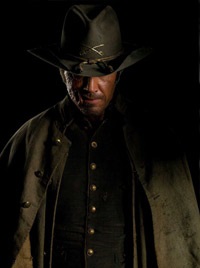 When Turnbull's son Jed dies, he blames Hex, who winds up in the hands of Turnbull and his men, including Burke (Michael Fassbender), a psychopathic Irishman with a bowler hat and tattoos. The stone cold soldiers murder Hex's wife and son right before his eyes and mutilate the right side of Hex's face with a branding iron so that, according to Turnbull, he'll never forget that day.
And he doesn't. After nearly dying—he's saved by Crow Indians whose mystical healing powers give Jonah some sort of semi-supernatural powers—Hex becomes a bounty hunter, pledging vengeance on Turnbull.
While sleeping with a gun-wielding prostitute, Lilah (a half-naked Megan Fox), Hex is greeted by a knock on the door from Union soldiers, who—in a personal message from the President—inform him that Turnbull is building a super weapon that will allow him to destroy and take over the world. Predictably, Hex jumps at the chance to avenge his family's deaths—leaving the gun-totin' Lilah behind. (She shows up again later, but plays a relatively small role in the movie.)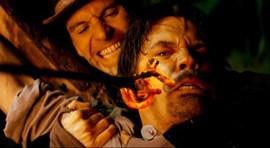 The rest of film is merely the scarred cowboy trying to execute vengeance, taking the form of ridiculous, shoddy action scenes that start off mildly impressive but become obnoxious as minutes pass—i.e., Hex dropping bad guys with machine guns mounted on his horse. In the spirit of Michael Bay, the final 20 minutes are one gigantic action sequence full of implausible stunts and explosions and a predictable finale, all while annoying heavy metal music blares in the background. Hayward and cinematographer Mitchell Amundsen, who also shot Transformers and G.I. Joe, make artless clatter worse than the smoke and mirrors in those movies.
This turmoil, moreover, results in a misuse of violence through the senseless murder of innocent lives. Sure, it's comic book violence and it's supposed to be satirical, but it's too much. Turnbull's character apparently has no goodness in him, and in trying to develop such wickedness, writers Mark Neveldine and Brian Taylor leave us with a monster who slaughters the innocent and eradicates entire cities, over and over again. Hex, the alleged hero, isn't much better; in a bar scene, he murders a stranger for just asking about his scar.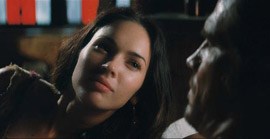 Using his unusual powers, Hex awakens Jed from death; Jed sums things up by saying he can no longer distinguish between Hex and his father because they are both demented and ruthless. It's the truth—two evils pitted against one another. Hex goes down as the good guy, though, for what isn't even fallaciously shrouded as justice. Unlike other films that mistake revenge for justice, this one doesn't even try to hide its depraved message. The tagline speaks for itself and tells a lie, which says the hero's burden will be appeased if he kills the antagonist.
Still, we expect Brolin, who played a fully believable cowboy in the Coen brothers' No Country for Old Men, to perhaps save the day. But he doesn't. In No Country, Brolin showed his talent; here, he's just going through the motions. Ditto Malkovich, who has nearly ruined his career by failing to be selective. As for Fox, well, let's just she hasn't improved since the last Transformers movie. Hollywood has transformed her into a modern day Jayne Mansfield, realized here by her character's cleavage and lack of context.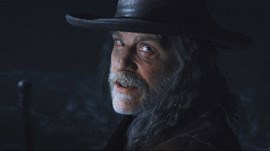 Fassbender gives the only positively distinguished performance. He proved his aptitude last year in Inglourious Basterds and Fish Tank and now accomplishes a convincing persona as Burke, whose energy and flamboyance establish a spaghetti western version of Mickey O'Neal, Brad Pitt's character from Snatch.
But Fassbender's role is the only positive element in the otherwise quite forgettable Hex. Ironically, it will be hard to forget the torturous experience of sitting through this awful excuse for cinema that ultimately fails in nearly every way possible.
Talk About It
Discussion starters
Is Jonah's revenge justified because Turnbull murdered his family and tortured him? What does the Bible say about revenge? Is killing ever just? What about war?
Movies made from comic books sometimes have an excess of violence. Is the violence acceptable because it's derived from a comic? How much violence is too much? Did the violence here seem okay or exploitive?
The Family Corner
For parents to consider
Jonah Hex is rated PG-13 for intense sequences of action and violence, disturbing images and sexual content. There's excessive violence but little blood. Some of the violence is inferred while still disturbing. Jonah is hung on a cross and forced to watch his family burn alive. Turnbull destroys an entire town with explosives as the citizens come out of a church service. Lilah wears provocative clothing throughout the movie.
Copyright © 2010 Christianity Today. Click for reprint information.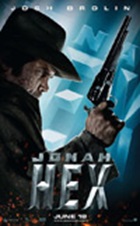 Browse All Movie Reviews By: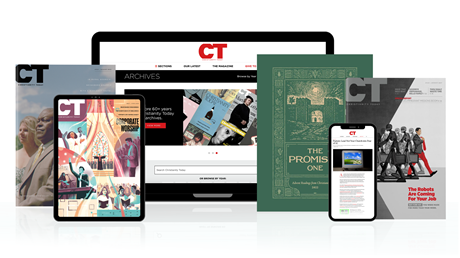 Annual & Monthly subscriptions available.
Print & Digital Issues of CT magazine
Complete access to every article on ChristianityToday.com
Unlimited access to 65+ years of CT's online archives
Member-only special issues
Subscribe
Jonah Hex
Jonah Hex