A desperate appeal for help from a Baptist eyewitness in the embattled Central Asian city of Osh in southern Kyrgyzstan, raced through Russian-language inboxes and websites on Tuesday.
The author reported uncontrolled mobs of Kyrgyz men roaming the streets and laying waste to entire blocks in the nation's second-largest city of 250,000. An old Uzbek man had been killed and burned near the author's apartment; "mounds" of corpses lined certain streets. "We fear for our lives," wrote the eyewitness. "Hear our desperate cry!"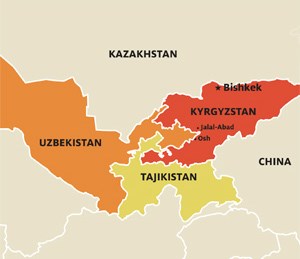 Officials estimate hundreds died and 100,000 ethnic Uzbeks were displaced in what appeared to be an organized wave of violence following the April 7 overthrow of former president Kurmanbek Bakiyev, a Kyrgyz strongman hailing from the neighboring region of Jalal-Abad and now exiled to Belarus. The interim government blamed pro-Bakiyev forces for the unrest and said it would proceed with a June 27 referendum on a new constitution.
A Charismatic pastor in the country's capital, Bishkek, reported that a fellow pastor has been driving Uzbek families to safety outside of Osh, and that other Kyrgyz Christians have been hiding Uzbek families in their homes. Cordons of gangs or troops keep most people from fleeing, and those caught aiding the Uzbek minority can be counted lucky if they only lose their car. Kyrgyz who refuse to side with their own ethnic group are "severely punished," said the pastor.
The Kyrgyz Baptist Union reported Thursday that its churches in the Uzbek areas of Osh and Jalal-Abad had remarkably escaped damage, thanks to government tanks and soldiers—though criticized for their sparse presence during the rioting—that repelled approaching mobs in the nick of time.
Another Charismatic pastor, Vasily Kuzin of Bishkek's Jesus Christ congregation, attributes the havoc in the south to unresolved ethnic conflicts from 1990 that killed hundreds over the allocation of farmland and employment. "One can always expect a conflict to express itself outwardly when there is no forgiveness," he said. "When there is no forgiveness, the fires of conflict are always burning."
Statistics on Kyrgyz Protestant Christianity are difficult to obtain, partly for reasons of security. The Osh region has an estimated three Evangelical-Christian congregations with about 100 members, and about 300 Charismatic believers. Charismatic congregations harbor the largest number of ethnic Kyrgyz and Uzbek Protestant Christians. The Russian Orthodox Church comprises an estimated 20 percent of the population and has attempted to be a voice of moderation during such conflicts.
Soviet mapmakers carved up the fertile Fergana Valley—home to Osh and neighboring, equally strife-torn Jalal-Abad—between the republics of Kyrgyzstan, Uzbekistan, and Tajikistan beginning in 1924. However, the dividing lines left Uzbek-majority Osh outside of Uzbekistan. Such administrative borders were of little consequence until the three internal republics suddenly became independent states following the breakup of the Soviet Union in 1991.
Thanks to the resulting mass exodus of ethnic Europeans (mostly Russians and Germans), 70 percent of Kyrgyzstan's population of 5.5 million is now Kyrgyz, up from only 50 percent in 1979. The Uzbek minority comprises 14 percent of the population and is concentrated in the south, near Uzbekistan, home to 27 million.
The Russian population of Kyrgyzstan has dropped from 45 percent to less than 10 percent. In his poignant appeal, the Baptist eyewitness forecast that it will be only a matter of time until the "last pitiful remnant of Russians" leaves southern Kyrgyzstan.
This is bad news for Protestant churches, which had almost no ethnic-Asian members during Soviet times. Yet today 20 percent of the country's 3,000 remaining Baptists (down from 13,000 in 1987) are Kyrgyz, and a number of strictly Kyrgyz congregations have formed. Protestants who remain in the country will likely be almost strictly of Asian ethnicity—including some locally born Protestant Koreans.
If Kyrgyzstan's movement toward a militant Muslim state continues under the new government, then Kyrgyz Protestants may be forced to move underground as Protestants in neighboring, less-tolerant Uzbekistan already have. (Uzbekistan is ranked the world's 10th worst persecutor of Christians by Open Doors.)
Speaking in Moscow soon after Bakiyev was removed from power, Genrikh Foth, the ethnic-German president of Kyrgyzstan's Baptist Union, forecast that 2010 would be a year of harvest for the evangelical churches of his country. Despite draconian legislation introduced in early 2009 to stop the conversion of Muslims, government authorities have been too occupied with civil unrest to concern themselves with small, struggling Protestant communities.
"Following the unrest, we went into the hospitals, supplied the injured with food packages, and testified to hospital staff," said Foth. "We are even more active in evangelism than previously. Children's camps are planned. It will be a good year."
The unrest in Osh ensures that authorities will remain preoccupied for some time—but the price is indeed bitter.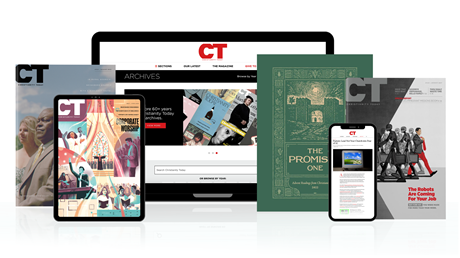 Annual & Monthly subscriptions available.
Print & Digital Issues of CT magazine
Complete access to every article on ChristianityToday.com
Unlimited access to 65+ years of CT's online archives
Member-only special issues
Subscribe
Ethnic Violence Buffets Kyrgyz Christians