true
"I am the last guy to do this and someone ought to make a film about it." That's what rancher Lawrence Allested said to Lucien Castaing-Taylor and Ilisa Barbash in 2001 about his family's practice of herding their sheep long distances up a Montana mountain range for summer pasture. Castaing-Taylor and Barabash—a husband and wife team, both filmmakers and anthropologists, now headquartered at Harvard—agreed and over the last decade have made nine films about the final years of sheepherding on the Allested Ranch. Most of these films will undoubtedly serve the academy well for many years to come. But one of them, Sweetgrass (now available on DVD), has been edited and released for general audiences. And it is sublime, a poetic elegy to the American West and the way we once were.
Like the lilting Norwegian accent that still marks their speech, the Allested family still utilizes a permit to graze sheep in Montana's Absaroka-Beartooth wilderness that has been passed down through several generations. Every year, the family and their hired hands have goaded their herd up the mountains, fording streams, navigating rock slides, fending off bears. The practice is as arduous as the terrain is beautiful, and this push provides the surprisingly dramatic and comedic heart of Sweetgrass. It's surprising because the drama of the documentary sneaks up on you. The filmmakers use the lightest of touches, allowing the warp of and woof of life on the hoof—animal and human—to unfold before you without narration.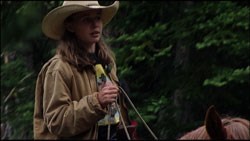 The comedy is perhaps less sneaky, given that it wears a bell around its neck. The sheep are the real stars of the show and one imagines that unlike their stoic Norwegian-American caretakers, they would all happily, if haphazardly, crowd into the spotlight without much prodding. It's perhaps a testament to the talents of animators and sound engineers that in the first several minutes of Sweetgrass I couldn't get over how the look and sound of the sheep—creatures I've never observed in such large numbers—so closely resembled Hollywood's depictions. I wouldn't have blinked if Babe had made her way through the crowd at some point and struck up a conversation with a black-faced lamb.
The fact that probably most people who see this movie are more familiar with depictions of sheep on brightly colored screens than the real things is not unrelated to the passing away of the Allesteds' way of life. But there is no sermon here. In fact, there aren't many words at all. The phrase "chewing the cud" took on renewed life for me in these opening moments of the film as the camera opened its eye on the grazing sheep, content if a bit skittish. They really are such alert, malleable creatures, able to be herded by a couple of industrious dogs and some whooping. I almost laughed out loud watching the animals watch me. I suppose they were actually watching the (crouching) cameraman, but the effect was personal when one sheep stopped mid-chew to stare in concerned bewilderment at the camera. Ready for her close-up, indeed.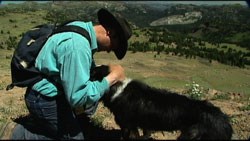 But the words do come. A classic rock station plays over the din while workers sheer sheep, twisting limber appendages and pinning necks the way a hurried and ham-fisted masseuse might work out your kinks on an assembly line, sending you dazed out into the sunshine, not sure if you're better or worse off for the favor. The people that populate Sweetgrass are as unassuming and skilled, popping jokes at their own expense while tending to newborn lambs. There is a kind of crudeness here, a matter-of-fact quality to life and death that allows workers to sling around newborn lambs like sides of (dead) meat. But the effort is in a messy attempt to match orphans with sheep that have just given birth, dousing the orphans in the mother's birth fluid in order to convince her to adopt this lamb as her own so that it will survive. And in the gruffness, we see benevolence.
By the time the herd is ready to start trailing up the mountain, winter has given way to spring has given way to summer and hired hands John Ahern and Pat Connolly are charged with their care. Ahern is the wizened veteran of this pair, with kind eyes that often seem a bit bemused by Connolly's youthful impatience and perhaps also by the camera. Neither of the men say much to each other (they vent their frustration with the sheep in bursts of colorful cursing often enough), but papers could be written about the elliptical qualities of their communication, often repeating the same phrases or mundane observations for an occasional break in the silence. Or rather, for a break in the bleating.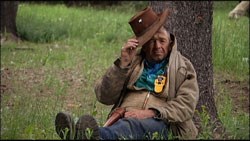 The original intention of Barbash and Castaing-Taylor was to take their two children with them up in to the mountains to shoot the herd for the summer. But the conditions proved to be too treacherous so Castaing-Taylor embarked alone to document the travels of the herd and its two shepherds. As his wife reported, when Castaing-Taylor came down from the mountains that fall he was unrecognizable—bearded, twenty pounds lighter, carrying a ton of footage, and limping. He would later be diagnosed with trauma-induced advanced degenerative arthritis, caused by carrying the equipment day and night, and need double foot surgery. I didn't know any of this when Castaing-Taylor's camera caught Connolly on a rare cell phone call to his mother, complaining bitterly of the harsh conditions and a painful knee. We see no such talk from the less agile Ahern, so it's hard to know how to evaluate Connolly's grumbling. But at the very least, it's clear that the work is difficult and the isolation frustrating. And surely Castaing-Taylor was sympathetic.
The tagline on the posters for Sweetgrass reads "the last ride of the American cowboy," and Ahern and Connolly certainly fit our notion of cowboys. But here they are actually sheep-boys, shepherds. Seeing Ahern pull out his shotgun in defense of the flock puts a modern face on Psalm 23. Similarly, the moments of vivid frustration and utter exhaustion experienced by the shepherds also gives a modern read on metaphors for God's longsuffering relationship with those whom he loves.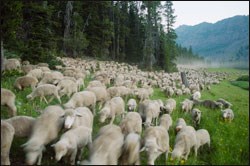 Deep affection undergirds Sweetgrass—affection for animals, affection for the land, affection for people, affection for a way of life. But this is not a sentimental film. This life is a hard one. These people are not vegetarians. Their language is not always polite. The Allesteds lost their permit to herd through the Absaroka-Beartooth wilderness and sold their ranch in 2006. I suspect another nine films could be made following this family and its hired hands as they figure out what is next. But for now, I'm tempted to adopt Ahern's attitude when, fresh off the trail, someone asked what was next for him. He figured he'd take a week or two before he thought about it. Sometimes it's okay to sit and relax and recuperate. It seems clear that the Big Farming that is pushing out operations like the Allesteds' is bringing with it a set of problems that need serious attention. But for the moment, I'm grateful for the work of Castaing-Taylor and Barbash in capturing, if not the truth, a truth, about the way people can and once did inhabit their land and live in messy proximity to their animals. Castaing-Taylor writes, "Spending the summers high in the Rocky Mountains, among the herders, the sheep, and their predators, was a transcendent experience that will stay with me for the rest of my days." We're lucky he took along a camera.
Talk About It
Discussion starters
Do you think you would want to be a shepherd on a journey through the Absaroka-Beartooth Wilderness? Why or why not? What aspects of the journey would appeal to you?
Wool is used for more than just sweaters. It can be found in rugs, hats, scarves, gloves, carpets, cushions and more. It's likely you own a few of these items. Does this movie make you see those things in a different light?
Sweetwater shows an intimate relationship between land, people, and animals. As people charged with stewardship of creation, what is our responsibility to the land and the animals on it? Do you think the sheepherding in Sweetwater is a good or a bad example of this stewardship? Why?
Read Psalm 23. How does this film bring some of those truths to light? How does it illuminate your own view of Jesus as the Good Shepherd?
The Family Corner
Sweetgrass is unrated. The cowboys use foul language a number of times when venting their frustration with their wayward charges. But there's no glamour to it and it serves largely to reinforce the audience's understand of the challenging nature of their work. It doesn't seem gratuitous, though it does seem profuse at times given the relative lack of words in the movie as a whole. The movie also includes birthing and shearing scenes that might seem disturbing to young eyes (and maybe some older eyes too). The movie is slow and includes little talking, so it might be tough for younger viewers to sit through.
Copyright © 2010 Christianity Today. Click for reprint information.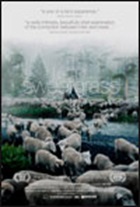 Browse All Movie Reviews By: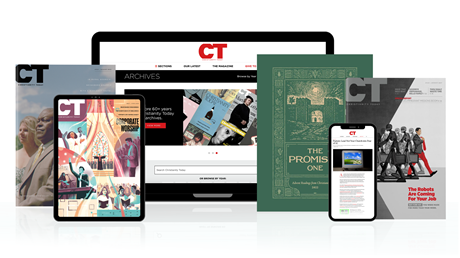 Annual & Monthly subscriptions available.
Print & Digital Issues of CT magazine
Complete access to every article on ChristianityToday.com
Unlimited access to 65+ years of CT's online archives
Member-only special issues
Subscribe
Sweetgrass
Sweetgrass