Political Advocacy Tracker is a roundup of what Christian activist organizations have been talking about the past week.
Picking Their Battles
Christian political activists remained split this week over the bigger threat. Those on the Right focused on Elena Kagan, President Obama's nominee for the U.S. Supreme Court. Those on the Left took aim at FoxNews host Glenn Beck, who has waded further into debates over what it means to be a Christian.
On Tuesday, the Senate Judiciary Committee approved the nomination of Kagan by a vote of 13-6. The only Republican to vote with the dozen Democrats on the committee was Sen. Lindsey Graham (R-SC). Graham also voted for Obama's previous nominee, Justice Sonia Sotomayor.
In explaining his vote, Graham said that he would not have nominated Kagan, but he would vote for her because she was qualified. Graham said Obama "chose wisely."
This decision sparked a rebuke by Family Research Council president Tony Perkins, who said he was "repulsed" by Graham's vote.
"True, the President gets to pick, but the Senate has the power to confirm," said Perkins. "By abandoning conservatives, Sen. Graham pushed Democrats across the 60-vote threshold they need to stave off any procedural challenges. And by abandoning Americans, he may have pushed the court into a bold new era of political activism."
Citizenlink's judicial analyst Bruce Hausknecht agreed that if Kagan is confirmed, she will be "legislating from the bench."
"Every position she's held," Hausknecht said, "all of that is pure politics."
Hausknecht also pointed to a recent report by Americans United for Life, which questions Kagan's role in the debate over partial-birth abortion ten years ago.
Charmaine Yoest, president of Americans United for Life Action, said the Senate Judiciary Committee's vote "is clouded by outstanding questions regarding her role in manipulating the medical statements of two major organizations on partial-birth abortion … I strongly encourage Senators to closely examine our report and to formally investigate her role in the partial-birth abortion debate before bringing this nomination to a floor vote."
Meanwhile, those on the Left were busy responding to the latest from Glenn Beck. The FoxNews host has been criticizing "social justice" and "social justice churches" for the last several months. This week, he continued his commentary on faith issues by attacking liberation theology.
Criticism of Beck was the hottest topic on Sojourners' God's Politics blog:
—Rachel Johnson objected to Beck's criticism of those who find liberation in the crucified Christ. "Jesus wasn't a victim, he was a conqueror," said Beck. Johnson responded: "Glenn Beck is fond of lifting up the Nazis as the preeminent exemplar of evil in our time, and he is right. But when Christians were called to stand in opposition to Hitler's regime, it was not the principles of the free market to which they appealed, or an individualistic faith divorced from communal bonds."
—Julie Clawson thanked Beck for raising awareness of liberation theology. "It's hard to make a theology that bangs the drum of the preferential option for the poor sexy in our land of excess and wealth," said Clawson. The blogger was not impressed by Beck's portrayal of liberation theology, however. She said the only thing Beck got right was knowing the needs of his audience. "Who cares if you are ignoring scripture and rewriting Christianity, the best way to keep ratings high is to define right living and true religion as looking out for number one. Because, seriously, who needs a neighbor to love when we have ourselves?"
—Valerie Elverton Dixon agreed that the problem was a misunderstanding of liberation theology. "Liberation theology understands that Jesus died for the sins of humanity, but those sins are not only our personal sins. They include political sins," wrote Dixon. "Liberation theology wants power structures to change because people finally realize how the various isms—racism, sexism, classism, homophobia, ageism, able-ism—are systemic sins. The violence that results from inequitable distribution of wealth is a result of systemic sin. Grace is cheap grace if it does not radically change us personally and thereby change our politics/economy."
One of the issues Beck challenged was religious involvement in climate change politics. Beck told his audience, "If your pastor or priest or whoever is talking about social justice and it is, 'God is telling you that the government needs to solve global warming,' run for your life."
Faith in Public Life's Beth Dahlman responded by saying, "Our faiths call us to care for both creation and those in need, both of which will be devastated if we fail to act … Beck's attempt to appoint himself arbiter of what is or is not a religious issue may make for good radio, but by ignoring the broad religious concern for the issues he's dismissing, Beck reveals his true ignorance."
Odds and Ends
—The American Family Association (AFA) has announced another boycott. The organization is upset over some Home Depot stores' support for gay pride events. The AFA has decided to boycott the store "until The Home Depot agrees to remain neutral in the culture war, and stop supporting homosexual events."
—Sojourners president Jim Wallis said he was excited that some young evangelicals are making nuclear disarmament an issue of justice. "The energetic commitment of a new generation of believers in accomplishing this magnificent goal will be absolutely crucial," said Wallis. "Perhaps after all the years of struggle on the huge theological and political issues surrounding nuclear weapons, the time for a new beginning has finally come. It's time to end the nuclear threat to our world, our humanity, and our faith."
—Doug Carlson of the Southern Baptist Ethics & Religious Liberty Commission said that recent defeats of the Defense of Marriage Act mean that the United States should adopt "an amendment to the Constitution reaffirming the time-tested institution of marriage as only between one man and one woman." Carlson is not optimistic about the amendment's chances, "but with an outcry from the American people, and with the right public servants in office and on the Supreme Court, marriage can once again be secured in its rightful place."
—Both The New York Times and Politico featured stories on evangelicals supporting comprehensive immigration reform. This weekend, the National Association of Evangelicals will be teaming up with a Kansas City ministry called Mission Adelante to hold an immigration forum "in which church leaders can learn about immigration from a biblical perspective and have the opportunity to ask tough questions."
—Concerned Women for America (CWA) is in the vitamin business. The organization has teamed with Vemma, a liquid nutritional supplement company. CWA members are encouraged by founder Beverly LaHaye to buy Vemma because a portion of the proceeds will go to CWA.
Related Elsewhere:
Earlier Political Advocacy Trackers are available on our site.
Christianity Today also follows political developments on the politics blog.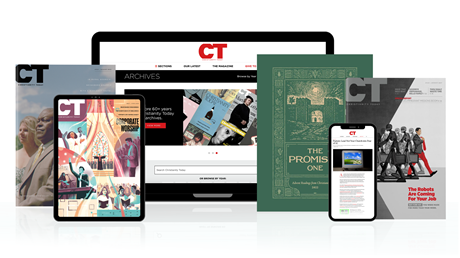 Annual & Monthly subscriptions available.
Print & Digital Issues of CT magazine
Complete access to every article on ChristianityToday.com
Unlimited access to 65+ years of CT's online archives
Member-only special issues
Subscribe
Naming Their Enemy: Elena Kagan or Glenn Beck?
Naming Their Enemy: Elena Kagan or Glenn Beck?